30 Creative Google Slides Templates for Your Next Presentation
Whether it's creating a presentation for your next big design client, a new partnership opportunity for your design business, or to use as a lead-generation tool on your own website, Google Slides templates are very helpful. The beauty of these templates is that they're fully editable and customizable, so you can put your brand's personal touch on them. Google Slides is a presentation program that's available for free in Google's popular web-based software suite. Depending on the purpose of your slide presentation, you'll want to use the right template and switch it out accordingly. Mastering how to design a slideshow presentation is one of the most important skills any creative can learn. It can open doors to new client opportunities and portray your aesthetic style as you present ideas. Enjoy this detailed walkthrough that covers the ins and outs of designing a slideshow presentation from start to finish. Then, take in our rundown of the 30 top Google Slides templates or check out Creative Market's entire catalog of creative Google Slide templates here.
How Many Slides in Total?
One of the biggest issues that people run into when they're creating a slideshow is deciding on the number of slides in total. Should they err on the side of caution and go with fewer, or will that make for an inadequate presentation? Should they go on the longer side, but risk boring the audience after a while? Choice paralysis normally happens when there are many choices, but the fact that only this one fork in the road can cause such uncertainty in the process is telling. Let's look what some authority figures say on the subject of the number of slides. Perhaps one of the best-known influencers who's decided to even weigh in on this much-debated topic is Guy Kawasaki. The marketing specialist and venture capitalist recommends the old less-is-more approach. He recommends no more than just 10 slides in a typical presentation—but there's a catch! This only applies if your presentation goes on for 20 minutes; shorter or longer than that, and you have to adjust the number of slides accordingly. For an opinion on the other end of the spectrum, we go to Fast Company's Dan Heath, whose take is quite different. He recommends slideshows going as long as 42 slides—but with some conditions. For one thing, presenters should only reach that high number of slides if they're giving something he calls an audience-aid approach, which is giving them extra context with additional slides. On the other hand, he also counsels that shorter presentations do have their place if they're a presenter-aid approach, meaning the slides are actually there to help the presenter remember what to talk about in what particular part of the presentation. The bottom line? There is no right or wrong answer to this one. You can make your presentation as long or short as you want, but it has to be context-specific. Excessively long slideshows that fail to aid the audience by helping them to understand your points better will be your undoing, no matter what!
The Best Fonts to Use for Google Slides Templates
It goes without saying that something that depends on your audience being able to easily read the material requires excellent typefaces. That begs the question, what fonts are the best to use for slideshows? One of the main criteria comes down to readability and legibility. You want your audience to both be able to recognize the words and paragraphs in your slides (readability) and make out the individual characters of the copy (legibility). Another big factor is whether or not you'll be using your presentation online, offline or in both environments.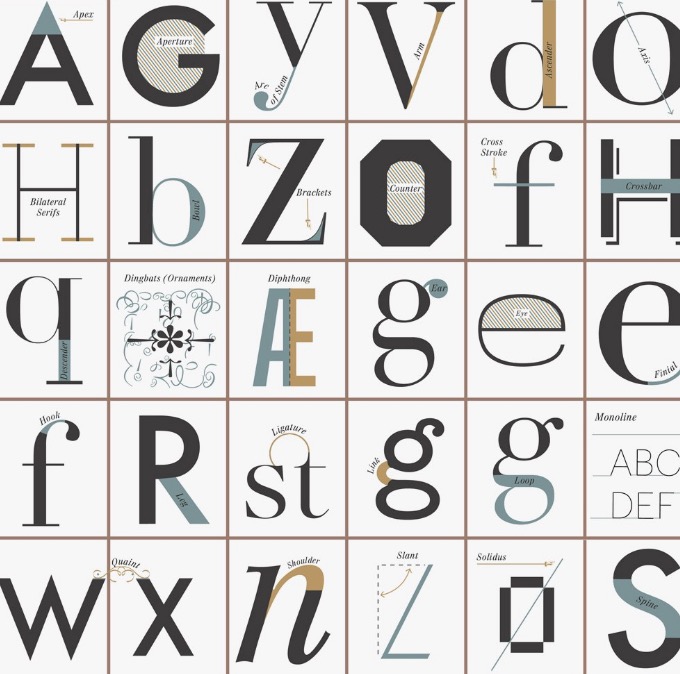 Finally, there are just specific font families that have been designed in such a way that they're just naturally clearer and therefore more readable and legible than others. It pays to experiment with these fonts, too. According to SlideShare's own recommendations, if in doubt, go with the sans serifs. If you're going to use your presentation exclusively online, also go with sans serifs, but if you have an offline use for it, then choose serifs in your slides.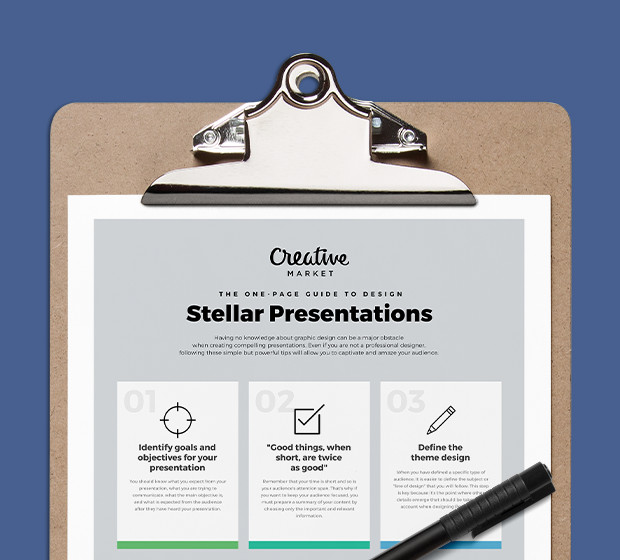 Here's the free guide you need
Make your next presentation your best presentation.
Grab this one pager with a summary of key tips to create a powerful presentation from scratch.
Download now!
The Best Font Sizes to Use
There are differing opinions on this issue, but all are in broader agreement: bigger is better. This stands to reason when you want to ensure that everyone in your audience—older people, those at the back of the room, etc.—can easily see the text on each slide. According to the aforementioned Guy Kawasaki, it's best to use 30-point font sizes to err on the side of caution. The last thing you want to do is use a size that's too small, like 10 points.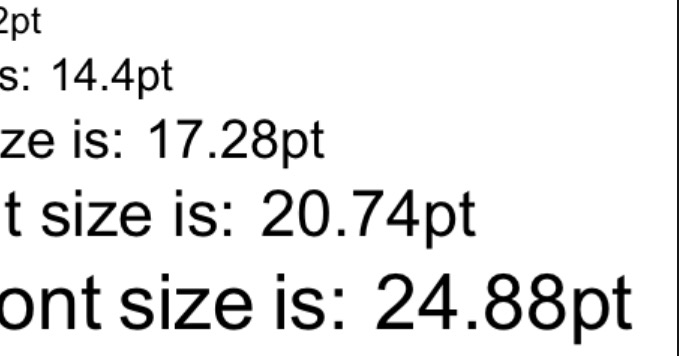 Presentation expert Scott Hanselman recommends between 14- and 18-point sizes, but they have to be bolded for extra readability. So the bottom line is simple: use bigger font sizes that are at least 14 points. Ideally, you'll want to go even higher than that. For extra effect, if you're unsure about the legibility of the fonts you're using, it's best to bold the typefaces just to be on the safe side.
Using Templates for Great Slideshow Presentations
One of the fastest and most organized methods of creating presentations is to use templates. Google Slides templates offer a multitude of aesthetic and highly usable designs that allow you to simply incorporate your points into the preexisting templates. Not only does this save you time, but it also ensures sleekly presented slideshows that are better received by your audience. We've searched far and wide to give you a roundup of the 30 best templates for Google Slides from our marketplace. This minimalist template is ideal for the presentation that needs to come across as clean and professional.
Its beautiful use of negative space will help your viewers focus their attention on what's important. If you're looking for a clean and crisp way to present your slides, look no farther than this product.
Take control with this fully customizable presentation. Impress your leads, clients and anyone else in your audience with this presentation deck.
Modern and trendy, it makes delivering slideshows a cinch. Aptly named, this template uses a monochrome scheme to present slides in a conservative and understated fashion.
Use it for showcasing charts, graphs, and images. Colors can enliven any presentation, and this template is no exception.
Centered around several, strong color choices, this pitch deck can help you turn your audience into believers.
Balance and fine symmetry unite in this slideshow to underscore how great design can help to make messages clearer and more effective. Organize your thoughts and messages with better accuracy than ever with this well-designed template.
BUILD comes with more than 120 customizable slides and upwards of 250 icons. Less is more is taken to its maximum potential on this elegant template.
A study in minimalism, this bare-bones approach is pure slideshow beauty. This presentation product epitomizes what a simple and intelligently laid-out design can do for crystal clear slideshows.
Fully editable in the Google suite, it's a great marketing aid.
Knowing full well that high-quality images help sell the deal in presentations, the maker of this presentation product includes 30 high-resolution pictures as part of this deal.
Boasting more than 135 creative and unique slides in total, this template uses the art of contrast well to help you put together a perfect presentation that focuses audience attention on the most relevant parts.
A must for designers and creatives who want to present their ideas and concepts in a well-structured and well-designed manner, this template pack is spectacular for meetings, presentations and talks. Enjoy full creative control with this smart and well-designed slideshow template.
For work or fun or any projects in between, this presentation deck has you covered. Featuring a clean, crisp and modern layout with chunked text blocks for easy reading, this presentation template is a godsend at any business meeting.
It comes with 100 unique slides and full editing control. This slideshow template makes excellent use of the design concept of symmetry for vibrant presentations.
It features numerous color schemes, editable graphics, and dozens of unique slides. Stunning and vibrant, this presentation includes 30 high-quality images as a bonus.
With more than 550 free vector font icons, you're sure to make a stellar impression at your next speaking engagement. In just a matter of a few clicks, you have the power of an efficient and effective presentation at your fingertips.
This attractive template uses intelligent formatting and text chunking to ensure that your most vital ideas easily stand out. There's an elegance in true simplicity, which this template epitomizes.
Its strong and confident design, crystal clear imagery, and bare-bones aesthetic make this one a strong ally in any presentation. Boasting 800 free vector icons together with 75 unique slides, this presentation template offers great value.
Its commitment to clean and modern aesthetics will have your audience eagerly following along when you present the slides. Whatever you want to communicate to your viewers—charts, graphs, images, and everything in between—this presentation deck has you covered.
Its vibrant, bright colors will turn any audience into a captive one. Sharp, sleek and refreshing as far as Google Slides templates go, Reverta is a presentation to help you make the best impression possible.
Transmit your thoughts and points with seamlessness, as you pick from more than 100 unique slides for your presentations. Living up to its name, Awesome features several colors schemes, almost 1000 icons as shapes, and editable charts.
Throw in 70 one-of-a-kind slides, and you have awesome value in this product. The word that best describes this template offering is multipurpose.
Designers and creatives can use it for a plethora of purposes including business meetings, advertising engagements, portfolio talks, and branding presentations. This professional and corporate template set is your go-to solution when giving business-related talks and presentations.
Its reputable design and well-organized layout are the backbone to your persuasion and communication. Are you looking for a simple drag-and-drop solution to your presentation needs?
If so, then you've settled on the right template with this presentation pack. Its 800-plus vector icons and numerous slides make it the perfect ally in presentations. A simple and contemporary design gives your presentations a spark.
This minimalist template uses a monochromatic scheme and contrast to bring out the most important information in your slides. The use of well-placed focal points in various slides form the backbone of this great presentation suite.
Its clean and strong lines draw the eyes of your audience, helping you make your points with better clarity than ever. Let your penchant for creativity shine with awesome Google Slides templates like this one.
NORS features high-resolution photographs, more than 620 free vector icons, and full customization options. With its unique and eye-catching design, the Geometry template will give you the leg up in getting your points across.
Choose from more than 110 slides, Google fonts galore, and vector-based icons. This huge presentation pack includes Google Slides templates for meetings, get-togethers, speeches, and other creative uses.
This deck comes with more than 100 slides, infographic elements, and charts.
Easy and Customizable
When you're creating slideshows for meetings, presentations, and talks, you want to use a format that gives you a lot of control. Templates fit the bill since they're a cinch to personalize. These premade designs give you a very attractive and usable framework in which to create dazzling presentations. Next time you want to impress, persuade, or enlighten while walking people through slides, consider using templates to create your presentation.
---
Products Seen In This Post: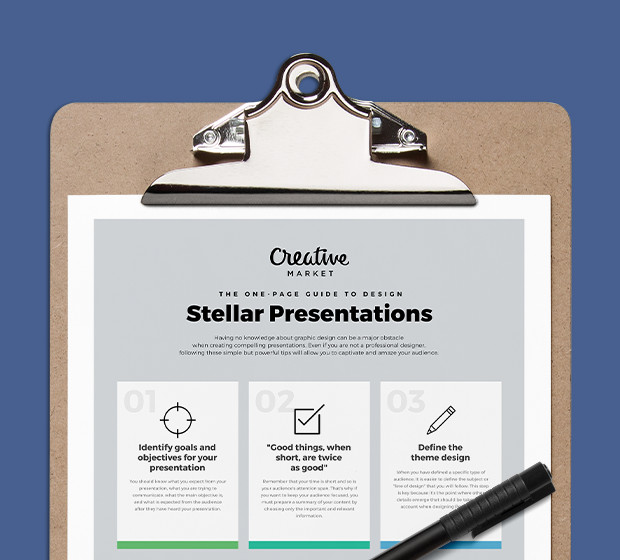 Here's the free guide you need
Make your next presentation your best presentation.
Grab this one pager with a summary of key tips to create a powerful presentation from scratch.
Download now!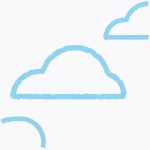 Marc Schenker
Marc is a copywriter and marketer who runs The Glorious Company, a marketing agency. An expert in business and marketing, he helps businesses and companies of all sizes get the most bang for their ad bucks.
View More Posts