How to Increase Your Shop Sales (Using The Strategic Giving Technique)
This is the first post in an awesome new series by top-selling Creative Market shop owner Dustin Lee (RetroSupply Co.). In each post, Dustin will share with us some of his knowledge and expertise on how to be successful on Creative Market.
Grow Sales Through Giving
When I used the strategy I'm going to tell you about today, my sales went through the roof. And if you want to grow your sales on Creative Market, you'd be silly to ignore it.
Here's why: Because this one strategy is the most inexpensive, easy, and effective ways I've found to make sales.
I can personally pinpoint a direct correlation between this strategy and my sales. I call it the "Strategic Giving" Technique and if you're looking to boost your sales you need to read this.
What is Strategic Giving?
Strategic Giving is based on The Law of Reciprocity.
If you really want to geek out, here's an article from the Journal of Economic Perspectives.
But this quote from the article sums it up:
"Reciprocity means that in response to friendly actions, people are frequently much nicer and much more cooperative than predicted by the self-interest model;"
In other words, people are more likely to buy from people that give them stuff.
Just this weekend someone used the law of reciprocity on me to great effect. I went to Costco to buy one of those gigantic jars of trail mix (a hot item at my house). On my way to the trail mix aisle, a lady at a sample booth handed me a piece of sweet and sour chicken on a toothpick.
As I ate it, she started telling me about why this sweet and sour chicken was the best.
Here's the crazy part:
Even though I had zero interest in sweet and sour chicken (at first), I listened!
Long story short, I walked out of Costco with a 5 lbs box of sweet and sour chicken. Why?Because when she handed me that chicken, she activated the law of reciprocity. The sweet and sour chicken obligated me to listen.
Here's the great part, this law doesn't just help sell sweet and sour chicken. It also helps sell your design goods.
Here are 8 ways you can use "Strategic Giving", aka The Law of Reciprocity, to boost your sales:
1. Give to Influencers
Every industry has influencers. Do a quick search of phrases related to your product. You'll find a dozen or so names that show up again and again.
Send the author a related product you've created for free. Include a brief note describing the product and why you thought they might like it.
When I created my product RetroSupply, I sent a copy to Chris Spooner creator of the popular blog Spoon Graphics. Not in hopes of making sales, but because I genuinely like Chris and wanted to give something back to him.
This simple gesture resulted in him sharing my product with his audience. Which generated a LOT of sales.
Tip: Consider this an opportunity to meet new friends. Send your pack to people who you believe will benefit from it. Let them know how you found them and what you liked about their article.
2. Give On Social Networks
Social networks are a great place to offer a product sample. It makes it easy for others to share. Plus, it's always fun to stumble across something useful for free.
By using an app like Buffer you can schedule posts throughout the day sharing samples of your goods. Be sure to make it easy for people scanning their social networks to spot the good by using the word "free" early in the message.
Here's an example tweet:
Icon Freebie: Download 5 of my latest icons from my Summer Icon Pack here: [insert your link]
Be sure to include a link in the file to the location they can buy the pack.
3. Share Your Process
Make it a habit to document your process.
Here are some simple ways to share your work:
Take pictures of your sketches and post them to Instagram.
Create a screencast of your product in action. Share it on YouTube and Vimeo.
Share the inspiration for your latest product using Pinterest.
Write a blog post about a useful insight you discovered while creating your product.
At first glance, sharing your work might not seem like Strategic Giving. But isn't sharing your design process with another designer giving them something of value?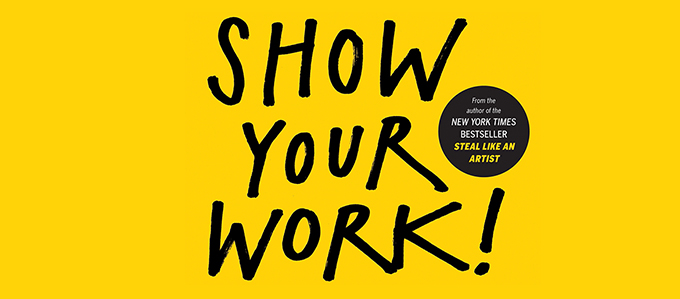 Want more inspiration for sharing you work? Check out Austin Kleon's book Show Your Work, it will inspire you to make a habit of sharing your process.
4. Show Your Audience How to Do It for Free
When you release a product, share exactly how they can do it on their own for free.
This might seem counterintuitive maybe a bit crazy. But if you do it right the rewards are huge. For example, let's say Mike is selling his Super-Awesome Texture MegaBundle. He can create a tutorial showing others how they can make the same kinds of textures for free.
Some people will use Mike's article to make their own textures. But others will want instant results and they'll buy Mike's MegaBundle.
Why? Because by giving people something (a helpful tutorial) he's activated their desire to give back. And all things being equal, we buy from people we like.
5. Offer a Freebie to the First X Number of Buyers
When I release a new product I'll often offer a product of the buyer's choice for free.
Why? Because a free item is often the final push someone needs to decide to buy. So what do you offer for free? Anything you think your customers will love!
Here's a few ideas to get you started:
Offer any one item from your shop of equal or lesser value.
Share a sample of another product (this might grab you another sale as well).
Release an exclusive freebie.
Note: Technically this isn't The Law of Reciprocity, but it's a great example of how giving can increase sales.
6. Give Away a Free Sample in Your Description
A potential buyer just clicked on your product. They're reading your copy trying to decide if they want your product. But they're on the fence.
Try putting an easy to spot link in your copy where potential buyers can download a sample of your product. Not only does this activate The Law of Reciprocity, but it also gives them a chance to kick the tires before they buy.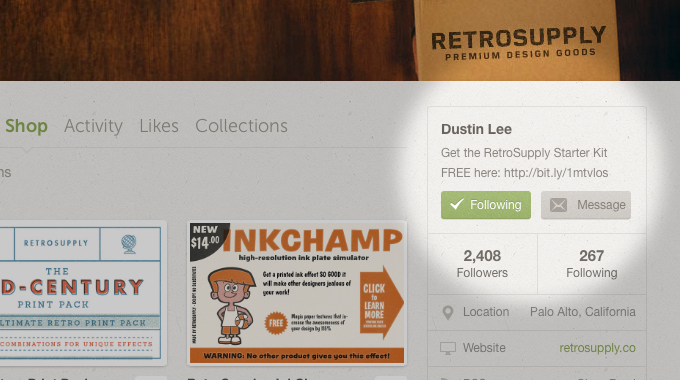 Tip: What should you put in your free sample? Your best stuff. This is the place to blow customers away with the awesomeness of your product. If they don't love the sample there's no way they're going to buy the rest.
7. Offer Freebies on Image-Based Social Networks
By nature, Creative Market goods are visual. And as it turns out, visual social networks tend to have higher conversion rates for ecommerce.
For example, users shared or interacted with posts on Instagram 4.21% as oppose to .07% on Facebook (read full article here).
Take advantage by sharing images on sites like Instagram, Behance, Dribbble and Pinterest.
8. Share It Via Free Goods on Creative Market
I'll admit, when I first gave away a good on Creative Market it was a bit scary. Over 15,000 people downloaded my free good! That's a lot of people that could have bought it!
Except it isn't, because 98% of those people would have never purchased the good. So why give your good away on Creative Market?
Because by giving them something valuable you're activating The Law of Reciprocity. Not to mention, once they see the quality of your products, they'll feel much more comfortable purchasing.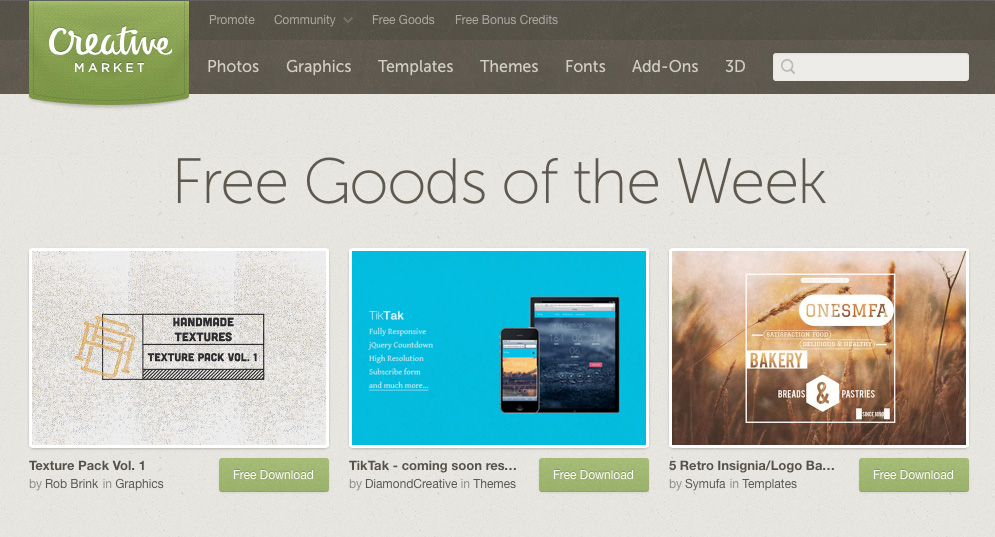 None of This Works Unless You Do This…
As you'll probably notice, none of these examples guarantee sales. None of these strategies work unless you have a great product.
What these strategies do is buy you some attention from potential customers. By giving them something, you've earned an opportunity to show them why your product is awesome. And if you use that opportunity wisely you earn more sales.
What do you think? Have you used The Law of Reciprocity in your shop?
Do me a favor and let me know how you plan to use this strategy in your own business in the comments below.
---
Dustin Lee is the owner of RetroSupply. He's also launching a new site called GrainBureau, offering tutorials and free graphic design resources.
Header created using Monicons 1 by Tim Boelaars
Getting started with hand lettering?
Free lettering worksheets
Download these worksheets and start practicing with simple instructions and tracing exercises.
Download now!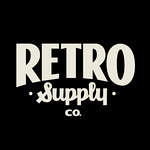 RetroSupply
RetroSupply makes brushes, textures, fonts, and templates for retro-loving illustrators and designers. Our products are made by a full-time team of creatives for use in Procreate, Photoshop, Illustrator, and Affinity.
View More Posts