Magazine Design Inspiration: Creative Ideas from the World's Top Sites
Magazines had a cultural impact on our society long before the Internet ever became a thing and way before social media ever took off. Back before news were instantly accessible at the tap of your fingers on your smartphones, folks got a good deal of their news analysis and opinion from print. Today, magazines are still a force when it comes to influencing people's opinions and shaping pop culture. This influence has carried over to the web, as all print magazines have online content or even dedicated editions right on their websites. Your favorite magazines' websites have also given these publications another opportunity to show off their design chops when it comes to considerations like layouts, proportions, trends and aesthetics. In fact, some magazines' websites look like an entire team carefully planned out a veritable, virtual layout of a print publication…right on the Internet. Here are some of the coolest, nicest and most memorable designs from the websites of magazines across all areas of interest.
Food & Wine
Food & Wine magazine was started back in 1978, and since then, it's become one of the world's biggest authorities on everything to pair with a fine glass of red wine to who the hottest, up-and-coming chefs are.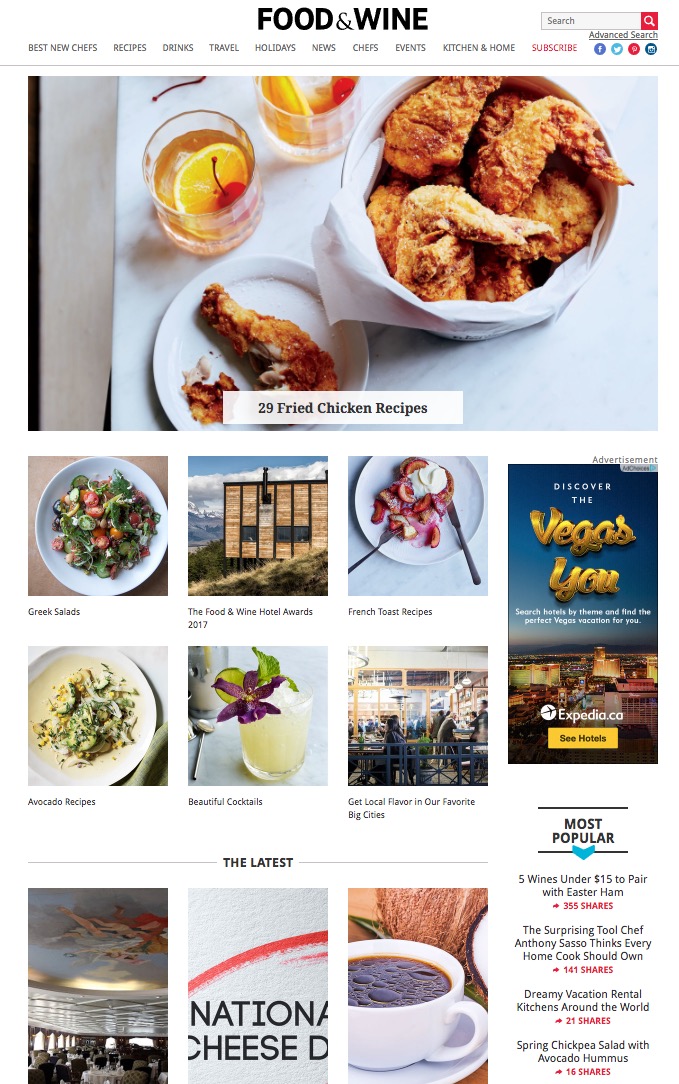 Its website uses a copious amount of white space to frame its homepage's mega image more effectively. White space also helps the card-based categories—the best dishes, the Food & Wine hotel awards, etc.—stand out with more urgency to foodies and other site visitors. With thick typography in its wordmark logo and a very usable search bar, Food & Wine's website boasts an overall very clean look that makes it easy on the eyes and great for UX and navigation purposes. Our CM marketplace has a rich selection of magazine templates that also use white space very powerfully:
Billboard Magazine
The premier magazine of the music industry and various charts and tracks knows how to grab site visitors' attention. In its featured articles, the magazine goes huge with a screen-wide mega image, a thick sans serif title, and meaty, long-form content to keep its readers glued to their site, whether that's on desktop, tablet, or mobile.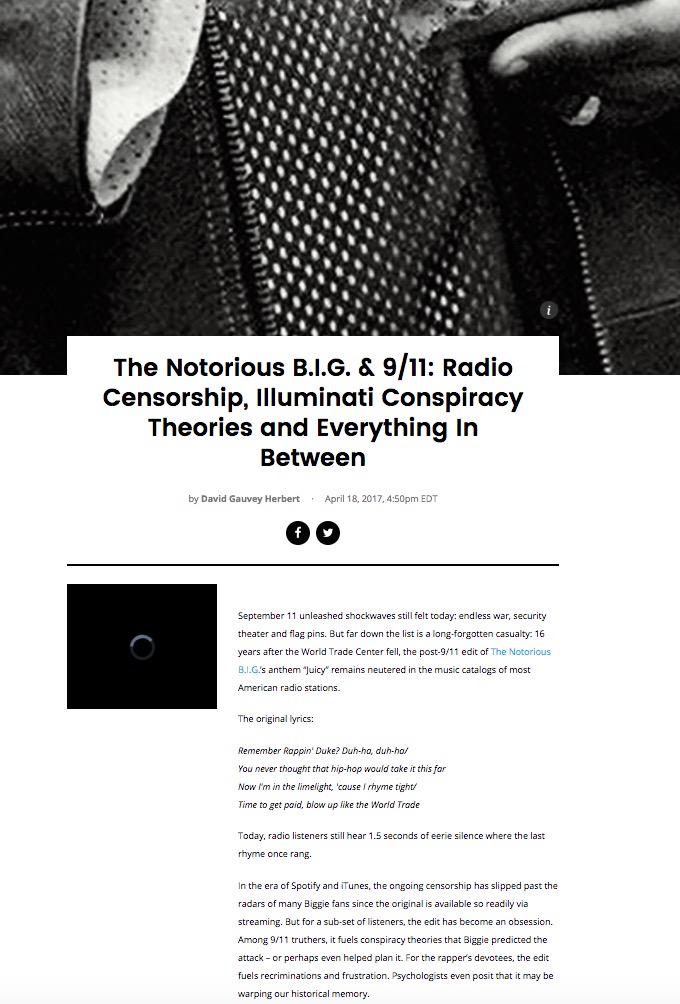 Note also the incredible use of minimalism in its web design: Besides the use of the gigantic mega image on top of its articles, this magazine's site only uses a sleek, one-column layout for its pieces—and a whole lot of white space.
Sports Illustrated
This much-vaunted and popular magazine's website…illustrates just how excellent content organization can make a magazine's website very interesting while still being readable. The site uses a card-based sorting layout to organize its different stories, along with a neat sidebar of sorts (to the right) to highlight the most important headlines that appear on Sports Illustrated.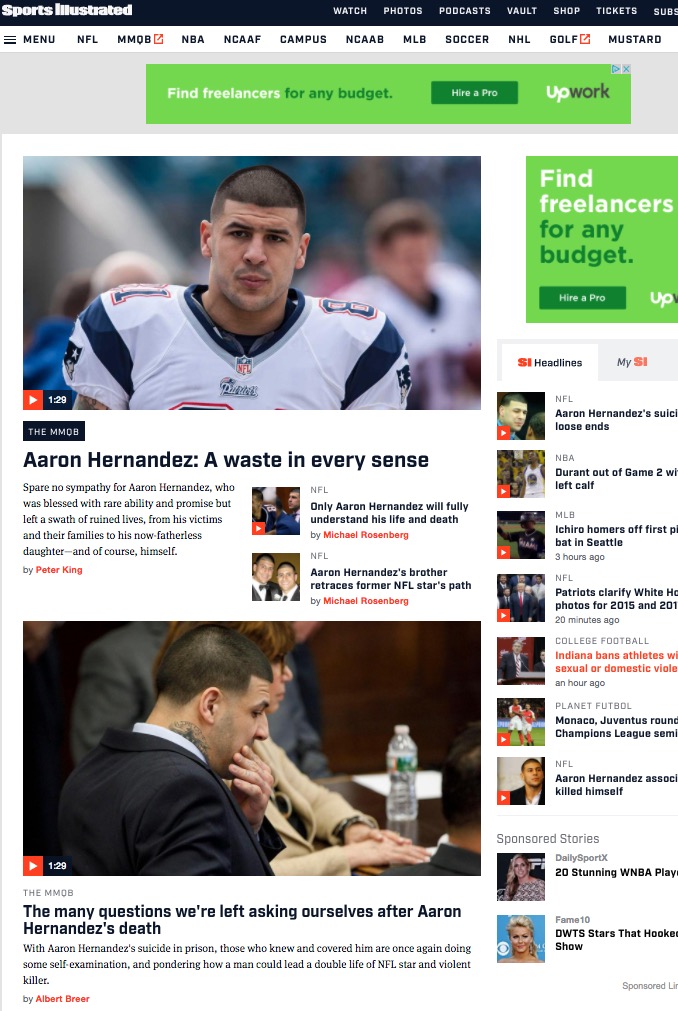 Overall, the homepage as a result looks very clean and features well-organized content. Readers enjoy a good user experience by being able to easily skim over the content to find the most important headlines and efficiently click on the stories that are of greatest interest to them. Here are some examples of cleanly designed magazine templates from our marketplace:
Cosmopolitan
Possibly the best-known women's magazine out there, Cosmo's website doesn't disappoint in living up to its print reputation with a functional and attractive website that speaks to its vibrant nature.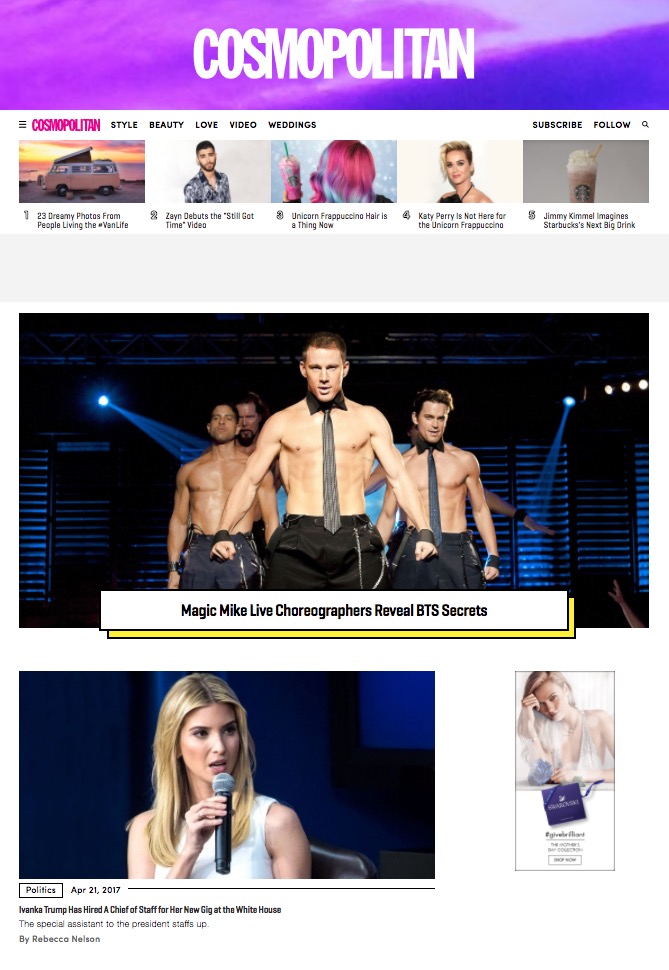 The header features the stylized name of the publication, with a unique twist right under that: Its top five stories at any given time are horizontally listed in a row, just beneath the limited navigation bar above.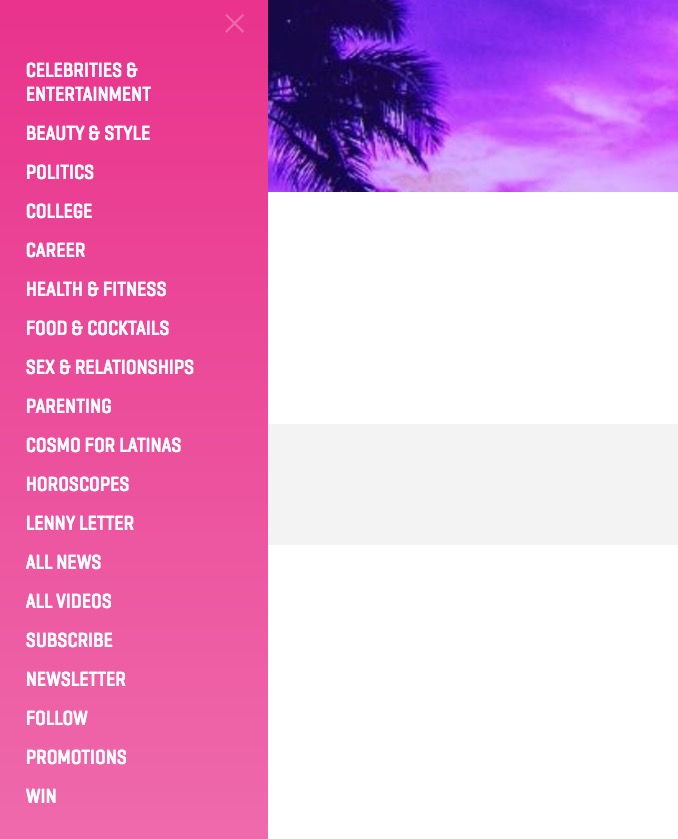 Speaking of the navigation menu…if you can't see it, then just click on the hamburger menu (the three, short line segments stacked on top of each other, right beside the Cosmopolitan logo), and what you'll get is a refreshing, pink slide-in menu that contrasts wonderfully with the overall negative space in the background of the homepage.
National Geographic
NatGeo magazine's website design can probably be best summed up with one word: images. Realizing that images are huge when it comes to design on the web, NatGeo wisely uses copious images, which creates a likeness to its print magazine, also picture-heavy.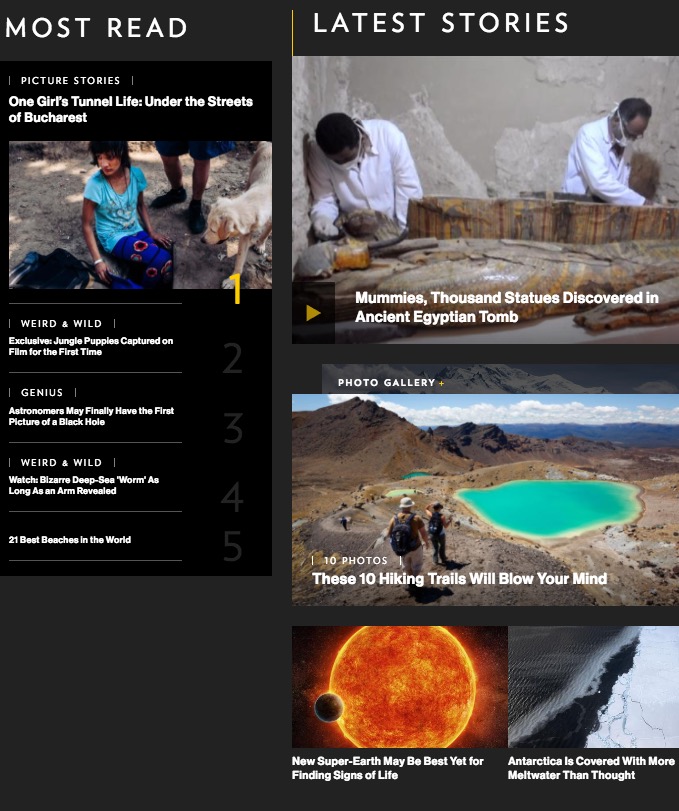 The result is a website that draws readers and visitors in with striking and high-quality imagery that floods any given webpage on the site with color, vibrance and something interesting to look at. The site's use of a two-column sorting layout to organize the "Most Read" and "Latest Stories" seamlessly and efficiently is also a big help to the site's usability.
Stuff Magazine
This men's consumer electronics and tech magazine features an exceptional carousel/rotating slider scrolls through some of the most important stories and reviews the magazine's site publishes. This design feature is a welcome change from the seemingly excessive focus on mega images always being the first design element that greets visitors.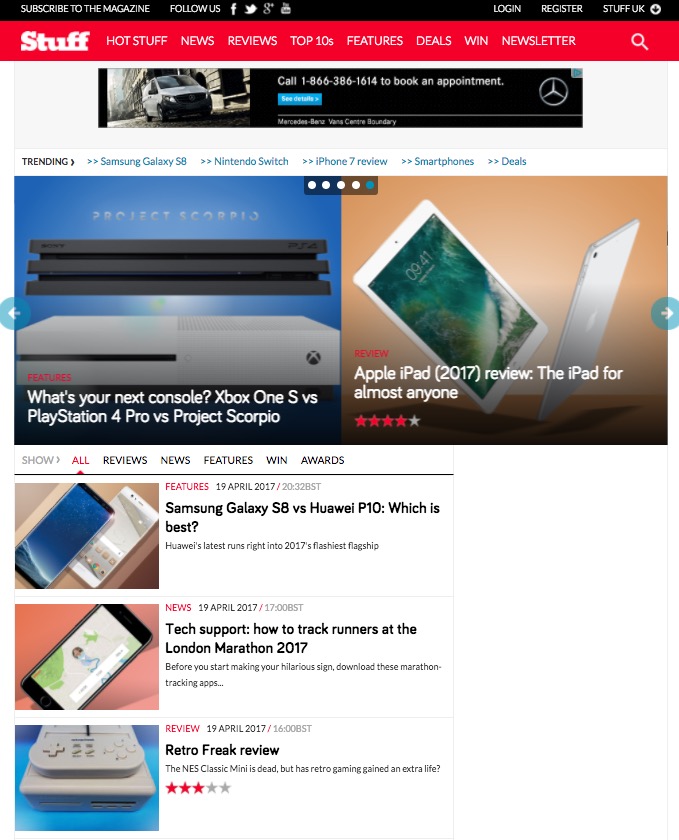 Honorable mention also goes to the red bar running horizontally across the entire width of the screen. This striking color immediately draws the users' eyes to the navigation menu, helping with easy navigation and use of the site.
Wall Street Journal Magazine
Some may not be aware, but this huge, financial newspaper of record also publishes a magazine. On its website, what's immediately noteworthy is how the design is organized to imitate a traditional newspaper, both with the column-style layout of the stories and the traditional, newspaper-esque typography.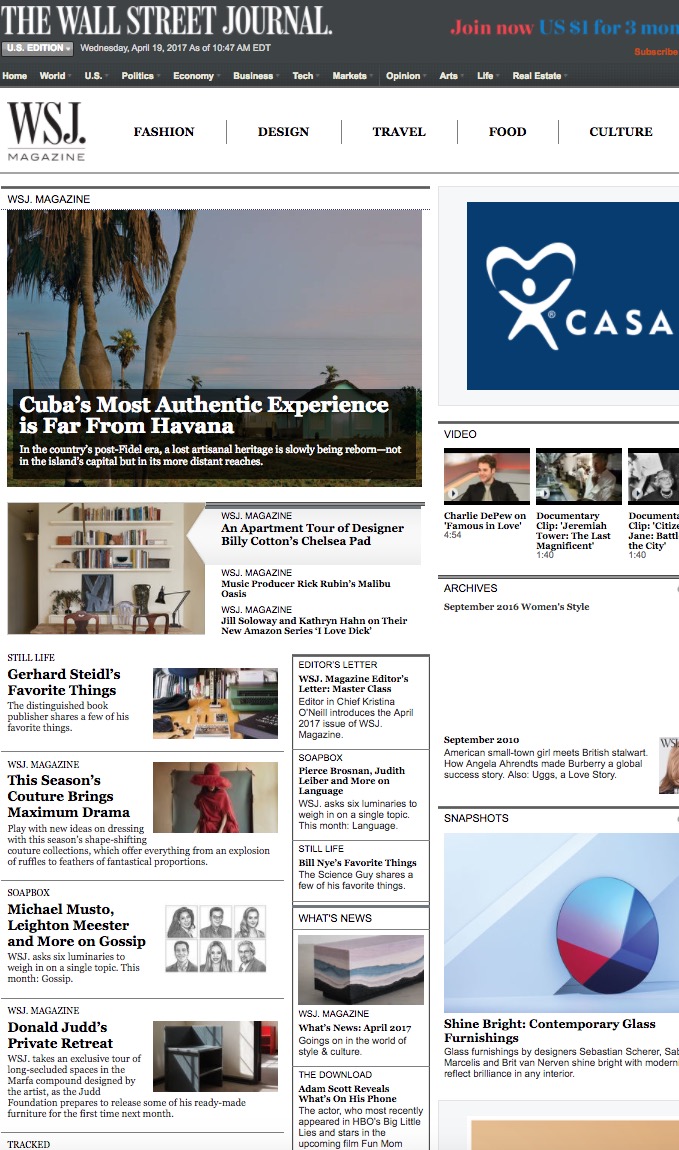 This magazine's website succeeds by marrying a very sparse, almost minimalistic design with something familiar, which is the newspaper-inspired design. Note how the use of lots of white space is a huge factor in creating this paper-like vibe on its homepage. Check out these examples of minimalism in magazine design from our selection of magazine templates:
Esquire
A long-running men's magazine, Esquire's site features a lot of content, but the strength of its design is how neatly everything is organized, which makes for an easy-to-navigate site. Content blocks are neatly arranged in columns or horizontally in rows, helping the user experience greatly since readers can quickly find what they're interested in.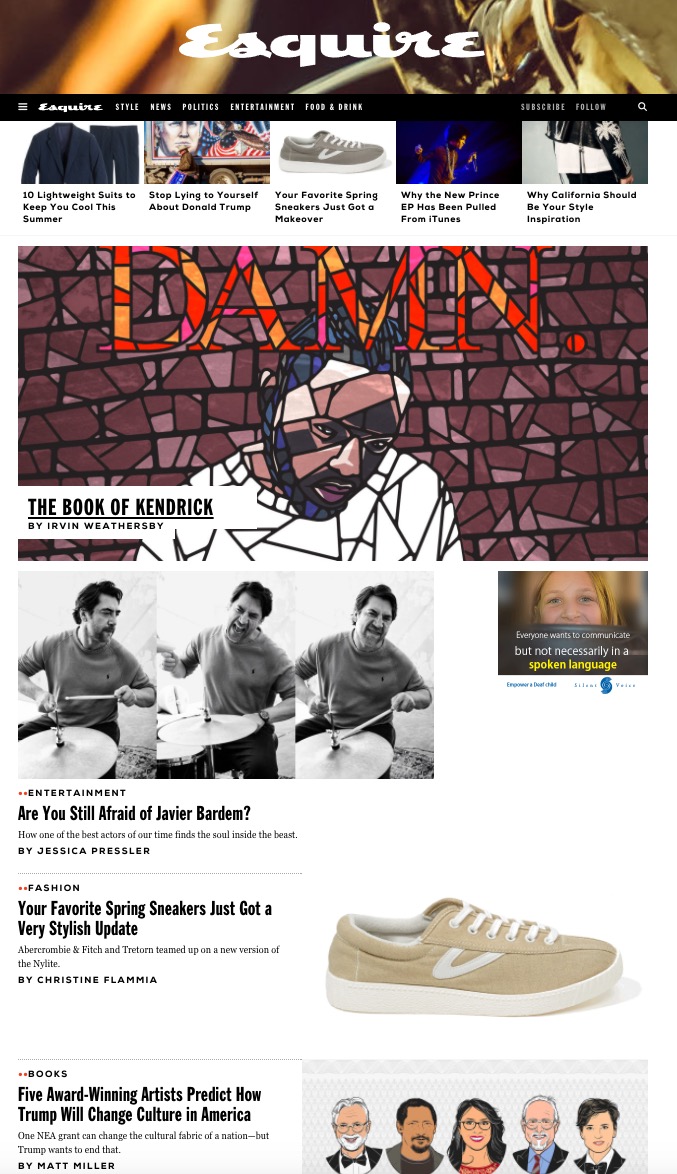 The magazine's site also features a screen-wide image header with a stylized Esquire logo that immediately and effectively communicates brand identification to readers. Extra props to Esquire for using a hamburger menu (the three short lines stacked on top of each other) to hide any unnecessary navigational elements until users have a need for it.
Elle
Elle magazine's website uses an interesting technique to show its content to voracious site visitors, though it may not be all that obvious at first. The site divides each row of content into typography and imagery, reaching a virtual 50/50 symmetry among the written and visual.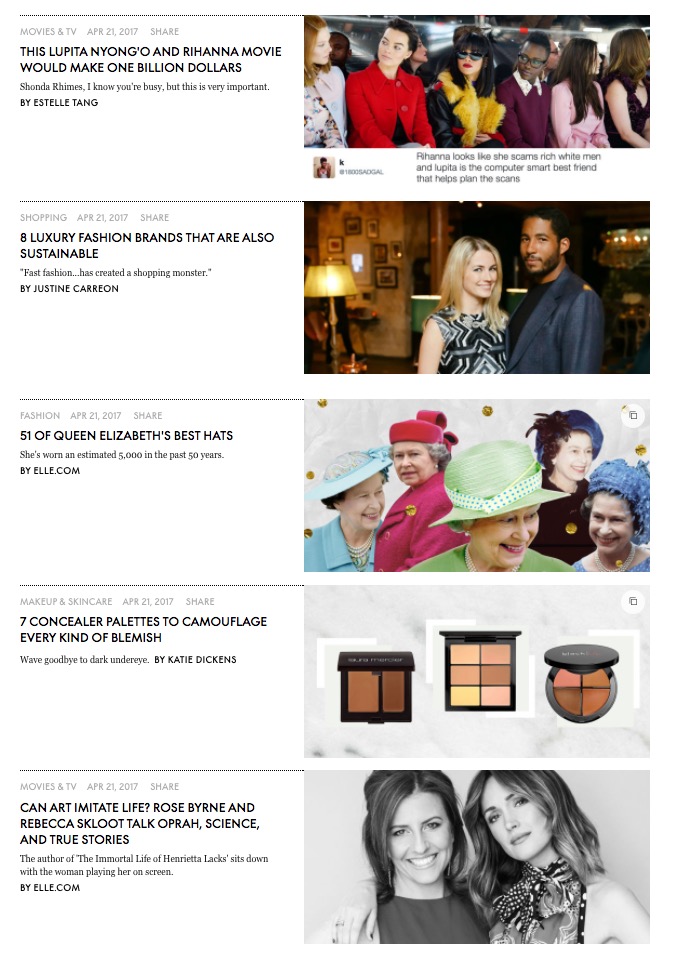 As a result, its horizontal grids look very well-balanced to the eye, and having relatively larger images to accompany each headline creates more appealing user experience. Not to mention, it's more attractive to the eye, and therefore more legible when every block of content comes with a beautiful image for context and clarity.
Shape
One of the most popular women's fitness magazines, Shape has a website that uses the automatic carousel to its maximum potential. Whereas other magazines' sites may only use the carousel to showcase one element at a time, Shape's web designers went for broke by cramming in several elements in one rotation of the carousel.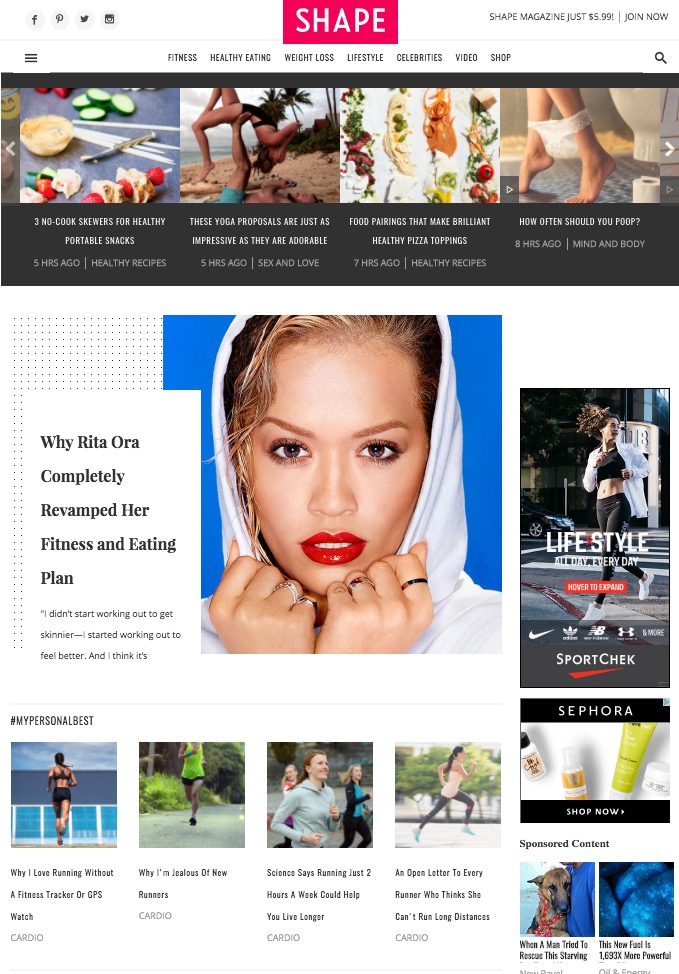 The end result is a carousel that succeeds in displaying more content at a time, which can be effective for the intended goal of getting readers and site visitors to click on the hottest fitness-related content at the moment. Its carousel displays rows of the most popular and interesting articles the site has to offer for the day.
Better Homes & Gardens
This hugely popular domestic magazine's website communicates the importance of stunning images in a magazine of this nature. Much of the content of this publication surrounds the home and lifestyle, which includes a lot of interiors, gardening, entertaining and floral arrangements.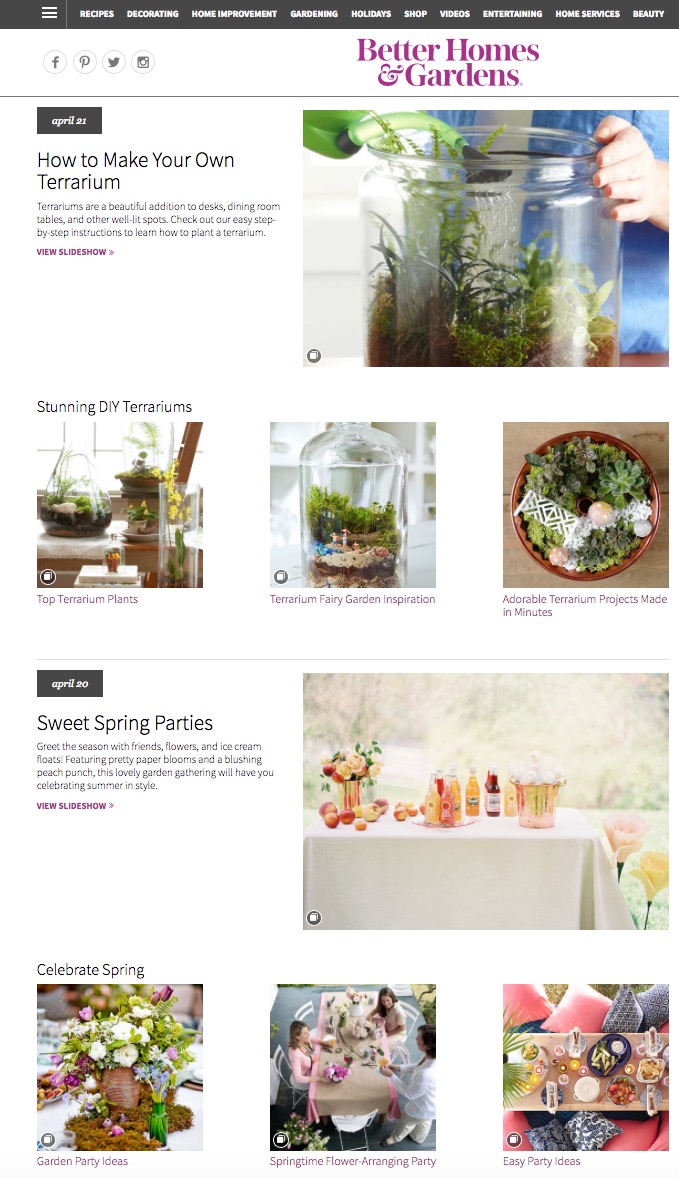 That's why its website is replete with crisp, huge and high-quality images; its homepage is literally dotted with great shots of homes and interiors on every row and column of its grid-based layout. Since people and readers are very much visual creatures above all else, its design illustrates how effective imagery can efficiently communicate a magazine's purpose, sometimes better than words. Our own CM marketplace features an abundance of magazine templates that put the use of rich imagery at the forefront:
American Rifleman
With a circulation of more than 2 million, this 33rd most-widely circulated magazine in the U.S. demonstrates an interesting and very user-friendly web-design technique, relating to its navigation.
Note how the navigation menu is layered, as in new sections fly out from the original menu column when menu selections are hovered on. This fly-out menu, if you will, solves a huge design problem in one fell swoop: It organizes a lot of content seamlessly, so that readers can quickly find what they want and go to the section of the site they're looking for. Bonus points for the red and black color contrast to really draw the eye.
Prevention
Prevention's objective of educating its readers about being proactive with their health has produced an innovative design feature to encourage readers to skim and scan along with the text on its webpages.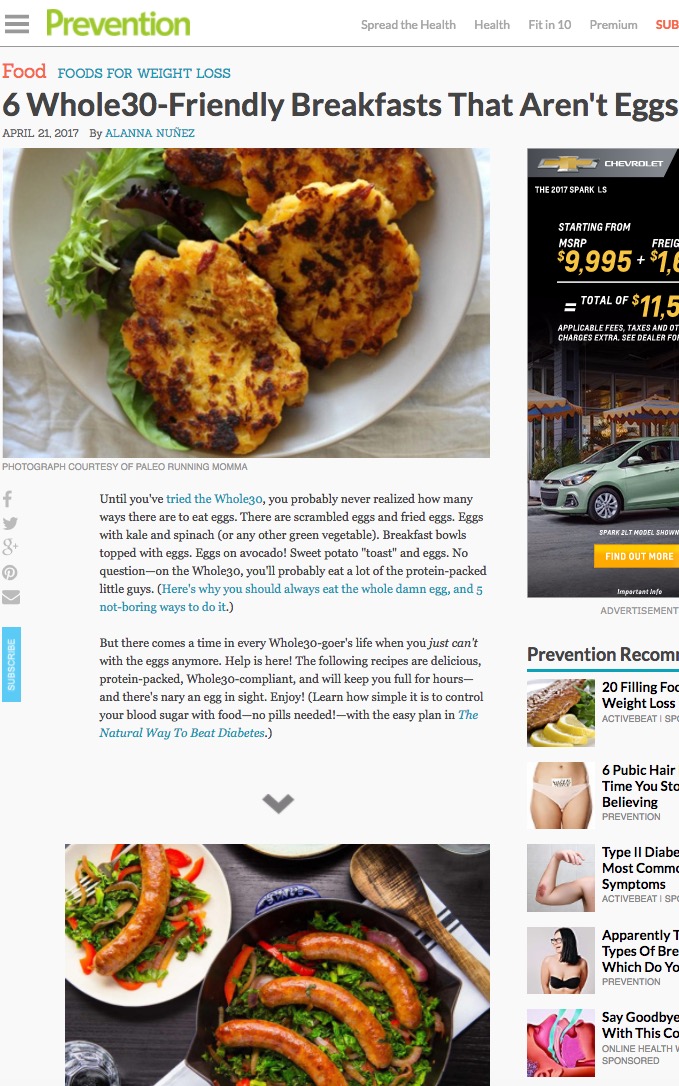 Thanks to directional cues (the downward arrows), readers and users are told that there's always more content for the article below the fold. With one simple click on the arrows, the webpage automatically heads to the next section down in the article, making for easier reading and pacing as site visitors follow along with the information. This is a superb example of design that's done with the user in mind for excellent UX.
Car and Driver
Car and Driver's website design has something refreshingly curious going on. Essentially, the homepage has a competing approach to organizing and showing its content.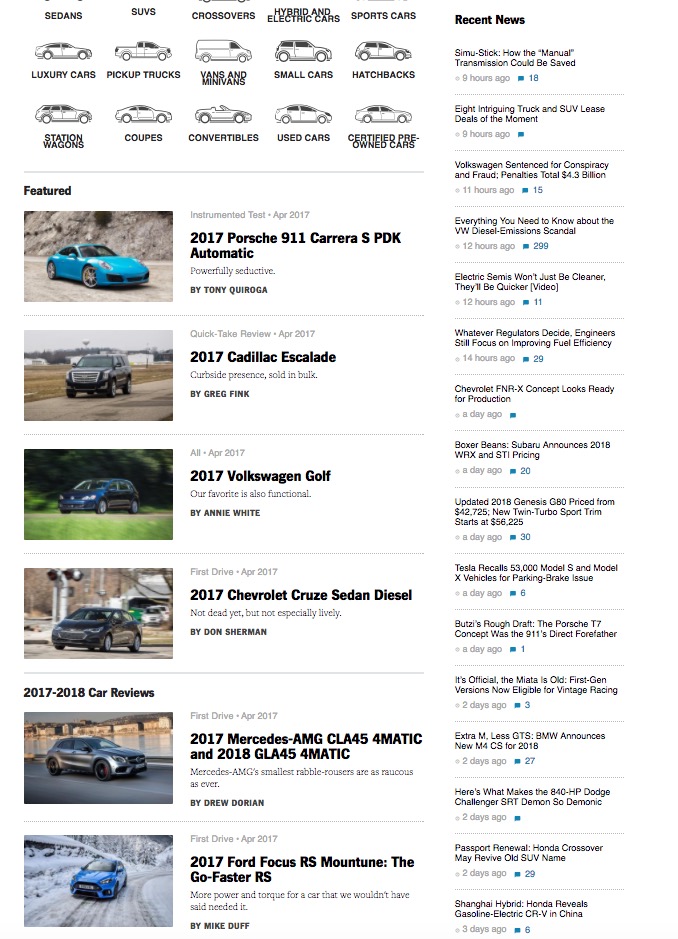 The center column in the Featured category uses a card-based way of sorting content: The different cars are written about and reviewed with the images or cards functioning as a container of visual information, prompting readers to click for more details. On the other hand, the right-hand column of Recent News uses a bare-bones approach of simply listing all the latest news items in a vertical organization. This dichotomy of styles on the same homepage creates an interesting experience for the eye.
Forbes
Much-vaunted Forbes magazine relies on a one-two punch of web design to present an immersive reading experience to its site visitors. The site's approach can be summed up as mega images meets card-based design.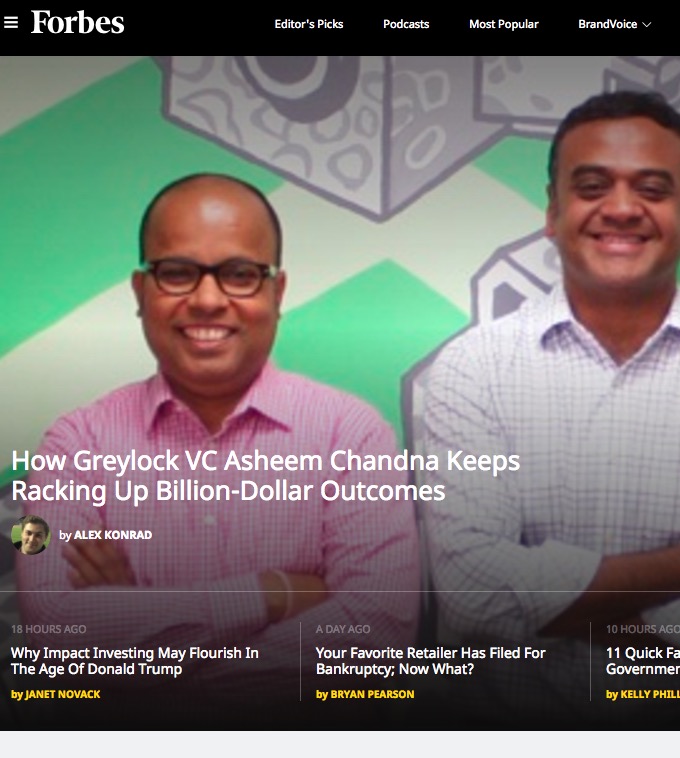 It's refreshing to see a magazine's website utilize a mega image, as that's something you mainly see in business sites that are trying to sell you a product or service. This change of pace is a welcome site in an industry where the design of magazine websites can quickly become stale.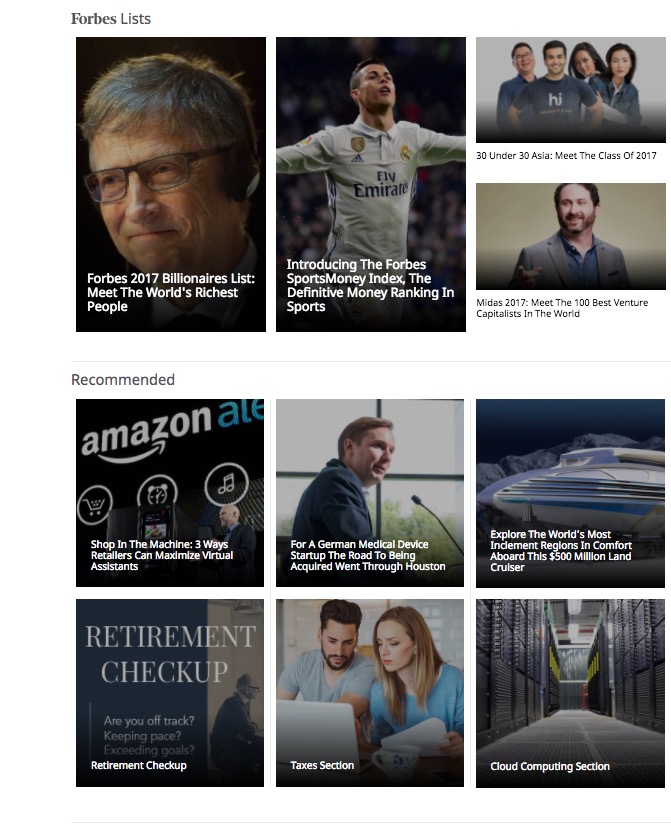 Then, when you scroll down below the fold, you're greeted with card-based design to sort and present various Forbes sections like its Lists, its Recommendations, and its Videos.
Smithsonian Magazine
The Smithsonian is the federal government's collection of museums and research centers dedicated to the "increase and diffusion of knowledge." The design on its website is dedicated to making the navigation as usable as possible to ensure efficient UX in spite of the large amount of content it displays, which is quite impressive.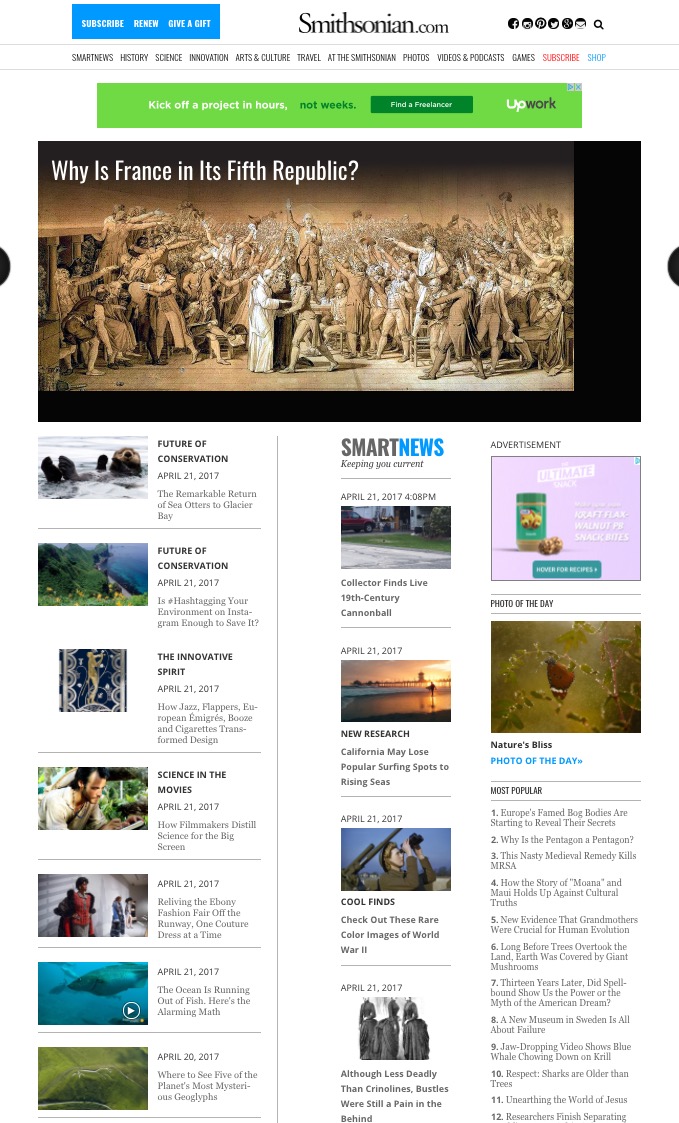 The only magazine site here with a three-column layout on its homepage, the Smithsonian's site organizes content like this:
The first column is for the latest stories
The second column is for interesting news tidbits
The third column is to highlight the most popular stories
The site also uses a huge carousel with huge images to rotate between its featured stories, for a nice and practical effect.
Design Makes the Magazine, Not the Other Way Around
A magazine, whether in print or on the web, is only able to attract and draw in readers and a loyal following based on how easy it is for people to find what they're looking for and read the content. Sloppily designed and organized magazines repel readers like crazy. It's no surprise, therefore, that the web design of some of the world's most popular and widely read magazines focuses primarily on clarity, cleanliness, minimalism and, when minimalism isn't possible, well-organized layouts. Because the design is so functional on all of the sites outlined here, it's a true joy to read through each of them—whether on your desktop or tablet. For more inspiration and ideas on how to design a legible and readable magazine, have a look at our magazine templates category.
---
Products Seen In This Post:
Getting started with hand lettering?
Free lettering worksheets
Download these worksheets and start practicing with simple instructions and tracing exercises.
Download now!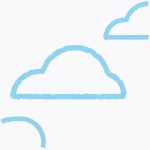 Marc Schenker
Marc is a copywriter and marketer who runs The Glorious Company, a marketing agency. An expert in business and marketing, he helps businesses and companies of all sizes get the most bang for their ad bucks.
View More Posts