Recreate the Look: 80s Editorial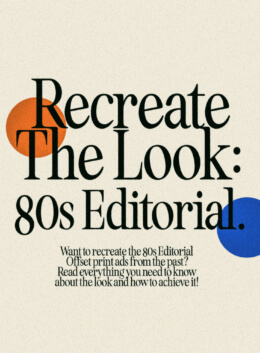 The editorial layout and ad style of the late 80s is back!
Design trends come back in cycles, and when they do, we're usually faced with entirely unique takes: creative reinterpretations that reflect new designers' perspectives.
Established by big players like Apple, Nike, and Volkswagen, the popular 80s editorial look blends sleek, condensed serifs with the textural distress you'd expect from the printing technology available at the time. The outcome? Bold, text-first layouts that celebrate the golden era of print advertising.
Why do these ads look like they do? What are their key components? Let's zoom into this 80s editorial style and Recreate the Look!
Hyped about the whole retro look? We've got you covered! Download the free film grain JPG in this tutorial and use custom blend modes to layer it into your next 80s editorial design.
---
Unlock Your Creativity
As a Creative Market member, you can save 20% on more than 6 million design assets like the ones we'll use in this tutorial, plus a free Drop worth up to $1,000 every month.

---
About The Look
After a colorful period of florals, psychedelia, Woodstock expressionism, and surrealist fonts, the 80s marked a new era. This decade celebrates an enthusiastic embrace of modern technology and innovation.
Think about everyday life back then: Apple has just brought the personal computer into our homes. You turn on the TV and everything in pop culture is a bold vision of the future. While Ridley Scott's Blade Runner shows us a dystopian future, Terminator pays us a visit from 2029.
In this environment, statement brand campaigns dominated print advertising. To be seen, you had to stand out and engage the imagination. Brands like Nike and Apple pushed the advertising industry further with iconic campaigns only comparable to the 1960 Volkswagen ad concepts.
Design: Layout, Elements, and Texture
Handmade Layouts
At a time when no one knew what InDesign was, the go-to tools were Aldus Pagemaker and Microsoft Publisher. And, you guessed it, the possibilities were pretty limited. Design software wasn't something people used at home and the possibility to afford a personal computer had just come about.
Designers used to set up ads by hand, using knives and paper. Layout, font setup, retouching, and design layout were all done manually and there are still designers today who use these techniques.
April Greiman was one of the first graphic designers who saw the design possibilities of a machine like the Macintosh or Quantel Paintbox and pushed them to their maximum potential. Still, layout directions in the commercial world, outside of artistic experiments, were pretty similar in execution.
80s Editorial Fonts
Looking at this decade's iconic ads, with their dominant typefaces, you can clearly recognize some of the distinguishing style directions:
Bold, readable sans serifs made statements clearer and directed the eye towards important brand messages
On the other hand, longer storytelling blocks were set in classic serifs like Goudy Old Style, conveying the brand's solid standing, history, and innovative thinking.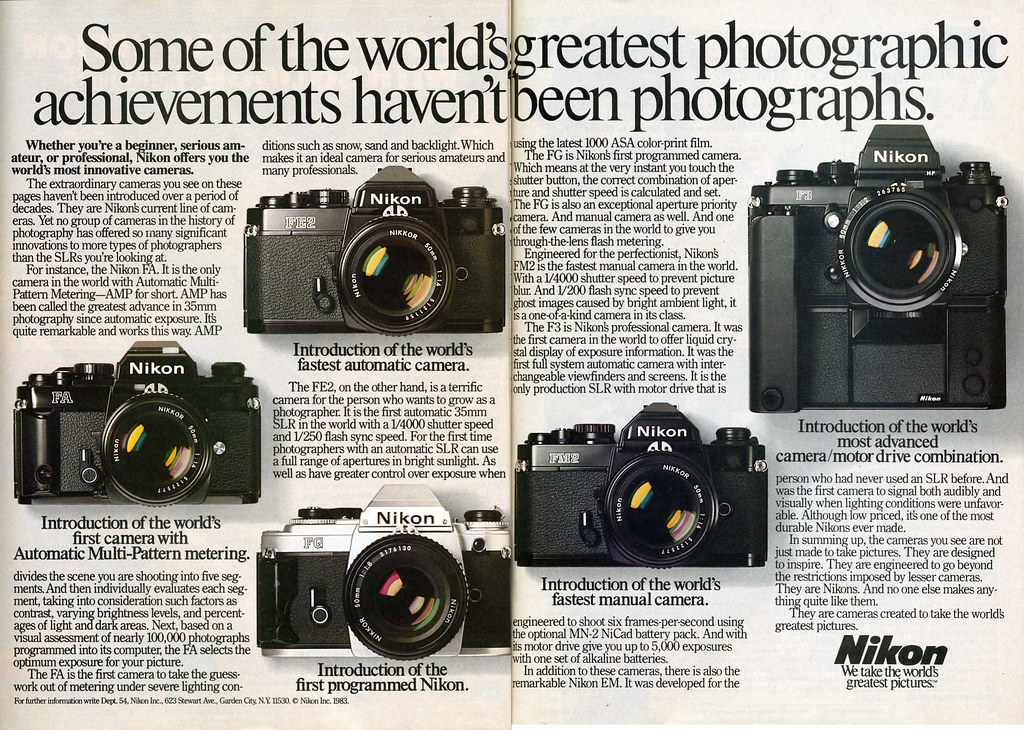 The Offset Texture
The most common printing method for magazines at the time was offset. This high-quality printing technique works similar to risograph printing but it is faster and cheaper.
Basically, the printer generates each color independently: cyan, magenta, yellow, and black. While today nearly every print is super crisp, magazines in the 80s still had that distressed look we're now trying to revive.
How to Recreate the Look
Now that we have an orientation and several design elements to focus on, we can start designing.
Most photographic elements in late 80s editorial and ad layouts were positioned prominently on the page. The focus was on the product or person, without any distracting backgrounds.
I chose the Nineties Headliner by Jen Wagner Co for the first version of our ad and the Seriously Nostalgic Serif by Nicky Laatz for our second version.
To recreate the characteristics of the offset printing technique digitally, you can layer in some of the effects inside Photoshop or take it a step further and use an Offset Print Action like FLYERWRK's.
Free Grain Texture
Hyped about the whole retro look? We've got you covered! Download this free grain texture (JPG) and use custom blend modes to layer it into your next 80s editorial design.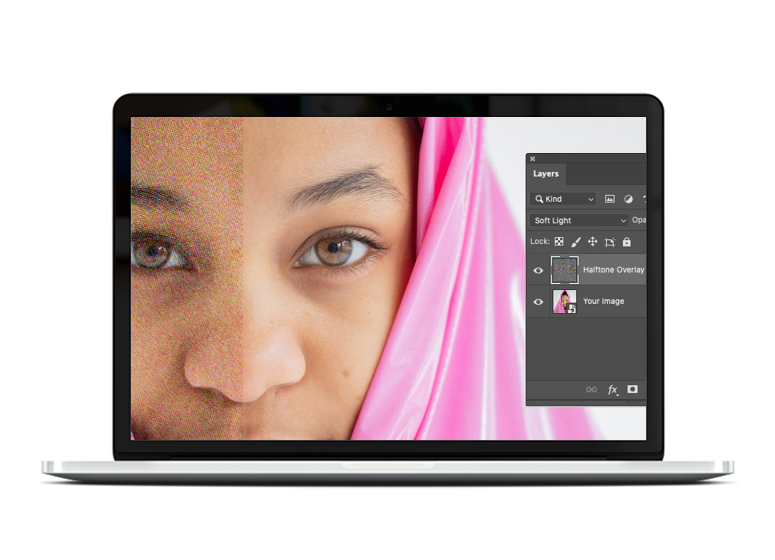 Create a retro offset look
Free Grain Texture
Download this free JPG texture and add a grainy print effect that is unmistakably 80s
Download it now
Style 1: Creating The Informative 80s Editorial Look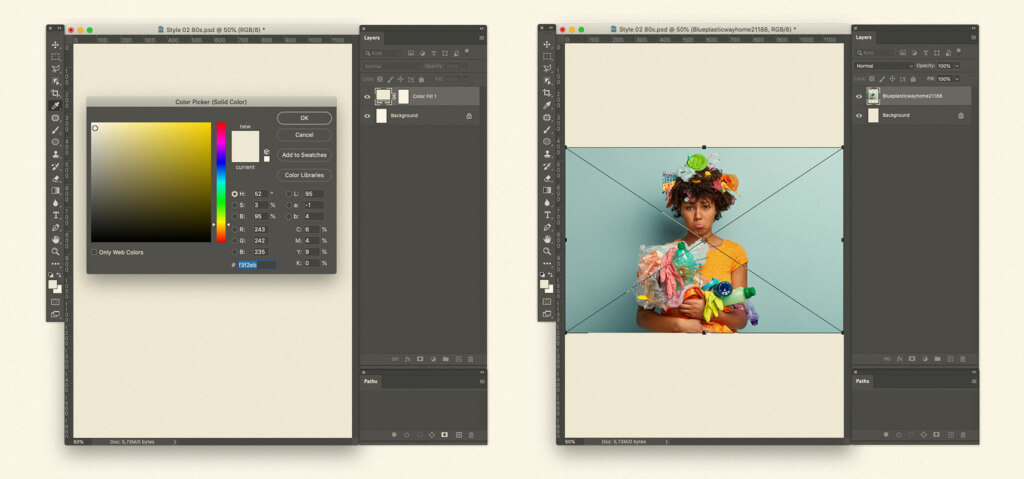 First, choose an eggshell white tone (I used #f3f2eb) through the solid color option to imitate an older kind of paper. Once you're happy with your color, merge it with the background by pressing CMD+E on your keyboard to avoid having too many layers.
Now place an image of your choice. I chose a dominant image from Wayhome Studio that worked well with my headline.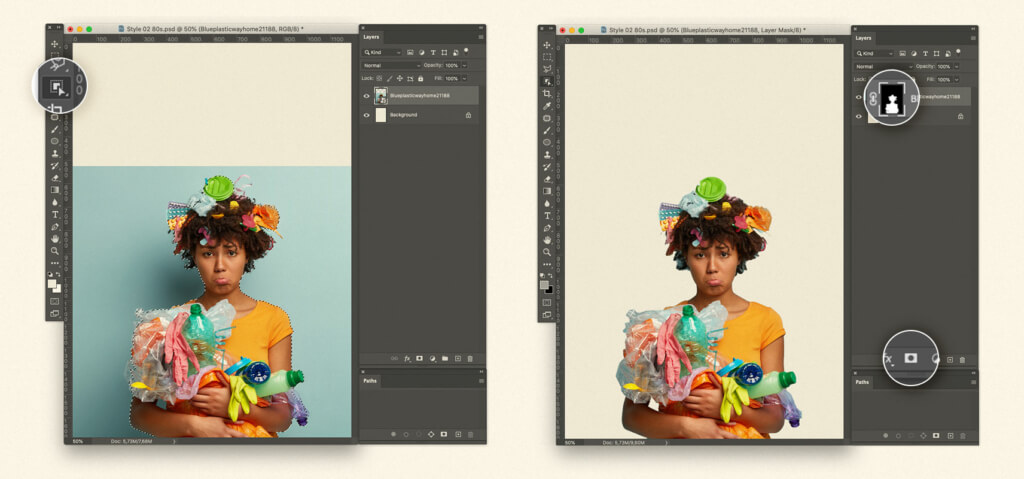 Next, use the Object Selection tool to cut out and isolate the subject. It doesn't have to be pixel perfect because we will roughen the image texture at the end and we're not going to create billboard-sized posters.
When you're happy with the result, click on the masking option while the selection is still active. From here, you can still redefine the mask if needed.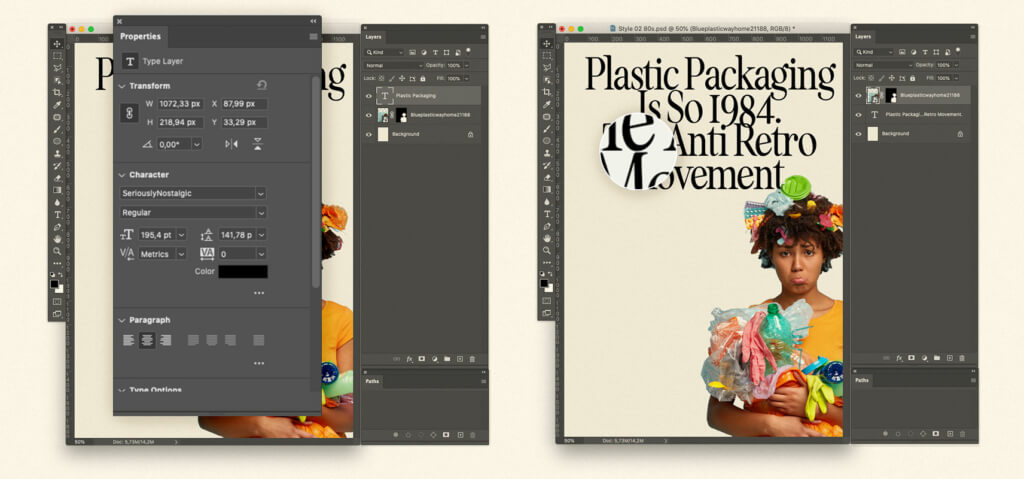 Since our first creation is going to be more about the information, we'll go with an editorial serif font. Seriously Nostalgic font from Nicky Laatz is just perfect for this use case and mimics the style pretty well. To match the retro headline look, use uppercase at the beginning of every word. For a more authentic look, the letter spacing needs to be as narrow as possible. I overlayed some parts to make it a bit more 2022.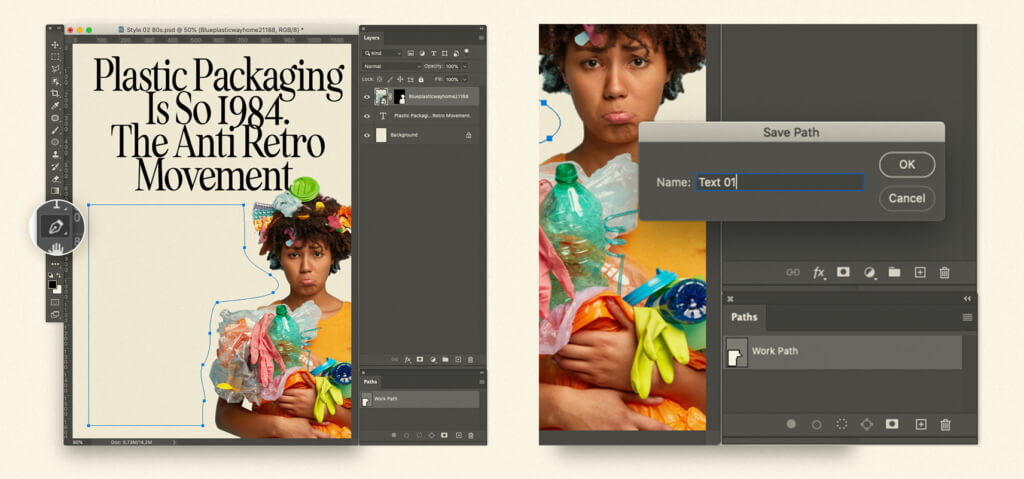 Since we're in an information-centric editorial, the next part will be similar to InDesign's text wrap feature. We'll make a custom text box with the pen tool in Photoshop.
Make a selection to mark the area where you'd like to place text. Save and name it by double-clicking on the work path in your path panel. You can modify the path later.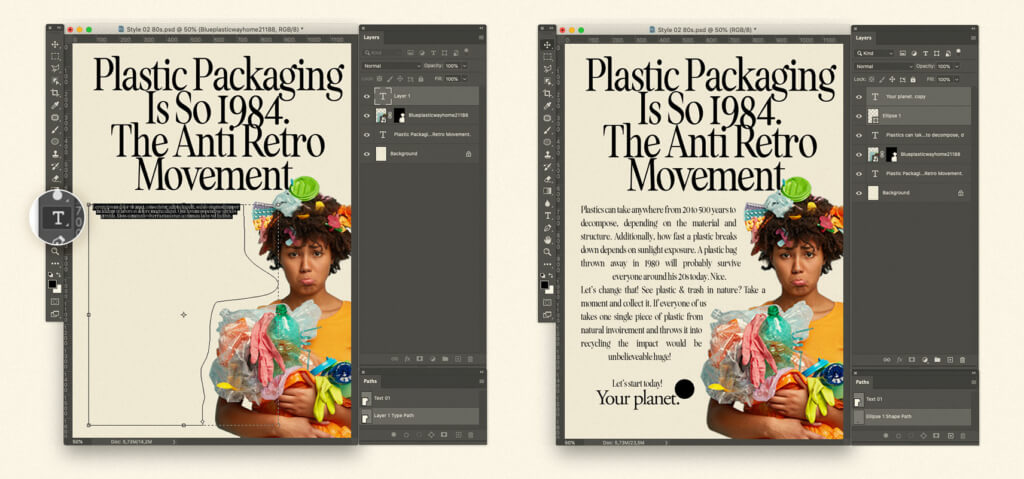 By using the Text Tool inside the path selection, Photoshop will fit it inside the area you defined before.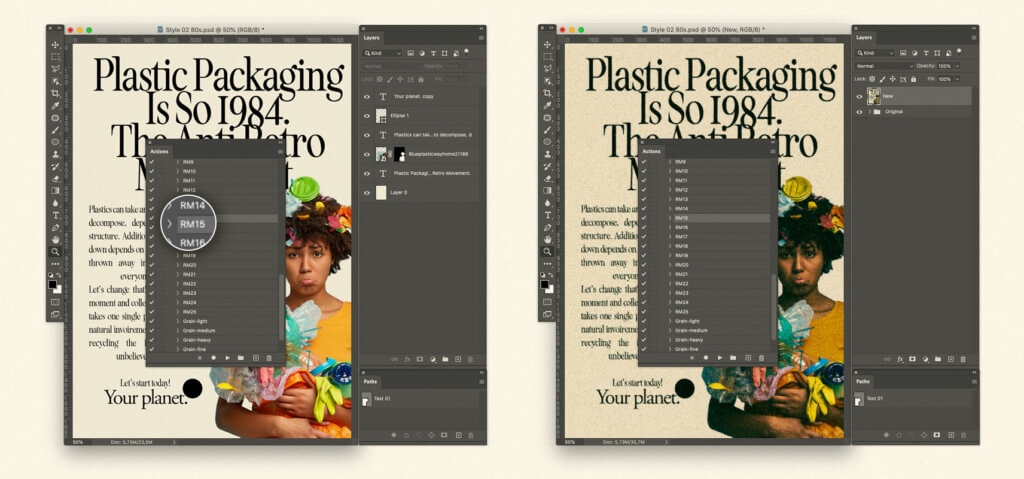 Although it already looks pretty 80s, we need to add a final touch: the offset print texture. The Seriously Nostalgic font comes with some handy Photoshop actions and filters. I'm using the included action "RM15". If you don't have access to the font, you can use the free texture I'm including in this tutorial.
Quick tip: Before using the action, you should unlock every layer you locked before and make sure the background is unlocked as well. Otherwise, the action won't include the locked layers and you won't be able to see its full effect.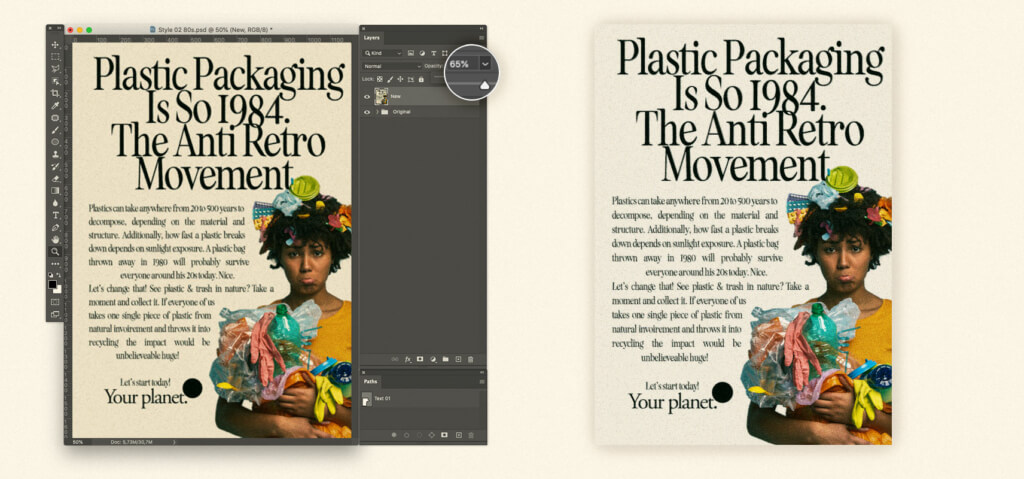 Since the retro print effect is pretty rough, you can tone it down a bit by lowering the opacity of the effect layer which was created automatically during the action process.
We're done! Our first 80s editorial look is ready to see the world!
Style 2: The Bold Headline Editorial Look

To recreate the more slogan-oriented 80s editorial look we'll go with a bold sans serif font set in true black. The Nineties Headliner by Jen Wagner Co is a perfect fit. The font pack comes with two Photoshop actions that create a noisy print look.
Instead of leaning on body copy for messaging, this ad centers attention on the image below our bold headline.
Inspiration & Sources
Now that you've learned how to analyze and Recreate The Look, feel free to experiment. Pick your own decade or even another look popular in the 80s and give it a try!
Some other 80s editorial fonts to look at
Serif Fonts
Headline Sans Serifs
Getting inspired
No matter which style you're planning to recreate, having a moodboard in hand is a great starting point. You can collect inspiration on Pinterest. For this project, I created a Pinterest board to capture the 80s & 90s editorial look.
As soon as you're feeling good about the moodboard, it's time to collect your building blocks. While browsing Creative Market, you can create Collections for specific projects or styles. This way you have everything in one place without losing those gems.
Trend Reports are also a great way to gain more inspiration. Discover Creative Market's 2022 Spring Trends and learn more about this 80s Editorial style there as well!
What other looks are you into?
Did you enjoy this tutorial? Did you try to Recreate the Look? Any other design style you want to learn about? Let us know! Visit Creative Market on Instagram and tag us in your stories or share a comment below.
Stay curious!
Ana ✌🏻✨
---
As a Creative Market member, you can save 20% on more than 6 million design assets like the ones we'll use in this tutorial, plus a free Drop worth up to $1,000 every month.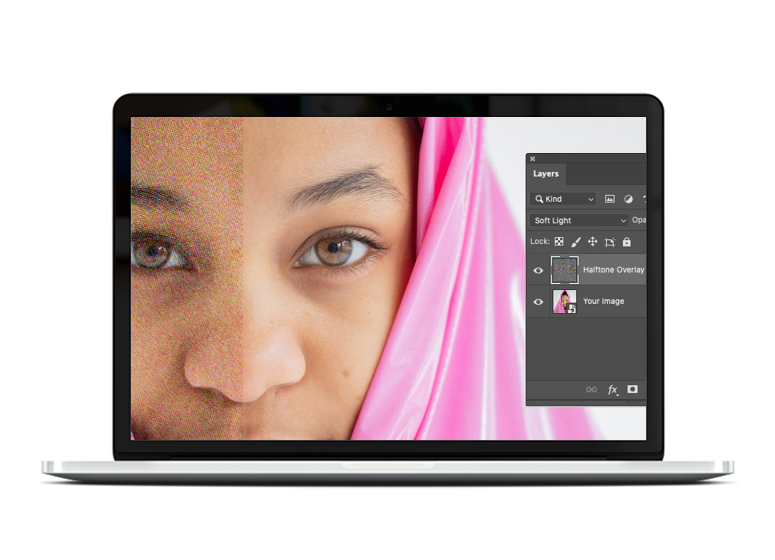 Create a retro offset look
Free Grain Texture
Download this free JPG texture and add a grainy print effect that is unmistakably 80s
Download it now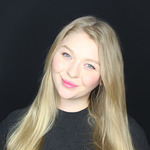 ana & yvy
ana & yvy | Hi I'm Ana. I create animations and design thingy things & the rest of the day I cuddle my doggo. If you have any questions please feel free to send me a message or an email 🧡 Here're my other shops: https://creativemarket.com/JanuaryBloom & https://creativemarket.com/StykkeStudio
View More Posts