50 Fresh Summer and Beach Fonts
Working on fun summer projects? You will love these sun and beach-themed fonts. Evoke the sand, sea, and marine life in this list of tropical typography.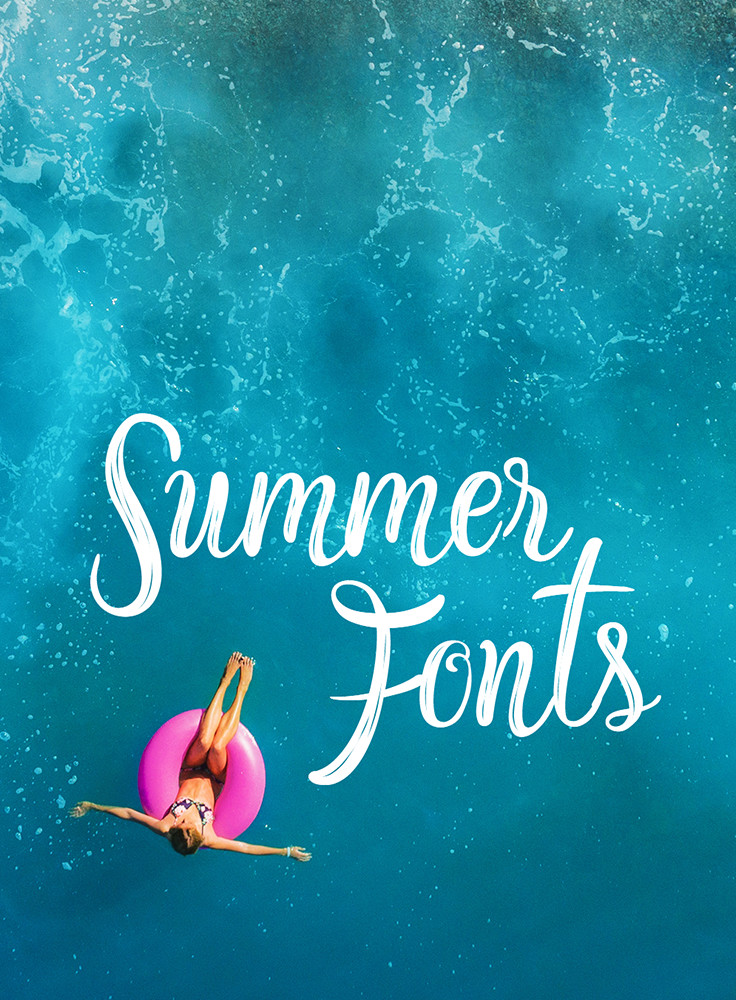 The right kind of typography can take a design from boring to brilliant in seconds. Formal or business themes generally look great next to clean, narrow fonts. Fun, more casual projects often do well with cursive or bold typefaces. Understanding the power of typography will make your work stand out more. Whether you're creating greeting cards or logos, use the type of font that will evoke the right kind of emotions for your audiences. Working on fun summer projects? You will love these summer and beach fonts. Evoke the sand, sea, and sun in this list of tropical typography. You can find even more creative beach-inspired fonts here. This hand-lettered signature-style script inspired by the gentle sea breeze is crisp and clean – perfect for greeting cards, printed works, and headlines.
Reminisce the summers of the 80s and 90s in this hand-made brush typeface that will surely make any project pop!
The uber-bold unicase letterforms of this font were inspired 50s and 60s ads. Bold but light-hearted, it could be just what you were looking for in terms of charm and appeal.
This stylish and playful font family is all you need to add a fun flare to any artwork.
Keep it real with this radical font that features awesome craftsmanship. All you need is some waves and you can totally hang loose with this typeface in your toolkit.
Inspired by the jagged forms of rocks and natural wood, this font recalls adventure, nature, and wilderness in every letter.
Effortlessly add a personal touch to your projects using this simple yet stunning hand-painted typeface.
Make waves using this fun font designed to help you catch the perfect waves each and every time.
There's nothing like a California summer. Evoke the same feeling with this typeface inspired by flat marker strokes.
This is a lively font that's loaded with various automatic interlock pairs that do their magic in OpenType-aware applications.
This monoline script inspired by retro matchbook covers, travel postcards, Tikki bars, and Hollywood feels like being in 40s and 50s California all over again.
A super bold font that's best used in headlines, titles, or logos. To get the most out of this playful typeface, alternate between upper and lowercase letters!
Make your blog posts or social media graphics stand out using this hip font, featuring its organic curves and flowing lines.
This quirky nautical font also comes with 25 fun line illustrations to complete your sea-inspired theme!
Made with scanned/vectorized acrylic brush strokes, this unique and highly-detailed typeface will take you back right at the heart of the ocean.
Got a handcrafted project that needs an extra 'oomph'? This modern display and handwritten font includes a script and catchwords for fully dynamic designs.
Invite the fun of summer any time of the year by using this offbeat sans serif font that's simply bursting with energy!
Dance to the summer beat of this playful typeface with a cool paper cut look.
This fresh font duo is best paired with works needing a contemporary touch. This modern sans serif is a must-have in any designer's arsenal!
Summer is all about light fabrics, fresh ideas, and cool treats – just like this slim handwriting font. But this and get the awesome ornament pack to add more character to your designs.
Featuring minimal points and smooth curves, this sans serif baby will make crafting end products or designs easy as pie!
Use this delightfully cute font with lots of character when your artwork needs just a little bit of sugar.
Perm your hair and get ready to head to the beach in your tight lycra thanks to this totally awesome mono-line script font straight out of the 80's.
Ever wondered what it would be like as a castaway? Create the same feeling in this adventurous typeface.
Bring Spring Break back anytime using this carefree font that will remind you of sweet sunsets and Frisbee contests.
This four-font typeset features four different sizes (tall, medium, small, and extra small) you can effortlessly mix and match to make your life a breeze.
This font duo boasts of script and sans, plus clean and rough variants for a truly vintage summer feel to any project.
This nostalgic all-caps font inspired by retro label makers will take you back to your childhood of lazy summers and warm carefree nights.
Use this authentic brush font for artworks that need the touch of happy sunshine and summer goodness.
This personable font comes with regular and italic versions to add more character into your designs.
Need to level-up an ordinary summer theme project? Check out this super fun font that includes an outline variation.
This fancy handwritten font duo is perfect for invitations, displays, stamps, logos, headers, blog sliders, and more.
This beautiful SVG color font features dingbats and raster .PNG files in case your design software can't process SVG fonts.
Make your summer themed artworks more mellow using the soft touch of this classic handwritten font.
This clean script font works beautifully whether you need typography for an Instagram post, or a website logo. It's so versatile!
Summer is all about possibilities. So explore yours using this playful font trio that's super easy to use!
When it comes to adding warmth to any design, always go for a bold font that's inspired by the sun and sea.
There's nothing like the carefree swirls of this beautiful and totally original script font to remind you of warm sunny days.
This font trio comes with BONUS illustrations to make your designs pop and give them a tropical feel anytime.
This handcrafted rounded sans serif font is as relaxed as the ocean!
This hand-drawn script font is super versatile thanks to extra swashes, alternates, and a bold variant. It's perfect for projects done during a calm, cool summer evening.
This monoline script summer font features geometric sans serifs but with an option for textures and rough edges for a truly handwritten feel.
This charming font duo includes cute alternates to mix and match and create the look you're really after.
This set of hand-lettered fonts comes complete with swashes and doodles to add that wow factor to any project!
This highly expressive ballpoint script is awesome paired with a serif or sans serif for a truly unique look and feel. Best used for branding.
Sunny days are best expressed through this organic brush font that comes with a BONUS tropical clipart set and pattern pack!
Make invitations, posters, letterheads, or logos stand out using this beautiful font duo.
Looking for that perfect font to add drama to a breath-taking sunset photo or backdrop? This is it.
This handmade font would be a nifty addition to any designer's toolkit thanks to its truly authentic look and feel.
Fresh, tropical, and naive, Summers is perfect for beach-inspired signage and prints.
Make sure you always have the right kind of font for the job. When looking for more resources or inspiration, don't forget to visit Creative Market, the go-to website for creatives like yourself. Their extensive collection of images, typography, vectors, layouts, and more, will surely motivate you to level-up your projects. Getting pre-made fonts is a great investment in the long run. Instead of scrambling to find the best typography for your current work, you simply need to pull one out of your toolkit. Imagine the time and energy you will save! Now you can focus on what truly matters: getting your creative juices flowing. Buy these bundles and save yourself the hassle. Even better, why not grab two or three font packs to save in your toolkit? You'll never know when you'll need a great font to remind you of sweet summers.
---
Products Seen In This Post:
Getting started with hand lettering?
Free lettering worksheets
Download these worksheets and start practicing with simple instructions and tracing exercises.
Download now!
Igor Ovsyannykov
We create fonts, graphics, and produce aesthetically pleasing photos.
View More Posts