Design Style: Bohemian Chic
Bohemian chic, also known as boho-chic, is a design style that takes its cues from hippie and bohemian inspiration. Popular since the 1990s, its actual roots go back to the 1960s and the counterculture movement of that era. Some trace it even earlier to 19th-century England. Throughout the decades, its popularity has ebbed and flowed, dependent on various celebrities or luminaries to literally carry the style on their backs and remind pop culture every so often about what makes it so unique.
If you've ever been to large music gatherings like California's Coachella or runway fashion shows, you've probably seen some form of bohemian chic in action. For anyone else, it's identifiable by warm earth tones, layered looks, and mixed patterns for a highly eclectic appearance. After all, bohemian is a reference to counterculture: people who reject the establishment's way of doing things and march to the beat of their own drums.
Now that you're intrigued about this one-of-a-kind design trend, read on to discover everything about it and how you can make this approach to design all your own.
The Etymology of Bohemian
The word itself is a curious one that often causes confusion for some people. Defined as leading an unconventional lifestyle with others of like mind, it has historically been applied to artists, musicians, literary figures, and even those seeking more transcendental, spiritual pursuits. While these bohemians often carried anti-establishment social and political views, they sometimes also expressed their philosophy by committing to reduced consumption.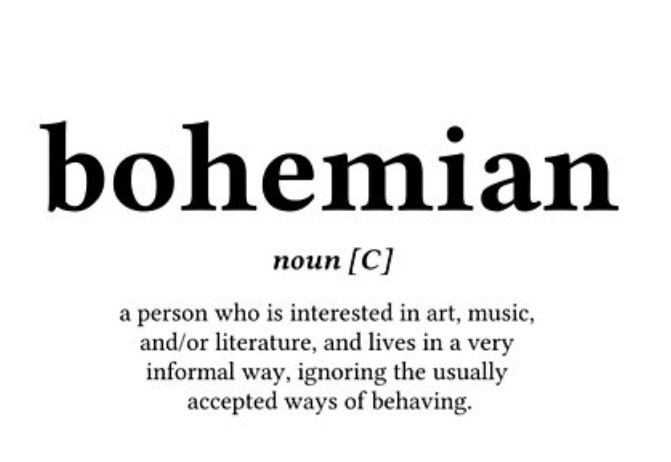 First used in the English language back in the 19th century, the term bohemian was directed primarily at outcast writers, actors, and musicians in big European cities. Many of them lived non-traditional existences. The term "bohemian" itself came into use in 1848, transferred over from the French bohemién, which literally meant a Gypsy.
Gypsies were incorrectly believed to have originated from Bohemia, which sits in today's Czech Republic as the biggest and westernmost historical section of Czech territory. Nonetheless, since Gypsies have historically been a nomadic people, traveling throughout Europe, the meaning of the word "bohemian" as someone representing an unconventional counterculture takes on added significance.
The History of Bohemian Chic
There's really no one, defining moment in time where we can point to and say, "Aha! That's were bohemian chic originated!" Still, there have been pivotal moments after the word's acceptance into the English language that give us clues to its development as a distinct design style.
Elements we associate today with this design trend can be traced back as early as the mid to late 19th century, specifically the pre-Raphaelite movement, so named due to their opposition to Renaissance painter Raphael's emphasis on elegant compositions and classical poses, which they believed corrupted art. Their philosophy was rooted in the belief that art had to be reformed entirely by rejecting the so-called mechanistic method seen in works of Mannerism (the successor to Raphael), which was characterized by more artificial design elements. The pre-Raphaelites wanted to move art back to the ideals of the Quattrocento period of art, circa 15th-century Italy, which promoted:
Intricate compositions
Vibrant colors
Excessive details
As a result, many of their paintings showcased a style that was unconventional for the time in which they were operating (mid to late 19th century). Therefore, their paintings became some of the earliest examples of bohemian art, especially their portraits of women. One prominent pre-Raphaelite's, Dante Gabriel Rossetti, painting, Pia de' Tolomei is a great example of this.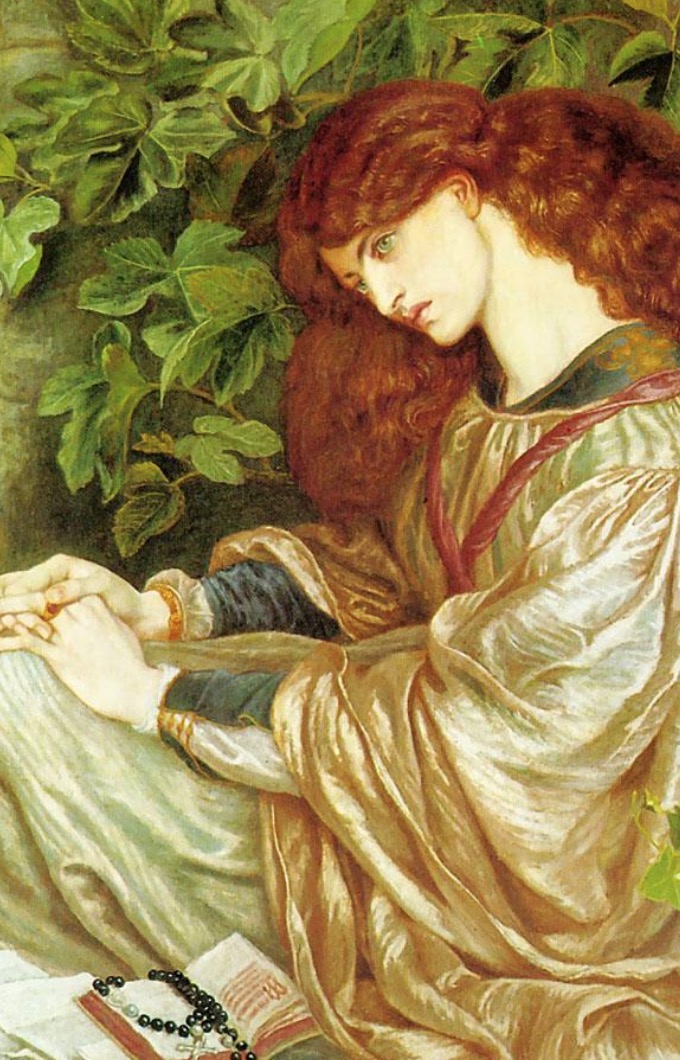 The subject, English embroiderer Jane Morris, displays certain characteristics we might associate with bohemian chic today, such as:
Layered clothing (though there are layers in the background's composition, too)
Mixed patterns (waves in her hair, wrinkles/folds in her clothing)
Neutral and more vibrant colors for a pop effect
To be sure, what also makes this painting bohemian is the significant focus on detail, both on the subject's face and attire, as well as the background. Also of note is the amazing similarity in the depiction of the woman to Art Nouveau's portrayal of women in its works, which generally showed them with long, flowing locks and dresses surrounded by nature. Art Nouveau would ascend to popularity in the very late 19th century to the very early 20th century.
Then, fast-forwarding to the first half of the 20th century, we have references to bohemian as a form of fashion from an unlikely source, no less. For example, in his 2005 tome, After the Victorians, English historian A.N. Wilson remarked how famed British Prime Minister Winston Churchill visited Canada in 1943 with an unbleached linen suit, thereby causing much fashion surprise across the Atlantic. For this incident, Wilson referred to the Prime Minister as a bohemian, not just for his style of clothes, but also his unconventional behavior for a head of state.
However, it was really in the 1960s where bohemian chic started to come into its own as a more recognizable design trend. During the mid to late 1960s, the hippie influence on culture asserted itself in the bohemian look, but it wasn't actually until some 40 years later that this design trend finally got cultural recognition on a massive scale, all thanks to a few English celebrities.
Model Kate Moss was described as boho chic as early as 2002, due to her combination of pieces like lynx mini tops and plaited leather belts. However, it was English actress Sienna Miller who was credited with sporting this look in such a way that brought it into the mainstream.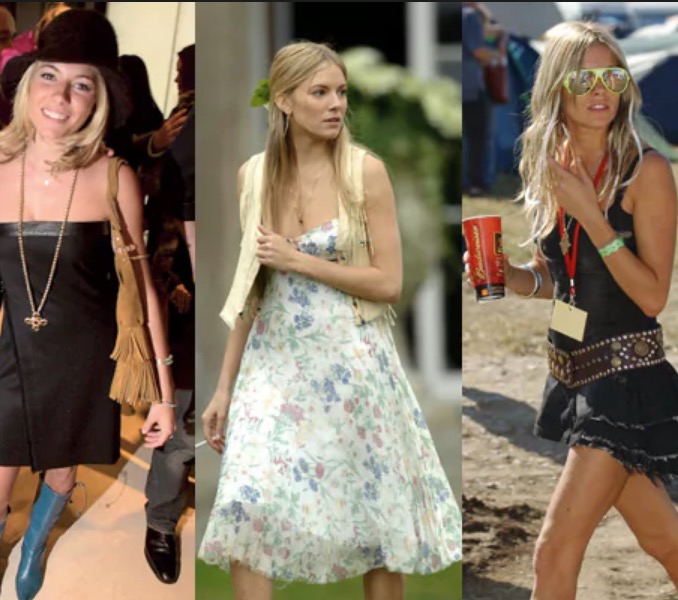 In 2004, Miller appeared at the Glastonbury Festival sporting bohemian chic fashion in a very prominent way, but pictures of her wearing this style of chic already surfaced in 2003, as she'd been influenced by living in London's North Kensington area, which had always been associated with bohemia since the 1950s.
In subsequent years, other female celebrities started to adapt this look, including actresses Zooey Deschanel and Mischa Barton and musicians like Florence Welch of the indie rock band Florence + the Machine.
The Characteristics of Bohemian Chic
By now, it's obvious that this approach to chic has borrowed here and there from other design trends, which is very common among movements. As mentioned earlier, there's a very noticeable overlap with some of Art Nouveau's themes and aesthetics, especially when it comes to women and flowers.
Plus, the phrase "bohemian chic" in and of itself is a contradiction since it combines the dressed down and frugal aspects of bohemia with the smart and more expensive accouterments of chic fashion.
Overall, this results in a style that is visually striking, though it can be a bit confusing to ascertain what's what, given its varied influences across the years. To help clarify this, here's a rundown of major features of this design trend.
In graphic and web design:
Neutral colors, including everything from earth tones to more metallic silvers
Plenty of floral and botanical motifs
Nature themes in general
Mixed patterns and prints
Contrast, both in colors and textures
Noticeable excess and eclecticism (as a diametric opposite to, say, minimalism)
In interior design:
Mixing and matching
Slight weathering and distressing, but not as extreme as in Shabby Chic
Basic materials like burlap combined with exquisite materials like silk
Vintage furniture
Ambient lighting: floor lamps, candles, and table lamps
In fashion design:
Floaty skirts and dresses
Ankle boots
Hairbands and headwraps
Distressed booties
Tunic blouses and T-shirts
Eclectic prints
Earthy jewelry
Overall, this is an eclectic trend that has borrowed from different places to create a style all its own that's unique and leaves a lasting impression.
For more ideas on what makes bohemian chic so special, including indications of its design characteristics, have a look at some of our digital assets from the marketplace:
Bohemian Chic in Graphic Design
Boho Bardo Watercolor Flowers
This floral collection is a crash course on all the design elements that make boho something that stands out with a vibrant force. With more than 80 PNG files, it demonstrates memorable aesthetics like:
Vibrant colors that pop against a neutral background
Jewel tones that resemble actual gemstones (ruby reds, purple sapphires, etc.)
Mixed patterns and visual textures
Floral patterns and nature themes
Illustrations of accessories like feathers
The images of the collection are ideal for numerous design projects such as:
Websites
Blog webpages
Invitations (weddings, baby showers, graduation, etc.)
Greeting cards
Wall artwork
Turn to this collection to infuse your next project with some bohemian sensibilities.
Modern Boho: Pale Watercolor Set
Here's something for a completely new twist on the boho aesthetic. While this approach to chic is usually defined by more striking and intense colors, this digital asset goes in the completely opposite direction by using pastel colors to infuse the presentation with a paler color palette. It still produces beautiful designs, but perhaps with a more conservative bent.
This set comes with more than 140 watercolor elements, including:
Floral bouquets and arrangements
Feathers
Floral frames
Hanging, indoor plants
Macramé wall hangings
Deer, cow and bull skulls
Horns and antlers
Arrows
Leaves and flowers
Floral wreaths
Suffice it to say, the set's minimalist approach in its interpretation of boho is almost at a juxtaposition with classic bohemian chic—which actually adds an extra level of captivation to this design asset.
50 Boho Illustrator Brushes
For those designers who love or need a plethora of textures and patterns in their projects, this brush set is perfect. Featuring one-of-a-kind, tribal and hand-inked brushes, it lets Illustrator users apply these brushes to a multitude of creative endeavors like:
Logo designs
Wedding invitations
Posters
Mandalas
Textile designs
The set contains illustrations like:
Leaves
Feathers
Zigzags
Nature themes (fish and wildlife)
Geometric figures (circles, triangles, diagonals)
Swirls
Animated Instagram Stories: Boho Chic
Instagram Stories are one of the hottest ways to get more mileage out of each Instagram post you share. Their urgency puts an extra impetus on followers to consume your images and videos before they expire within 24 hours.
These boho chic-inspired Instagram stories templates are a fantastic example of what happens when you take a stunning design trend and mix it with a medium where many people spend a lot of their professional and personal time these days. This set includes dozens and dozens of Instagram Story templates along with 20 video files, so that you can preview what your Stories look like before sharing them on the platform.
These templates are great for professionals and creatives whose social channels are an extension of their brand, whether that's fashion, lifestyle, photography, or travel. They feature soft and feminine colors, interesting patterns, and geometric icons.
Bohemian Chic in Web Design
Justina Blakeney's website is a premier destination on the web for everything bohemian-related. This blog highlights the patterns, colors, and florals that make up a core element of the boho aesthetic.
From its creamy, pastel background and negative space to the nature-inspired illustrations and jewel tones in the hero image and header, the site is a tour de force of boho style. What makes it truly interesting is that, from the homepage, it links out to various sections and webpages that do further deep dives into bohemian chic.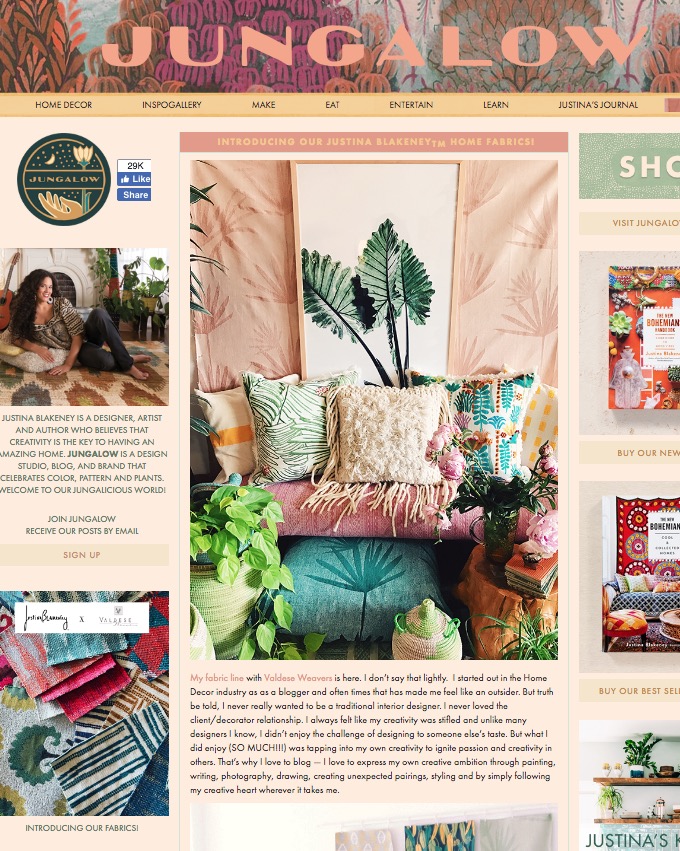 For instance, there's the blog's Plant-o-pedia that serves as an in-depth guide to taking care of various plants that's make any home into an bohemian destination, while its home-fabrics page looks at all sorts of eye-catching patterns and textures on rugs, pillows, couches and more that can "bohemify" any interior.
Yvon is a traveler, bohemian, fashion enthusiast, and, of course, a blogger. Her blog is dedicated to boho fashion and travel, complete with high-quality shots of her fashion choices and chronicles of her travel destinations.
Immediately gripping is the huge hero image site visitors see as soon as they land on her blog. It's a slider that showcases intricate bohemian patterns and textures across clothes, jewelry, interiors, and textiles.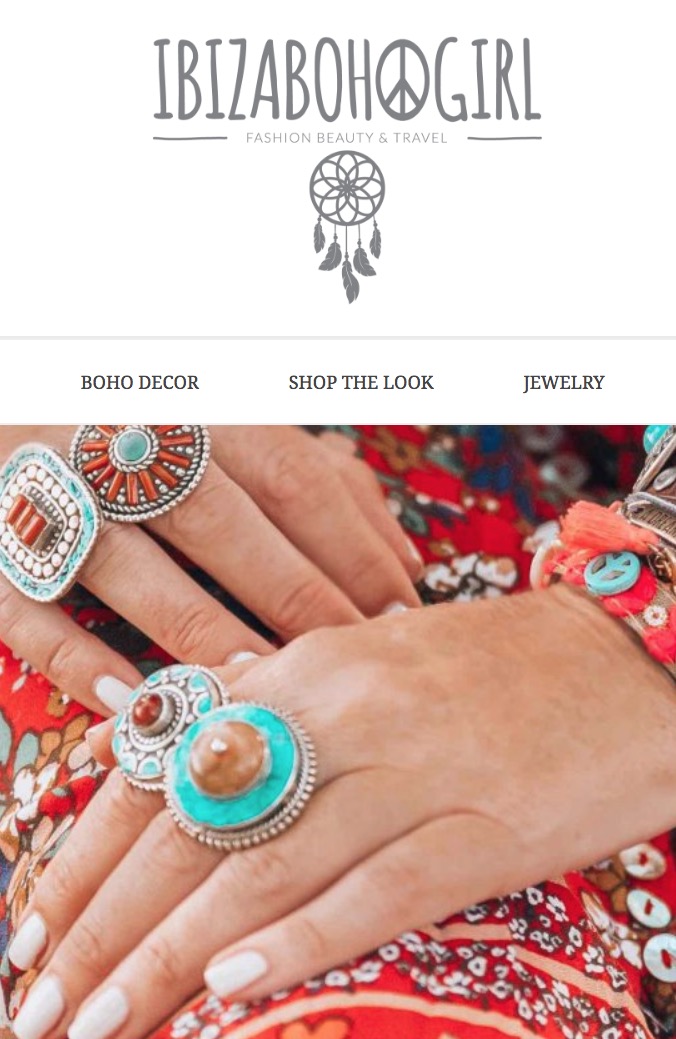 When you scroll down the homepage somewhat, you'll be treated to even more impressive bohemian aesthetics, especially in the patterns and designs of clothing for various occasions like weddings and hippie retreats, together with seasonal boho clothing for the different times of year.
The blog's navigation is planned out in a user-friendly way, too, with different menu tabs corresponding to new sections covering an aspect of boho (décor, jewelry, etc.), which visitors can learn more about.
Bohemian Chic in Interior Design
Wooden Accents
Wood furniture in boho style usually features ornate carvings on their arms and legs, as well as the trim. These additional design touches further intensity the texture and richness of the unconventional take on décor in any space.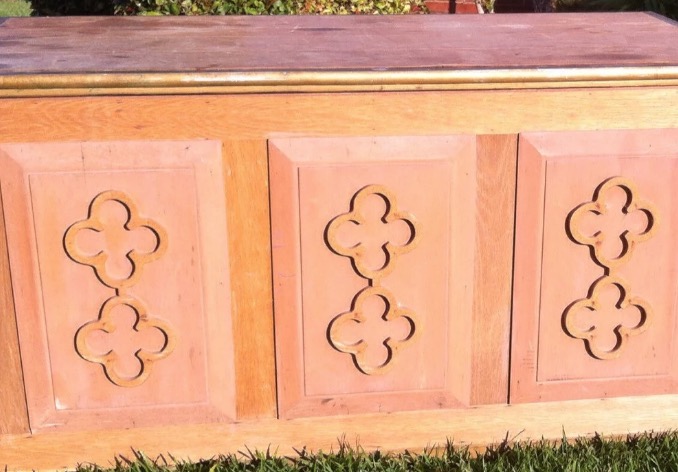 Look for pieces that were created in dark wood, as these give the boho elements of furnishings an added vintage and classic look, almost as if they were passed down from generation to generation until you made them a part of your contemporary home.
Nature Influences
There are many design trends that borrow from Mother Nature to flesh out their philosophies. Besides Scandinavian and Art Nouveau, Wabi Sabi comes to mind. Count boho among them. Its preoccupation with flowers and floral patterns, as well as jewel tones and feathers, means you'll have to incorporate the organic into your interiors.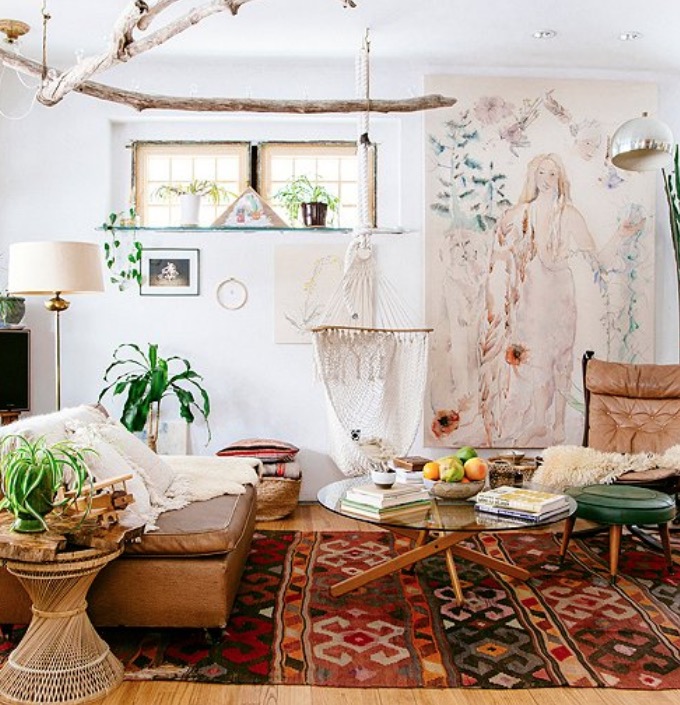 For instance, do something as basic as putting several potted plants into your room. Even something even more unassuming, like putting out a bowl full of shells from the beach on your wooden coffee table, can further extend the chic vibe. In short, any natural element that brings more interest to a room is fair game—even metal chairs or end tables will do the trick.
To build out the organic theme even more, include animal-inspired themes in your interior décor, such as prints, carvings, or statues. Here are some great examples of print-ready motifs you can use as accents for any space:
Boho-style Furniture
Furniture in this style is more along the lines of vintage: anything that's handed down, old, second-hand, and weathered. Furniture must have character, personality, and tell a story. That's why aged furniture that's been around for a while and has had various owners is key to building this look.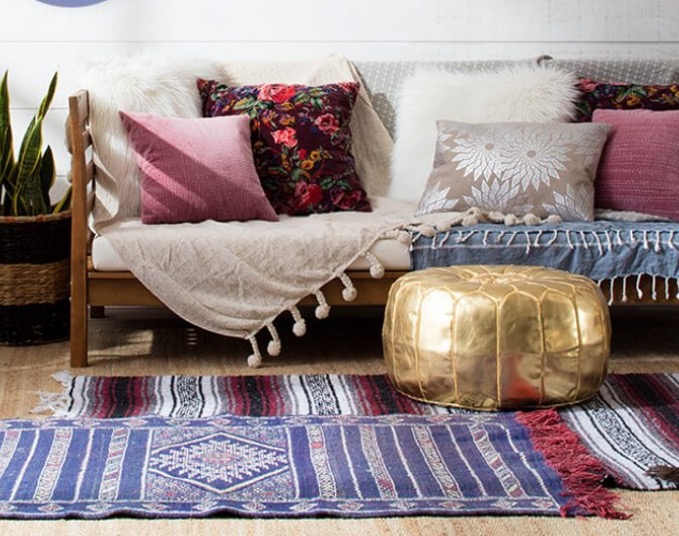 To get furniture of this type, go and look in the antique shops and second-hand stores. Ask your friends or family for some hand-me-down furniture. Chances are that they'll be happy to get rid of some worn furnishings, which, of course, is actually worth its weight in gold for anyone trying to "boho" up their home.
Unconventional Meets Elegant
Bohemian is all about not fitting in, to put it simply. What started out as a lifestyle philosophy among adventurers, travelers, and those who rejected the establishment that society had to offer them has, over time, slowly been refined into a very distinctive aesthetic style.
This design trend is almost a clash of styles. You have the counterculture aspect of the hippie, vintage, and mixed-pattern sensibilities and the sophistication of the chic elements like the classic, neutral colors, floral themes, and refined materials like chenille–all in the same design movement.
---
Products Seen In This Post: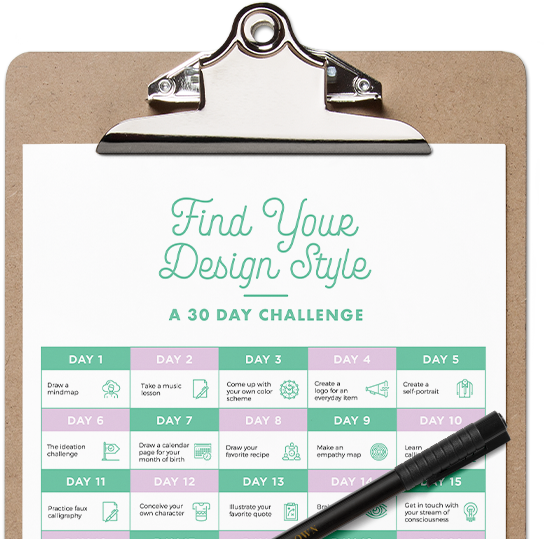 Find your design style in 30 days
Free Challenge Calendar
Having a hard time finding your unique design style? This creativity challenge will get you on the right track.
Download it here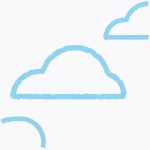 Marc Schenker
Marc is a copywriter and marketer who runs The Glorious Company, a marketing agency. An expert in business and marketing, he helps businesses and companies of all sizes get the most bang for their ad bucks.
View More Posts