Design Trend Report: Parisian Style
Parisian style is a design movement centered around Paris, the French visual aesthetic, and other notable luminaries living in the city. Also called bon chic, bon genre (which translates to good style, good attitude), Parisian style is instantly iconic and recognizable. Originally emerging from the world of fashion, this design movement has since expanded to include design across other spectrums—everything from graphic and web design to interiors and beyond. This makes Parisian chic widely applicable style beyond just the fashion industry. If we had to put this design trend into terms that an American audience would immediately understand, it would be to equate Parisian style with prep: that classic, conservative and uniquely Northeastern style and way of living. In fact, it was in the 1980s when this Parisian equivalent to American prep first drew worldwide attention in a significant way with books specifically on the aesthetic. Enjoy the following walkthrough of this very upmarket approach to design.
The History of Parisian Style
If we want to get perfectly technical about it, Parisian style can literally go back in time all the way to the 15th century or thereabouts. This is when fashion and design in the city started to gain prominence. In the 17th century, fashion in Paris completely exploded into a juggernaut of an industry that produced a lot of wealth, thanks to local consumption and consequent exports. Now, if we want to credit one Frenchman in particular for making the association of style and fashion design with France—which is a reputation that the country and, especially, Paris still enjoy up to today—we have to acknowledge Louis XIV, the Sun King. Ruling from 1643 (from the age of 4 onwards!) to his death in 1715, this monarch from the House of Bourbon holds the record for the longest reign of any king representing a sovereign country in European history, at 72 years and 110 days. The reason that France and Paris became the dominant forces in fashion under Louis XIV's reign has to do with his extreme centralization of power during his reign. In that time, the crown seized control of the luxury goods and fashion industries, essentially subjecting them to the royal court's tastes and peculiarities.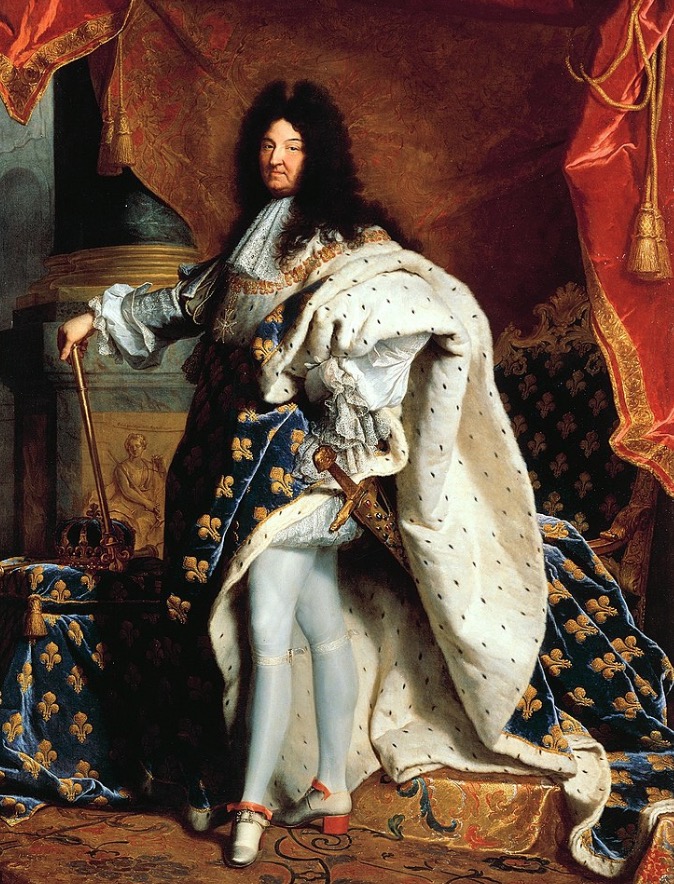 Also during his reign, the fashion press came into power thanks to the efforts of a royal journalist by the name of Jean Donneau de Vise. This fashion press played a large role in influencing people inside and outside of France as to what was to be considered "hot" fashion for its day. It did this by marketing designs beyond the royal court and inventing ideas like changing styles and seasons for fashion. While all this is well and good, we need to talk about Parisian style in a way that makes sense contemporarily. That's why we'll skip ahead to 20th century France, particularly post-World War II. This was the turning point in French fashion that put Paris back on the map as the style capital of the world because of designer Christian Dior's New Look, which debuted in 1947. His then-bold take on fashion design was based on returning to what had made French fashion remarkable since the days of Louis XIV, namely the focus on glamor and youthfulness, which ushered in a resurgence of haute couture in Paris after its gloomy occupation by the Nazis in World War II. At around the same time, notable fashion magazine Elle was founded in France in 1945, and famous fashion designer Coco Chanel herself returned to Paris in 1952. As a result of Dior's efforts, by the 1960s, high-end fashion in France was in full swing again, which led to other noteworthy designers like Yves Saint Laurent experimenting with pret-a-porter (ready-to-wear) fashions to great success and sales. This explosion of French design and fashion led to many brands getting grouped under huge conglomerates like LVHM (Moet Hennessy Louis Vuitton). Let's fast-forward to the present day, with the publication of French model Ines de la Fressange's book, Parisian Chic, in 2011.  The book helped the term "Parisian style or chic" to became more well-known across borders and cultures. Although the book is ostensibly about developing your own Parisian style, it also turns into an ad hoc shopping and travel guide, listing many Paris-based shops, boutiques, museums, restaurants, hotels and other tourist destinations. In terms of design, the author doesn't just discuss fashion design, but also how this style applies to other, related aspects like:
Lifestyle
Interior design
Workspaces
Personal appearance
Thanks in part to the book's popularization of Parisian style, designers were able to understand how to take this style and make it work across a broader spectrum of disciplines, which we'll look at next.
Parisian Style in Graphic Design
When we talk about Parisian style in graphic design, the first product that comes to mind is the aforementioned book, Parisian Chic, from which we can also glean a number of ideas about design in this aesthetic.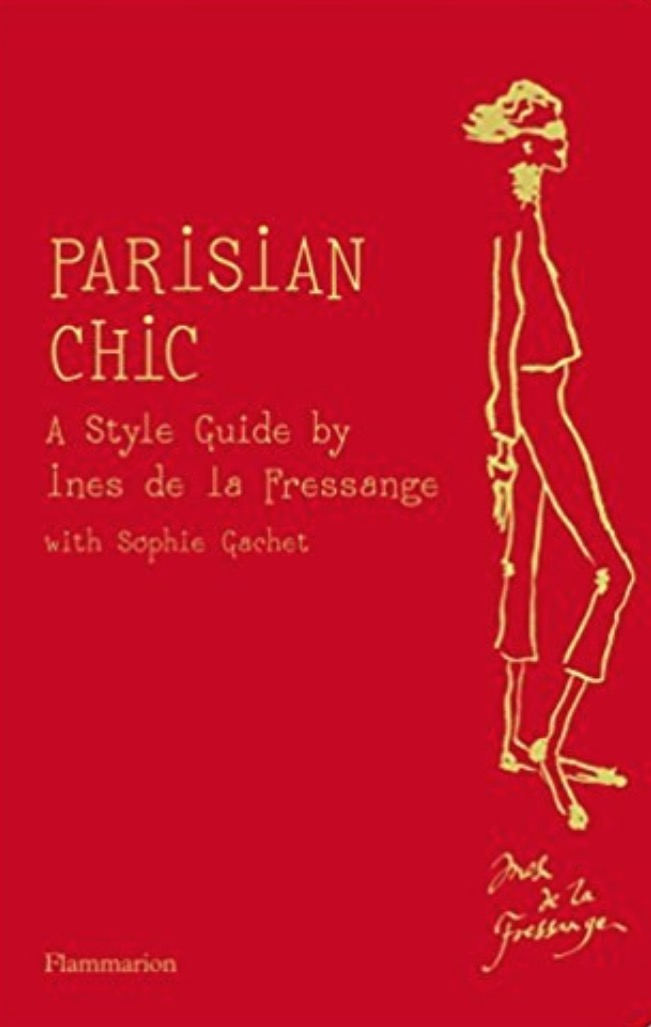 Created to be extremely slick, the book features a blood-red cover with golden typography, a removable jacket, a ribbon page marker, and aquarelle paper. On the inside, you can find extremely simplistic drawings, very short paragraphs, color contrast to make the important takeaways jump off the page, directional cues (arrows) to focus reader attention, borders and padding, high-quality photography, and serif and script fonts. From that presentation, we can conclude that Parisian style embodies the following design characteristics:
Interesting textures
Minimalism
Thin strokes and delicate accents
A sense of naïveté
White or negative space
Neatness
The accessibility of the design of a book like this is intriguing because of its juxtaposition: on one hand, you have high-end fashion and design being spotlighted, and on the other, you have a very approachable design that's intended to make such haute-couture themes available to, if not popular with, the masses. For a more in-depth look at what makes the standout qualities of Parisian style so visually appealing and crisp, have a look at a few pieces from our huge design-asset collection of Parisian style pieces:
While Parisian Chic is certainly the first book of its kind to talk exclusively about this design trend, it's not the only book to adopt and showcase themes of this clean style. Up next is the aptly named Parisian Street Style: The Adult Colouring Book. The tome, which is actually a coloring book for adults for stress-relief purposes, exhibits some of the same clean and crisp designs as Parisian Chic. By Zoe de Las Cases, an illustrator and an artistic director at a Paris-based agency, the book features her illustrations of everything Paris life has to offer, including events like Fashion Week, cafes, and people watching.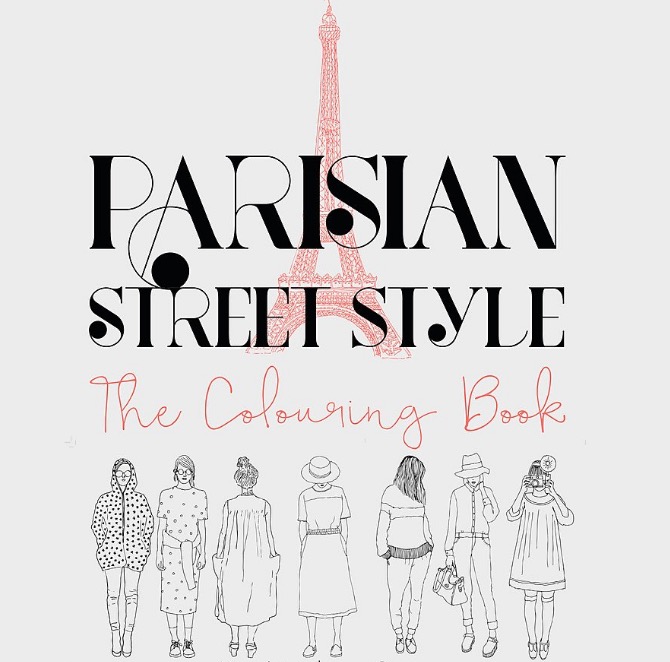 Her illustrations are more like sketches, featuring quick and light strokes that speak to the minimalism and lightness of Parisian style. Many of her drawings, since this is a coloring book, come with a lot of white space, but also a good amount of detail. Of course, books aren't the only contributions to graphic design that involve this design trend. If we move a little bit further on, we see that even typography gets a beautiful treatment from Parisian style.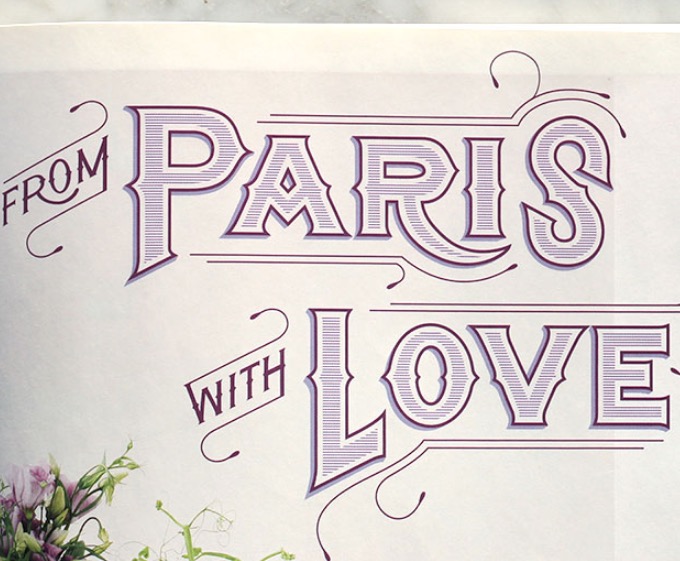 Case in point: consider this killer lettering presentation for Washington Bride + Groom magazine. This serif font is light and breezy, featuring a lovely, purplish hue and horizontal shading for added texture. It's also evocative, calling to mind the romanticism often associated with Paris, while the use of juxtaposition in diagonal elements offset nicely with the bigger, main elements of the whole lettering presentation. Overall, it's an indication of how a designer can seamlessly incorporate the minimalist and clean attributes of Parisian style to come up with a highly readable and memorable font presentation. Of course, when we talk about this design trend in graphic design, we can't ignore another, gigantic area of importance: font anatomy.
The evocative nature of Parisian style lends itself perfectly to new fonts that capture this smart style's elegance and refinement. For example, Moshik Nadav Typography's new Paris Regular Strip font. This gorgeous font that makes an impression right off the bat features:
Notable ligatures
Eye-catching numerals
Serious serifs
Thick stems
Curvy bowls
It's also versatile, as it comes in nine, separate styles. Even basic illustrations can showcase the vivid colors and minimalistic approach of Parisian style. Take freelance illustrator and packaging designer Blandeen's work, aptly titled Parisian Street Style. Her work uses simple and clean lines, basic geometric shapes, and light, breezy colors to imagine a scene of a passerby from the streets of Paris.
If you're beginning to notice a pattern developing among the illustrations coming out of this design trend, you're not just imagining it. Note how both aforementioned books, Parisian Chic and Parisian Street Style: An Adult Colouring Book, feature drawings that are also extremely minimalistic and almost overly simple, which gives this style its charm and uniqueness. It just goes to show that, as in fashion, the French value an aesthetic that's accessible and simple, yet still fetching.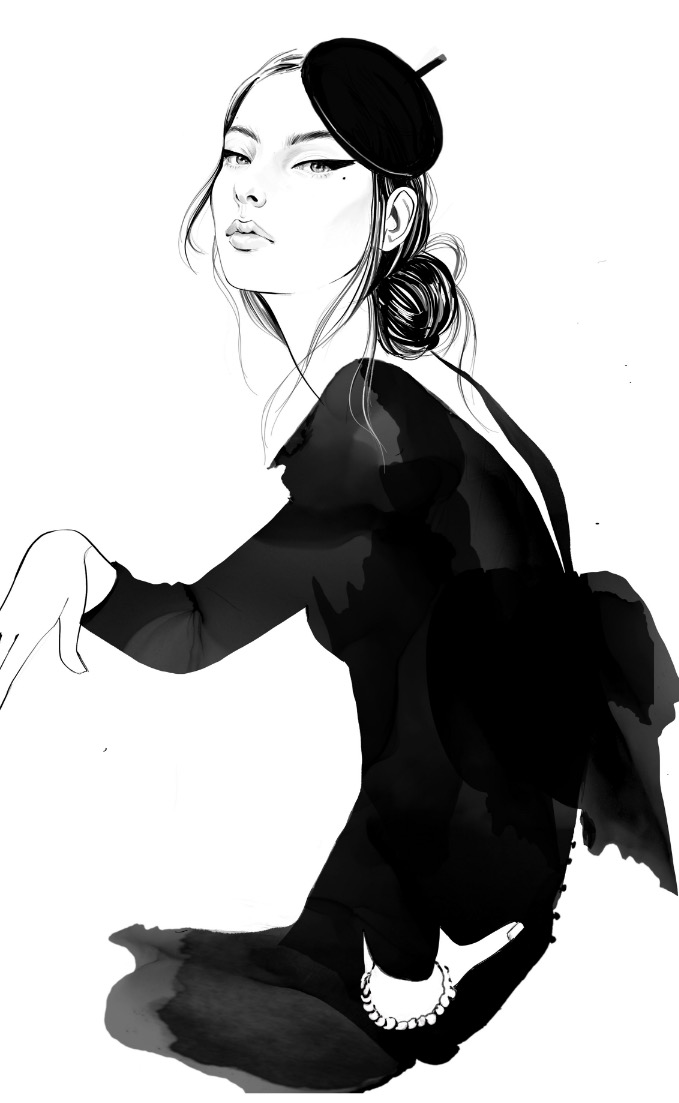 Just the same, this doesn't mean that all Parisian style illustrations have to be simplistic. For a contrarian indicator on the treatment of drawings in this style, we go to Tracy Turnbull's Parisian chic! illustration of a French model with a beret. Her approach, while still capturing the essence of this sophisticated style, boasts quite a good amount of detail, especially in the woman's face. However, note the balance within the entire piece: As a tradeoff for the greater detail, the illustration is in black-and-white, giving it an almost timeless look, like it came out of a classic French movie.
Parisian Style in Web Design
Even web design isn't too far removed to escape Parisian chic's notice. You'll find many good transitions of this design on the web from brands that sell French products, especially those that specialize in fashion. Makes sense, doesn't it?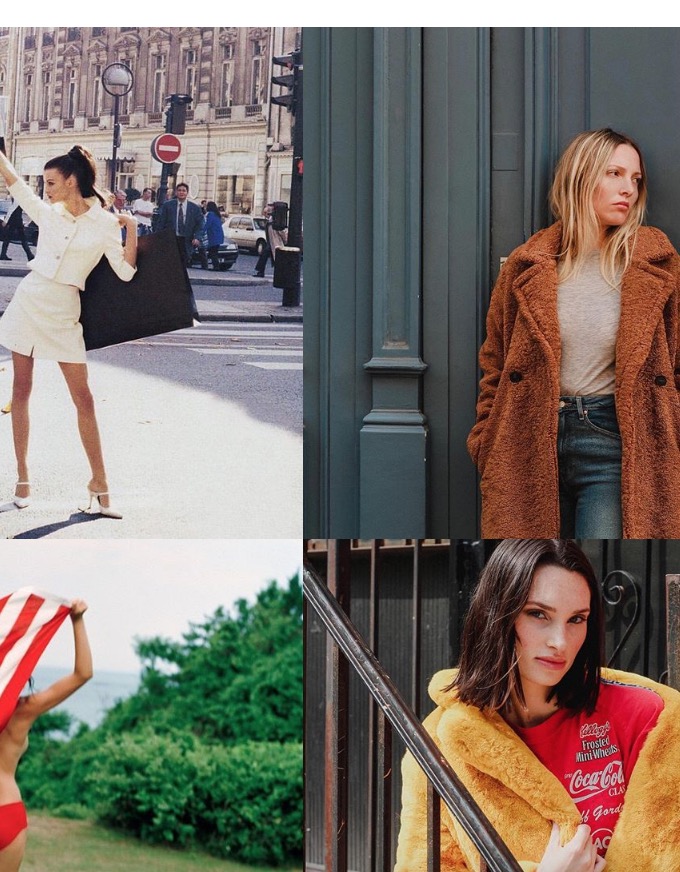 A great example of this comes from Apparis, a site that deals in bringing the French fashions straight from Paris' cobblestoned roads to people's mobile phones, tablets, and desktops. Immediately, you'll notice the clean and crisp layout of the site mirroring the neatness of Parisian style in fashion. Whether it's the copious amount of white space to better help highlight the site's new fashion arrivals or its card-based layout to showcase high-quality images of its clothing in action, Apparis seamlessly moves this design trend from palpable fabric onto the world of the web. When talking about Parisian style, we can't ignore one of the biggest players behind this movement, which is Dior. Named after the famed designer who invigorated Paris after its occupation by the Nazis during World War II, this site is a veritable homage to everything Parisian chic. It's not just that it sells Paris fashions, but the information architecture of the site uses elements from this design to great effect, such as:
White space
Cleanness (thanks to its user-friendly grid-based layout)
Minimalism
Vibrant colors
Easy-to-read fonts
Accessibility
Sophistication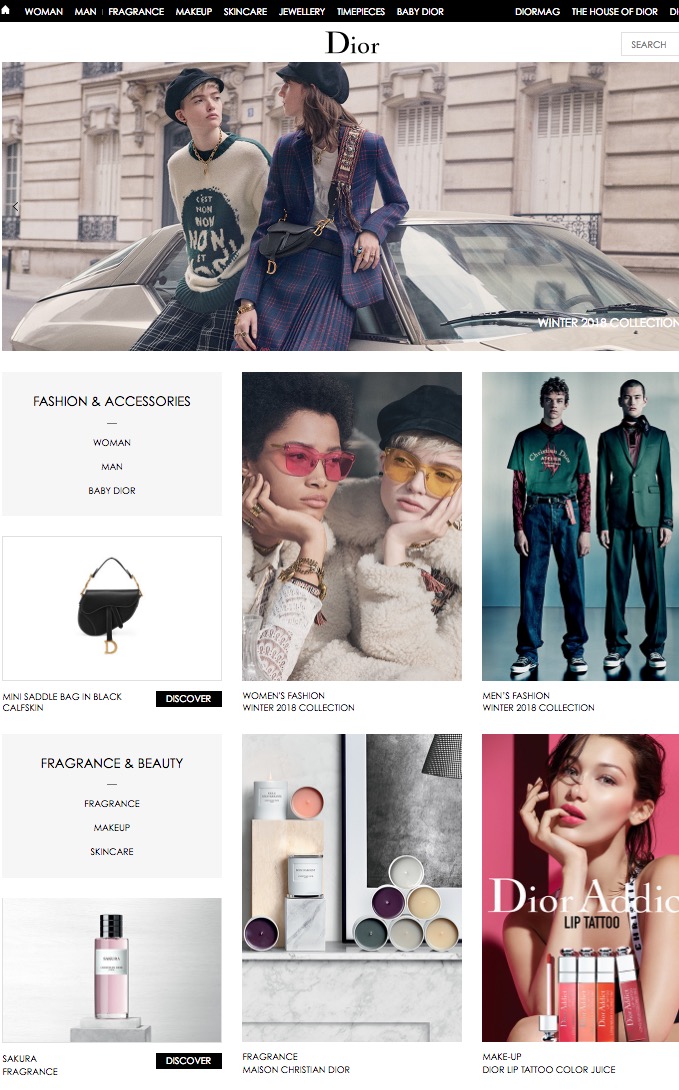 With awareness of the key traits of this style, designers of all experience levels should be comfortable in infusing some Parisian-chic elements into any site they're working on.
Parisian Style in Interior Design
We can't neglect to mention this design trend's influence on interior design—whether it's your living room, bedroom or just the entire ambiance of your living space. As with French fashion, the certain mystique that you can't quite put your finger on carries over into interiors and makes them classier. Here are some techniques to bring more Parisian style into your interiors: Asymmetry – Believe it or not, not having things line up perfectly (such as a pile of books that seem out of order or curtains that aren't tied down and are billowing in the breeze) work well with this style. Asymmetry creates an almost perfect imperfection because it's meant to be that way instead of it being the result of true sloppiness. A freestanding bathtub – A prominent feature of Parisian homes is their luxurious baths, so what better way to create this style in your home than to really spruce up your bathroom? A vintage or freestanding tub will do the trick nicely, along with some luxurious, thick towels and sumptuous drapes.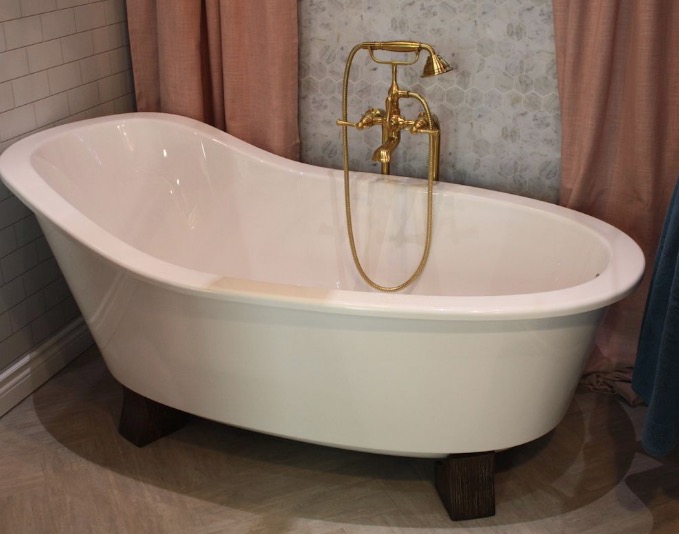 Modern art – Modern art is a fixture of Parisian style since it's sophisticated and adds an element of surprise to the overall design scheme. Pieces of modern art don't have to be created by any famous artists; feel free to hang on your walls modern art created by anyone from hobbyists to local artists. Chandelier – The beauty of a chandelier is that it instantly incorporates the dramatic to your interiors. Make sure the one you choose is a crystal chandelier because it adds more than just a touch of class, and remember that chandeliers don't have to necessarily go over your dining table or foyer anymore. Feel free to experiment with a crystal chandelier in different rooms—even your bedroom. Classic touches – Chances are you've seen movies set in Paris that always included the same, memorable design touches for interiors, such as: chevron flooring, character-rich, wrought-iron balconies, and neutral color schemes. Add some of these touches to your home, but also include more contemporary influences, like a stylish lamp.
Velvet – An official fabric for anything decked out in Parisian style, velvet gives any interior a comfy, lavish, and high-end feel. You can go heavy or light in your indulgence of velvet. If you opt for heavy, bring in a velvet couch and hang velvet drapes in your living room. If you opt for a lighter velvet touch, use it sparingly on one or two armchairs. Antiques – While Parisian chic is most definitely modern, the inclusion of antiques infuses it with enough juxtaposition to keep things very interesting. A hallmark of this design trend when it comes to interiors is to expect the unexpected, which antiques handily fulfill. They also further build on the impression of sophistication that this style is known for. Ideas include simply placing an armoire in your library or a pair of small, antique side tables in your bedroom.
Class, Sophistication, and Accessibility
As you think about Parisian style, realize that it's something of an oxymoron as far as design trends go. Sure, it's haute couture, but unlike other high-end things, this design trend makes an effort to appeal to the masses and ordinary people. That's been the key to its success, longevity, and now expansion. Instead of sitting on its high horse and looking down at us, this style's proponents have wisely decided to make it available to many people—not just the rich. Whether it was Yves Saint Laurent's decision to expand fashion to ready-to-wear sensibilities instead of just sticking with the bespoke traditions of Paris fashion or the Parisian Chic tome that specifically intends to make Paris design and fashion available to everyone, Parisian style has shown a willingness to embrace approachability. Call it design democratization.
---
Products Seen In This Post:
Getting started with hand lettering?
Free lettering worksheets
Download these worksheets and start practicing with simple instructions and tracing exercises.
Download now!
Marc Schenker
Marc is a copywriter and marketer who runs The Glorious Company, a marketing agency. An expert in business and marketing, he helps businesses and companies of all sizes get the most bang for their ad bucks.
View More Posts