How to Get Started With Faux Lettering: 20 Easy Tutorials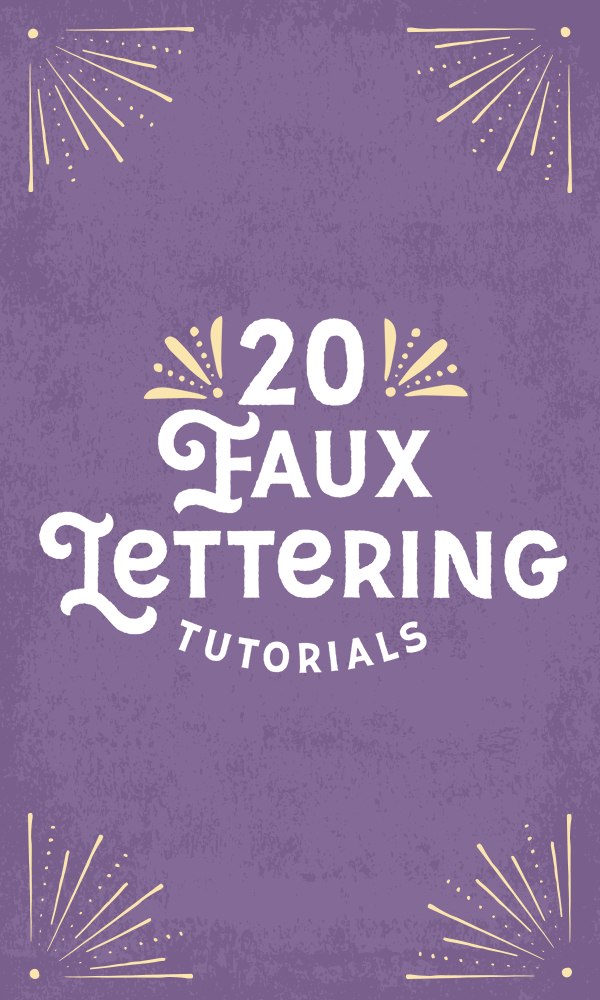 Faux lettering is the art and science of simulating actual lettering by tweaking existing fonts. It shouldn't be confused with faux calligraphy though you'll get a bunch of faux-calligraphy results when you search for faux lettering on Google. While faux calligraphy is the beautiful and impressive art of creating glorious lettering or handwriting without the use of a dip pen—you can use any sort of standard writing instrument to learn how to master faux lettering—faux lettering involves improving or changing existing digital typography to attain a hand-lettered look. Applying this lettering treatment to ordinary fonts is a spectacular approach to grabbing extra attention from your audience, leads, and customers. Now, your typography—on your product packaging, badge, logo or website hero image—will look memorable and very aesthetic. The increased freedom of turning your digital fonts into something that closely resembles hand lettering enables designers and other creatives to experiment and have fun with this great art form while also creating stellar designs that captivate. Getting started with faux lettering is as easy as reading or watching an accessible and informative tutorial, of which there are many on the web. To save you the trouble, we've rounded up the 20 best tutorials, so that you can be on your way in no time to creating faux calligraphy. This faux lettering tutorial about the LetterCraft – Hand Lettering Kit is an easy-to-follow video that gets straight to the point. LetterCraft allows designers to make handmade typographic quotes that can be splashed right onto images for use on Instagram, Dribble, your portfolio, or client work.
Learn how to paste your work right into Adobe Photoshop's smart folder to begin creating your design in the program. You're shown how to add an image to the photograph folder, change the type's color, incorporate a vignette, select from various textures, add some background textures with the free brushes, and adjust the image to make the hand lettering stand out on top of the image.

LetterCraft Demo from RetroSupply on Vimeo.

A very in-depth and long-form tutorial, this guide to the chalk-lettering effect features a detailed breakdown of each step and a long series of images to ensure that designers follow along successfully with the tutorial.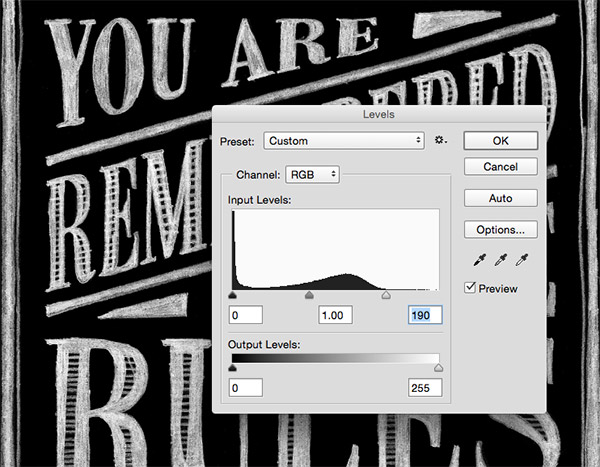 You'll learn how to use Adobe Illustrator to compose your quote to style up with your font of choice. After you've prepared it in the program, you'll print it out, trace the design with a pencil, and color in between the lines. Then, you'll find out how to scan it back to your computer in Photoshop, where you'll utilize the chalkboard background texture to eventually create the chalk-lettering effect. Have a look at these superb Creative Market fonts with a chalkboard effect: 
More of a general guide than a real step-by-step faux lettering tutorial, this guide is nonetheless a very helpful primer on how designers can use Photoshop to create a neat, used effect on a font.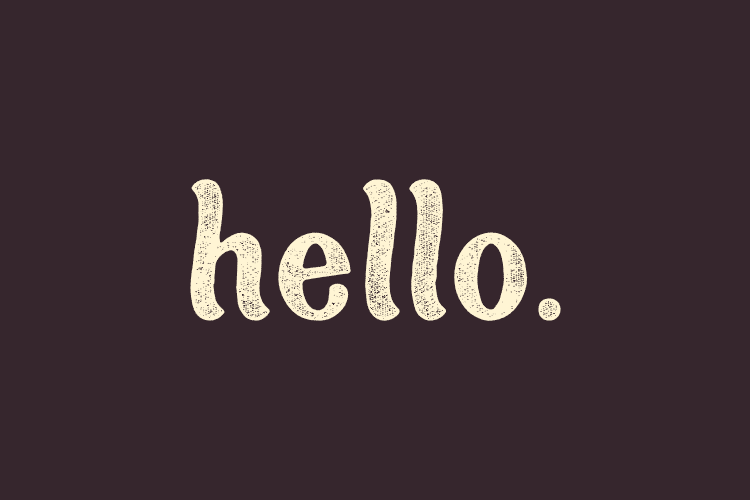 Here, you'll learn all about virtually damaging a clean letter font after creating it and using the so-called stamp effect to add a distressed appearance to the font. The programs used to accomplish this are Photoshop CS6 and Illustrator CS6. Matt Borchert's very thorough video is an in-depth explainer on all the different ways you can use Illustrator to personalize your fonts the way you want. Here, you'll find out how to use layers, the pen tool, brushes, and additional methods to customize your fonts. Bonus: Matt also covers how to use Illustrator to improve free fonts to give them a more unique look, which is necessary since free fonts tend to take on a generic quality, as they're utilized in many design projects, both in print and online. In our very own faux lettering tutorial, Beth Rufener goes over the process for turning any typed lettering into an attractive handmade font, all within Illustrator. This thorough tutorial tells you exactly what tools and equipment you'll require and guides you on a very careful walkthrough of the process.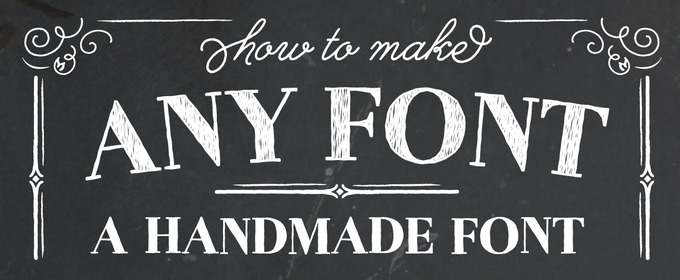 You'll learn about starting a new document, choosing the font you'll work with to create your lettering, using palettes to alter the letters' strokes, using distortion to change the font's effects, and how to incorporate fill into your lettering. The result is an ultra-memorable scribbled look to your new, handmade font. Here are several hand-lettered fonts straight from our marketplace: 
As advertised, this advanced tutorial is a lengthy and comprehensive guide to using both Photoshop CS6 and Illustrator to make your own typographic illustrations. Clocking in at just under 30 minutes, this faux lettering tutorial from KingTutsPro is geared toward more advanced users, making the learning curve a bit steep for beginners. If you're ambitious and looking to find out more advanced techniques, you'll learn the ins and outs of superimposing faux lettering on illustrations like silhouettes for a very stylistic and sharp effect. In this video tutorial by Spoon Graphics, you'll discover how to create a vintage logo design. Coming in at just under 10 minutes, this is a brief video that covers the basics of incorporating thematic, vintage-looking calligraphy right onto a customized logo of your making. Featured in the video is Ian Barnard's Smoothy – Cursive Script & Sans from our CM marketplace. You'll have to use Illustrator and its good choice of type-based tools to create the layout. For more inspiration on vintage designs, see our marketplace's great selection of vintage fonts: 
This 12-minute tutorial by Aaron Nace will show you how to select the ideal background and font to create the handwritten look of your choice for various invitations. You'll also find out how to use Photoshop to write out the message and then customize it to make it appear as though it seamlessly fits right into your image. Finally, you'll also get instructions on how to add a blur and a layer mask to make it appear like it's right inside your photo. The tutorial is also split up into different sections so that your learning is divided into easily understood snippets. You get three for the price of one in this faux lettering tutorial, as you're taken through three, distinct methods for three, distinct beveled-lettering styles. The three methods range from a basic approach to a more advanced one that makes your beveled lettering look very polished and professional. The tutorial is broken up into steps and sub-steps, complete with dozens of images, so you can follow along easily within Illustrator.

For some additional inspiration, check out these lettering fonts from our Lettering Fonts category: 
Sometimes, even the best typeface can seem not quite right. Instead of simply biting the bullet and learning to live with it, you can instead learn how to use Illustrator to modify the typeface to exactly how you want.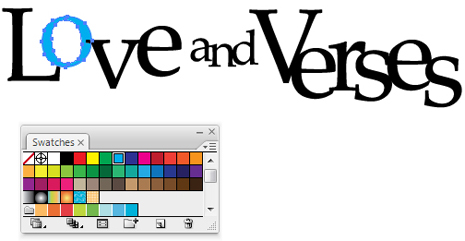 That's what this detailed-though-accessible walkthrough is all about. Designers should note that this particular tutorial works best for shorter snippets of text, such as that found inside of or on a logo or as part of a headline. All steps are only one or two sentences long for extra easy comprehension. A faux lettering tutorial that's more for intermediate designers who are looking to learn more than just the entry-level techniques for lettering, Will Patteron's video covers how to create a logo that he did as part of his own rebranding for his YouTube channel. Will takes you from the very start of using your font of choice and writing it directly into Illustrator to all sorts of effects that he applies to get that sweet, hand-lettered, final look. His tutorial features a slow and steady cadence and pacing that makes it inviting for designers to follow along. Another of our own faux lettered tutorials, this one also features an interview with Simon Walker of super_furry. Simon's worked with well-known brands like American Eagle, Nickelodeon, and Nike.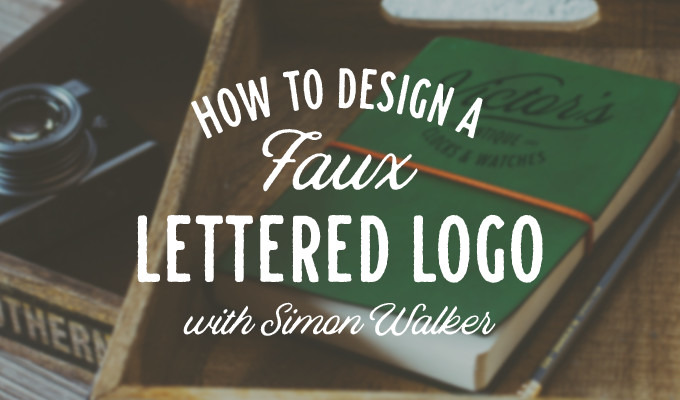 In the tutorial, you'll learn how to:
Start your project in Illustrator by entering the font you want to tweak into a faux-lettered appearance.
Take away the part of the font you want to change
Draw or vector in extensions
Fill in any remaining letter forms
Position secondary lettering around the personalized logo
Designer Dina Rodriguez walks you through the process of taking cold and impersonal fonts you buy from the web—and turning them into truly customized and unique designs with hand lettering.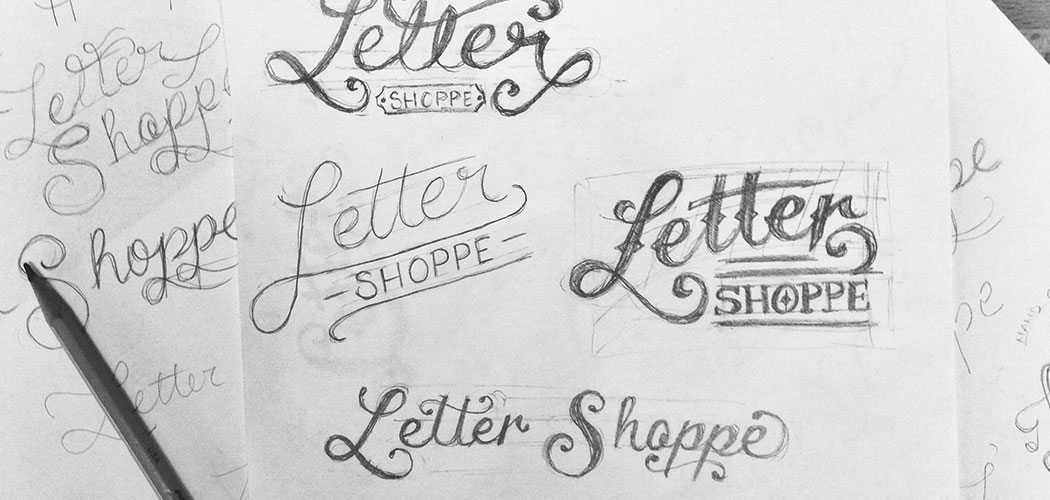 Her process is unique in that it stresses first sketching your hand-lettered logo treatments on paper (the old-fashioned way) and taking numerous breaks on your way from ideation, sketching and then final logo design in Photoshop and Illustrator. By the close of the tutorial, you'll be able to take any font you buy on the web and put your personal touches on it with confidence and personality. If you're a designer looking to add some 3D effects to hand lettering, this is the guide for you. You'll learn all about taking your block-lettering styles and incorporating neat 3D effects in them by utilizing Illustrator's Extrude tool. Here you get the best of both worlds: You get a realistic 3D effect, but still retain the authenticity of the hand-lettered feel. The personalization from this tweak comes from the 3D effect's softer and squishier feel to each individual letter. In just four steps, you'll be on your way to adding this 3D hand lettering look to various design projects. In only five steps, this detailed how-to guide lets designers use Illustrator to take their hand-drawn fonts and spruce them up by using a variety of techniques. Digitized hand lettering is ideal for a multitude of projects, such as portfolios, websites and print projects. For this to work, the paper-based lettering needs to be completed, as in totally colored, and written on a clean piece of paper. You'll also require a scanner or mobile phone, plus Illustrator and Photoshop. First, you'll scan your hand-lettered work into Photoshop and then bring it into Illustrator, where you'll transform your art into vector by way of Illustrator's Image Trace. From Adobe Creative Cloud comes this brief tutorial that clocks in at just under a minute. Here, you'll learn the basics when it comes to adding 3D effects to your hand-drawn lettering. Find out how to use Illustrator's Pencil tool to begin drawing your shapes, then switch over to the Ellipse tool, the Gradient panel, and the Blend tool to achieve just the right look you want for your new typeface. With a visual emphasis on highlighting each step along the way, designers will be able to easily master this technique. This class is divided into easy-to-follow sections, so that designers can get the most out of it.
Here, you'll learn all about getting the same, beautiful results that a hand-letter artist would get—all by just using Illustrator. The tutorial takes you through the steps of laying out a nice design, choosing great fonts, and then finishing off your new fonts with the perfect colors and textures. By adding some perfectly placed ornamentation, you'll see how within your reach it is to add that personalized, human touch of the hand-lettered feel to any stock font you choose. For additional inspiration, see these fantastic handwriting fonts from our Handwriting Fonts category: 
This very in-depth guide breaks down the process of starting off with a hand-drawn sketch of a word for a logo all the way to its final tweaks in Illustrator and Photoshop (basic working knowledge of each is necessary). With a multitude of images and step-by-step instructions, designers will be able to replicate this process in no time at all.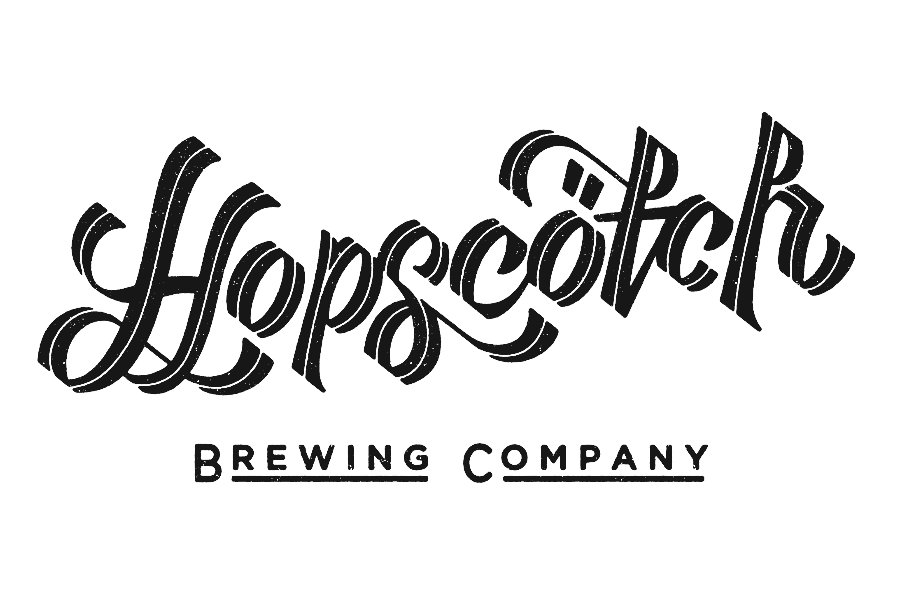 If you've ever had any problems with using Adobe's Pen Tool in the past, this tutorial provides some crystal-clear approaches to tackling those—it's recommended for this alone. Ever wondered how to get that gritty and grungy look to your font of choice? Wonder no more with this faux lettering guide from Ste Bradbury Design. This video clocks in at just under 20 minutes, making it a highly look at going from the sketching stages all the way to the final, polished and tweaked font inside of Photoshop. Because of the focus on attention in this video, designers can expect to sharpen their physical and digital talents with measurable results. Our marketplace also offers gritty fonts in our Urban Fonts category: 
Here, you'll learn all there is to know about the basic design concept of vectorizing. This is the intense process of taking ordinary, hand-lettered fonts you've drawn and scanned into Illustrator—and then turning it into the tweaked typeface you envision. Vectorizing lets designers scale and retain the resolution of the typeface with no difficulties at all. This leads to great, hand-lettered fonts and designs that are ready to go for all sorts of online projects. Teela Cunningham's video tutorial is straight-to-the-point and accessible. At just 12 minutes, it's a lot of information jam-packed into a relatively brief lesson.
All You Need to Know About Faux Lettering
These 20 masterful tutorials give you an entire body of knowledge when it comes to faux lettering. Designers are always looking to add another layer of creativity and spark to their projects. By digitally improving the typefaces you create with paper and pencil, you create a new world of opportunities for your design career and business. Faux lettering lets you show off another side of your design skills to prospects and clients. Instead of merely relying on ready-made fonts that you buy on the web, this process empowers you to truly personalize fonts by tweaking them in Illustrator and Photoshop until they become your unique creations that no one else is using. The more you can stand out with your design creations, the more positive attention you'll attract for your brand, business, and projects.
---
Products Seen In This Post:
Getting started with hand lettering?
Free lettering worksheets
Download these worksheets and start practicing with simple instructions and tracing exercises.
Download now!
Marc Schenker
Marc is a copywriter and marketer who runs The Glorious Company, a marketing agency. An expert in business and marketing, he helps businesses and companies of all sizes get the most bang for their ad bucks.
View More Posts