Mosaics, Lemons & Ceramics: Design Inspiration from Italy's Amalfi Coast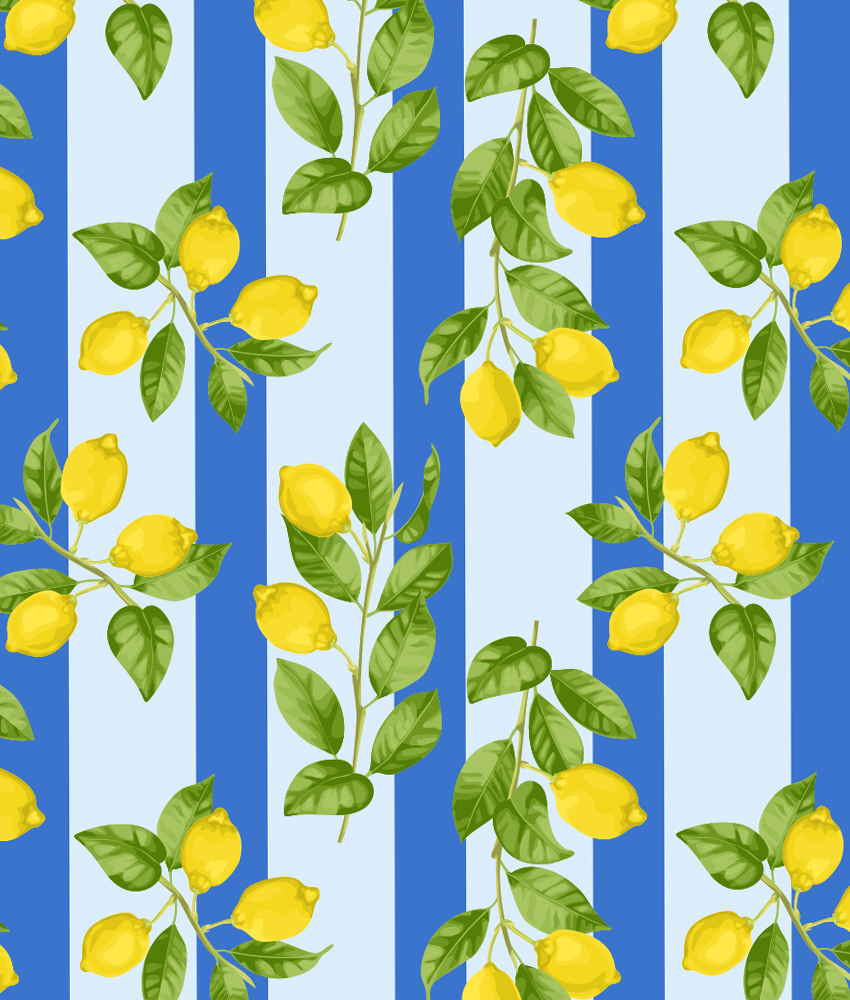 Think about Italy's Amalfi Coast, and you want to explore what it's known for, how many days you can spend there, and how to travel there. The Amalfi décor you'll encounter on your visit is sure to immerse you in the rich heritage of this region. Lemon blossom scents mix harmoniously with vivid color palettes of majolica domes as whitewashed houses gleam in the eternal sunshine. This is everything you've pictured the Mediterranean coastline to be.
Because of this cornucopia of sights and flavors, the Amalfi Coast is a graphic designer's dream come true for creative ideas. You literally couldn't ask for a better source of inspiration—whether you're there in person on vacation or simply watching videos and reading articles about the locale on the web. From the colorful, handmade ceramics of the region to its detailed mosaics that you can find seemingly everywhere, you'll come away motivated to infuse your designs with a little bit of Amalfi décor.
If you're searching for a design trend to leaven your next project with some classic flair, look no farther than this Mediterranean style.
What Makes the Amalfi Coast so Appealing
This length of Italian coastline has been called heaven on Earth by some. There may be some truth to that, as this UNESCO World Heritage site covers about 34 miles of terrain, characterized by coastal cliffs that rise as far as the eye can see and vibrant towns that dot the shores of the Mediterranean's inviting waters.
The beautiful visage of this area draws approximately 5 million travelers on an annual basis. There's a collection of 13 towns all along the Amalfi Coast, joined together by the busy—though some would also say treacherous—SS163 highway, considered one of the more scenic drives in the entire world.
These towns are as diverse as the people who come to visit and take in the area's Amalfi décor. Perhaps the most famous, Positano, is known for its wealthy visitors, who indulge in its fine Italian cuisine and activities like luxury yachting. On the other side of the equation, you have a town like the alpine Ravello, featuring one-of-a-kind ocean views and nearly antediluvian structures.
While this Mediterranean dreamscape is extremely busy during the summer months, May and September still give you warm temperatures without the maddening crowds. Of course, you can always visit this part of Italy in winter if you want a bargain deal. Beware, though, that many eateries and shops board up for the season if you are considering a winter visit.
Now that it's clear that Amalfi is renowned for its gorgeous scenery, great weather, and Italian cuisine, we want to drill down deeper into the inspiration that awaits you there.
For a deeper idea of the kinds of color compositions and styles that abound in this part of the world, have a look at some design assets that have been inspired by this Italian décor:
Naturally, you can head there as merely a tourist, eager to take in all the sumptuous Mediterranean experiences. You can also take in its sights, sounds, and overall vibes as a graphic designer, eager to apply what your sensory perceptions are showing you to your next design project.
That's what the next section will cover in great detail.
Amalfi Coast Décor Takeaways
The environment of this sun-kissed location should give you a great number of ideas for Italian décor. Whether it's the colorful houses that burst with character, the Mediterranean vegetation and topography, or the beaches that seem to stretch on for miles, the Amalfi Coast is a rich source of design inspiration.
Amalfi Lemons: Yellow Bursts of Color
Perhaps one of the most famous exports of the area are its lemons. Noticeably larger than ordinary lemons—up to twice the size—these longer and more tapered varieties are vital to the gastronomy of this part of Italy and beyond. Italian rustic and fine dining in the region rely on the lemon's peel, leaves, juice, and flesh (really, the entire lemon) for its wonderful flavors. You'll see the locals eat the lemon right out of their hand, usually with a tad of sprinkled sugar.
Besides being featured in the actual cuisine of the region, it's common to see lemon trees in many locals' backyards. To call this a staple here would be an understatement; it's literally one of the locale's defining elements.
In turn, this makes it a great source of inspiration for design projects.
The lemon's piercing, yellow shade is vibrant and vivid. Its warm color pops right out at you, almost like a graphical design element, whether that's a call to action on a webpage or a callout in a flyer that you're using to get the attention of your audience.
Take inspiration from this larger-than-life lemon to understand how effective design means taking one element…and making it the lone focal point of your entire composition.
Amalfi Vegetation: Living Art in Botany
One of the key aspects of Amalfi décor can be found in its vegetation, which is a tradition that stretches all the way back to the Middle Ages. During that era, the coast's plentiful vegetation actually helped it to become one of the richest areas in Europe. More specifically, it's the garden where this source of design inspiration is found.
The thing about the gardens here is that they're adjacent to the stunning sea, which doubles their splendor. Not only that, but their detailed attention to visual composition and color contrast makes them a study in organizing fantastic layouts. Many of them feature an assortment of geometric shapes and sizes, aligned in various formations to appeal to the eye.
Adding to this feast for the eye is the setting. Many well-known gardens, which are open to the public during the busy summer tourist seasons, lie right beside classic Italian architecture. This creates the feeling that you're almost stepping back in time, as you take in the gorgeous botany and admire the timeless structures.
Here's a list of some of the most sumptuous Amalfi gardens and their Mediterranean décor.
Villa Rufolo — Ravello
Designed all the way back in the 13th century, Villa Rufolo's garden covers more than two levels and features both local and exotic plant species.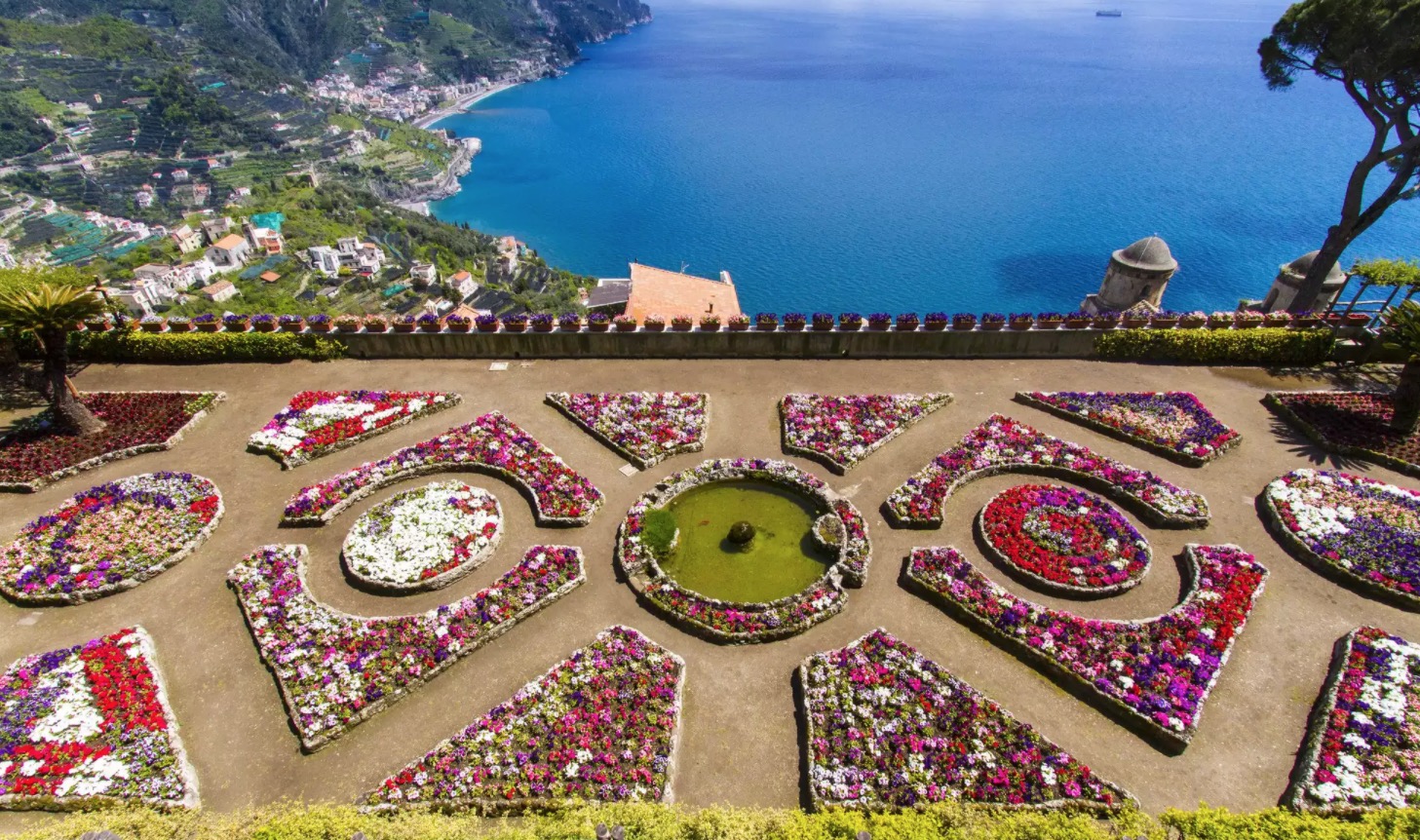 You'll encounter all sorts of flowers and trees:
Roses
Water lilies
English ivy
Jasmine
European box
Palm trees
Citrus trees
Bougainvillea
Of course, you also get to take in the breathtaking views of the sea all around you.
Villa San Michele — Capri
Villa San Michele, with its garden of the same name, in Capri is the legacy of Swedish doctor Axel Munthe, the author of The Story of San Michele, an early 20th-century bestseller. Due to its sheer altitude, some 1000 feet above sea level, the garden at the villa provides you with some of the most exhilarating views of the country (you can see Mount Vesuvius and the Gulf of Naples).
In the spring and summer, when this garden is in full bloom, you're treated to a plethora of lush colors, the epitome of Amalfi décor. You can thank all the blooming azaleas, camellias, hydrangeas, and bougainvillea for this colorful display. The garden also boasts cypress trees, palm trees, and pine.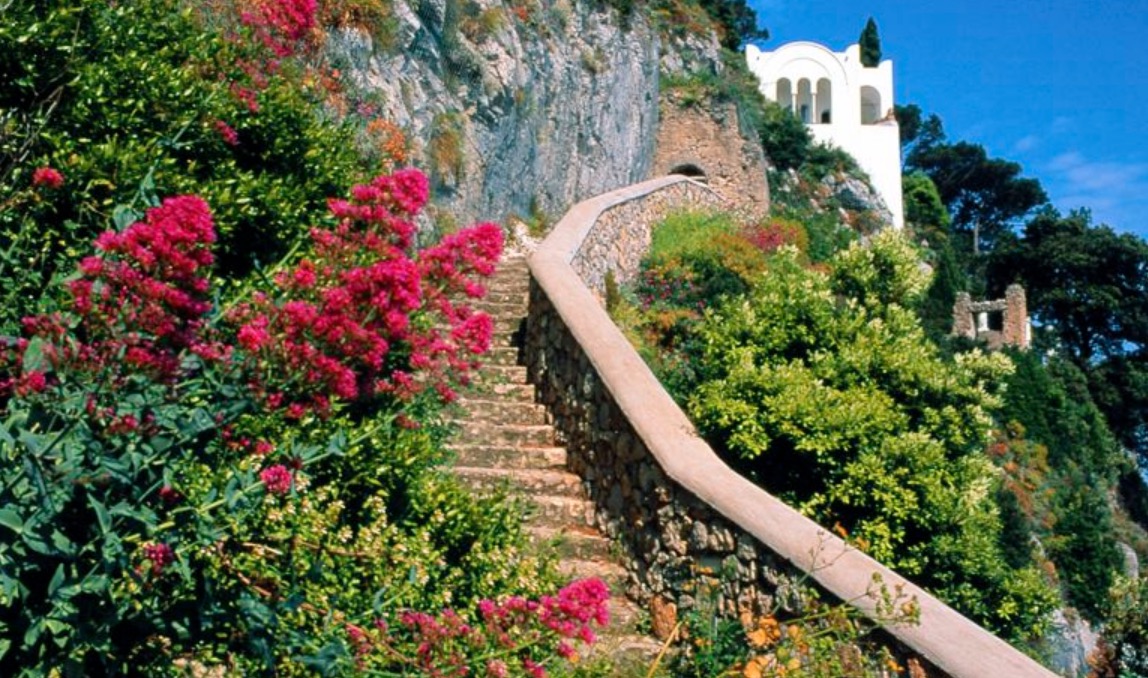 Perhaps the coolest elements of the garden are the Roman ruins scattered all over the place. The garden and villa were built on the ruins of the palace of the Roman Emperor Tiberius. In addition, Munthe was a classical-antiquities enthusiast, which is why he dotted the landscape with various classical objects. For example, there's a stone Sphinx on the property.
La Mortella — Ischia
Built in the 1950s, this stunning garden was the brainchild of one Russell Page, one of the 20th century's most well-known landscapers. Here, you'll find approximately 3000 species of plants, fountains, pools, and artificially created streams, all giving life to this lush environment.
Here's a quick roundup of the interesting sights you'll see here:
A Greek theater with seaside views
A temple to the sun
A nymphaeum, which is an area like a grotto that celebrates water nymphs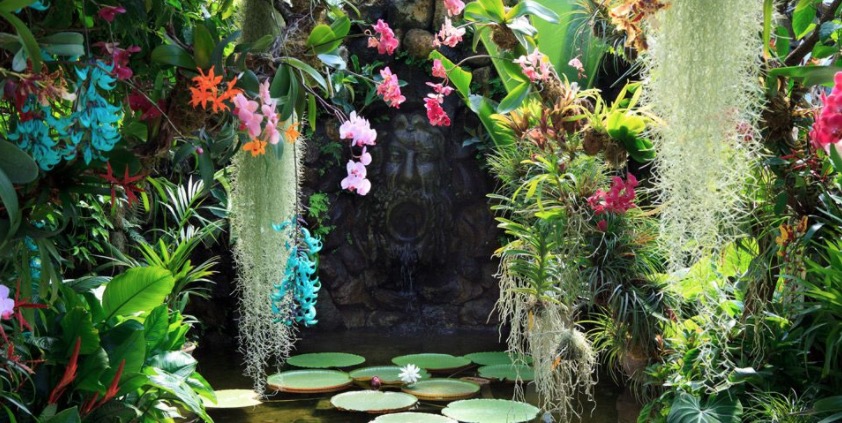 Finally, be on the lookout for the impressive mega water lily inside of the garden's conservatory: It has flowers that have the ability to grow a foot in height.
As a designer, use these well-landscaped gardens to understand that:
Juxtaposition (as in the garden to the sea) is a design element that can be used to great effect.
Geometric shapes and forms are a timeless method of appealing to well-structured beauty.
The diversity of design elements (such as Roman ruins scattered among plants) creates visual texture.
Amalfi Coast Ceramics and Mosaics: Vibrant Textures
When it comes to colors and striking patterns, the coastline's fabled ceramics give its gardens a run for their money, for sure. It's just another feature in a long line of design inspiration that's unique to this part of Italy.
Visit any ceramic shop here, and you'll be greeted with an explosion of in-your-face colors. We're talking about everything from deep, searing blues and vivid turquoises to the warmer yellows of the sun-filled environment. These colors are transferred into tiles, plates, tabletops, and vases that you can bring home with you as a souvenir or two. The earth in Amalfi is the reason for this prolific ceramic production: Volcanic elements, limestone, and clay are replete in the ground.
In Positano, in particular, you'll find quite a few interior-design inspirations if you venture into a ceramic shop. The way they have their ceramics displayed—usually hanging outside the shop in strategically placed positioning—should give you some design ideas when it comes to arranging pictures on the walls of rooms in quintessential Amalfi décor.
It's common to see detailed illustrations depicted on tile murals in towns all over Amalfi. These drawings, vivid and full of storytelling, capture what life was once like in this area, showing fishing boats arriving in the harbor with their catch.
The locals make stellar use of ordinary tiles, as well. For example, should you happen upon the famous Ancient Staircase, you'll see vibrantly painted tiles directing visitors to different areas or simply representing house numbers (with ornate, scripted typography).
The Amalfi ceramics share specific characteristics that you can't miss:
Mediterranean colors (blues, turquoises, yellows, warmer colors)
Boldness and starkness
Storytelling (you'll find lots of real-life Amalfi objects like the famous lemons and beautiful houses on the ceramics' surfaces)
Another highly memorable feature of these tiles and ceramics is their use in larger mosaics. For example, you'll find tiles with paintings that, when placed side by side with other tiles, form a bigger illustration of some of the panoramic landscapes of Amalfi, Positano, and the other towns along this Italian coastline.
Then, there's the crockery. Believe it or not, the mega lemons of the region feature quite frequently on dinner cups and fruit bowls of all shapes and sizes. Other elements of the sea, landscape, and environment figure prominently on crockery, too, such as fish, flowers like sunflowers and daisies, and baroque flourishes.
The cool thing is that these ceramics and designs vary from shop to shop and even from town to town, so it's in travelers' interest to do some comparison shopping for greater variety. One well-known pottery shop is Vietri Sul Mare's Ceramica Artistica Solimene.
Amalfi Décor in Graphic Design
When covering the dazzling Italian décor in this part of the Mediterranean, we can't leave out the various graphic designs that have already been created by designers taking inspiration from Amalfi. These showcase how the rich creativity—both natural and manmade—of the region makes it easy for artists to infuse it into their own projects.
Here are just a few examples.
Amalfi Coast // Chic Calligraphy
This digital asset uses the colors and the vibes you'd expect to find at the Amalfi coastline to create a very Mediterranean font. This typeface is ideal if you want to use it for watermarks or signature logos.
It includes a full collection of characters that'll make your messaging come alive with rustic inspiration. You'll get uppercase and lowercase letters, ligatures, punctuation, and numerals. All this amounts to a hand-lettered style that looks very realistic.
Amalfi Coast Watercolor Collection
Here's a versatile set that's perfect for a wide range of design projects. This watercolor collection that draws inspiration from Italy's famous coastline comes with a staggering 237 elements.
Let's break them down:
48 individual elements (rattan chairs, twigs, motorcycles, leaves, lemons, and flowers, just to name some)
24 floral arrangements
24 handmade Amalfi tiles
9 flower- and lemon-inspired crystal frames (with a bonus of 6 gold crystal frames)
12 lemon- and floral wreaths (including 3 oval and 9 round)
11 frames with flowers, tiles, and lemons (including 9 ordinary frames)
37 floral alphabet letters (including 39 basic gold alphabet characters)
10 seamless patterns
8 splatters and backgrounds
Use this collection for everything from wall art and scrapbooks to posters and mood boards.
Italian Style Watercolor Tile Update
Here's an intense clipart collection with vivid and intricate patterning that'll make you think you're working directly with a ceramic shop in one of Amalfi's coastal towns.
Taking inspiration from Italy's Mediterranean art and climate, along with its unforgettable landscapes, this watercolor clipart collection features a broad range of uses.
Use these digital assets for:
Card template designs
Blog layouts
Logo designs
Websites
Digital projects
Invites
Scrapbooking
Covers
Packaging
Promotions
Social networking
Greeting cards
Mood boards
Stickers
Albums
Use Photoshop or any other online editor to efficiently and quickly edit the sizes of these watercolor elements.
Amalfi Set. Amalfi Coast. Italy
If you're a fan of hand-drawn lettering, then you have to give this collection a strong look. Drawing from the rich history and influences of Italian décor, it's an assortment that includes 52 readymade cards, a seamless pattern, a border, a frame, and 9 hand-drawn lettered illustrations.
Look for the Amalfi area's famous lemons to make an appearance in this set, whether on some of the cards or the seamless pattern.
Of note is the hand lettering in this set: It's a slab serif and script font that almost looks like bubble letters, but still captures the whimsy of Amalfi.
Using a Location for Inspiration
The Amalfi Coast is a perfect example of a locale that people want to romanticize due to its rich history and gorgeous topography. With all these strong feelings associated with this place, it's also the perfect spot to inspire your design projects. You don't even need to necessarily travel there in person to make the most of its epic vibes, thanks to videos and articles online (like this one).
What you can take away from the coastline is a bunch of time-tested design principles, though. The area's bursting with colors—whether in its famous lemons or ceramics and mosaics—highlights the effectiveness of colors as a communication method and means to draw the eye. The coast's gardens are full of geometric patterns and shapes, a testament to the great layouts in design that make any strong composition.
Simply put, being able to infuse some Mediterranean design into your products is another differentiator that'll help you attract more clients.
---
Products Seen In This Post:
Getting started with hand lettering?
Free lettering worksheets
Download these worksheets and start practicing with simple instructions and tracing exercises.
Download now!
Marc Schenker
Marc is a copywriter and marketer who runs The Glorious Company, a marketing agency. An expert in business and marketing, he helps businesses and companies of all sizes get the most bang for their ad bucks.
View More Posts