Design Trend Report: Space Opera
Get ready for your one-stop guide to the space opera design trend, featuring Star Wars, Flash Gordon, and other pop-culture gems.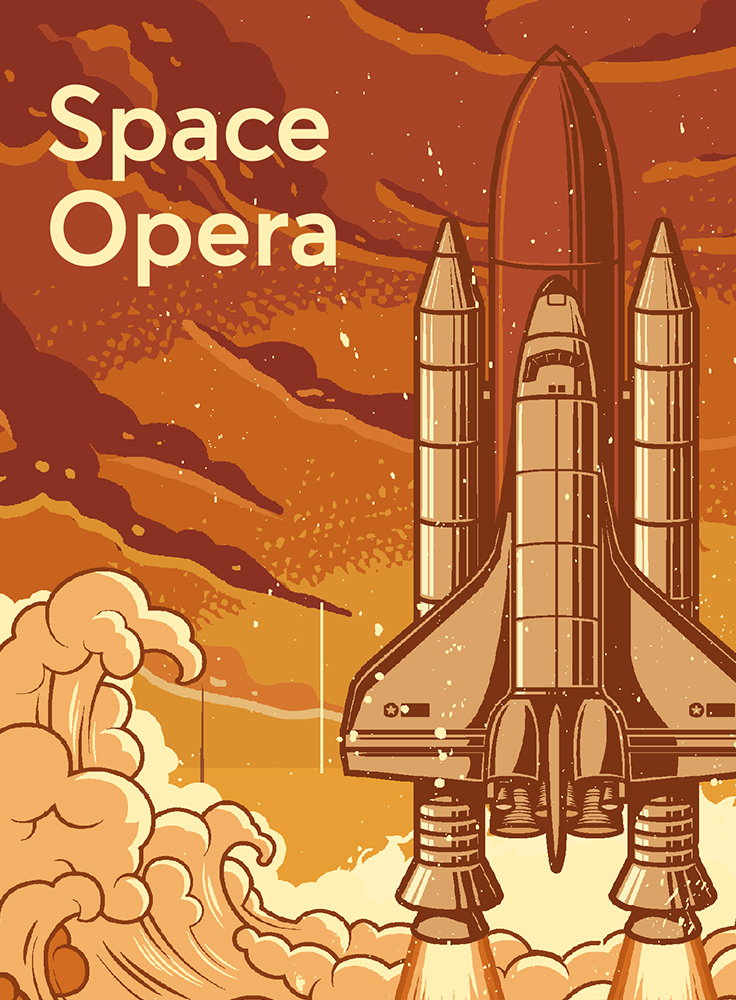 The phrase "May the Fourth be with you" is something you've probably been hearing a lot this month. That's because May 4 is the unofficial holiday of Star Wars Day, celebrated far and wide by Star Wars fans in galaxies far, far away. It's also the perfect time to take a deeper look at space opera. It's a design movement with an aesthetic you won't soon forget and usually includes themes related to heroism, adventurism, space warfare, throwbacks to medieval-style romance, and a general vibe of something epic taking place. With all these inspiring qualities, it's no wonder that space opera is the design trend on which the Star Wars franchise is built. So the next time you hear someone declare, "May the Fourth be with you," understand that this media franchise actually has deep roots in design aesthetics, which is what we'll intrepidly explore right now.
The History of Space Opera
The cool thing about Star Wars is that it's far from being just a franchise that only science-fiction fans can get obsessed with; it's also something that designers should be able to appreciate. After all, the visual art in this film series is nothing short of mind-blowing in its creativity. And, yes, "May the Fourth be with you" is absolutely a takeoff on the Star Wars catchphrase of "May the Force be with you." The phrase "space opera" is a reference to a subgenre in science-fiction that puts the emphasis on action. It was coined back in 1941—when comic books and their badges were growing in popularity—by American fan-fiction writer Wilson Tucker. Ironically, the phrase was meant as a pejorative by Tucker, who was talking about formulaic and hackneyed TV shows and westerns whose plots had simply been switched over to an outer-space setting. After languishing as a genre for the next couple of decades, space opera was reimagined in the 1960s and 1970s and consequently enjoyed a slow-but-steady resurgence. First, it was the 1974 anthology of old-time science-fiction stories called, appropriately enough, Space Opera, that made people look at this genre in a different light. Then, around the same time, the husband and wife team of Lester and Judy-Lynn del Ray—both science-fiction editors—revitalized the genre further, distancing it from the earlier connotations of unoriginal plots based on TV shows and westerns. Probably the biggest favor that was done to this genre was its association, however, with the Star Wars franchise when, by the early 1980s, space opera was being used to describe the major motion pictures in the original Star Wars trilogy (as well as other pop-culture works). It took until the 1990s for this design trend to actually gain status as an "official" genre of science-fiction. Here are a few of our favorite Star Wars-inspired digital assets to give you a better sense of how this design trend looks:
While this brief history is very revealing, it doesn't tell the whole story of space opera. Before the phrase was coined, there were already numerous works in pop culture that featured the qualities of what would turn into this design movement. For example:
Les Posthumes, 1802 – Nicolas-Edme Rétif
Star ou Psi de Cassiopée: Histoire Merveilleuse de l'un des Mondes de l'Espace, 1852 – by C. I. Defontenay
Lumen, 1872 – Camille Flammarion
These three works are known as proto-space operas, and they weren't terribly popular in the 19th century, a time when the elements of what would later on become steampunk design were gaining traction. In fact, some historians credit the 1900 science-fiction novel, The Struggle for Empire: A Story of the Year 2236, as being one of the first, legitimate space operas due to its inclusion of themes common to the genre, such as:
Galactic civilizations
Interstellar travel
Starships engaged in battles
In the film world, the first movie that featured this genre prominently was 1918's A Trip to Mars. By 1920, this trend finally appeared to a wider audience, thanks to pulp magazines, cheaply made fiction magazines that were very popular from the late 19th century to the midpoint of the 20th century. Amazing Stories was one such magazine that regularly featured space opera stories. A defining feature of this then-fledgling trend was its focus on space travel as being a part of everyday reality. Whereby earlier works that featured elements from space opera would go to great lengths to establish alien invasions or the invention of spaceships to facilitate space travel, genre works in the 1920s and 1930s already made it clear that space travel was an accepted literary device.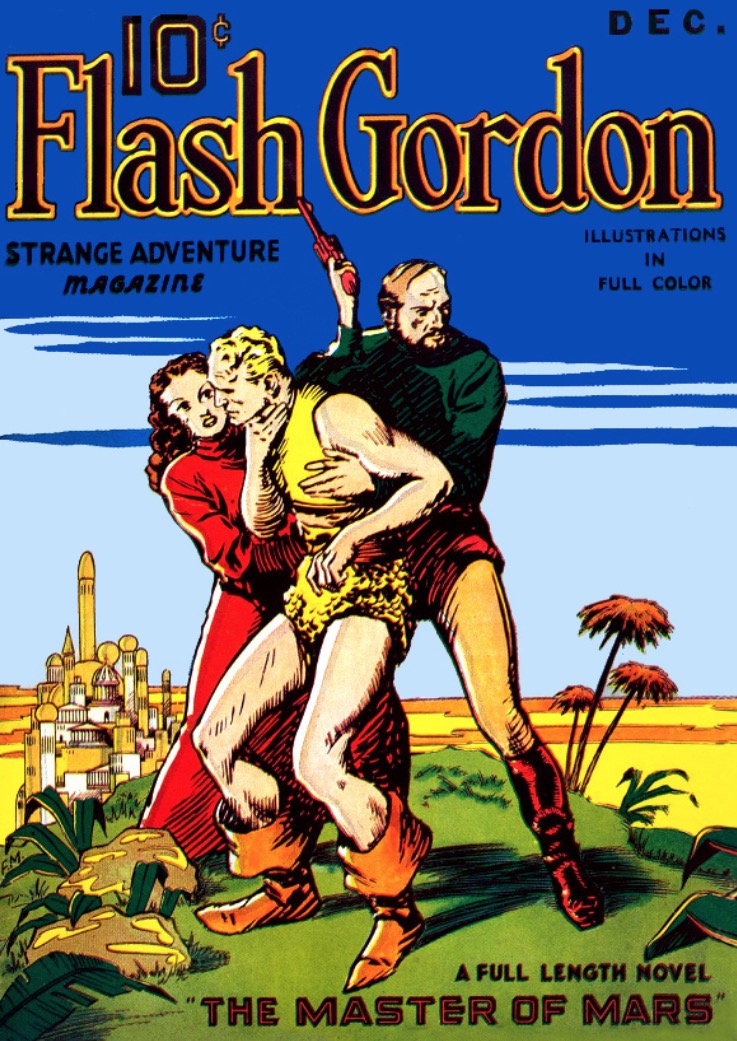 In this time period, when Art Deco design was also in full swing, two space-opera comic-book characters would also become popular:
Buck Rodgers
Flash Gordon
Flash Gordon is arguably the more popular of the two now, as in more people today can recognize the character, but he was originally created to compete with Rodgers, who initially debuted in the pages of the aforementioned Amazing Stories. Whether it's in his own self-titled movie from 1980 or the numerous, comedic references to the character in the movies Ted and Ted 2, Flash Gordon is an ideal example of how space opera has touched more media franchises than only Star Wars. For some, the father of this genre is Edward Elmer (E.E.) Smith, an American sci-fi author who also doubled as a food engineer (if you can believe it). His seminal work—The Skylark of Space (1928), again published in Amazing Stories—was co-authored with Lee Hawkins Garby. The novel gets credit as being the first memorable space opera because of its tropes now familiar to many science-fiction fans:
The invention of a means to launch into space
Interstellar travel
Planetary romance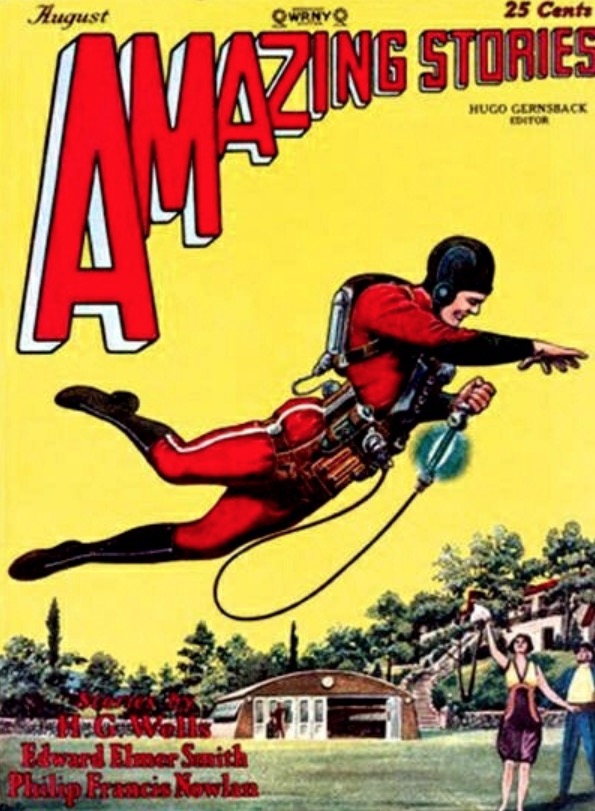 Throughout the 1940s all the way to the 1960s, space opera was seen as a legitimate part of science-fiction. Interestingly, by the time the first Star Wars movie came out in 1977, the movement had already started to morph away from the themes common in its inception, such as celebrating the goodness of mankind and other saccharine material, and instead began exploring the darker side of humanity in its themes. Such a shift can be seen in the central premise of Star Wars, which involves the Jedi (light side of the Force) vs. the Sith (the dark side of the Force). Today—as seen by Star Wars Day and its "May the Fourth be with you" salutation—this trend is firmly rooted in our 21st-century collective imagination.
The Design Characteristics of Space Opera
Visually, this design trend involves far more depth than solely a focus on space and spaceships. While that's absolutely the central concept of its aesthetics, there's also strong technical design behind all the interstellar travel and intergalactic battles. Let's look at its recurring themes, first:
Heroism
Adventurism
Outer space (travel, destinations, interstellar warfare)
Spaceships
Lofty aspiration
Fantasy elements
Technology, speed, and machinery (touching on elements of Futurism)
Science-fiction
Political and social commentary (absolute power, corruption in government, ethics, oppression, liberation)
Then, there are its aesthetics:
The use of cooler colors like various shades of blue
The use of neutral colors, especially black, for outer space
Geometric shapes like spheres and circles, for various planets
Aerodynamic and otherwise streamlined curves and shapes (reminiscent of Art Deco influences), for spaceships and other futuristic flying machines
Dazzling color contrast (characters usually sport vibrant colors in contrast with the cool tones of outer space)
Clutter and busyness (especially during space-warfare compositions)
Asymmetrical balance
Interesting textures and patterns (from Darth Vader's helmet and mask to Princess Leia's cinnamon-buns hairstyle)
To get an even deeper idea of these aesthetics, have another look at some more great digital assets influenced by this design movement:
Space opera produces an aesthetic that's just as memorable for its concepts as it is for its design sensibilities. By taking classical design features—like streamlined, sleek shapes and cooler, neutral colors—and combining them with futuristic technology, the design trend comes up with a design language that communicates the aspiration of what's to come for the human race.
Space Opera in Graphic Design
Here are several ideal reasons to say "May the fourth be with you" every time this Star Wars holiday comes along. There a lot of inspiring examples of this trend in the graphic-design arena, which attests to its popularity as well as its tendency to fire up the imaginations of talented designers everywhere. Here's just a sampling of some of our favorites. Jason Bays' foray into this movement on Dribbble is a minimalist-infused illustration that proves you don't have to use a cluttered design to create a sleek, aesthetic presentation. His product's bisected appearance provides an opportunity for asymmetrical balance, color contrast, and futuristic/outer-space themes.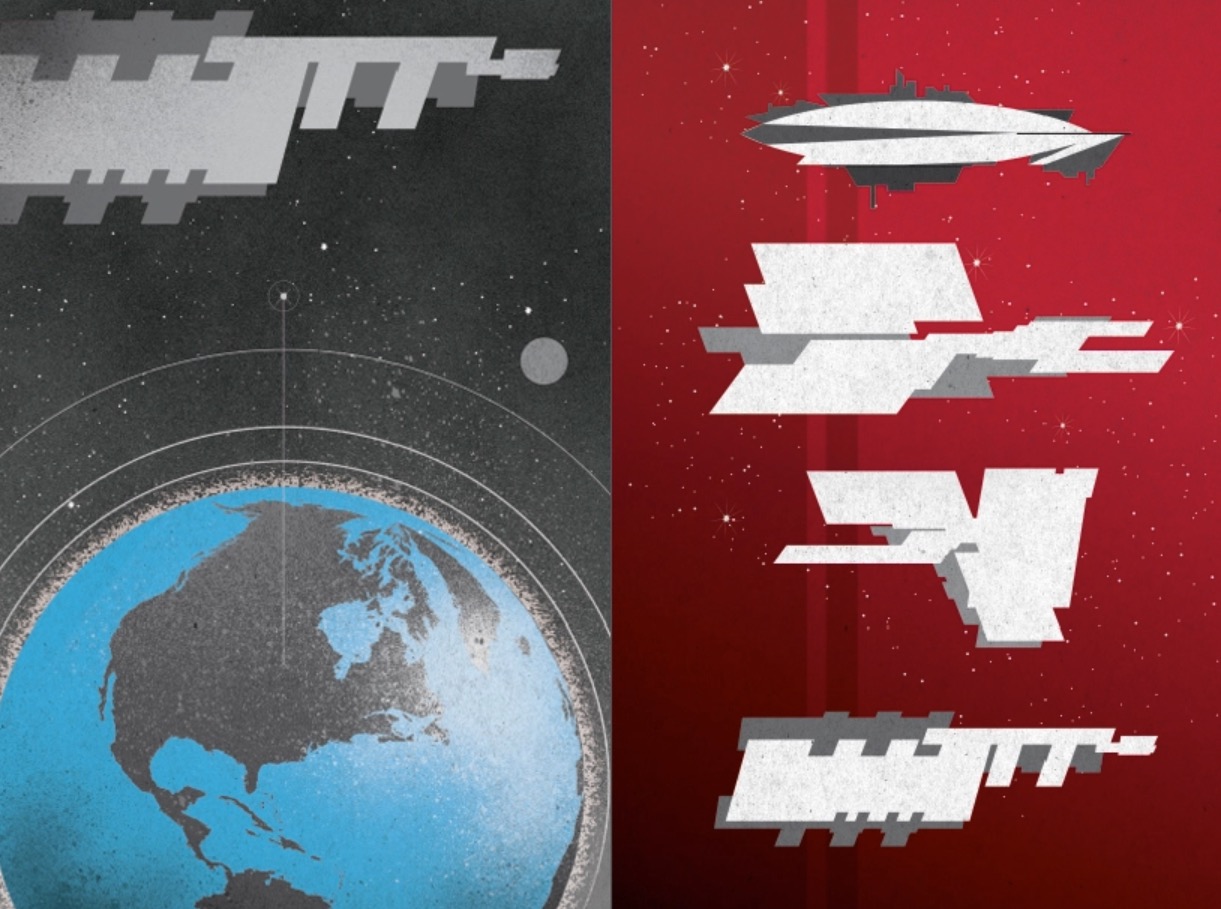 Note the dark, neutral colors on the left side of the frame, along with the classical, geometric shapes (circles) that dominate this movement. On the right side of the frame, take note of the use of simple, streamlined curves and strong, definitive angles that come together to represent all sorts of spaceships and interstellar travel. Slider Revolution's Space Opera Presentation on Dribbble demonstrates the use of neutral and cooler colors for the vast, mysterious expanses of outer space. The blacks on the edges of the frame hint at the unknown of the galaxy while the shades of purples and pinks (which can be both warm and cool, to be fair) add a soothing and calming flair to the overall presentation.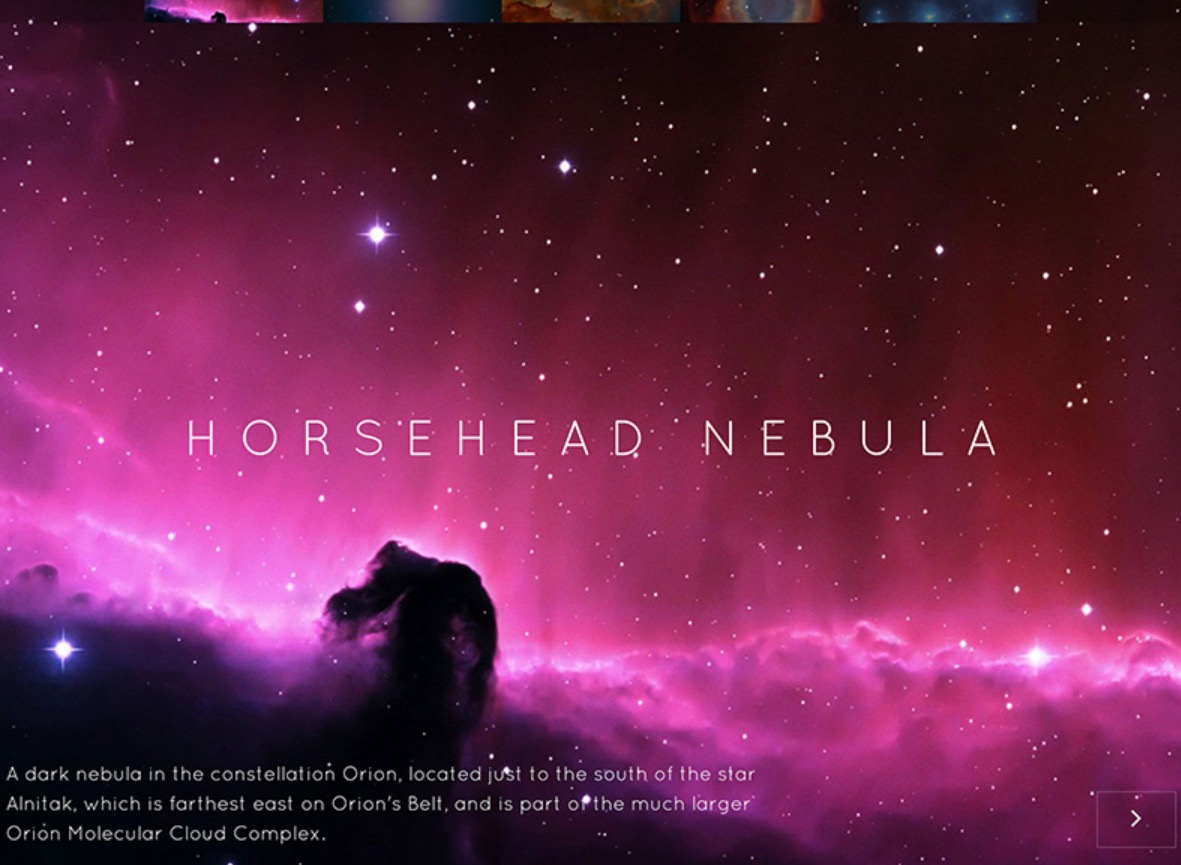 Throw in the pattern that the distant stars make all across the composition, and you have a graphic design that is both ethereal and inspiring.
Amazing Stories Cover
As mentioned earlier, Amazing Stories was the very popular science-fiction magazine that launched in the 1920s and featured a lot of space opera, though it's still published sporadically today. If you were a fan of this genre several decades ago, you would be treated to fantastic, space-related illustrations and stories with each issue.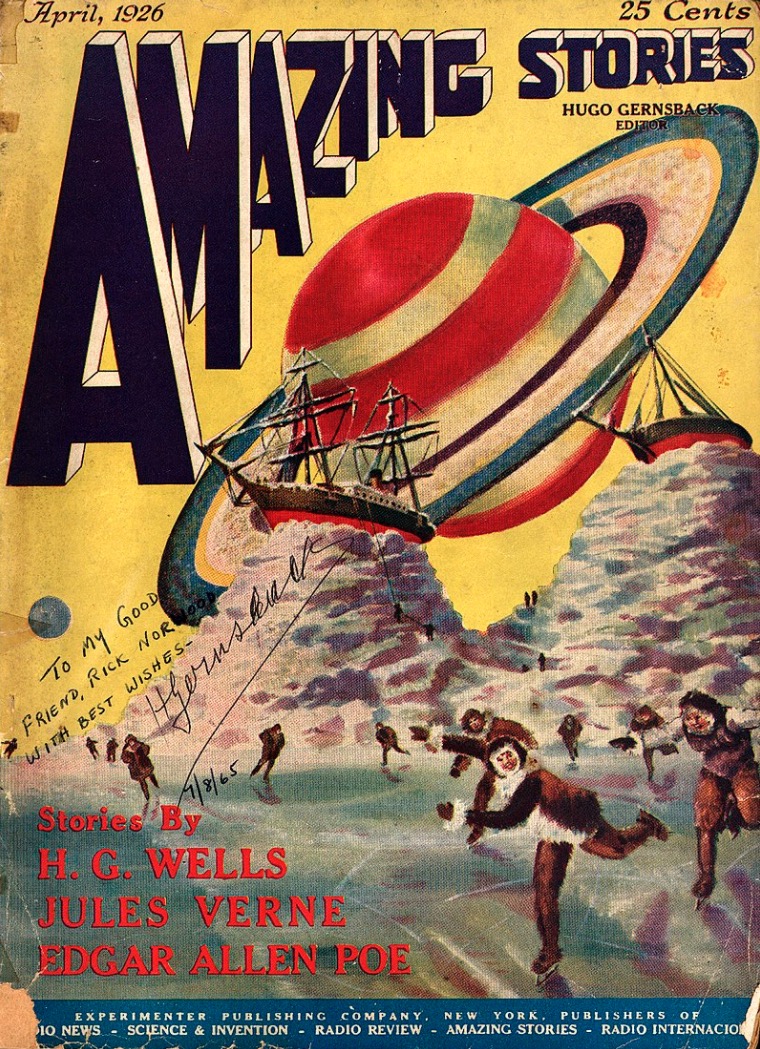 What better way to examine this trend on the cover of Amazing Stories than with its first issue? From April 1926, we have a graphic that shows:
Yellow negative space to promote better focus on the foreground elements
Space themes (the ringed planet)
Seemingly disconnected elements (ships running aground on ice/snow, ice skaters, planet in the background)
3D slab-serif typography in the title
Planet Stories Cover
Another effective illustration of this design trend can be seen on one of the classic covers of Planet Stories, a science-fiction pulp magazine that was a contemporary of Amazing Stories, back in the day. The magazine ran from 1939 to 1955 and was aimed at younger readers.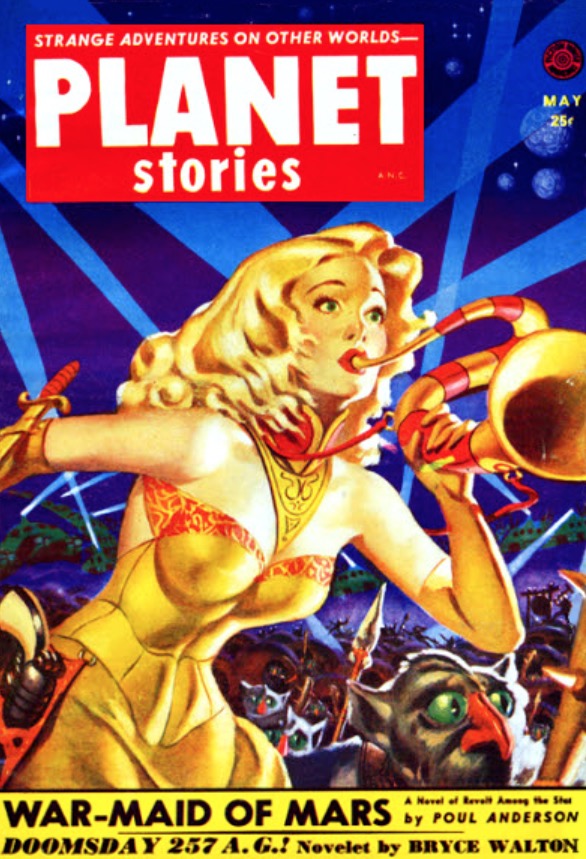 Here, we have a cover from May of 1952. Eye-catching, it shows the following design elements:
Vibrant, loud colors
Color contrast
Warm colors like yellow in the foreground to prominently draw the eye to the foreground
Symmetry (balance) in the composition
Sunrise motifs (just like with Art Deco design)
Geometrical shapes (circles, arches, curves)
The latest Star Wars movie is another stellar reference point for the space opera motif. One of the first design elements you notice is right away is the clutter or busyness in the composition. In spite of this, you can make the case that a sort of asymmetrical balance does occur, as about half of the frame is blue while the other half is red.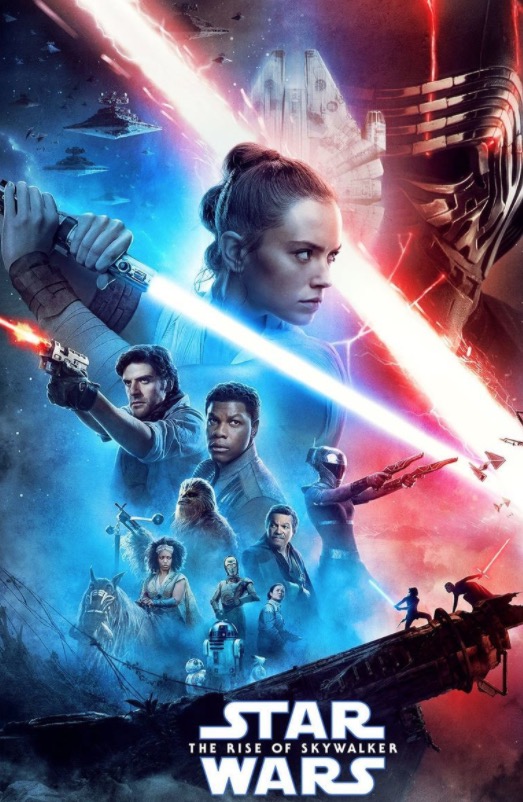 Image Credit: StarWars.com
Beyond this, all the telltale signs of the trend's futuristic, space-warfare, and machine-based elements are present, from the drawn lightsabers and droids to the fleet of spaceships. Also of note are the visual cues of the characters: Kylo Ren, the sequel trilogy's villain and Rey, the sequel trilogy's protagonist, seem to be engaged in a stare down. This somewhat forgettable 1980 movie that's now become a cult classic is also a study in the space opera aesthetic. Featuring less clutter and better symmetry than the Star Wars poster above, it shows Flash Gordon, his love interest, Dale Arden, and the movie's protagonist, Ming the Merciless.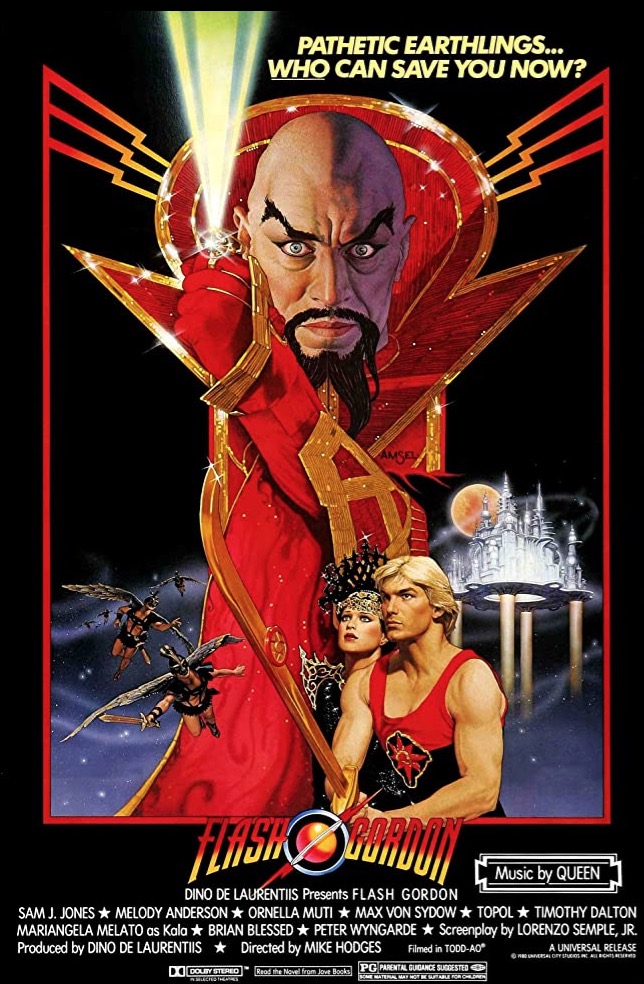 Image Credit: IMDB.com
Here, you have more copious helpings of the neutral color black for the vastness of outer space. The red in the attire of Ming and Flash contrasts sharply with the black background, for what is a good design choice to draw the eye to the more important elements in the foreground. Various geometric shapes (circles for planets and the outline of the spaceship) round out the design.
Space Opera in Web Design
Thanks to the Internet, the final frontier for this design trend to conquer is the web. Here, too, we've rounded up some neat examples of this trend alive and well in cyberspace. We start with the most obvious place: The destination that declares "May the Fourth be with you." The franchise's Star Wars Day webpage is a cornucopia of space opera design. In one sleek long-scrolling page, the webpage uses a card-based layout to focus fans' attention on the most significant developments happening on Star Wars Day.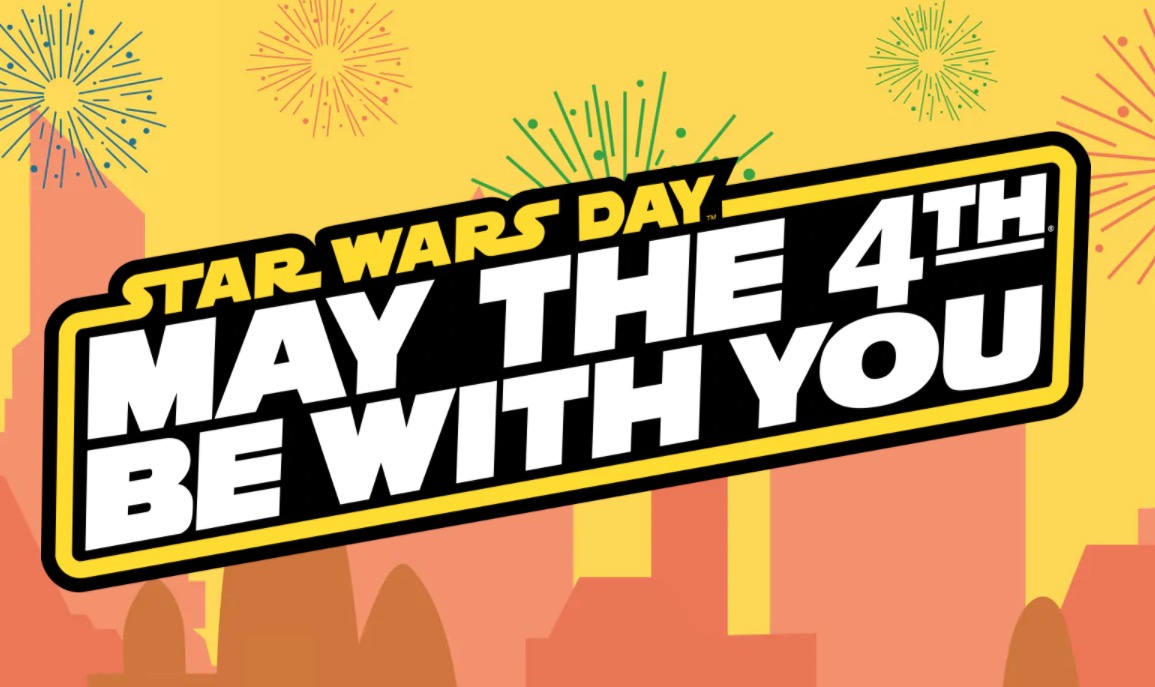 Image Credit: StarWars.com
The webpage displays everything from a video celebrating the "May the Fourth be with you" catchphrase to short primers on how to celebrate the fan holiday while we're all at home during the COVID-19 pandemic and lockdown. There are even special deals that Star Wars fans can take advantage of. Final Space is space opera meets animation, putting a refreshing, new spin on this design trend. It centers around astronaut Gary Goodspeed, his alien buddy Mooncake, and their quest to get to the bottom of the mystery behind Final Space.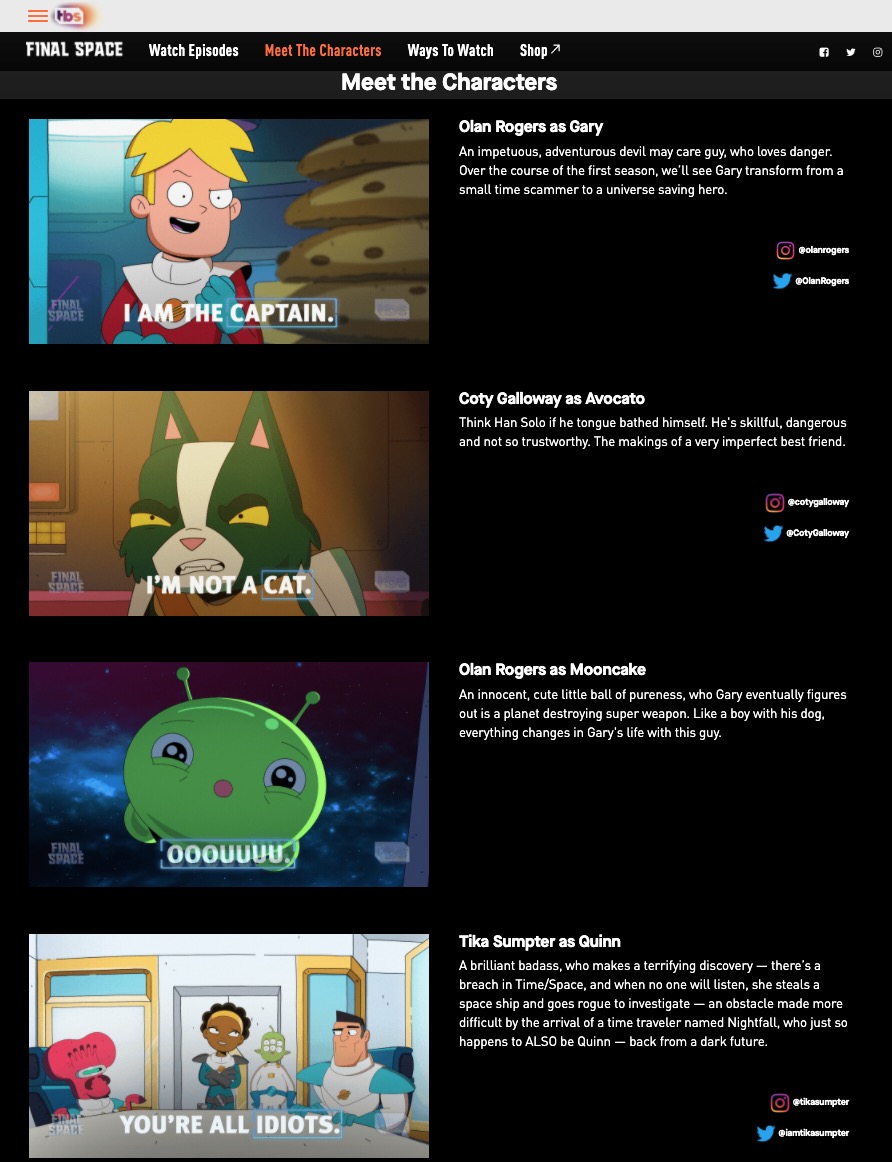 Image Credit: TBS.com
This TBS show's characters hub on its website provides a look at what happens when you take this trend's design concepts and set them to hand-drawn animation. The character are illustrated with some of the same aesthetic flourishes that we've already seen in the examples above: geometric shapes, streamlined edges and lines, and color contrast galore. One of the most recent pop-culture offerings in space opera, Another Life tells the story of an astronaut's attempt to locate the source of a huge alien artifact that crash-landed on Earth, taking her on an interstellar journey. Visiting this Netflix show's webpage, we see the space motif in all its glory.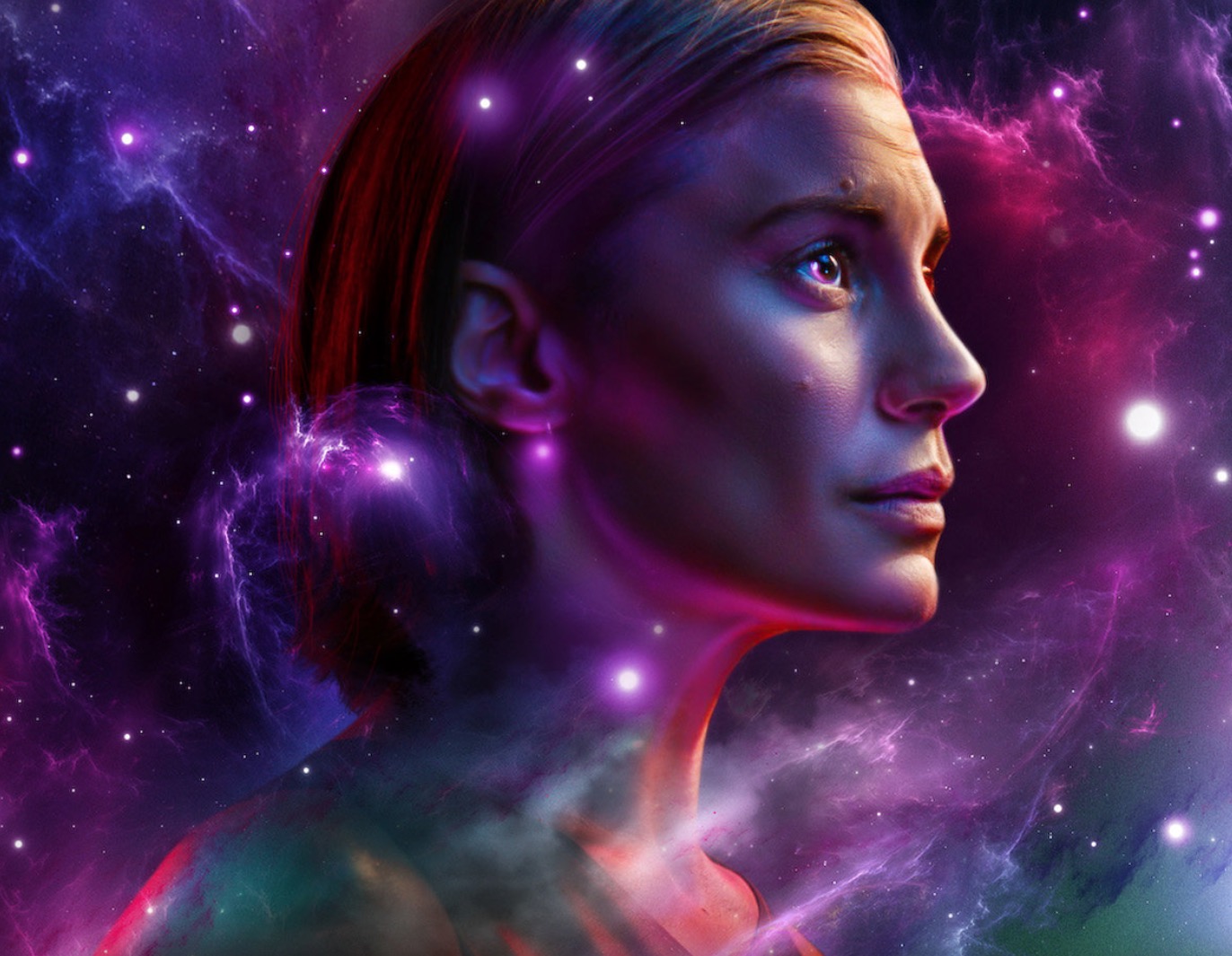 Image Credit: Netflix.com
First, it's hard to miss the swirling mass of celestial space dust around the protagonist's profile, which creates an evocative, mysterious vibe. Then, you have the combination of pink and purple hues, all colors toward the cooler side of the color wheel, which mix well with the black background of space. Finally, you have the geometric design influences once more, with the clusters of circles, representing the stars.
Where Aspiration Meets Inspiration
Man has always aspired to travel to the stars and beyond. Making it to the moon is not enough! We need to see and know more about the vast universe. Among all design aesthetics, space opera captures this feeling so well. The end result of that is a trend that inspires one and all. So the next time you hear the catchphrase "May the Fourth be with you," know that it's more than a plug for the latest Star Wars vehicle. It's also a motivational cry to broaden your design chops in this aesthetic.
---
Products Seen In This Post: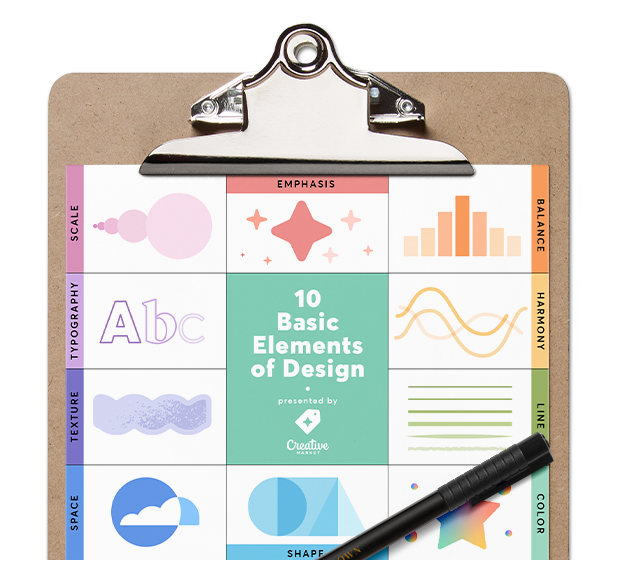 10 design fundamentals, summarized
Free Design Poster
Download this printable PDF poster and hang these 10 design principles on your favorite wall.
Get the file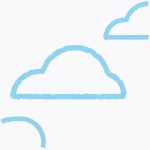 Marc Schenker
Marc is a copywriter and marketer who runs The Glorious Company, a marketing agency. An expert in business and marketing, he helps businesses and companies of all sizes get the most bang for their ad bucks.
View More Posts