Top 10 Web Design Trends for 2020
We scoured far and wide to ask designers at some of the top agencies in the country and beyond what they think will be big when it comes to the web design trends for 2020.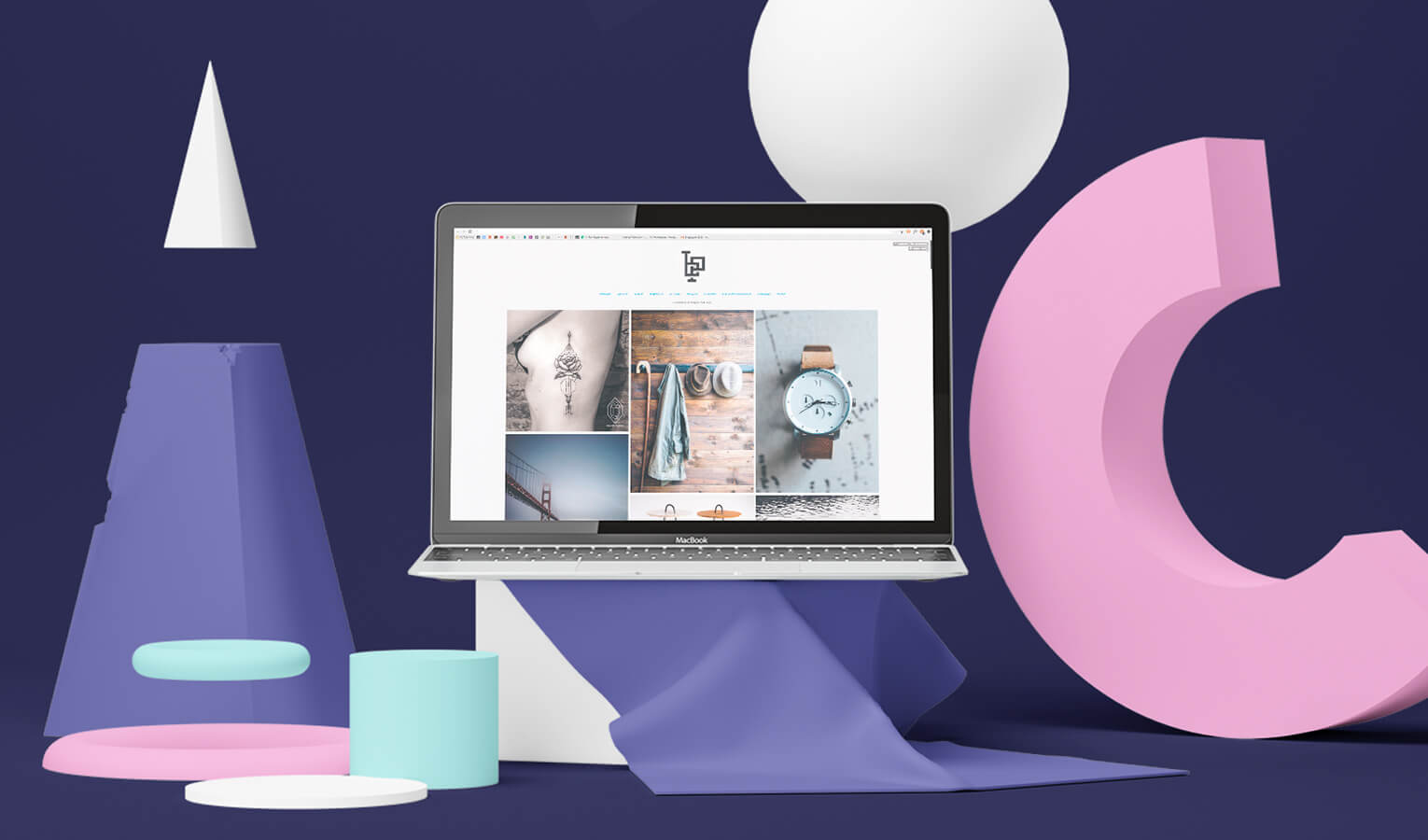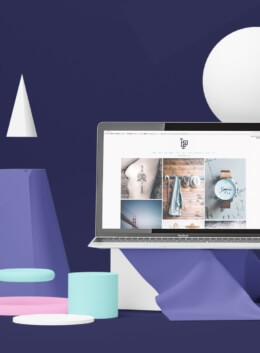 As this year comes to a close, we look toward the new year with excitement for the web design trends for 2020. The past year was filled with developments in virtual reality and voice UX, as well as the prominence of geometric shapes in design, so what will 2020 bring for web design?
At Creative Market, we take pride in bringing you trend predictions from the very people on the frontlines of web design. To that end, we scoured far and wide to ask designers at some of the top agencies in the country and beyond what they think will be big when it comes to the web design trends for 2020.
Some of what they said may surprise you; some of what they said relates to things you may have already started to notice yourself. All of what they said, however, will start a lively discussion as we head into 2020 with the Internet influencing our lives more than ever.
Here's what they said.
1. Classic Design Principles Applied Digitally
This design trend breaks down into two elements: large typography and eye-catching visuals.
Awwwards Jury member and Trüf design director, Monika Kehrer, sees a lot of websites on an ongoing basis. She's identified this trend as the most frequent occurrence as of late, meaning it's set to take off in 2020.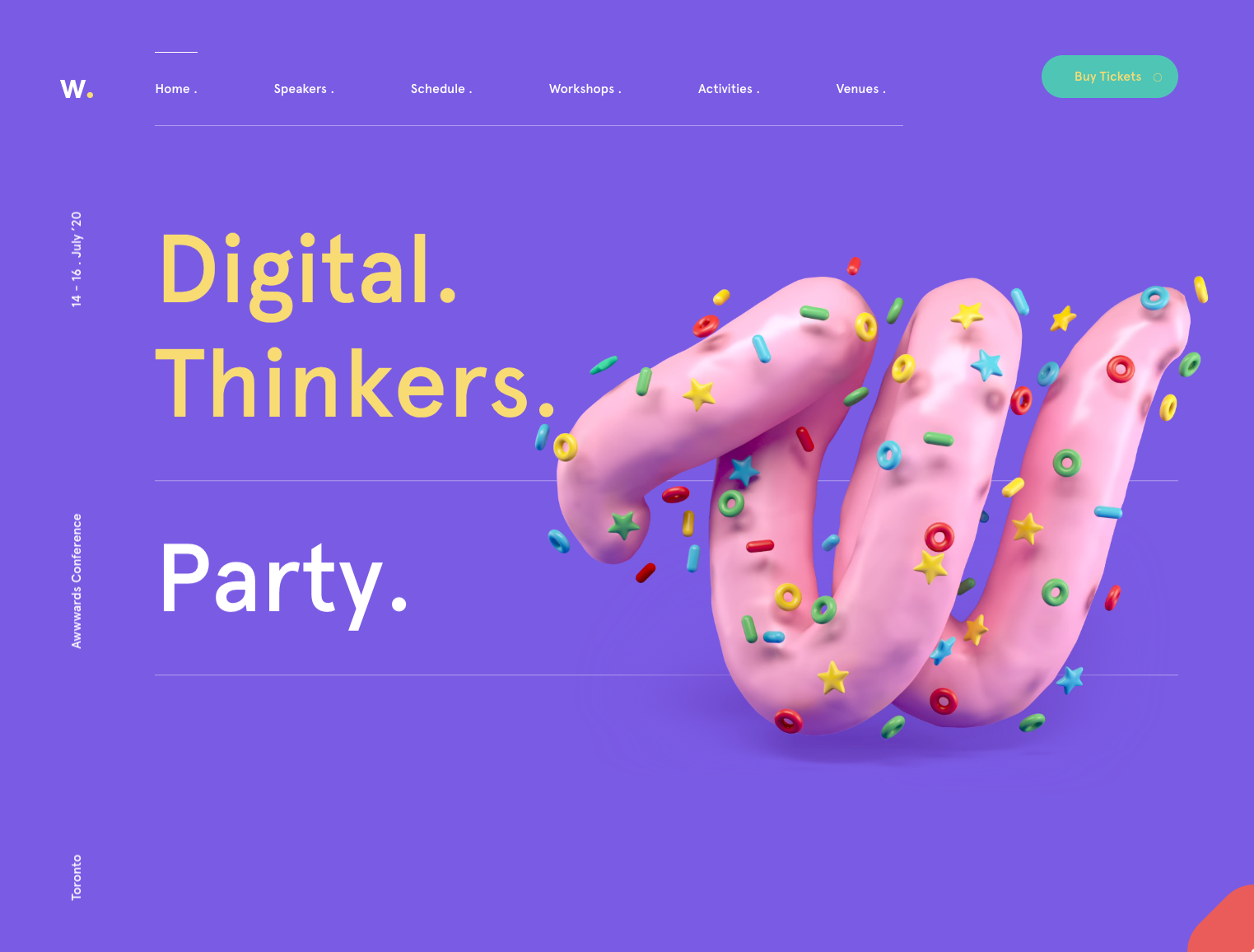 Image Credit: TRUF Creative
Large Typography
"The biggest thing I'm seeing lately is the use of large typography paired with beautiful photography in unique ways for an overall clean design. Headlines that are 200 px or larger, positioned off the edge of the browser or even vertically, create tension on the page. Mixing photography, large type, and clean graphics in an asymmetrical layout creates something unique and timeless without having to include too many scroll effects or splashy animations."
Eye-catching Visuals
"It's all about intriguing visual content! I'm noticing a lot of the new, organic, non-toxic beauty and cannabis products being very thoughtful with their product and lifestyle photography. The set-ups, background colors, models and poses are all inspired by the products' clean philosophy or the use of the organic ingredients' colors in backdrops. I believe the popularity of Instagram and other visual social media channels is helping drive this trend to create eye-catching visuals on promotional websites, too."
The Felt theme, designed by Pixelgrade, features bold headlines with great foreground/background contrast.
2. Apple Aesthetics Throw Their Weight Around
Since turning its back on skeuomorphic design (read: design elements that imitate their real-life counterparts but provide no functional value) several years ago (and never looking back!), Apple has exemplified ease of use. Its products and services put the user first, which has resulted in a sleek, minimalist design approach.
Chris Bobo, web designer and developer at Cross Anchor Web Design, believes that one of the web design trends for 2020 will see more sites than ever adopt Apple aesthetics in their quest to offer their customers top-notch usability.
"Regardless of the type of website you hope to create, nearly all users place a high premium on clarity and simplicity. As a result, we have seen many websites over the last several years adopting the Apple-like model of web design: large, clear text; very basic color schemes; reveal-style graphics; and highly intentional mobile optimization.
Our belief is that these trends will continue to escalate in 2020. Websites will continue to become more concise in their text and bolder in their calls to action. Users are becoming increasingly accustomed to immediate answers to their queries and will quickly abandon websites that do not make the most important information readily available. It seems that imagery will continue to monopolize the real estate on websites, too, thus continuing to increase the value of exceptional photography."
3. More Web Accessibility Through Design
Web accessibility is the epitome of designing for the greater good, as it seeks to make sure that people with disabilities are able to both access and properly use sites. However, in reality, we're still a long way from making this happen since the majority of sites aren't designed for accessibility.
Or are we getting closer?
Amanda Dyer, Landslide Creative's UX designer, predicts that one of the big web design trends for 2020 will be making things inclusive.
"I expect (and hope) to see more accessible web design in 2020. Accessible web design is about designing websites so that they can be easily used by people of all ability levels—whether they have color blindness, are unable to use a mouse, or have some other form of permanent or temporary disability that impacts how they interact with websites."
While the Web Accessibility Guidelines 2.0 are the definitive word on making sites user-friendly for everyone, designers don't even have to go that far to make a difference.
"As companies become aware of the legal, business and social benefits, we'll see more and more clients requesting that their website designs are compliant with the Web Accessibility Content Guidelines 2.0. While WCAG 2.0 is a very comprehensive view of accessible design, web designers can start small.
Ensuring that designs have adequate color contrast and using the default link underlines and keyboard focus outlines are easy entry points. While following the guidelines can sometimes feel limiting as a designer, if our ultimate goal is a great user experience for as many people as possible, it's a challenge worth undertaking."
4. Custom Design Becomes the Norm
You know all those templates that some web designers are fond of using when they build websites? Those that make it easier and faster for them to get a site up and running? Over the last, few years, they've become very popular and prevalent with web designers, helping them design websites quite economically.
However, according to web designer Cole McKeon, of Revealize, custom design will have a moment in 2020. "In 2020, the website design industry will have a fundamental shift. Gone are the days of cookie-cutter websites."
A unique set of icons like Caviar can help you create a distinctive look without having to design every element from scratch
Cole's rationale lies in giving site visitors and customers, particularly millennials with their burgeoning spending power, what they want in terms of the user experience for their buying decisions.
"Approximately 83% of millennials say quality content plays a big role in their purchasing decisions. That is why it is increasingly important for brand websites to focus on a unique and custom design to pull visitors in. This generation of spenders is conscious about where they send their money, so building an engaging, all-encompassing custom site is imperative to maintaining the attention and attracting the dollars of this generation."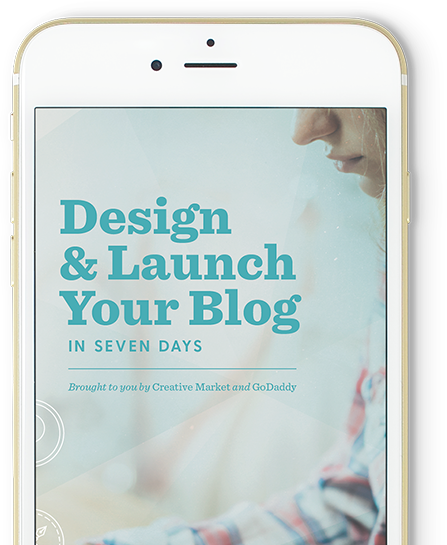 Grab the ultimate toolkit to design your site.
It's time to launch your blog.
Social media templates, a customizable media kit, a comprehensive ebook, and more. Get everything you need to get this project going!
Download your free toolkit
5. Speed Is More Vital Than Ever
How many times have you landed on a site—whether on your desktop, tablet or mobile—and then bounced because the site loaded too slowly? Probably more times than you care to remember, and this illustrates our fifth web design trend for 2020 to a tee: the need for speed.
With your site visitors and customers being more impatient than ever, you literally can't afford not to design for speed. This design and UX principle is something that web designer Sandy Rowley, of Reno Web Designer, understands all too well.
"Good web design choices made early on in the development process can set the stage for a successful website project. Thanks to data-collection tools like Google Analytics and others, we can see a growing trend that shows more and more users accessing websites on mobile rather than on a computer or laptop. What does this tell us about the future of website design?
The data says that the future is fast, about three seconds or less kind of fast. Think about it…what good is a sexy website if no one can get to it? If most users on mobile devices hit the back button, because your website is taking five, eight or 13 seconds to load, you are missing a lot of opportunities to land new customers.
For websites that need to generate sales, sign-ups and/or validate the number of conversions, designers will need to push their creativity to the edge and back to come up with exciting user experiences that load lightning-fast."
Making your site very fast has crucial implications for the business side of things, too, as the number of conversions your site produces and how much revenue it generates is directly tied to site speed.
"I am excited to see websites that use bold font choices and simplistic and sleek layouts with a less-is-more approach to web design, including integrating micro animations to add interest to important areas of a page, all the while considering the UX of mobile. These creative design elements should be used in a way that improves the onsite user experience in a meaningful way, including, for example, increasing dwell time, which helps with conversion rate optimization, SEO rankings, and closing sales. 2020 in web design looks exciting…but also more competitive than ever. Make sure that the end result includes a fast-loading website."
6. Lottie Animations Start to Take Over
Animation spruces up web design by adding motion, character, and imagination to a user interface. An up-and-coming web design trend for 2020 that one UX designer believes will make a huge splash in the new year is Lottie animations. Besides looking cool, they also have a practical UX purpose: they save you a considerable amount of memory due to their small file sizes.
Cameron Goliath, designer and developer at Viral Goliath, foresees this as a game changer.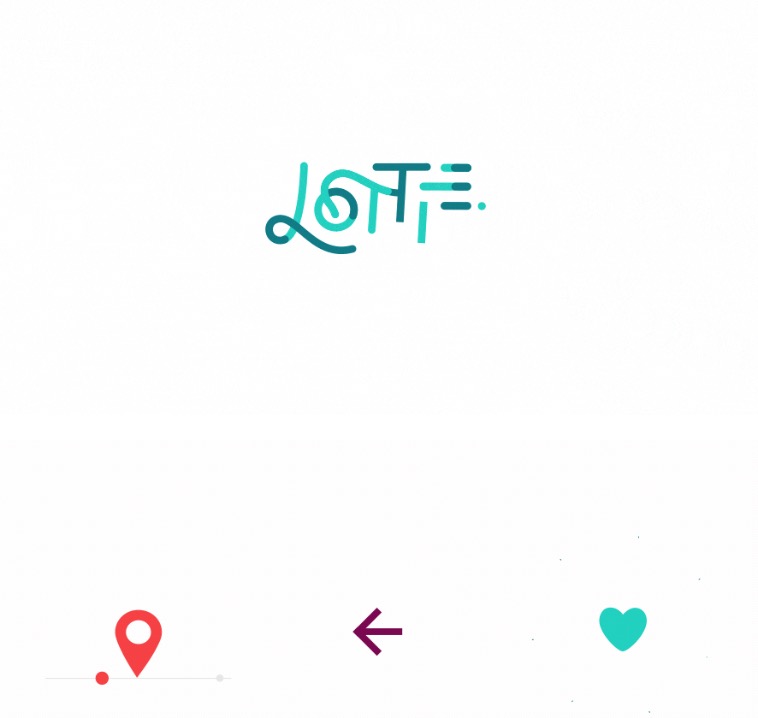 Image Credit: Airbnb
"I won't lie: Integrating animations into web designs used to be a pain. In 2019, however, I have observed an increase in the prevalence of a fantastic solution: Lottie animations. For those who don't know, Lottie is a library that was developed by Airbnb. It allows users to render Adobe After Effects animations using an extension called Bodymovin into a compact JSON file that can be used and integrated in web and mobile scenarios. It is worth noting that Lottie Animations have been around for a little while, but with increasing support from platforms such as Webflow, people are starting to catch on.
In 2020, my prediction is to see widespread adoption of Lottie animations within the design industry. Previously, I often saw Lottie animations utilized as simple preloader animations. Moving into 2020, I expect to see people get a whole lot more creative with them as well."
Animated icon sets like Movin are fully editable with Lottie
7. Eliminating Design Clutter to Focus on Content
Minimalism continues to be a philosophy that many designers rely on to provide stellar experiences for site visitors. However, it's specifically how this minimalism is implemented by a designer that makes a world of difference to UX.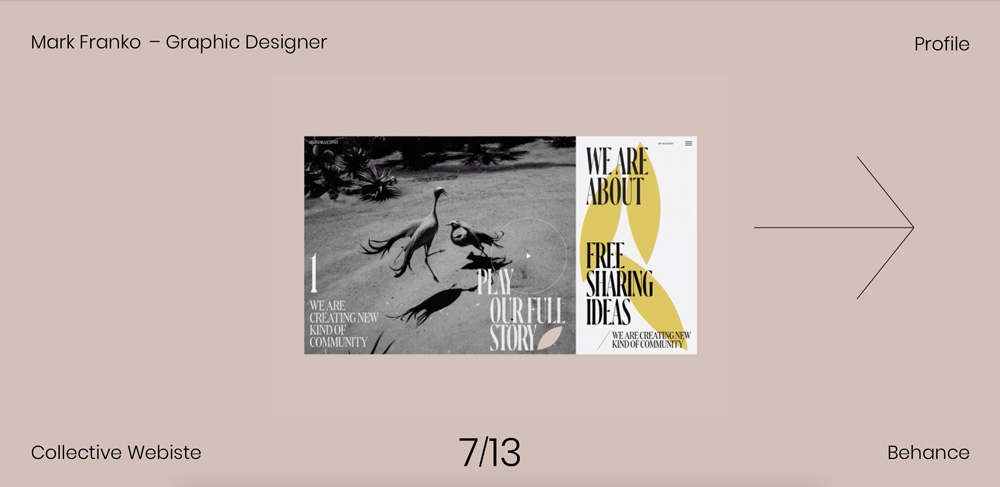 Billie, a WordPress theme for creative portfolios, relies precisely on content as the main focus.
Milwaukee Web Design, LLC's Brian Ericson believes that emphasizing simplification in both content delivery and presentation is crucial for 2020.
"Provide a design with an overall aesthetic that's clean and minimal in order to create a natural focus on content. Whitespace is your friend; consider it as a natural framing element. Clarity is key."
To that end, he sees this trend materializing in the following ways:
"Color palettes: Match the mood of the content. Tap into the mood and feelings of a customer with appropriate color usage.
Accents: Use them as a focal point. Quit screaming at the customer. Example: Rather than having an entire background of moving or falling snowflake graphics, have motionless snowflakes (think of something similar to a soft watermark) with one snowflake that pulses subtly near the main content or message. The human eye is trained to detect movement, so don't overload it in the sensory department where content is presented.
Full-width or full-screen background video with NO sound: Engage the customer with a moving environment. Immerse the customer in real-world, easy-to-identify-with surroundings. The less a customer is required to think or analyze, the clearer your message is.
Fonts: Think of larger and bolder headline sizes with rounded and smooth aesthetics,
Split content using transparent overlays: This is a full-width or full-screen image split into two. One side of the image is unaltered. Opposite side uses a transparent overlay — perfect for drawing attention to the headline with a small summary to guide customers though the website."
8. Page Builders Come Into Their Own
If you've been paying attention to what web designers have been doing in the past, few years, you'd know that website builders have enjoyed increasing popularity among designers. While some may say that you can't build clients a sophisticated site with a website builder, others would passionately disagree.
One of the most significant benefits of page builders is that they empower designers to drastically reduce the time to market of a finished site. For their clients, who may not necessarily need 30+ hours of code in their sites, this means they can sell their products or services faster, with less of an upfront investment.
Ben Pettit, CEO at creative marketing agency STORY, is an ardent supporter of page builders, which he believes will make the biggest splash as a web design trend for 2020.
"We've had an exciting year in web design, yet still so many companies are putting out sites that are cluttered and non-converting. If the world of "the funnel" has taught us anything, it's that simple is better. Over and over, we pull Google Analytics reports for our clients and use visual tools like Hotjar to see that real users don't spend near as much time on your website as you wish they would. As the average attention span continues to decrease, we will see time on site and pages navigated decrease. If we want our audience's attention, we have to be ready to make on-demand changes to serve users better.
At STORY, we are a big fan of page builders. They have come so far in the last five years, and we see them exploding in 2020. Typically, when we design a new site, it's not perfect out of the gate. We do our best to create a compelling strategy, streamline content, make it user-friendly , but it is always going to be an iterative process to make it great. If you spend time and get to know your data, you can use a page builder to make rapid changes to your website. Our favorite page builder for custom web development is Beaver Builder. We've found it's the most stable plugin out of the mix, and we find ourselves choosing it above all the rest."
9. Your Clients and Customers Yearn for Simplicity in Design
The concept of simplicity in web design doesn't just relate to what you see, as in the design itself. It also relates to what you don't see in the development, as in the speed of the site. Simplicity can be tied into SEO, too, as in how easy it is for your customers to find your site in the wilds of the Internet.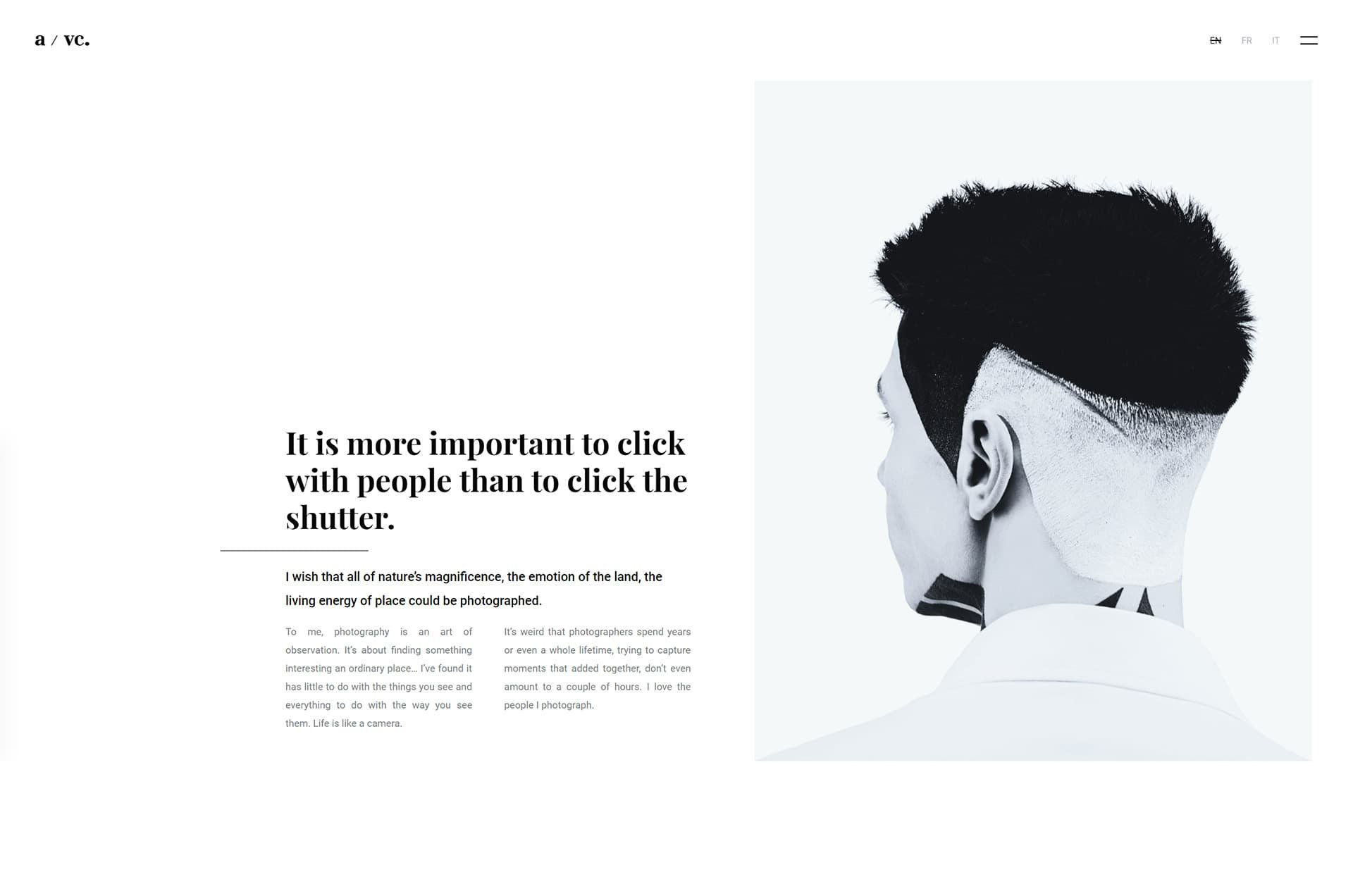 With ample white space and subtle transitions, the Fotico HTML5 Template allows the eye to focus on the brand's stories.
In all three aspects, web designer David Schroeder, of Reno Web Design Group, predicts that the whole web will embrace more simplicity in 2020.
"Web design trends moving into 2020 could be summed up as 'less is more.' Clients repeatedly want simple and easy-to-navigate websites. Websites that are too busy with flashy text blocks and various color backgrounds can be busy and distract viewers from what the client is ultimately wanting to portray. Large, full-width-spanning imagery that is responsive with simple-to-read text is ideal.
We work with small business owners, and clients just want their customers to have easy access to their email and phone contacts, while also being easily navigable and found locally on Google Maps. A website that is optimized for local Google Maps rankings is a must! This also ties in with website load speed. Websites must be able to load quickly for the users. There is an art and technique to having a website look good and also rank locally."
10. The Unbeatable Combination of Beauty and Effectiveness
No one disputes that sites have to be attractive to the eye to perform well, as some studies attest, yet eye candy is only half the story going into 2020. The other part rests squarely on being able to measure that the gorgeous site you just built and launched for your client is successful.
This is the whole point of Mykyta Semenov, UX designer at the SECL Group, regarding his web design trend for 2020 prediction. "In 2020, we will see even more animations and videos while interfaces themselves will become even simpler, with great typography and empty space in the design. However, today it's not enough just to have beautiful and smooth animations as well as large fonts."
Mykyta's design philosophy is informed by the fact that design is firmly rooted in helping to run businesses in the first place.
"Design is a business tool, which means it must achieve some kind of key performance indicators (KPIs). I believe next year we will follow a new trend that will combine beauty and effectiveness. While such a combination is indeed the most difficult to achieve, at the same time, it's also the most in-demand web design trend nowadays."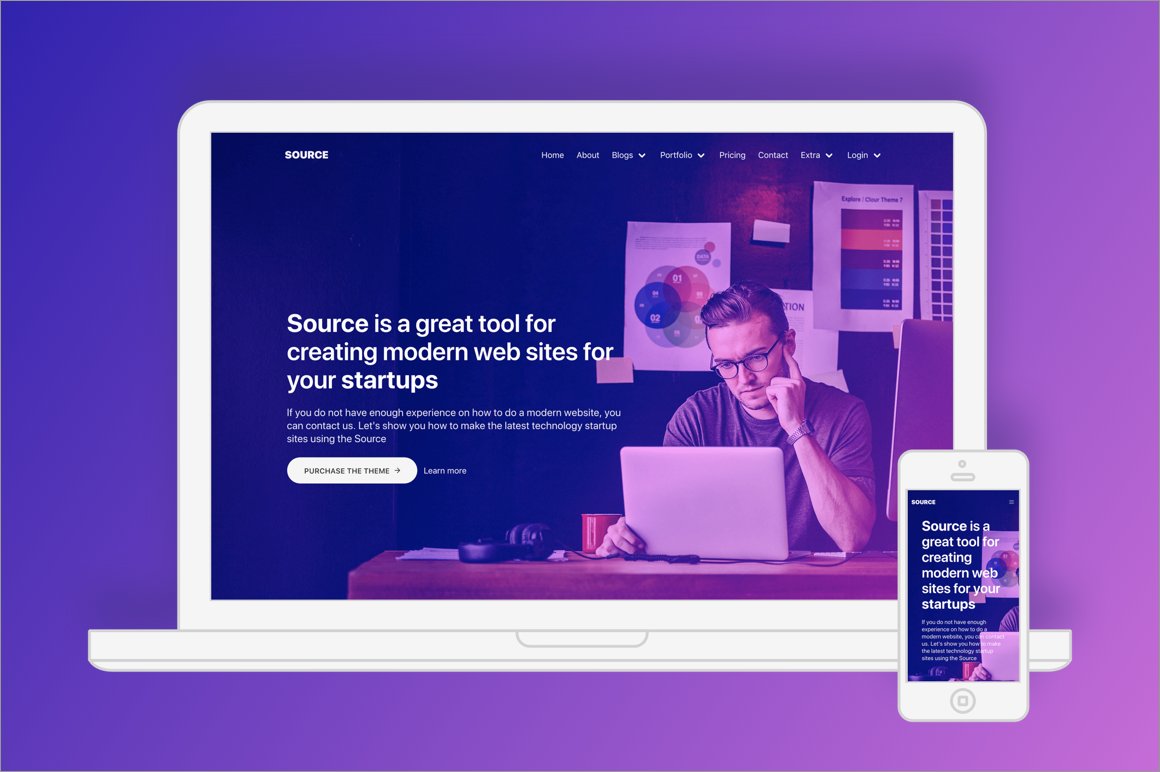 Source, a Vue.js + HTML5 template developed by Themebiotic, combines speed and visual impact.
These Web Design Trends for 2020 Are Coming to a Device Near You
Be extra alert in the coming months because you'll very likely see these web design trends popping up on all of your devices, whether on desktop, tablet, or mobile. It's clear that we're in a pivotal moment in web design. As we boldly enter the third decade of the 21st century, it's interesting to see how much web design is still evolving based on user behavior. What are your thoughts on these trends for 2020? Did we miss anything? Sound off in the comments below.
---
Products Seen In This Post:
A handy checklist for your new site
Launch with confidence.
Check off these items before you go live and make sure that your visitors get the best possible experience.
Download your checklist
Marc Schenker
Marc is a copywriter and marketer who runs The Glorious Company, a marketing agency. An expert in business and marketing, he helps businesses and companies of all sizes get the most bang for their ad bucks.
View More Posts