Design Trend Report: The Tumblr Aesthetic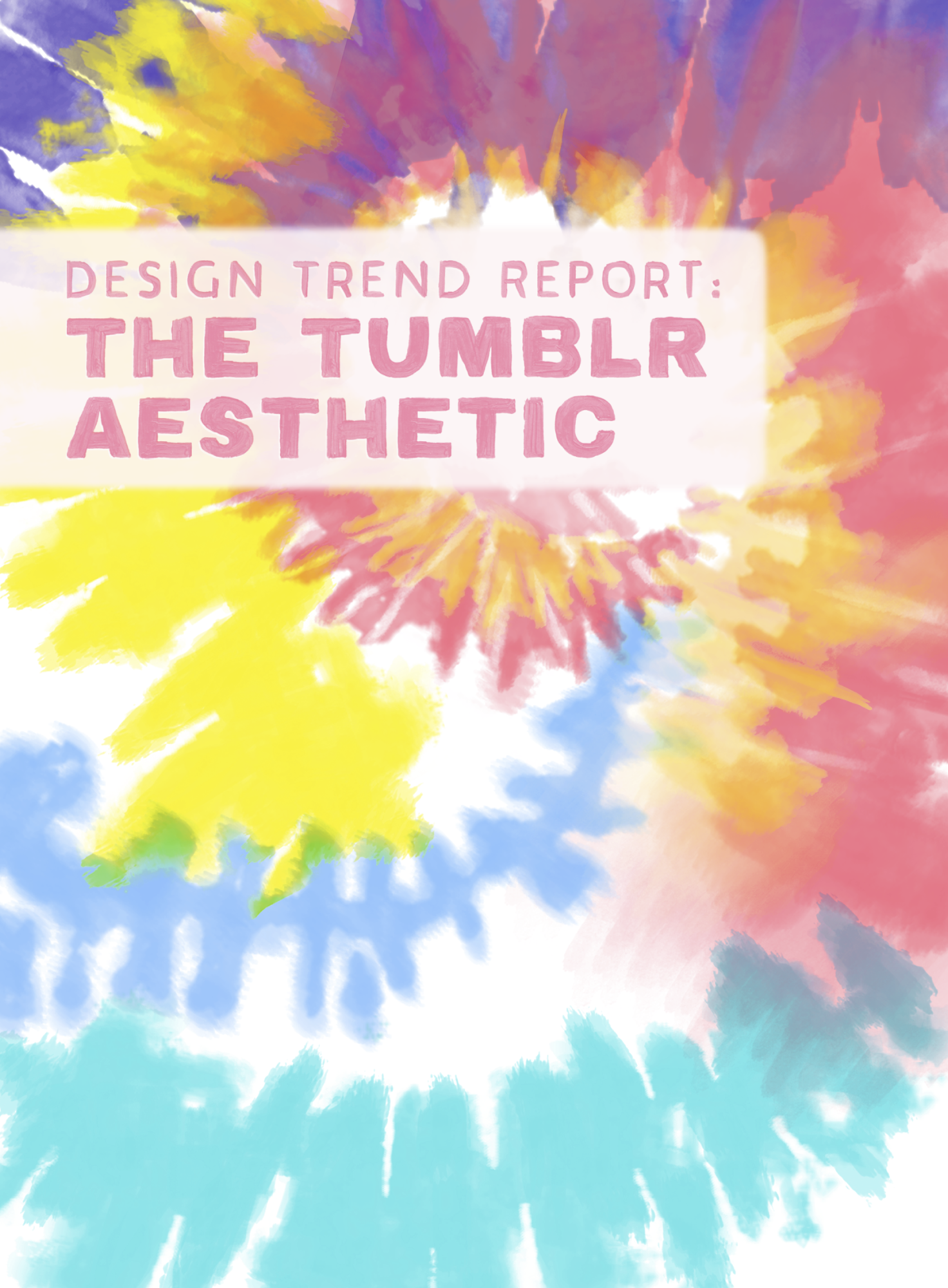 Tumblr has developed a unique aesthetic over the years, though it's not just limited to its own platform. The microblogging and social-networking site famous for being a feast for the eyes showcases a plethora of visual styles that are collectively known as aesthetics. While many pervade this platform, we want to concentrate on the Tumblr aesthetic itself, a striking look that's a combination of other popular design trends. This look is such an interesting cornucopia of different design styles that it has spread to other social platforms like Pinterest and Instagram. In short, it's a hipster throwback to certain aesthetics from decades past that have seen a new lease on life thanks to the instant shareability of content on the web. To understand why this aesthetic is such a hot commodity on social networks right now, and for actionable pointers on using it in your own designs, read on.
Where Did the Tumblr Aesthetic Come From?
When we talk about this alluring visual trend, we have to take into account all the different styles it integrates into its look. When we break down this aesthetic and figure out the sum of its parts, we'll also get to the bottom of where this trend came from. If you've been reading our Design Trend series for some time, you'll know that many visual trends are combinations of other trends, have been influenced by past trends, or put a different spin on an already existing aesthetic. The Tumblr aesthetic is no different, yet it's a bit more unique in this respect because its influences are quite disparate. See if you can spot some of its disparate influences by checking out some of our favorite digital assets that epitomize this trend:
This style combines elements of these visual flavors: Let's look at the origins of each of these trends individually to see where the Tumblr aesthetic came from.
Grunge
The grunge aesthetic goes back to the musical style of the same name that emerged from Seattle, Washington in the mid to late 1980s. Massively popular by the early and mid 1990s, bands that epitomized this sound included Nirvana, Pearl Jam, and Alice In Chains. These musicians wore faded, ripped or otherwise worn-out clothing, shunned the use of pyrotechnics and flashy displays in their performances and music videos, and, of course, featured a raw, edgy sound and lyrics that were anti-establishment. These traits would carry over to design with posters, CD artwork, and promotional materials associated with these acts featuring elements like:
Discolored or blurry photography
Low-fi images
Collage lettering
Retro
As a descriptor, this word has been around since at least the 1960s to describe two things:
New products that intentionally copy styles of the past
Styles that have actually been created in the past
From the 1980s onward, and most definitely today, retro can refer to a variety of contexts like design, media, fashion, architecture, food, and even lifestyle philosophy.
Collage
The history of the collage technique is interesting when you consider its definition. A collage is any form of visual art that incorporates a broad range of forms and influences into one composition. A scrapbook can be a collage, just as a mood board can be considered a more eclectic type of collage. If we go back far enough in time, we see that the concept of collage was invented in ancient China during the Eastern Han period, right after paper was invented. Throughout the centuries, various cultures put their own, respective spin on collage, right through to the more modern versions of collage, such as grunge collage art and eclectic collage.
Neon Design
A celebration of everything loud and flashy, neon design is probably associated with huge, blinking signage for most people. There's actually a fair amount of science behind this design trend, as the trend's namesake is the noble gas that was discovered in 1898. Of course, this wasn't the official start of neon design, but it opened the door for it. Soon after, in the first decade of the 20th century, commercial manufacturers began to sell neon in large quantities, with the first notable exhibition of this style on display at 1910's Paris Motor Show. There, two, humongous, red neon tubes were put into place to light up the peristyle of the building where the show was being held.
Living Coral
This year's Pantone Color of the Year for 2019, Living Coral is a warm and comforting pink-red hue that is highly influential across numerous design-related industries. You've likely seen a significant amount of it this year in areas like interior design, fashion and graphic design. It gives off an energetic and lively vibe, thanks to its natural color tone. Associated with the 70s' style revival trend from last year, Living Coral's pink-red flavor can be seen in many examples of the Tumblr aesthetic, across various social-media platforms. Now that you have a better idea of the roots of this Tumblr look, you get a strong sense of where and how this design trend emerged. Essentially, it's an aesthetic that owes a lot to past trends and which has been updated for a contemporary audience, particularly on social media, so that it stays relevant and timely.
The Characteristics of the Tumblr Aesthetic
The qualities of this look are multifaceted because it takes so much design inspiration from several trends that, while interrelated, are all individually unique and memorable. As with the analysis of its history, it's best to break down the appearance of the Tumblr aesthetic into its different parts. Here's what to expect from a visual standpoint:
Raw, faded, or otherwise grainy visuals or typography
Old-school, vintage flavors, and pop culture references
90s' style influences
70s' style influences
Reddish-pink hues (and variations thereof)
Warm, comforting, and familiar colors that nurture
A nostalgic embrace of the familiar past
Amalgams and combinations of other design trends that are reassembled for contemporary times
Loud, neon colors
Visual texture and patterning
We should also highlight that all of these design traits need to be present in a composition to legitimately make it a contribution to the Tumblr aesthetic. Due to the broad range of traits that borrows from various design philosophies, it can be tempting to call something part of this aesthetic even if it just includes a few of these traits. That would, however, defeat the purpose of this style. The Tumblr aesthetic is an intentional collage of different styles, meant to make it extremely unique and instantly recognizable. With the 411 on this style out of the way, there's only one thing left to do: dive straight into its numerous examples so you can become an expert at identifying it.
The Tumblr Aesthetic in Graphic Design
If you know where to search, this design trend is pretty ubiquitous. Here are our picks for some of the most stunning works of this look in graphic design today.
Thunderstorm + Extras
When you look at this typeface, you may just see it as another script font. Look a bit deeper, and you'll soon see numerous elements of the Tumblr Aesthetic popping out at you.
A handmade brush font, Thunderstorm + Extras features a shade of the living coral hue that's such a telltale color of this style. The strokes of the font itself call to mind the retro vibes of the 80s and 90s, an unmistakable homage to this pop-culture moment in time. Use this typeface in your next design project for any of these diverse purposes:
Books
Clothing
Logo design
Invitations of all kinds
Posters
Brochures
Bonus: Since this typeface comes in TTF and OTF file types, it's also compatible with the Procreate app.
Candy Bar – Aesthetic Textures Bundle
This textures bundle kit takes its inspiration straight from the aesthetics on Tumblr, making it a direct reflection of a digital asset this design trend has influenced. An overarching color theme in this kit is again the pink-reddish hue of living coral, along with the myriad of interesting visual textures that you get. This bundle is also perfect for creating your own collages, so you're only limited by your own imagination and the requirements of the project on which you're working.
Utilize this digital asset for a number of projects to show off the Tumblr Aesthetic:
Images
Brochures
Websites
Cards
Invitations
Copper
Copper is a typeface that shows off how far you can take creativity when you're inspired by the grunge and 90s styles as part of the overall Tumblr aesthetic. Taking its cues from various movie logos from the 80s and 90s, Copper is the font to help you make an impression.
With its sharp, well-defined corners and lines, Copper commands your attention. It can seamlessly communicate your brand identity as easily as it can nostalgically take your audience back in time to the late 20th century. Experiment with this font in all sorts of projects like:
Splatter Spray Seamless Patterns
A vibrant pattern set, Splatter Spray Seamless Patterns is awash in all kinds of neon designs, 80s- and 90s-inspired graphic design, and eye-catching visual textures that are memorable. Edit and scale all of these patterns to your desire, with absolutely no loss in quality. This versatility makes them ideal for any creative project. Integrate living-coral splotches and stippling into your next card designs, or play around with grungy, faded textures for your next foray into packaging design. You get 30 patterns overall from which to choose, so you can really let loose on your next project.
With vector sources a part of the package, these patterns are available in color, black and white versions. Here's a sampling of what you can achieve with this digital asset:
Art prints
Brochures
Posters
Stationery
Invites
Tees
Fabric prints
Blog webpages
Web elements
Business cards
Branding kits
Cassette Tape Vintage Mockup
Remember cassettes? They came before CDs, which came before digital downloads of music. Nothing says the Tumblr aesthetic like a trip down audio memory lane with a digital asset that recalls the pop-culture joys of listening to music on tape.
A true 90s-style mockup, this realistic, photographic representation comes with three elements: the cassette, the case, and the sticker. This digital asset lets you enjoy the versatility of customizing the cassette's and cover's colors to your liking. An added plus is the inclusion of grunge-style typefaces over top of the cassettes for the ultimate in retro messaging.
The Tumblr Aesthetic in Web Design
The Internet is bursting with imagination, and one of its primary drivers is this design trend on various social media websites. Whether it's Pinterest, Instagram, or Twitter, you can be sure to get more than your fill of design inspiration when you behold the visual dynamics of the Tumblr aesthetic in these places.
Pinterest
The platform that popularized the concept of card-based design for social media is also taking the lead when it comes to the Tumblr aesthetic. Its exclusive focus on visuals lends itself very well to showcasing this trend that has to be seen to be appreciated. The website and app are a very good place to appreciate, research and otherwise take in this design trend. Pinterest's use of cards is an ideal way to easily learn more about the aesthetic, as you can quickly enlarge each card to study this style in greater detail, if you happen to spot a card whose visuals interest you.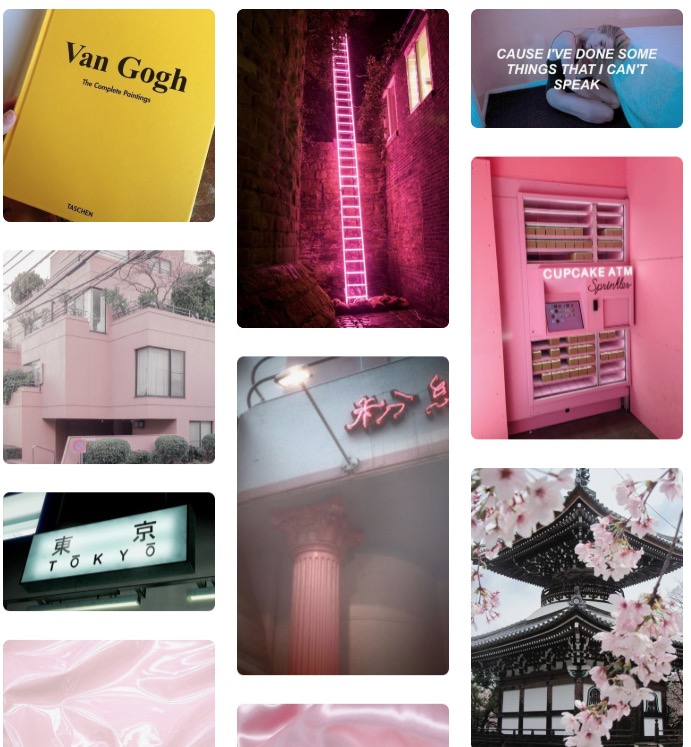 Image Credit: Pinterest
Pinterest boasts a generous collection of images and graphic design from the Tumblr aesthetic in all sorts of contexts:
Memes
Motivational quotes
Interior design
Still photographs
Architecture
Fashion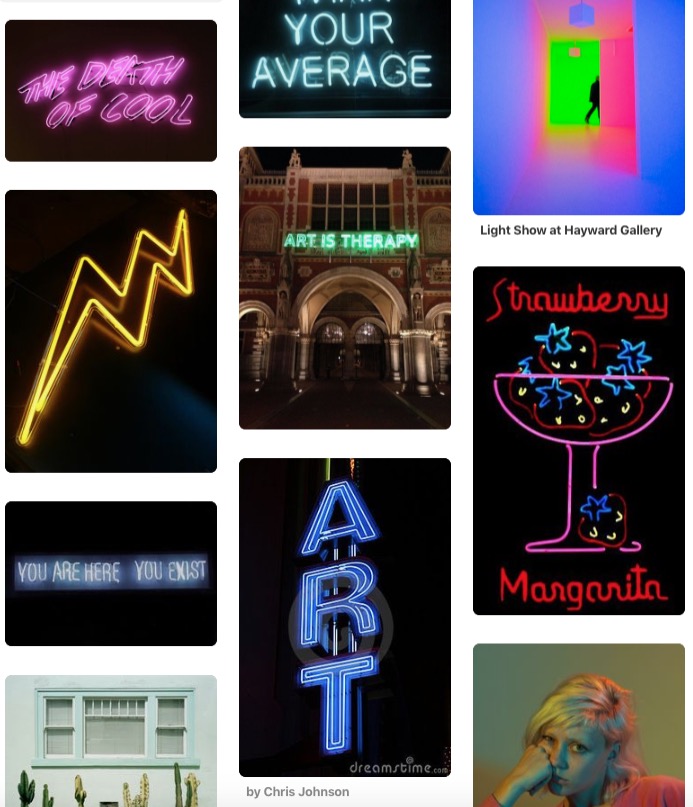 Image Credit: Pinterest
Explore this platform, and you'll find yourself getting lost in this trend in no time.
Instagram
Just do a quick search on Instagram for the Tumblr aesthetic, and you'll be pleasantly surprised at the number of results that the platform surfaces. An indication of its popularity on Instagram, the plethora of search results also means that you can admire and get inspired by this design trend on this very visual platform.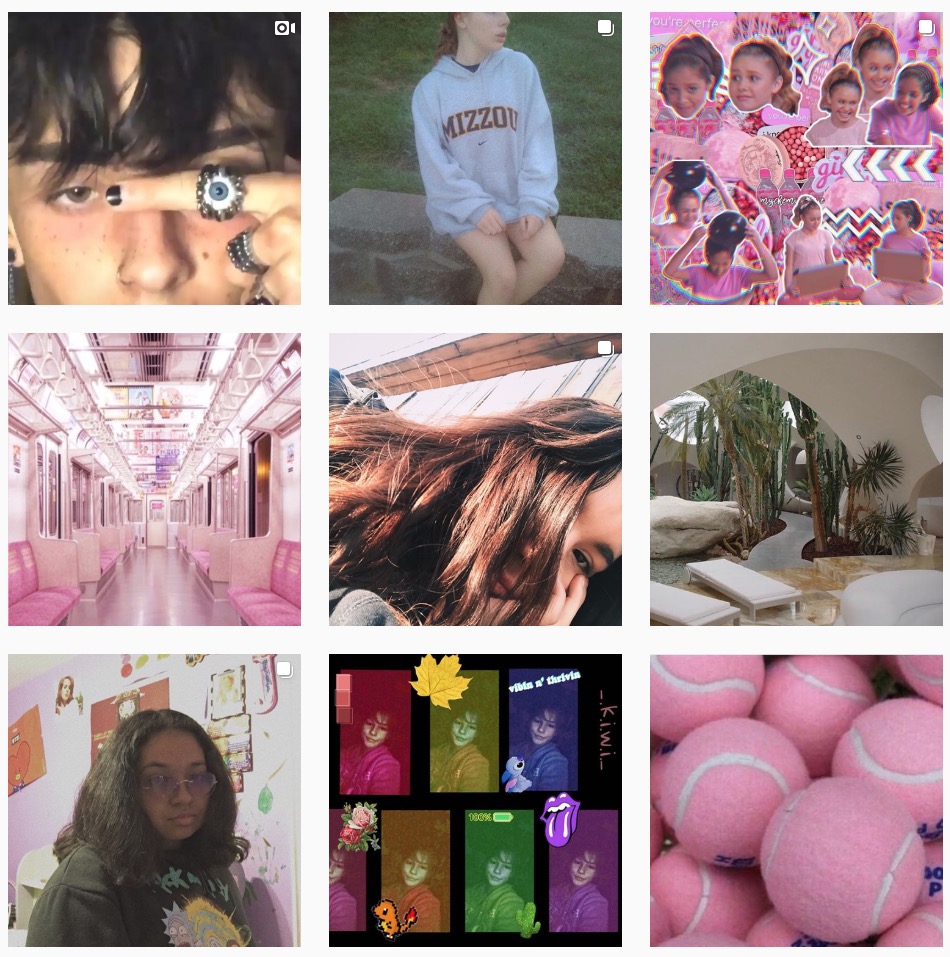 Image Credit: Instagram
Get ready to take in:
Grainy, low-fi images of 70s and 90s style
Collages that feature the living-coral color
Interiors that feature the living-coral hue
Photographs that have been put through retro and vintage filters
Creative visual textures and patterning
If you're looking to get some Tumblr aesthetic ideas for your next creative project, then Instagram is as good a place to start as any.
Twitter
The platform that has made firehose-style and pithy communication the norm is also a great destination to appreciate and study visual design trends. Here, too, the Tumblr aesthetic has a lot of devotees. Again, just perform a search for the term, and you'll be greeted with a host of search results that detail this style.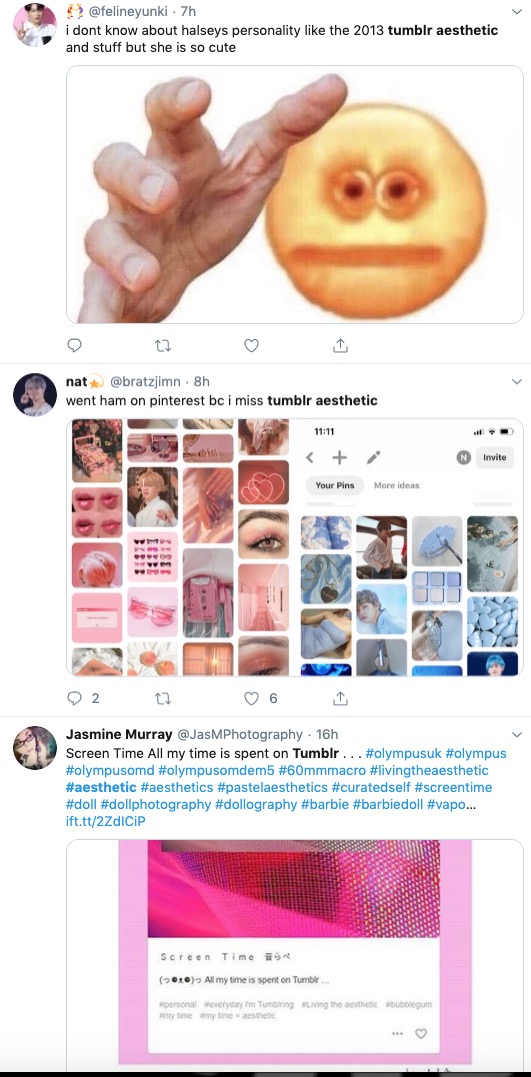 Image Credit: Twitter
Unlike Pinterest and Instagram, Twitter is not exclusively based on the visual, which means you'll see some distracting tweet copy within each card that pops up as a match for the Tumblr aesthetic. Nonetheless, it's yet another great resource to have if you want to peruse the different possibilities this trend can produce.
A Study in Diverse Influences
To sum up, the Tumblr aesthetic is a collage of different styles that are each unique in their own right. Together, they combine to form one of the most impactful designs of late that has made quite a lasting impression across numerous social platforms. Heavily based on vintage and retro designs from yesterday, this trend is also focused on color, as it incorporates that unmistakable, reddish-punk hue that's warm and inviting. Throw in a bit of neon design and elements of mishmash, and you get a trend worthy of shareability and lots of buzz. Try it today for your next creative project.
---
Products Seen In This Post:
Design a cohesive Instagram grid
Get your free grid template
Download this kit to quickly export Instagram shots that match your brand's visual style. PSD and AI files are included, as well as a moodboard to display your brand's assets.
Download it now
Marc Schenker
Marc is a copywriter and marketer who runs The Glorious Company, a marketing agency. An expert in business and marketing, he helps businesses and companies of all sizes get the most bang for their ad bucks.
View More Posts