Design Trend Report: Procreate Text and Textured Typography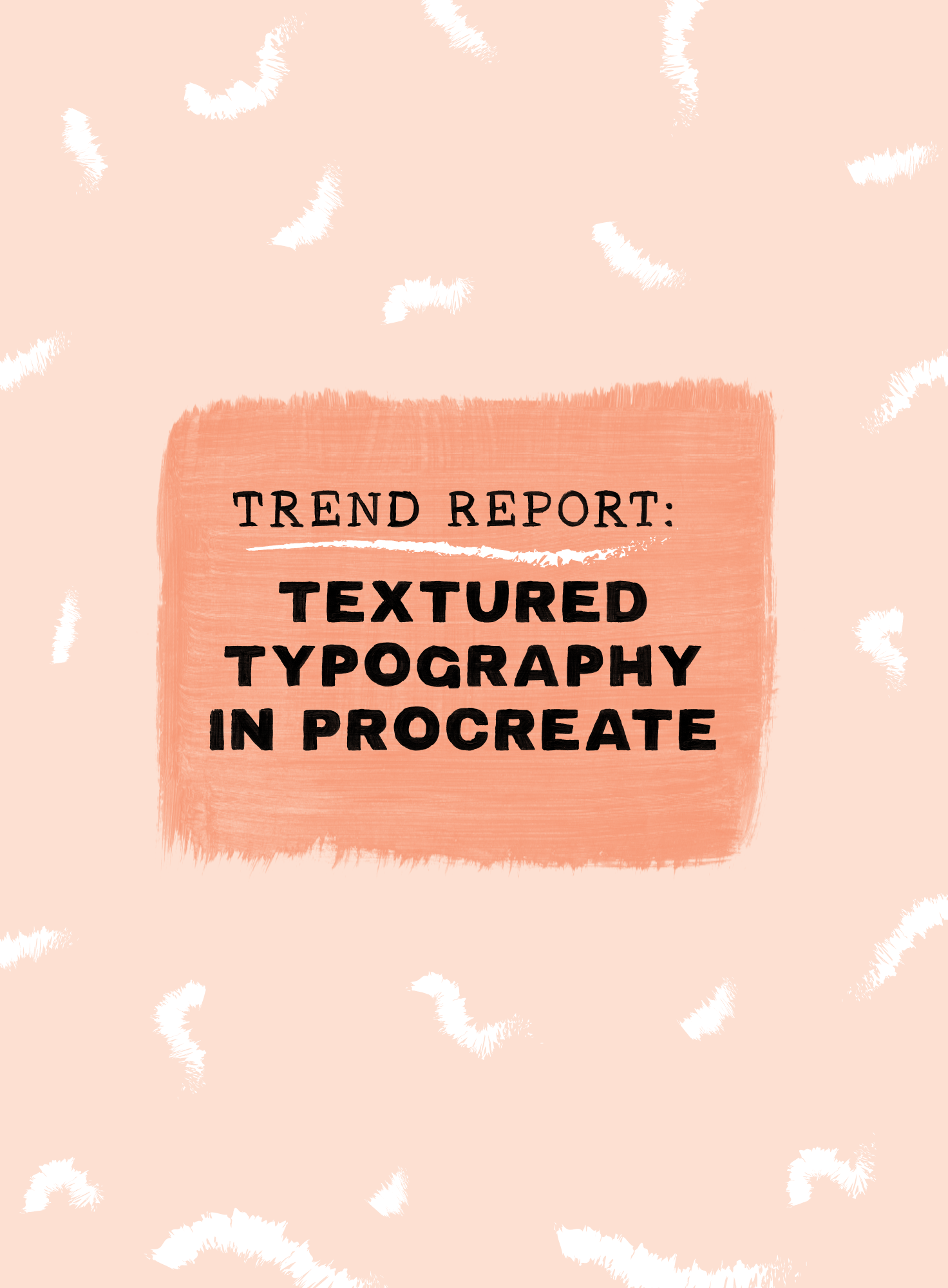 Since the release of Procreate text for the beloved, digital-painting app of the same name, designers have enjoyed a next-level user experience in what was already a fantastic tool. Many graphic designers, illustrators, and creatives are already familiar with and use Procreate, the raster graphics editor built exclusively for iOS. This groundbreaking update gave rise to a new design trend: textured typography. Procreate text is versatile and malleable. Never before have illustrators had this much freedom with type when working inside this app. Sure to give Adobe Illustrator a run for its money, this graphics editor was originally designed to take advantage of all the creative opportunities in Apple's line of iPad tablets. With this latest trend, the app is demonstrating again why it's been gaining steam over the last decade as the choice of illustrators and digital artists for any number of projects. Here's an in-depth walkthrough of everything that's possible with working with text in Procreate.
A Brief History of Procreate Text
Procreate was launched back in 2011 by Savage Interactive, a Tasmanian software business founded only a year earlier. From humble beginnings in the kitchen of Savage Interactive's founders, James and Alanna Cuda, the app has since skyrocketed to iOS and App Store dominance, now being the App Store's best-selling app for 2018. Almost from the get-go, the app found a very receptive audience in the form of creatives who understood the potential of Apple's line of tablets, but who couldn't find anything to satisfy their creative juices on iOS. That changed quickly when Procreate was released, and by 2013, the tool had already garnered much positive attention in the form of an Apple Design Award, which only helped to propel it to more popularity.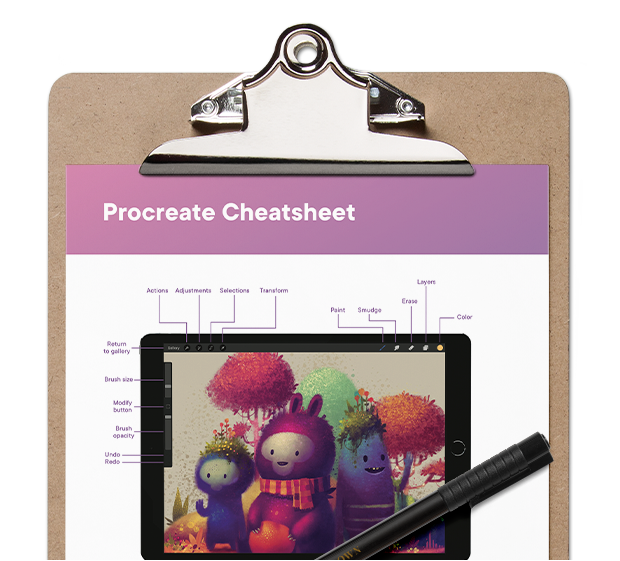 Learn the basics

Free Procreate Cheatsheet

A handy PDF guide listing tools, shortcuts, and unique Procreate features.

Download it here

The sky was the limit from then on. In 2016, it rose to the Top 10 of the best-selling apps for the iPad; in 2017, it was in the top two. Then, last year, it finally took the top spot as the best-selling app in the App Store.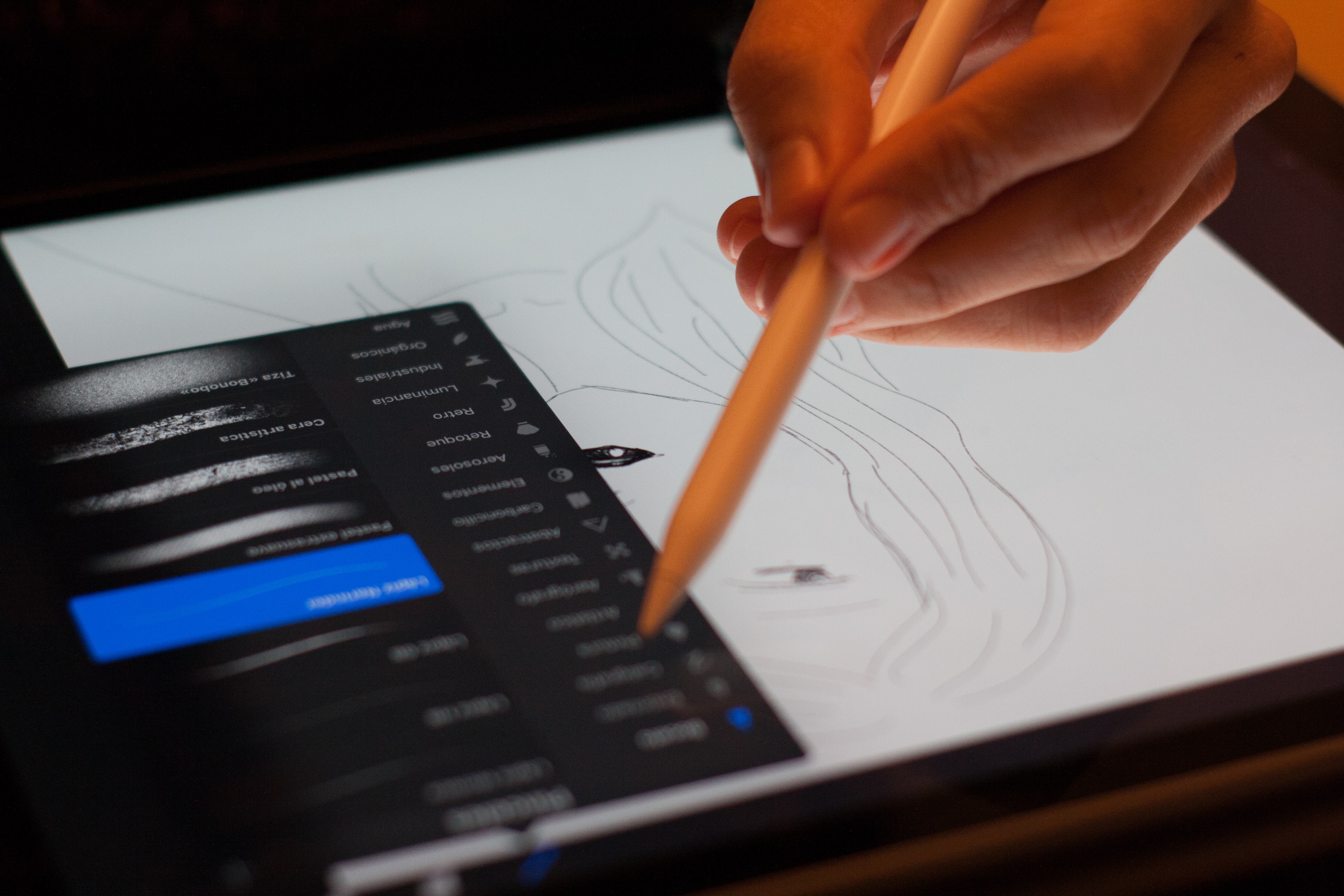 Procreate naturally expanded into the iPhone with Procreate Pocket in 2014. There, too, success followed, although it took a bit longer to find a dedicated audience than on the iPad. Initially, the Pocket version was released with a minimalist user interface and gradually failed to keep up with the iPad version's many updates over the years. This resulted in a less-than-desirable UX, but, after some course corrections and the release of Pocket 2.0 in 2018, the iPhone's version of the app had the same, popular features as the tablet version. As a result, Pocket finally received Apple's App of the Year award in December 2018. In spite of all this rapid and growing success, you may be surprised to learn that a feature as elementary and in-demand as working with text in a convenient way wasn't available in the app until Procreate text was released in an update earlier this year. Prior to this release, creatives had to contend themselves with either drawing the letters on their own in the app or scanning existing images into the app that already featured typography.
Working With Typography Wasn't Always an Option?
On April 15, 2019, this tool changed the face of digital illustration forever when Savage Interactive released Version 4.3 for the iPad, including the Procreate text feature. The update was an extensive one that allowed users for the first time to:
Incorporate aesthetic text straight into any illustration
Customize kerning and tracking with pinpoint alignment options
Import fonts by efficiently dragging and dropping favorite typefaces into the app
Share layers via layer-export options that include entire folders of PNG pictures, animated GIFs, and multi-page PDFs (you can alternately choose full designs for every frame by choosing them straight from the gallery)
View single layers by holding down the visibility checkbox
Create perfect strokes thanks to a series of pressure smoothing options
Use layer blend modes (divide, hard mix, lighter color, darker color, pin light, linear light, and vivid light)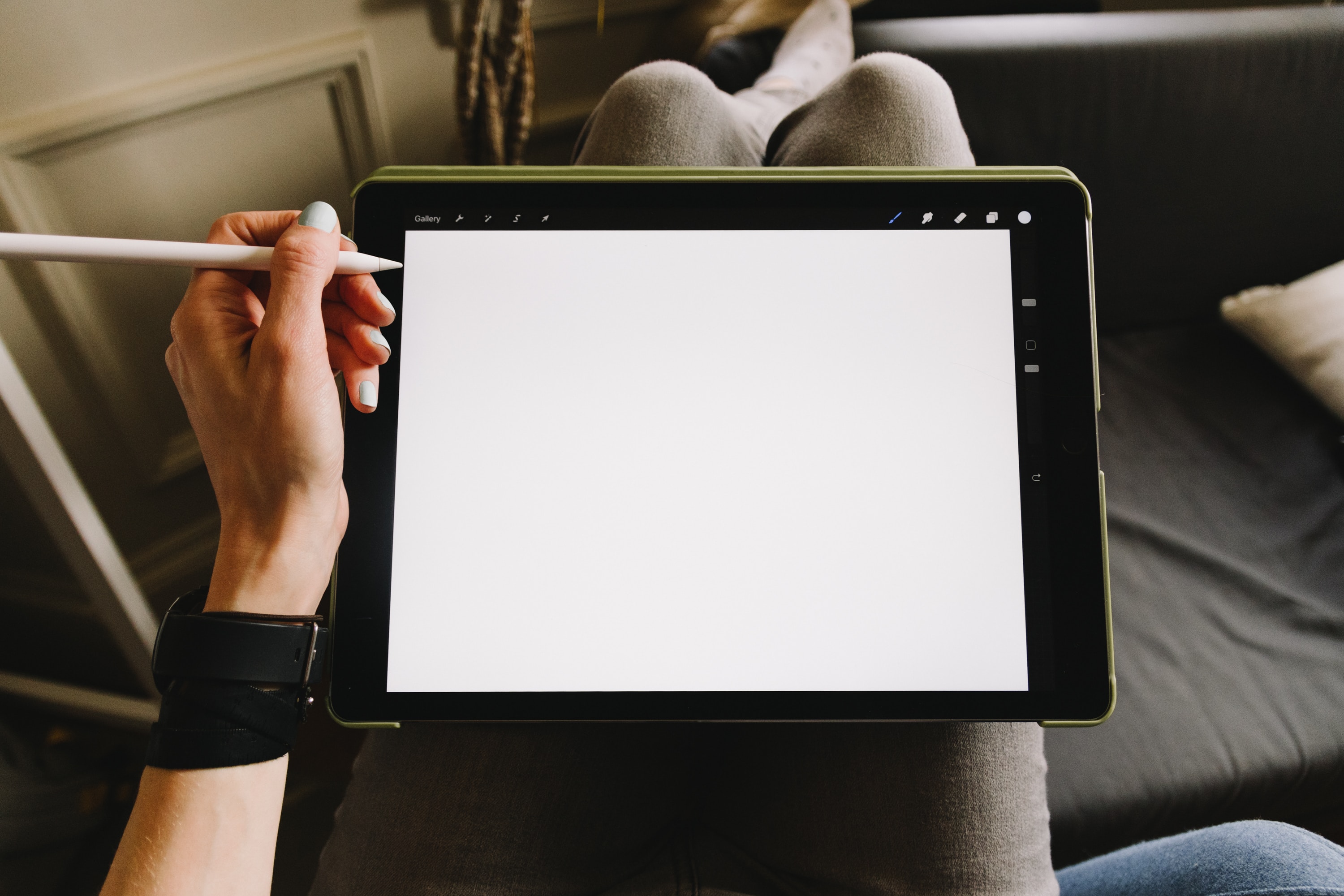 This introduction of Procreate text gave the app the necessary facelift it needed by demonstrating that user feedback was finally heard. For the longest time, users had been clamoring for Savage Interactive to provide them with an intelligent text feature, and now they couldn't be happier. So this begs the question, what exactly does textured typography look like in Procreate?
How to Get the Most From Procreate Text
Since UX is at the heart of this tool, rest assured that using this new feature is a cinch, whether you're on a tablet or smartphone. For our purposes here, we'll focus on the iPad's Procreate text feature. The first thing you want to do is create a new, screen-size document. Next, tap on the wrench icon in the top-left of your screen (next to the Gallery navigation menu item). Then, tap on Add and select Add text from the dropdown menu's choices. A text box appears on your document. Type straight into the box what you want your text to say. You'll definitely want to customize how your text looks, so tap on the Edit Style button that appears off to the right-hand side of your screen.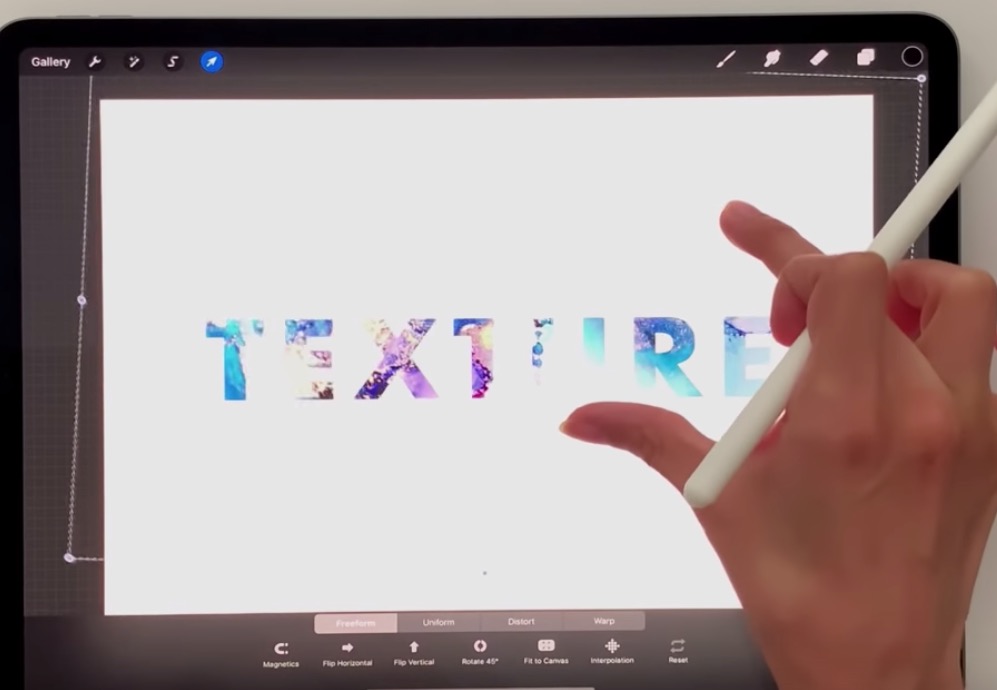 Image Credit: Teela Cunningham
This opens up a new menu of choices (the Edit Style palette) that empowers you to get very creative with what you do to your text. You can change the text's
Style
Size
Attributes
Kerning
Tracking
Leading
Baseline
Opacity
These selections let you experiment a great deal with the aesthetics of your text, as well as its legibility and readability. Of course, you're also allowed to change your text color. To do that, ensure that the cursor flashing on your screen first stops by tapping on the keyboard icon at the top-left of the Edit Style palette. Then, tap on Edit Style once more, so the cursor doesn't flash anymore. Now, you're ready to tap on the circle icon at the very top-right of your screen, which opens up the color palette. These are just the basics of what you can do with Procreate text, but, naturally, you want to learn how to do more.
Working With Textured Typography
The beauty of this new update is that you can get highly creative with what textures you can apply to your lettering. One perfect example of this is found in Teela Cunningham's (AKA, Every Tuesday) tutorial video on How to Use Text in Procreate. Here's a summary of the highlights of how to add some interesting texture into your Procreate text.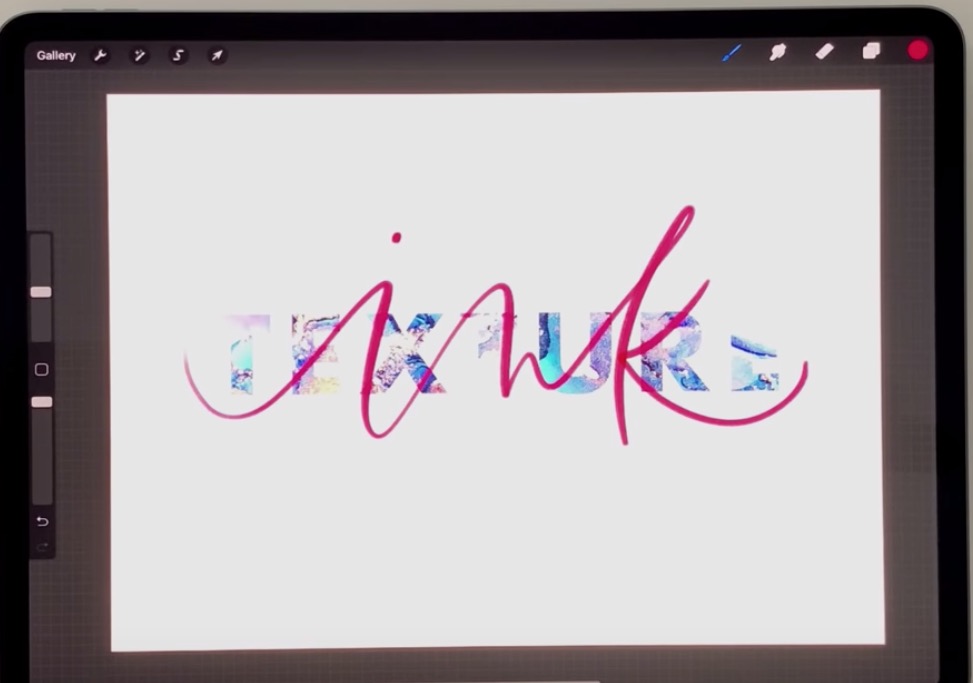 Image Credit: Teela Cunningham
Keep in mind that the video features an ink texture that's a transparent PNG. To bring this transparent PNG into Procreate, you have to first insert it as a file rather than just taking a picture from your camera roll. Tap on the Wrench icon in the top-left of your screen, tap the Add button, and then tap the Insert a File selection in the dropdown menu. Assuming you have various files of textures on your iPad, you'll now see your options. Tap the texture that you want to use, and it's automatically imported into Procreate. Tap the second icon from the right at the top of your screen, which opens up the Layers menu. Here, tap on Inserted Image and tap on Clipping Mask in the new dropdown menu. Since the texture you choose now completely fills your text, tap on the Cursor icon to resize and rotate your text as you see fit. It's time to build your lettering on a new layer. Tap the second icon from the right at the top of your screen, opening up the Layers menu. Tap the + sign next to Layers, then tap the Brush icon, which opens up the Brush Library. Here, choose the brush that you want. Next, tap on the Circle icon to select the color you want to work with. Finally, tap on the second icon from the top right and tap on your current Lettering Layer. From the menu that opens, select Mask (not Clipping Mask). This is going to apply the layer mask to your lettering's layer. As you paint, choose either a black or white color; using black on top of your lettering layer will conceal those areas while using white will unhide those areas. If so inclined, tap the Brush icon to choose a different brush for your masking.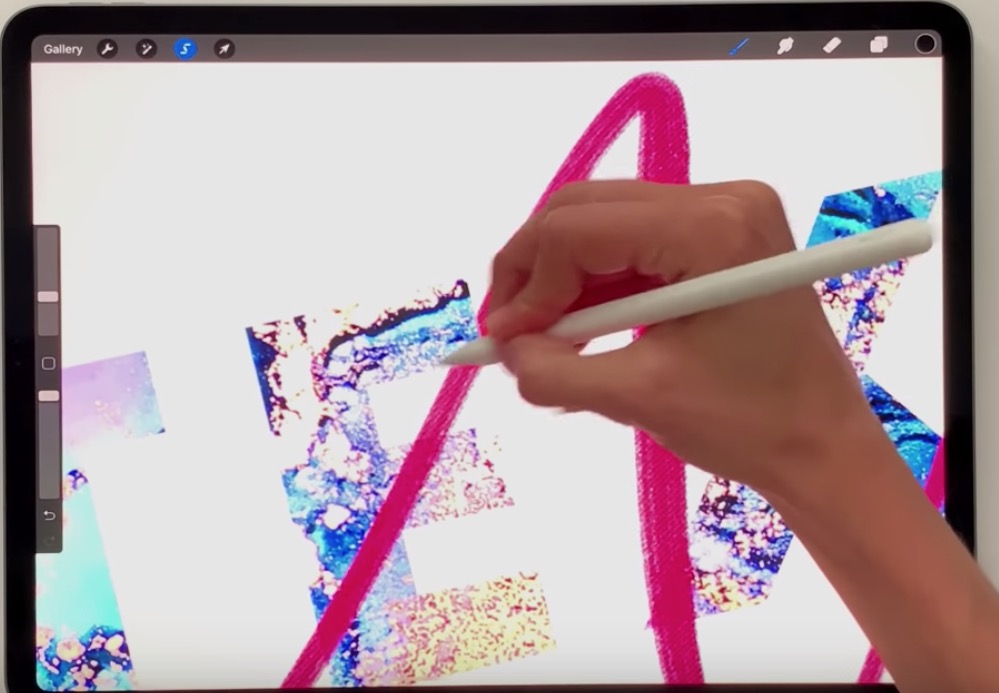 Image Credit: Teela Cunningham
Mask only in the areas of your screen where there's text. To accomplish this, open the Layers menu and select the Texture option from the dropdown. Tap on Select in the new side-opening menu that pops up. Then go back to the Layers menu and tap on the Layer Mask option (which also automatically selects your current Layer). This ensures that you'll only paint within the actual text. Now paint black or white on your text as you desire to create the effect you want with Procreate text.
Fonts to Use With Procreate Text
According to the app's website, there are only certain kinds of fonts that you can use in this app. Currently, these three font types are supported: There are four ways you can get your fonts into the app to play around with this new trend of textured typography: 1) In the Files App, drag-and-drop the fonts to Files App > On My iPad > Procreate >Fonts. 2) Drag-and-drop the fonts out of the Files App straight to Procreate in either the Canvas or Gallery. 3) Connect your iPad to your Mac and utilize iTunes file sharing in order to copy your fonts straight into Procreate > Fonts. If you're working with a lot of fonts, this is the most efficient way to import them into the app. 4) As you're editing the text styling, use the Import Font button to bring in just a single font from Files App. Now that you know what font file types the app supports and how to bring your typefaces into this tool, let's look at just some of the many fonts you can import to the app to take full advantage of Procreate text.
Santorini//Luxury Signature Font
This hand-lettered typeface is ideal in projects where you want to exude an upmarket feel. Maybe it's a high-quality brand you're working with, or perhaps you just want to bless your creation with an upscale look. Whatever the reason, this font does the trick.
The font's creator included more than 100 ligatures, overall, thus producing that real-life, hand-lettered vibe. This font family includes both lowercase and uppercase characters, punctuation, numerals and multilingual symbols. Try it today as Procreate text and see the class that Santorini brings to your illustrations.
Hello Paris | Modern Paired Duo
For a truly modern take on a typeface, check out Hello Paris. A versatile font that looks equally elegant and presentable in serif and script, it epitomizes the modern, refined style that makes it a great choice for a multitude of projects: branding, invites, logos and more.
Give your projects a sumptuous aesthetic that communicates professionalism and beauty at the same time. Give it a whirl within the app to see how harmoniously it sits alongside artwork as Procreate text.
Ahkio
Bold and impactful, Ahkio is a font that makes a statement from the moment you see it. Inspired by retro design vibes—1930s sign painting as well as showcard lettering—the typeface is also modern and features an individualistic quirk.
You'll notice it thanks to its slightly curved stems and rounded, soft forms. This slab font is an accessible digital asset that works well for projects like:
Posters
Flyers
Brochures
Packaging
Logos
Its 5 weights mean that Ahkio offers you choices like adding extra contrast to your lettering. Experiment with its inside the app, and see how well it works as Procreate text.
Hanley Rough Font Collection
The Hanley Rough Font Collection is typography that's legitimately unique. It's an old-school typeface that embraces all the hallmarks of that vintage aesthetic, but it doesn't stop there. It also saves some space for a modern twist, making it a very different font that will make your Procreate artwork stand out from the rest.
This mix of retro and modern is such that its creators believe that the Hanley Rough Font Collection works best with branding projects for restaurants, cafes and logos of all types. Essentially, if you're working on a project where you're in need of a nicely textured letterpress font, then you've come to the right place. Experience it as Procreate text, and see the magic it works in your branding illustrations.
Metropolis Typeface
Sharing its name with the classic German, science-fiction movie from the 1920s, this typeface is an Art Deco-inspired creation. It exudes, as a result, impressions of an epic, bygone era, punctuated by high drama and retro flair. This typeface features uppercase characters, punctuations and numerals. As a bonus, you also receive more than 50 Art Deco-themed ornaments along with three, gold textures.
Use this font as Procreate text in your next design within the app, and behold how your project will give off a timeless, classic appearance.
Brannboll
Calling all sports lovers. If you're in love with the baseball diamond and can't get enough of catcher's mitts and curveballs, then have a look at the Brannboll font. It's the typography version of a love letter to America's favorite pastime.
It's a script-style font that comes in both fat and thin versions. Heavily inspired by baseball, Brannboll definitely feels like it could be at home in newspaper clippings from the early to mid 20th century. As such, its retro aesthetic is very apparent, which is all part of its throwback charm. Import Brannboll into the app today, so you can experience firsthand what a baseball-inspired font would look like in Procreate text.
Textured Typography in Illustrations at Your Fingertips
The beauty of Procreate has always been its spot-on UX. Never before has an app so seamlessly offered professional-level typography control to everyone from hobbyists to serious designers. Almost right out of the gate, the app became a favorite among illustrators and creatives who required a usable tool for high-quality designs in the palms of their hands. With everything it did right, can you believe it took so long for Savage Interactive to finally fix the glaring omission of text? After almost 10 years, Procreate text finally debuted as a feature in the app, much to the delight of creatives everywhere. Not only can you now add text to your drawings and artwork right in the app, but you can also import a myriad of customizable fonts to your illustrations, which brings this software to next-level status. If you need stellar typography for your next project that you can edit to your heart's desires, there's no better time than right now to start using Procreate.
---
Products Seen In This Post: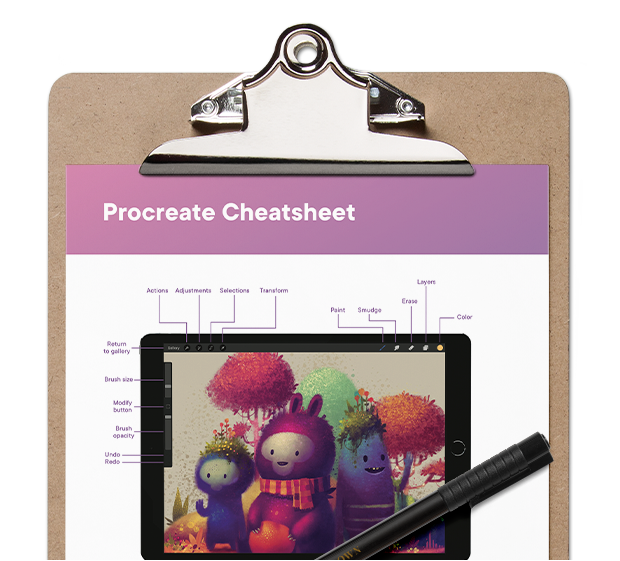 Learn the basics
Free Procreate Cheatsheet
A handy PDF guide listing tools, shortcuts, and unique Procreate features.
Download it here
Marc Schenker
Marc is a copywriter and marketer who runs The Glorious Company, a marketing agency. An expert in business and marketing, he helps businesses and companies of all sizes get the most bang for their ad bucks.
View More Posts