How to Brand Your WordPress Blog: 50 Tutorials and Pro Tips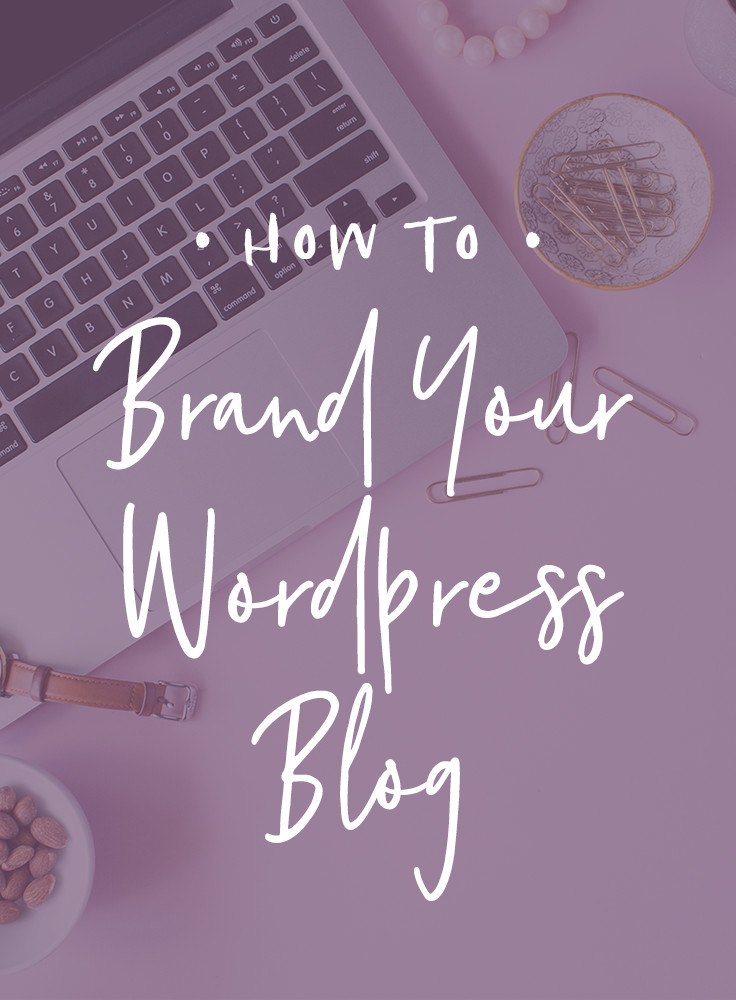 WordPress is still one of the most popular blogging platforms, content management systems (CMS), and website builders around, some 14 years after it first launched. That's a very impressive testament not only to its longevity, but also its great usability. Because of this popularity, it's common for many designers who take up blogging to use WordPress' platform. It's insufficient to merely have a blog and regularly publish content on it. As an entrepreneur, designer, or small business owner, it makes all the sense in the world to ensure that your blog is a reflection of your entire brand. A blog is really a lead-generation tool since many of your website visitors (read: leads and prospects) will likely find out about you on the web by landing on your blog. When you ensure that your blog is aligned with your entire brand, great results happen. Here are the 50 best ways to brand your WordPress blog.
1: Include Your Logo
If your design business has a logo, you have to prominently feature it on your blog. This seamlessly communicates that your blog is part of your broader design brand. Feature your logo on the left side of your blog webpage, as studies show that such placement creates better navigation. Our Creative Market logo follows this user-experience rule, as it's always on the left side of the page, whether the homepage or a blog page. Here's how WordPress lets you easily upload your logo to your WordPress blog.
2: Preserve a Color Palette
Your blog ought to use the same colors as your design business. For example, if your site uses red and blue prominently, so should your blog. If your packaging uses white and black prominently, your blog should feature white and black, too.
3: Be Mindful of Tone
All brands have their own tone that's apparent in their advertising and communication materials. Your blog has to reflect this. Align the way you communicate in your site copy, promotional materials, social media accounts, and printed materials with how you write on your blog. Regardless of whether your brand's tone is serious, irreverent or humorous, make it consistent.
4: Choose a Functional WordPress Theme
The foundation of your WordPress blog is its theme or how you control the presentation and look of its content. Spend some extra time thinking about the theme you'll choose for your blog. The way you present this content is vital to ensuring that your blog aligns with your brand's image. Here are some winning WordPress themes from the Creative Market marketplace:
5: Choose Images Carefully
Imagery is one of the most important parts of running a successful WordPress blog since your audience is made up of visual creatures. The types of images you publish on your blog to accompany the copy as well as their quality (sharp or blurry) and size (small and hard to see or large) will tell your site visitors a great deal about the quality of your brand as a whole.
6: Publish Regularly
You want a growing blog with a healthy readership that becomes a thought leader in your industry. You can't achieve this if you only publish once every so often. Instead, be sure to publish a few times a week, so your audience understands that your brand is associated with regularly putting high-quality content out there.
7: Use a Killer Blavatar
A what? Blavatar is the WordPress-coined word for favicon. What's a favicon? A favicon is a portmanteau of "favorite icon" and is your site icon that displays in tabs of your browser. This is a simple, yet effective way to display your brand's logo in your readers' browsers. As an example, look for the Creative Market favicon in Chrome tabs and Safari address bars.
8: Set up Your Sidebars
Sidebars are those elements that show various types of blog information (popular blog posts, ads, etc.) to the left or right of the main content column of a blog.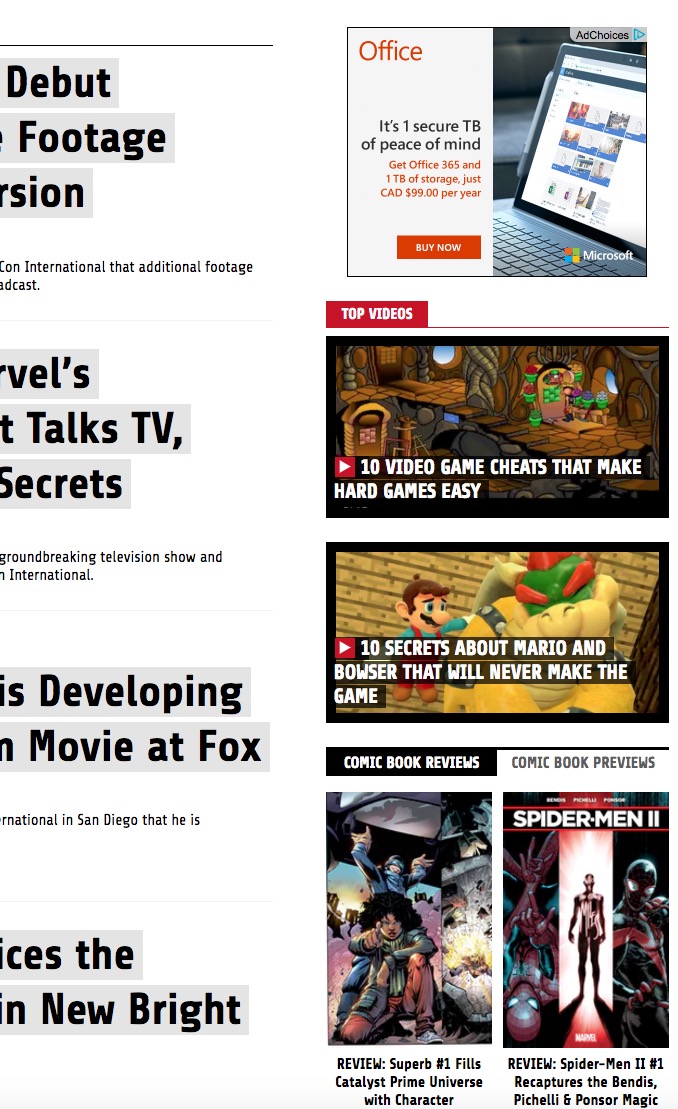 Check out Comic Book Resources' right-hand sidebar that features top videos, reviews, and ads. Sidebars are also great places to pitch any products/services that you're an affiliate of. Creative Market recently rolled out a set of affiliate widgets and banners that you can embed directly in different areas of your blog.
9: Showcase Memorable Typography
Typography is branding 101 because a typeface is really the gateway to how your readers absorb the information and content of your blog. The fonts you select for your blog should be different for headlines, sub-headlines, and body paragraphs; in addition, they should be readable and legible. Sound like a tall order? Here are some tutorials on picking the ideal fonts for your blog: Creative Market's Font category for great examples.
10: Be Clear About Your Brand
There should be symmetry between how you brand all other properties associated with your brand (your site, packaging, social-media accounts, etc.) and your blog. You need brand alignment. To achieve this, ensure that you have a crystal-clear understanding of your brand's values, its mission statement, and how you want visitors to perceive both.
11: Establish Your Very Own Domain
It doesn't look all too professional if your readers have to type in the default address (yourbrand.wordpress.com) of WordPress when they want to visit your blog. Rather, you should establish your own domain, so visitors will only see (yourbrand.com) in the URL. For more instructions on doing so, see WordPress' helpful "Mapping Your Domain and Managing DNS" tutorial.
12: Allow Guest Bloggers
Guest blogging is when writers, influencers, or thought leaders in your industry write a post for your blog in exchange for a backlink and bit of a promo to their own sites. When you allow guest bloggers, you're able to define your brand as one that reaches out to others and values professional relationships. Big-name blogs like Kissmetrics and HubSpot do it all the time.
13: Name Your Blog Judiciously
Pick a smart name for your blog, but don't get too irreverent that readers can't understand that it's connected to your main site and overall brand. The name should in some way, shape or form tie into what you do at your business.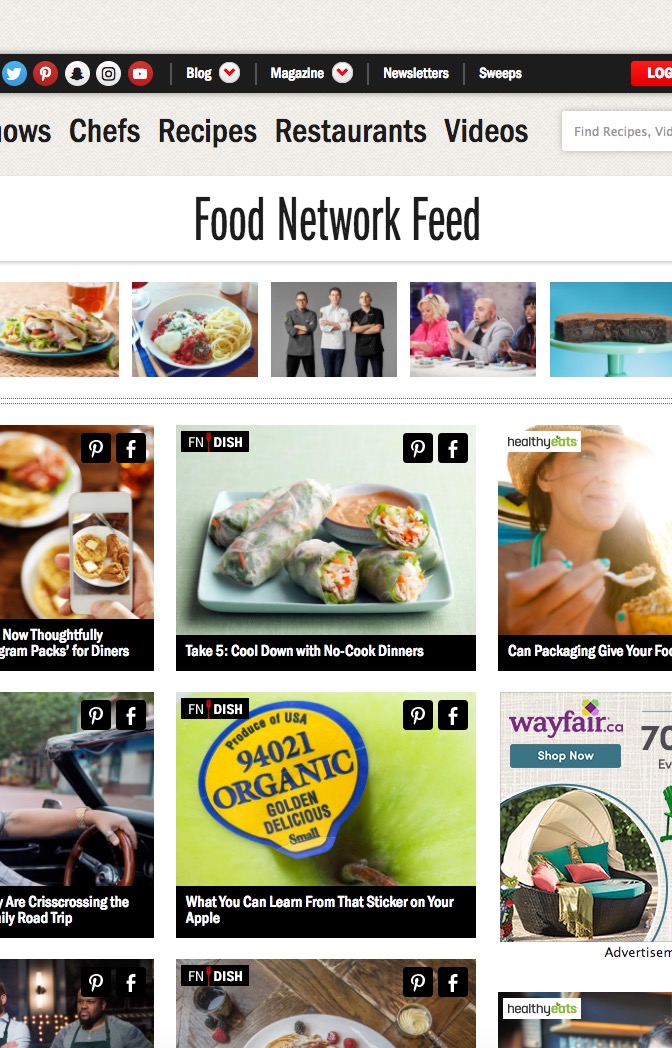 For instance, Food Network's blog is called "Food Network Feed"—which has double meaning, yet still communicates its food-centric content to readers.
14: Use a Tagline
A tagline is a quick and punchy catchphrase or slogan that instantly communicates what your blog is about. Pick a slogan that's pithy and easy to understand.
15: Settle on the Right Web Design
There are numerous ways for you to present your blog's content to your visitors. Parallax scrolling, the old three-column design, infinite scrolling, one-page design—and the list goes on. The type of user experience you provide your visitors, courtesy of the design you choose, is instrumental in helping define your WordPress blog's brand. See our marketplace's large selection of web design templates for more ideas: 
16: Decide on Your Blog's Graphical Elements
In order to aid navigation and provide readers with a familiar UX, your blog should have various graphical elements like social media buttons, banners, and directional cues. These go a long way toward increasing the usability of your blog. Here are some examples of graphical elements in our marketplace: 
17: Look Through Various WordPress Tutorials
As a site builder, WordPress is a self-learning platform, so if you want to become proficient at branding your WordPress blog, you can also put in the time to study the platform until you know it inside and out. Here are some outrageously thorough WordPress tutorials, for your reference:
18: Determine the Length of Your Blog Posts
One of the biggest keys to success in turning your blog into a lead-generation machine that brings new prospects to your business is publishing long-form content. This is content that's at least 1500 to 2000 words long. Research has demonstrated a correlation between these longer and meatier posts and a higher SERP (search engine results page) position for sites that publish this longer content. Many of our Creative Market blog posts are also of the long-form variety.
19: Use Video
Using video in your blog entries is an excellent strategy to communicate that your blog is on the cutting edge of where the entire web is headed. This makes your brand look modern and up-to-date. To wit, a Cisco study shows that about 80% of the web will be dominated by video content by 2021—so you better get started!
20: Consider the Topics You'll Cover
What topics do you want to cover on your blog? At Creative Market, since we're a digital asset marketplace, our blog content covers design and business topics. By choosing which topics you'll cover, you can establish your brand very quickly. If you're running a design blog, it might be smart to perhaps focus on only one specific aspect of design, such as design tutorials using various web-based tools.
21: Think About Blog Formatting
People read online by skimming information instead of outright reading it word for word, which is why short paragraphs and "chunking" of content into easily digestible sections work best. Long paragraphs do poorly, as a result, since that doesn't help scanning behavior. Be sure to chunk your content into smaller sections, even if you have overall, longer blog entries. Formatting this way ensures readability and a bigger audience.
22: Keep Ads to a Minimum
Too many ads will ruin your blog's user experience since it'll look cluttered and be hard to read. It also doesn't make your blog look very professional or modern, so keep your ad content minimal. Our Creative Market blog doesn't feature any ads, thereby ensuring a sleek and streamlined presentation that's easy on the eyes.
23: Be Generous With White Space
One of the most effective branding tools is using plenty of white or negative space in your blog, as it helps set content apart and makes everything more readable. Using white space makes your brand look like you're at the forefront of legibility and readability.
24: Place Navigation Properly
The most common place for navigation is on top of a webpage, in a horizontal fashion. When you provide your readers with a familiar layout like this, you don't just help site usability, but you also tell them that your brand understands the finer points of web design.
25: Go for Broke With the Hero Image
Ah, the hero image—the most gigantic and impressive image you can find that you'll splash across the entire width of your blog, right in the header. Using a hero image immediately grabs the attention of your readers and can also communicate what your blog's values are about. Take a look at some of these hero images from our marketplace: 
26: Put in a Prominent Search Field
As your blog gets more popular, more content will build up, and many people will want to find specific posts. Give them an easily findable search field they can use. Including this basic design element will tell your readers that your blog understands basic UX principles.
27: Put Vital Content Above the Fold
The fold is the part of the screen that's above the imaginary line that cuts off the rest of the content on your blog's homepage. In other words, it's the part above where users have to start scrolling down. Important content that's immediately visible ensures your blog does things in line with best UX practices. Here are some examples of WordPress themes with vital content above the fold from our marketplace: 
28: Make Sure Contact Information Is Visible
Your blog is a marketing tool meant to direct people to wherever you sell your design products or services. Readers naturally want to know more about you or ascertain if you're legitimate, so give them your contact info. Ideally, include an email address or phone number in the footer or even header, but at the every least include social media buttons, so that people can get a hold of you.
29: Use Responsive Design
Since more folks are using mobile today than desktop, it would be a branding nightmare for your blog to lack mobile friendliness. Luckily, WordPress has a plethora of responsive themes that are mobile-optimized.
30: Try to Get Influencer Endorsements
Influencers are those thought leaders in your industry who have a sizable following and whose opinions carry some weight. Reach out to those in your industry to see if they'd be interested in plugging your blog. Always remember to conduct influencer outreach based on a mutually beneficial offer.
31: Allow for Email Subscriptions
Always include a convenient signup form or box on your blog to make it easy for readers to get all of your blog posts straight to their inboxes. This is a great way to also move them down the conversion funnel, if you include some product recommendations in each email. Here are some examples of Creative Market WordPress themes with awesome email signup forms: 
32: Proofread Your Blog Content
Sometimes the most obvious due diligence is what can help your WordPress blog's branding succeed the most. Be sure to proofread each blog entry before you click the "publish" button in WordPress. Otherwise, a blog full of misspellings, grammatical faux pas, and unintelligibility will hurt your brand.
33: Use Amazing Headlines
On the web, people scan and skim, reading headlines to see if the content that follows will be of adequate interest for them to continue reading. Therefore, your blog should have captivating headlines and subheadings. Use a tool like CoSchedule to figure out what headlines perform better than others.
34: Choose Useful Plugins
You can customize your WordPress blog quite a bit based on the plugins you choose, as they alter the appearance and functionality of your blog. Some of the best are:
35: Work on Your Bio
As the owner and publisher of your blog, you'll be authoring a lot of the content. Your readers need to know who you are and what your expertise is. That's why it'll behoove you to add a helpful bio box after each of your blog posts.
36: Personalize Your CSS
CSS or Cascading Style Sheets contain rules that control the look of your blog. Personalize your CSS to change a whole slew of elements, everything from colors and fonts to the entire layout.
37: Personalize the JavaScript
JavaScript in WordPress lets you add various, interesting elements that will affect how you brand your blog. For instance, JavaScript lets you add customized image galleries and media sliders.
38: Create an Organic Email List for Follow-up Marketing
One of the perks of having your own blog is collecting email addresses to grow an email list that you can use for marketing your design products or services. By having email sign-up forms present on your blog, you put the wheels in motion to build this list.
39: Link to Your Portfolio
Ensure that your visitors know they're reading the blog of a designer by internally linking to your portfolio (ideally, also hosted on the same URL) from your blog. Doing this will send traffic to an important page of your site and potentially drive additional business to you.
40: Keep the Blog's Design Consistent
Keeping a consistent design on your blog creates a professional appearance that tells visitors that your blog understands conventional design best practices. Creating a blog that fulfills what your visitors expect goes a long way toward retaining readership and generating new visitors.
41: Repurpose Blog Content for Ebooks
Here's a wildly unique idea: repurpose all your blog content into another form of marketing like the ebook. There are various tools that allow you to take your WordPress content to convert it into ebooks. When anyone reads your ebook, it's free advertising pointing them right back to your blog.
42: Include a Custom 404 Page
These error pages automatically provide a professional impression for your brand and blog because they allow users to overcome mistakes that prevent them from reaching your blog. Users may reach broken links to your blog via improper URL typing or outdated search results from search engines. Create your own 404 pages with these great plugins:
43: Personalize Your Footer
A blog's footer is always where crucial information such as contact info, social media buttons, "about" information, and other goodies live. By personalizing this footer, you can set it apart from other blogs and carve a unique reputation for yours. Here are awesome plugins to help you do just that:
44: Be Certain About Your Target Audience
All of these tutorials and tips will be for naught if you don't know with  certainty who your target audience is. Knowing this will empower you to tailor your blog exactly to their interests and preferences. Here's some advice on doing target audience research:
45: Run Contests
Nothing has the power to engage your readers more than running contests, and doing this regularly can build your brand up as a reader-friendly blog that actively engages its readers. Contests can take the form of anything from free giveaways and special perks for the winning blog reader to special access to other parts of your site. We run contests all the time at Creative Market, which engages our design community.
46: Declare Your Mission Statement
A mission statement tells readers what the purpose of your blog is and what your brand stands for. This short and pithy, though powerful, statement provides direction for your blog, making it useful to you and your readers.
47: Spell out Your Unique Value Proposition
Somewhat similar to a mission statement, but more in line with what your brand can specifically do for your audience, a unique value proposition should be right under your blog's name and title, on its homepage.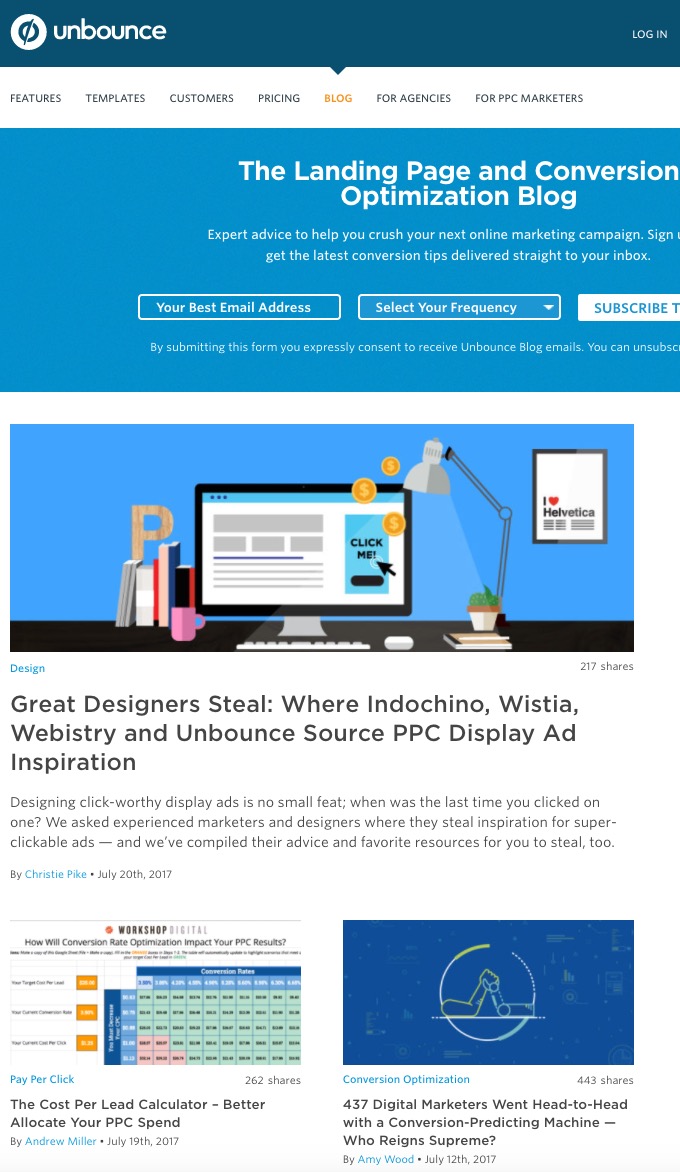 On Unbounce's blog, note the unique value proposition, which is: "Expert advice to help you crush your next online marketing campaign."
48: Be Honest and Personable
When you write content for your blog, let people see who you really are. Nothing helps your brand more than giving specific examples to your readers about challenges and experiences in your life that you've dealt with.
49: Use Humor for Levity
Humor, used at the right time, can be the ultimate ingredient for levity. Levity can break up the monotony of seriousness on your blog posts and introduce some lighthearted moments, which can be refreshing. It also introduces some character and personality to your writing, both of which are invaluable to attracting and keeping audiences.
50: Let Readers Choose How to View Your Blog
For the ultimate in great UX, allow your readers to decide how they want to view your blog. Depending on their personal preferences and devices they're using, this can really increase their readability and legibility of your blog.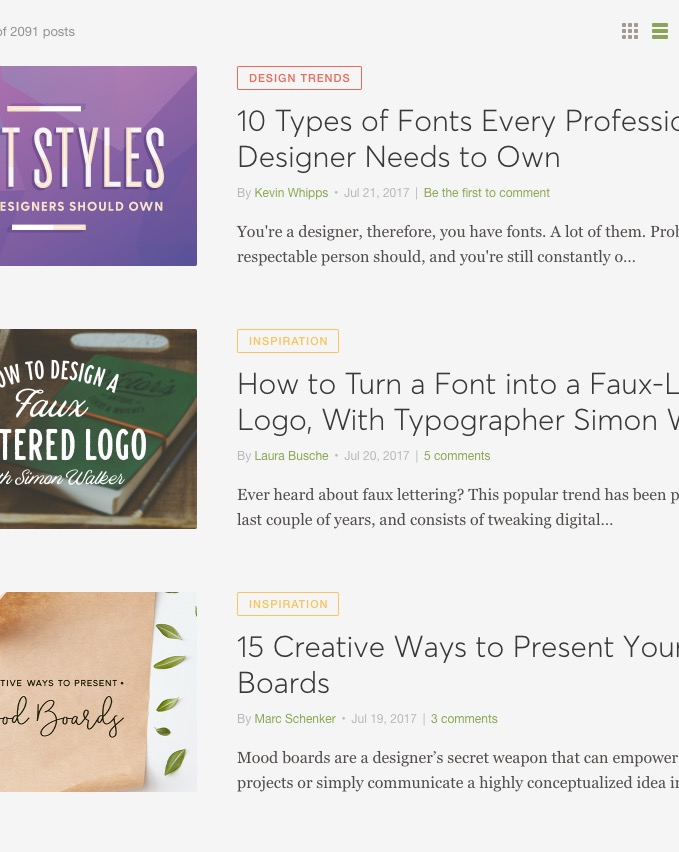 On the Creative Market blog, we let our readers choose either grid or list view when reading.
Branding Makes Your WordPress Blog
Without carefully considering each aspect of branding, your WordPress blog runs the risk of becoming just one of the millions and millions of blogs in cyberspace. That's what makes it so important not only to brand your blog, but make it count. If you implement even a few of these tips, your blog will convey a professional, authoritative, and readable impression to any visitor who lands on it. Beyond that, continuing to publish high-quality content on a regular basis will take your blog from a little-known upstart to a name many will remember.
---
Products Seen In This Post: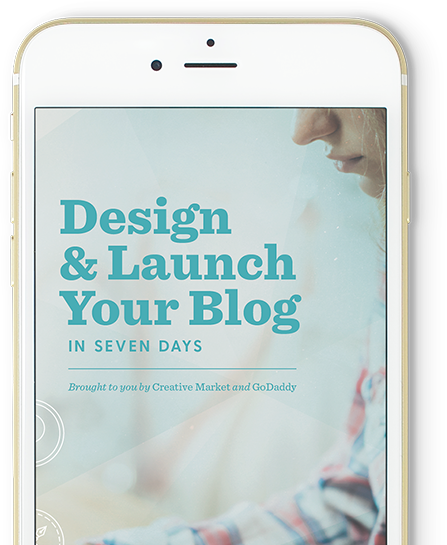 Grab the ultimate toolkit to design your site.
It's time to launch your blog.
Social media templates, a customizable media kit, a comprehensive ebook, and more. Get everything you need to get this project going!
Download your free toolkit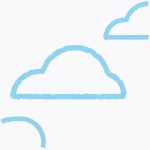 Marc Schenker
Marc is a copywriter and marketer who runs The Glorious Company, a marketing agency. An expert in business and marketing, he helps businesses and companies of all sizes get the most bang for their ad bucks.
View More Posts