A Closer Look at Streamline Moderne's Timeless Flair
Streamline Moderne is design that focuses on aerodynamics. Have a look at our in-depth walkthrough of this early 20th-century aesthetic.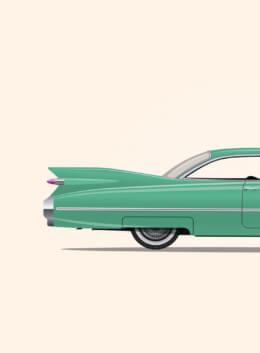 If you can appreciate sleek and aerodynamic forms, then chances are you enjoy the unmistakable curves, nautical features, and lines of Streamline Moderne. This offshoot of Art Deco design and architecture emerged in the wake of the Great Depression, with the goal of adding some minimalism into the original style.
The result was a leaner look, one designed for more function over ornamentation. This new trend also emphasized aesthetics, as it blessed buildings, vehicles, and even home appliances with a more modern appearance.
Though Streamline Moderne made a huge impact in the 1930s, like its parent trend, it would also be short-lived. By the 1950s, fewer and fewer examples of notable architecture were built in this style. Nonetheless, this design style is an indelible visual snapshot of America and the world as we moved from the Roaring Twenties and the Great Depression to the mid-century mark and beyond.
The History of Streamline Moderne
To understand where this trend came from, we have to look at the world of industrial design. Industrial design is the process of taking aesthetics and function to mass-produce goods. In other words, it's a way of looking at production to prioritize design over simply manufacturing items.
This movement was also heavily impacted by the Great Depression, the global economic downturn that started in 1929 and lasted until the late 1930s. Because of the devastating, financial problems brought about—including a 15% contraction in the global gross domestic product (GDP) and unemployment as high as 33% in some countries—people had less tolerance for the elaborate and ornate.
Whereas Art Deco design was popular during the Roaring Twenties, it became untenable during the harsh conditions of the 1930s. As a result, designers had to start looking for new ways to adapt their creativity to their new reality.
One of these ways was to literally "streamline" the ornate traditions of Art Deco by simplifying it to the point of stripping away its excesses. So, for example, where the former used to have sharp, gratuitous angles, Streamline Moderne featured more minimalistic curves that were also aerodynamic. Architectural ornaments, for instance, were replaced with simpler materials such as glass and concrete.
Here's a look at some digital assets that do a great job at capturing the essence of this trend:

Other design trends played a part in creating this new interpretation as well.
As with so many trends that became popular in America, this new movement was influenced by European design, particularly constructivism and New Objectivity.
Constructivism was a 1915 Russian aesthetic that was austere and reserved—intended to reflect urban space and industrial society—which helps to explain how Streamline became so minimalist. New Objectivity, on the other hand, was a spin on architecture that emerged from German-speaking countries in the 1920s and 1930s. New Objectivity included glass as a prominent material in its architecture—as did Deco's reimagining, stateside—and the use of geometric shapes and forms.
Since the Great Depression was a worldwide phenomenon, the design industry's response was also present in Europe. In fact, it was in France that this style received another name: Paquebot, which roughly translated to ocean-liner style, and with good reason.
French designers were enamored by a gorgeous ship that was launched in 1932: the SS Normandie. The French ocean liner saw its maiden voyage in 1935 and still holds the record as the fastest steam turbo-electric-powered passenger ship ever launched. The ship boasted a sleek and streamlined design, and it's still remembered today as one of the most memorable ocean liners ever constructed.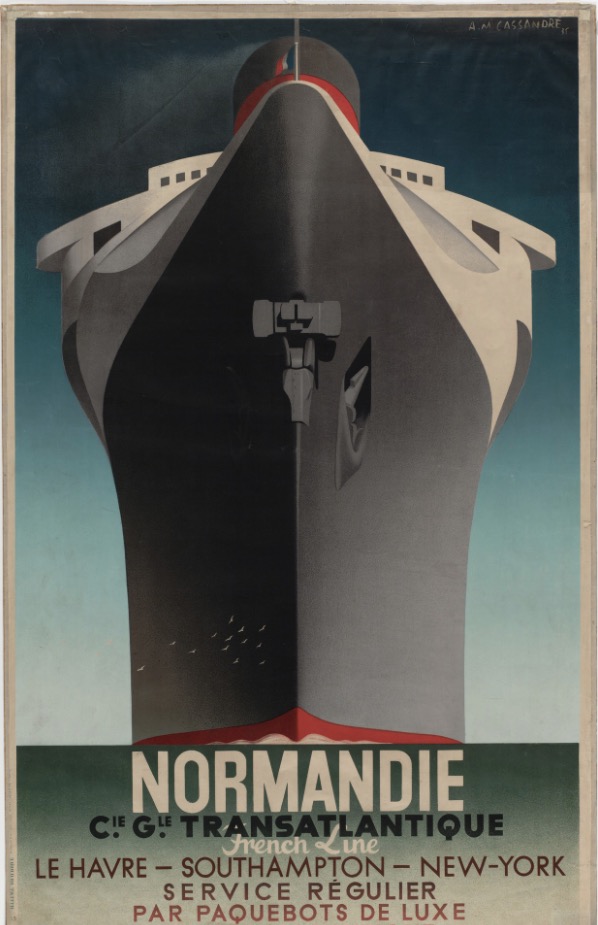 Image Credit: Moma
Due to Streamline Moderne's roots in the speed and motion central to aerodynamics, which overlaps to a degree with the obsession with speed and machines in Italian Futurism, this trend became more apparent in architecture throughout the 1930s and 1940s. This was especially true in buildings associated with transport and speed, such as:
Train stations
Bus stations
Airports
Port buildings
Roadside diners and cafés
A prominent example of this style is the Aquatic Park Bathhouse, now belonging to the Aquatic Park Historic District in San Francisco Bay's waterfront. Constructed in 1936 by the Works Progress Administration (WPA)—a now-dissolved federal agency—the bathhouse features telltale elements of this trend, like rounded corners, horizontal lines, and nautical windows meant to resemble a ship. On the inside, there are even vibrant murals.
Down in San Juan, Puerto Rico, another prominent structure of this movement was built in 1942: the now-historic Normandie Hotel. If that name sounds familiar, it's because its design was influenced by the aforementioned French ocean liner, the SS Normandie. Not only does the hotel show off the ocean liner's original sign, but it also has the ship's stylized shape.
Throughout the 1930s, this trend spread to vehicles as well. Streamlining was used to make vehicles of all sorts—airplanes, cars, trains, ships—more aerodynamic by designing them in such a way to cut down their air resistance as much as possible. Today, this technique of design is mainstream, and we can thank Streamline Moderne for making this happen.
Some prominent examples of vehicles designed with this aesthetic include:
The MV Kalakala (a ferry boat) from 1926
The Boeing 247 from 1933
The Chrysler Airflow (full-size automobile) from 1934
The Mercury daytime passenger train from 1936
The Duchess of Hamilton (a steam locomotive) from 1938
The Chevrolet AK Series (light-duty truck) from 1941 to 1947
Household appliances, too, were designed with this style front and center, though there wasn't as much of a functional need to do so with regard to cutting down air resistance. Some good examples are:
The Philips Art Deco radio from 1931
The Electrolux vacuum cleaner from 1937
The Streamlined Bakelite radio from 1952
Here's another look at some graphics that demonstrate this style in all its uniqueness:
By the 1950s, the public had fallen out of love with movements like this, not an uncommon occurrence in design, where trends, historically, have changed around quite rapidly. Though a multitude of streamlined design remains around the world, by the midway mark of the 20th century, styles like Mid-Century Modern design and Atomic Age design had begun to captivate the public's imagination.
The Design Characteristics of Streamline Moderne
You've probably seen elements of this style in various pop-culture materials and commented to yourself how sleek and sharp they looked.
Look for the following characteristics in any design to identify this trend:
Aerodynamic shapes, forms, and lines (anything that contributes to reducing air resistance)
Generous curves and other rounded edges
Horizontal, long lines and orientation
Influenced by Art Deco elements (geometric shapes and straight lines)
Minimalism (to an extent)
Nautical themes or influences like porthole windows (rounded ship's windows)
Streamlining of design features
Speed and motion
Glass and concrete building materials
Flat roofs
The use of white colors and toned-down pastels
You're very likely to see these design elements in action on architecture that relates to transportation like airport terminals and bus stations, as well as the actual vehicles like cars, trucks, planes, boats, and trains during the era of the Great Depression and shortly thereafter.
Of course, you're also likely to see this design trend in pop-culture works that incorporate Retro Futurism, as Retro Futurism often combines technology and modern concepts with retro or old-fashioned designs.
Examples of Streamline Moderne
There are lots of places where you can take in the sleek, aerodynamic lines and curves of this modern style. We scoured the web to bring you some of the more prominent examples of this movement.
Graphic Design
By going back to some of the promotional materials produced for events and movies in the 1930s, we discover a few very strong depictions of this style.
A Century of Progress International Exposition – Chicago World's Fair Poster
This was a world's fair that was held in Chicago from May 1933 to October 1934. It was put on to commemorate the city's centennial, and its theme was technological innovation, which was fitting, given the way the poster was designed.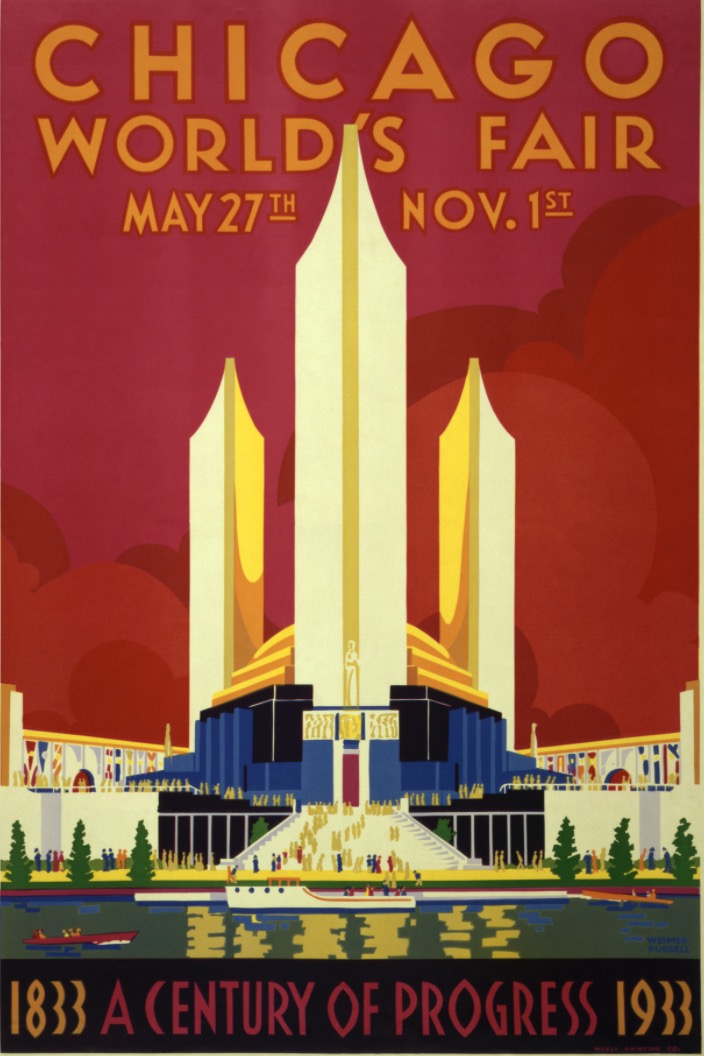 The stars of the poster were the Hall of States and the United States federal building. The very clean graphic design is nicely balanced, with the tallest tower being smack dab in the middle of the composition. Note the telltale signs of this trend: the long, straight lines, the smooth curves on the roofs of the buildings, and the overall sleekness in presentation.
Nice bonuses include the vibrant colors, great contrast, and the slab sans serif fonts in the headline and footer of the poster.
Lost Horizon Movie Poster
Lost Horizon is a classic movie from 1937, based on the novel of the same name. Directed by Frank Capra, it's a fantasy film that follows Hugh Conway and his experiences in Shangri-La, the utopian lamasery found in Tibet.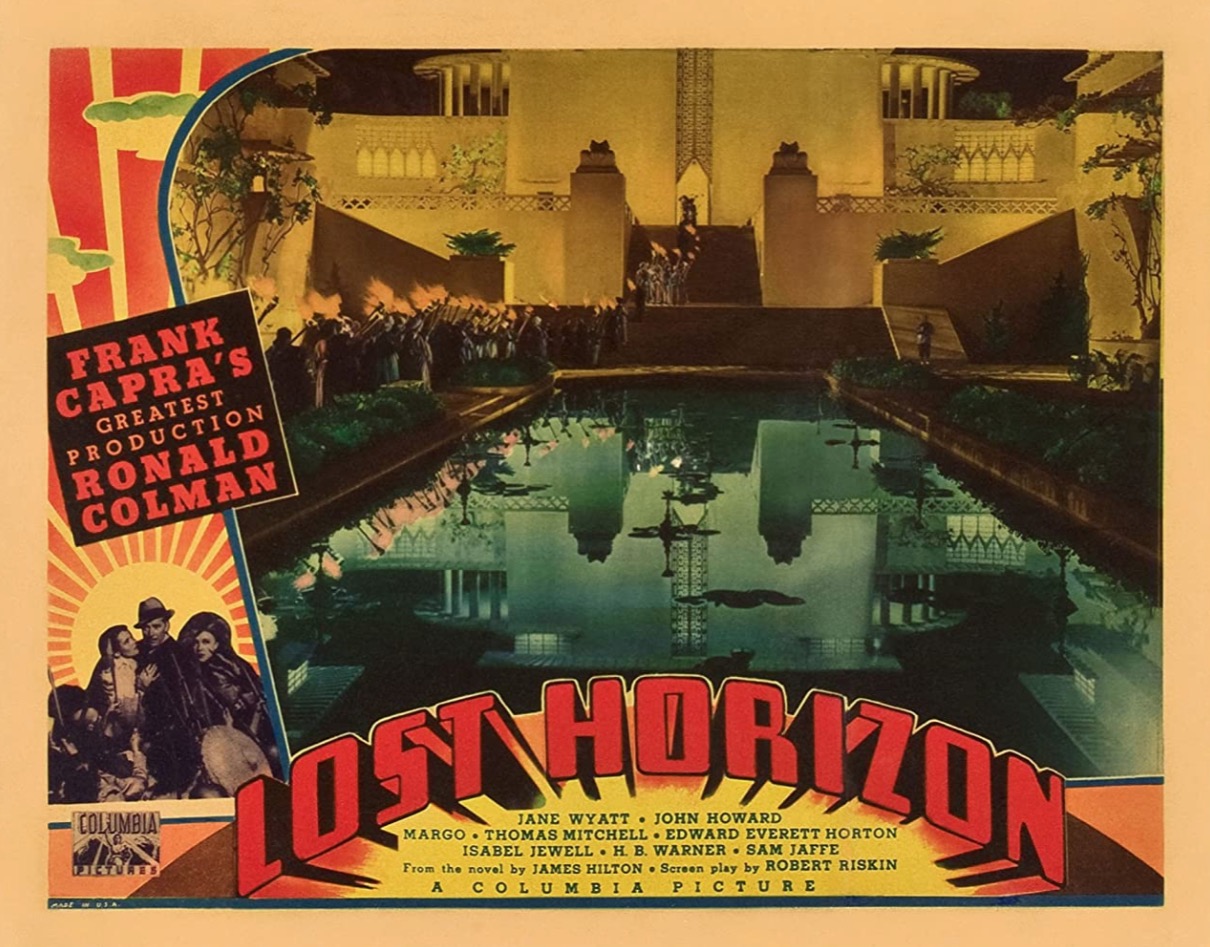 Image Credit: IMDB
Streamline Moderne figures most prominently in the movie poster's depictions of architecture. This includes everything from the long, graceful lines of the pool to the slanting, sloping lines of the stairs, and the curved roof of the building at the top of the poster.
Also take note of the golden sunburst illustration on the left side of the poster, right above the actors. This is a classic trait of Art Deco, which makes its presence known here as an interesting addition to the overall composition.
1939 New York World's Fair Postcard
This year's world's fair was the second-most expensive U.S. world's fair in history. Its slogan was "Dawn of a New Day," which was ironic given that World War II broke out just four months into this yearlong fair. Held in Queens, New York, this fair, like others, featured many pavilions that in turn displayed exhibits grouped together under certain themes.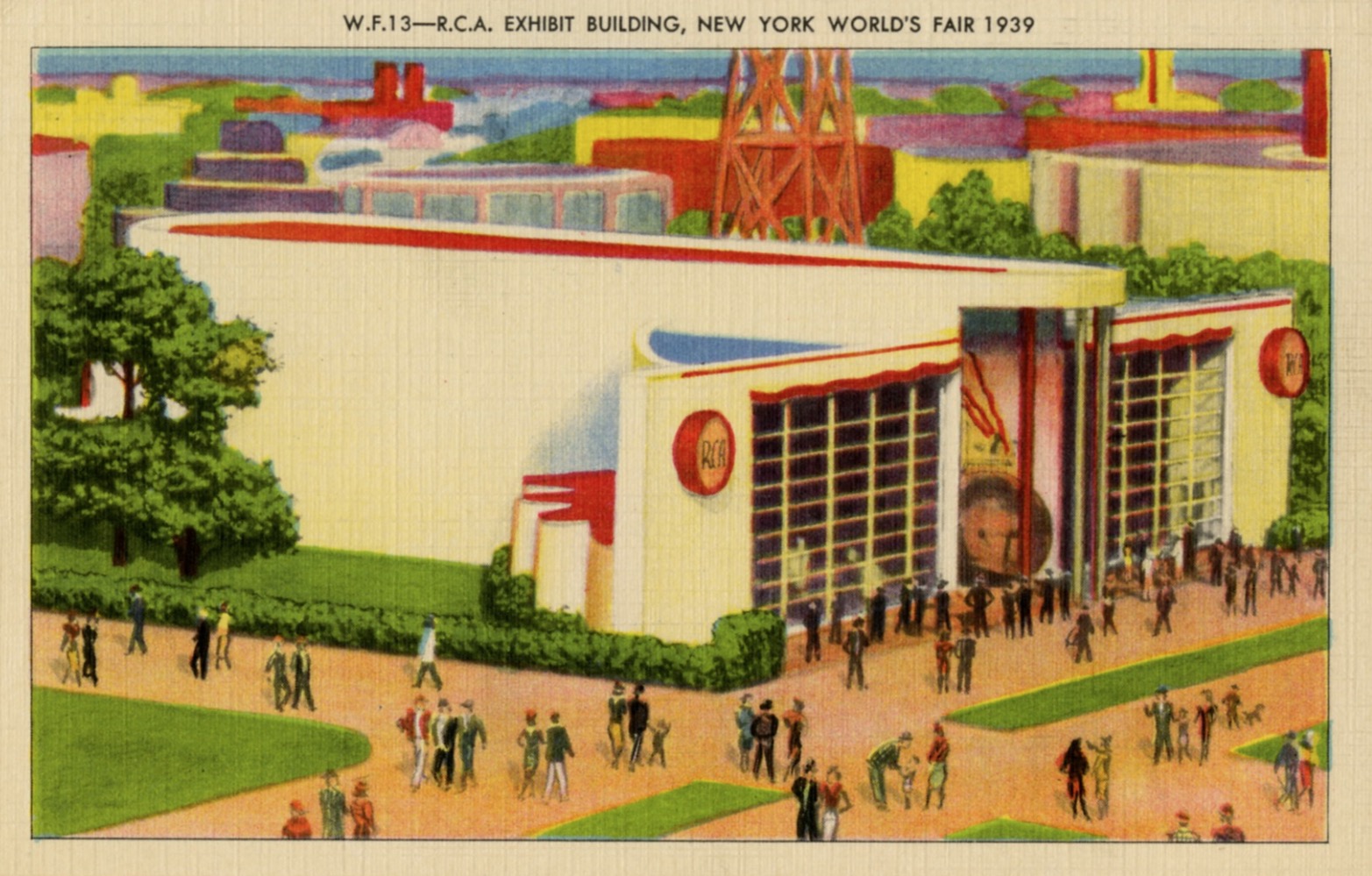 A postcard for one such pavilion, the RCA Exhibit Building, contains a streamlined illustration of the main exhibition building. Here, you'll see the usual Streamline Moderne touches, like the curving roof, the long and slender lines of the roof, and the tall, long columns of the entrance.
Architecture
There are many notable contributions to architecture that have been streamlined. Here's a showcase of some of the ones that have stood the test of time.
The Coca-Cola Building
Sitting under the hot California sun, the Coca-Cola building in Los Angeles epitomizes this style of architecture. A bottling plant, the structure features many nautical themes that make it pop with uniqueness. It's essentially meant to give off the appearance of a ship, and that's because of elements like:
Catwalks
Portholes
A bridge
The building's stark, white paint—which contrasts powerfully against the blue skies of the city—and red-and-black bands along the bottom of the façade are also reminiscent of luxury ocean liners of the past, such as the SS Normandie or even the Queen Mary.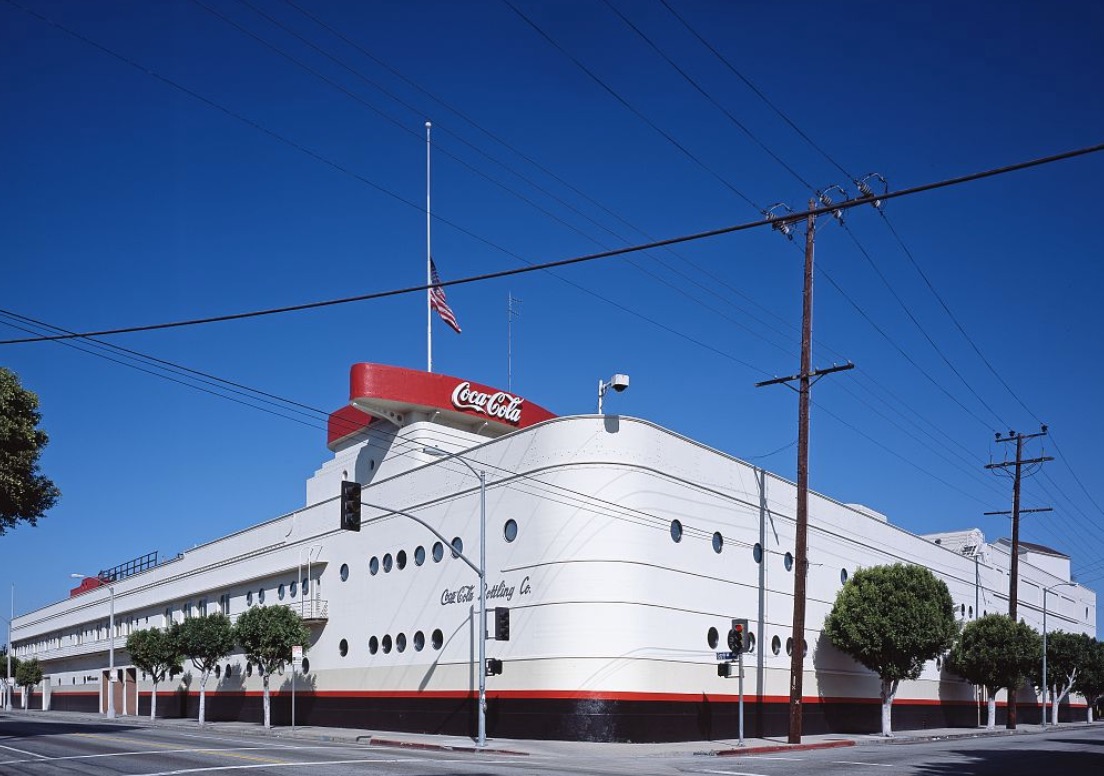 Locally, it's known as the Coke Building, and it was designated a Los Angeles Historic-Cultural Monument back in 1975.
The First Church of Deliverance
What makes the First Church of Deliverance stand out in this list is that it's one of the very few places of worship in America that was designed in Streamline Moderne. Part of the Spiritual church movement, which has been historically based within the African-American community, it was named a Chicago Landmark back in 1994.

Looking at the building's façade, it's a striking example of minimalism and modernity all in one. The design elements that give it its unmistakable features include the long, straight lines—both horizontally and vertically—along with the smooth, rounded corners on the roofs and columns of the two towers. Its simple color scheme adds an additional sense of austerity to this building.
The Hecht Company Warehouse
Located in Washington, D.C., the Hecht Company Warehouse was built in 1937 and is known for its use of glass brick or block—architectural features made entirely from glass—on much of its façade. Expanded in 1948, the structure was finally placed on the National Register of Historic Places in 1994.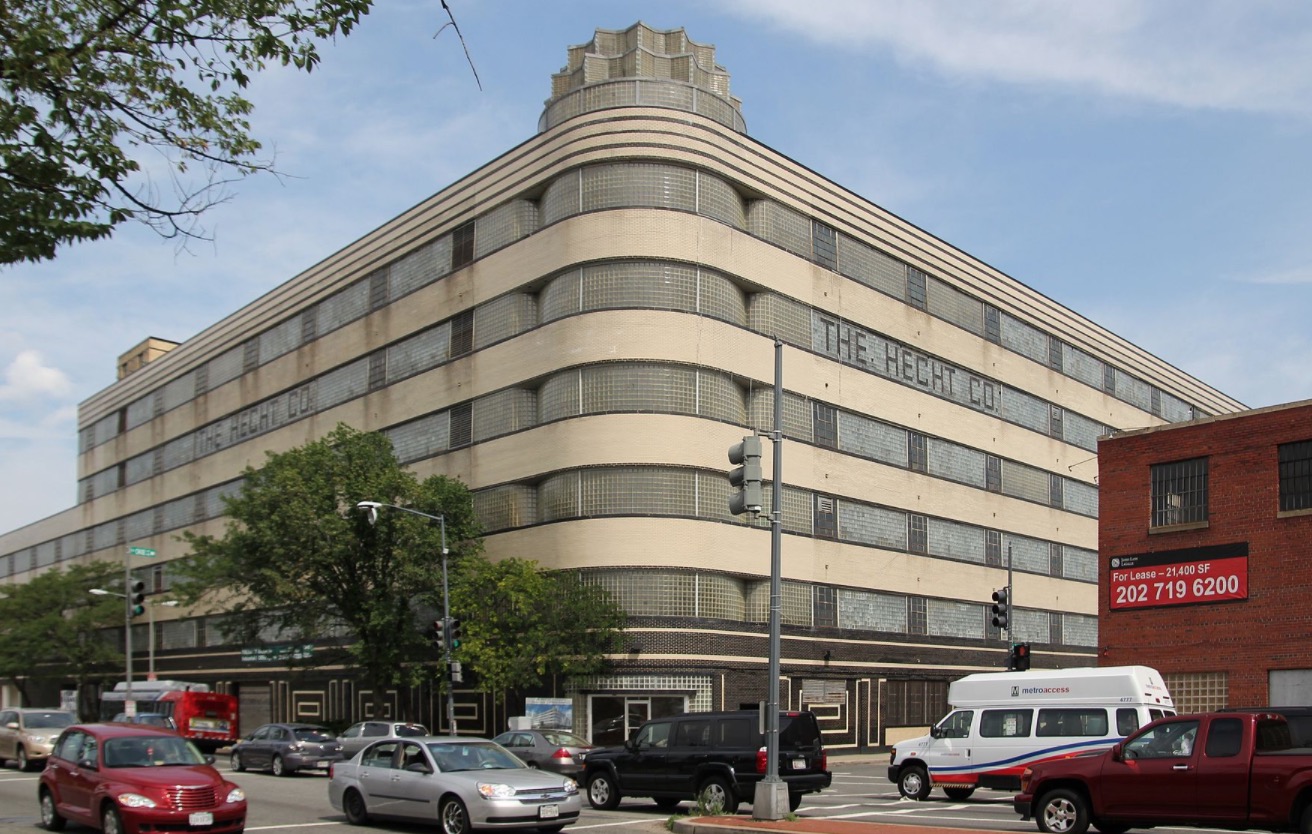 There are some really noteworthy design features here. On the 5th floor, you see a mix of glass block and black brick spelling out the name, "The Hecht Co." On one corner of the roof, there's a star-shaped, 12-pointed cupola (a small dome sitting on a drum or another dome) that's lit up at night.
The Mercantile National Bank Building (The MERC)
Completed in 1943 and built in the Streamline Moderne style, the MERC is a 31-story tower located in the Main Street District in Dallas, Texas. It's named after its former tenant, the Mercantile National Bank, which later turned into MCorp Bank. Back in the day, this tower was the main design element in a complex that spanned an entire city block.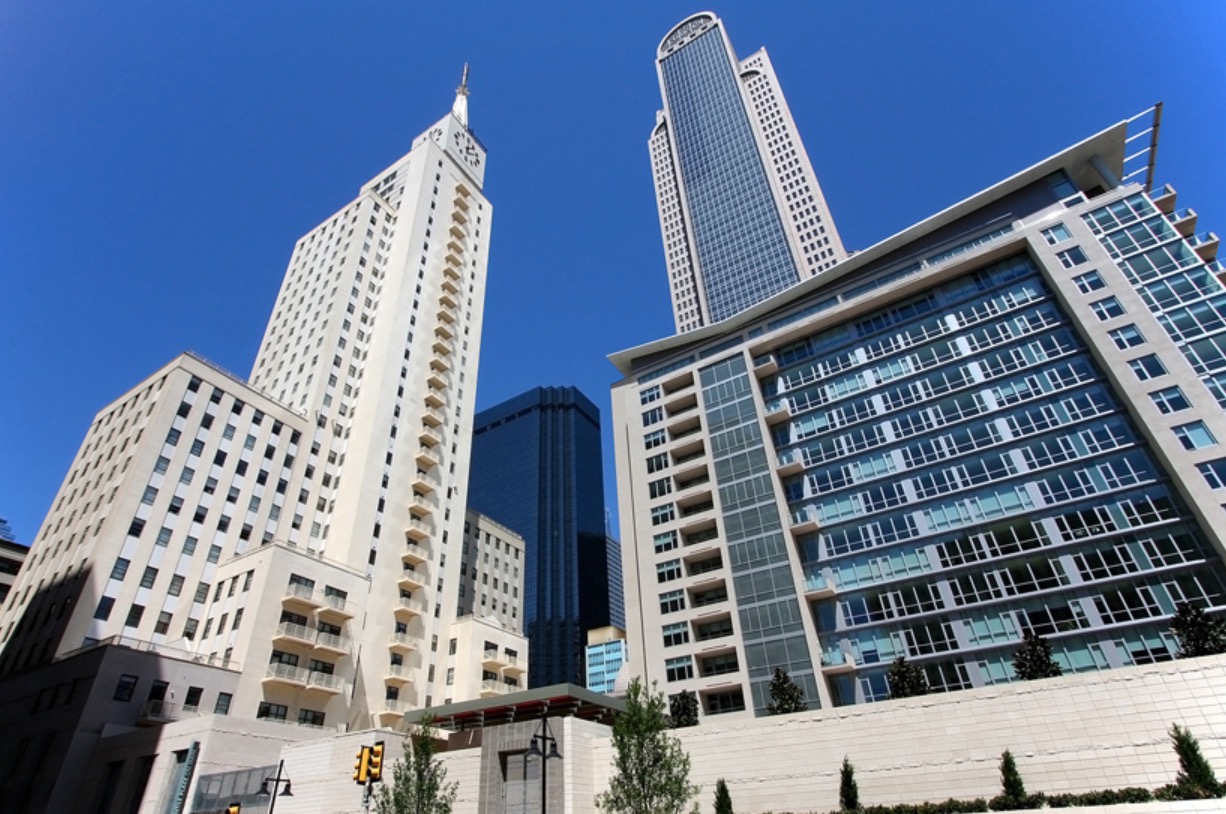 Some of the building's more distinct features include a slew of setbacks, a series of step-like recessions in walls, that's then adorned by a four-sided, ornamental clock and a weather spire.
Today, the original MERC sits alongside the luxury apartment named the Element. Together, they form the reimagined Mercantile Place on Main.
Vehicles
The Bendix SWC
Built in 1934, the Bendix SWC featured styling that put it into the group of early streamlined automobiles from the 1930s. A concept car as opposed to one that was available to consumers, the Bendix SWC was a midsize, five-passenger sedan that used front-wheel drive and four-wheel, independent suspension, both considered ahead of the times.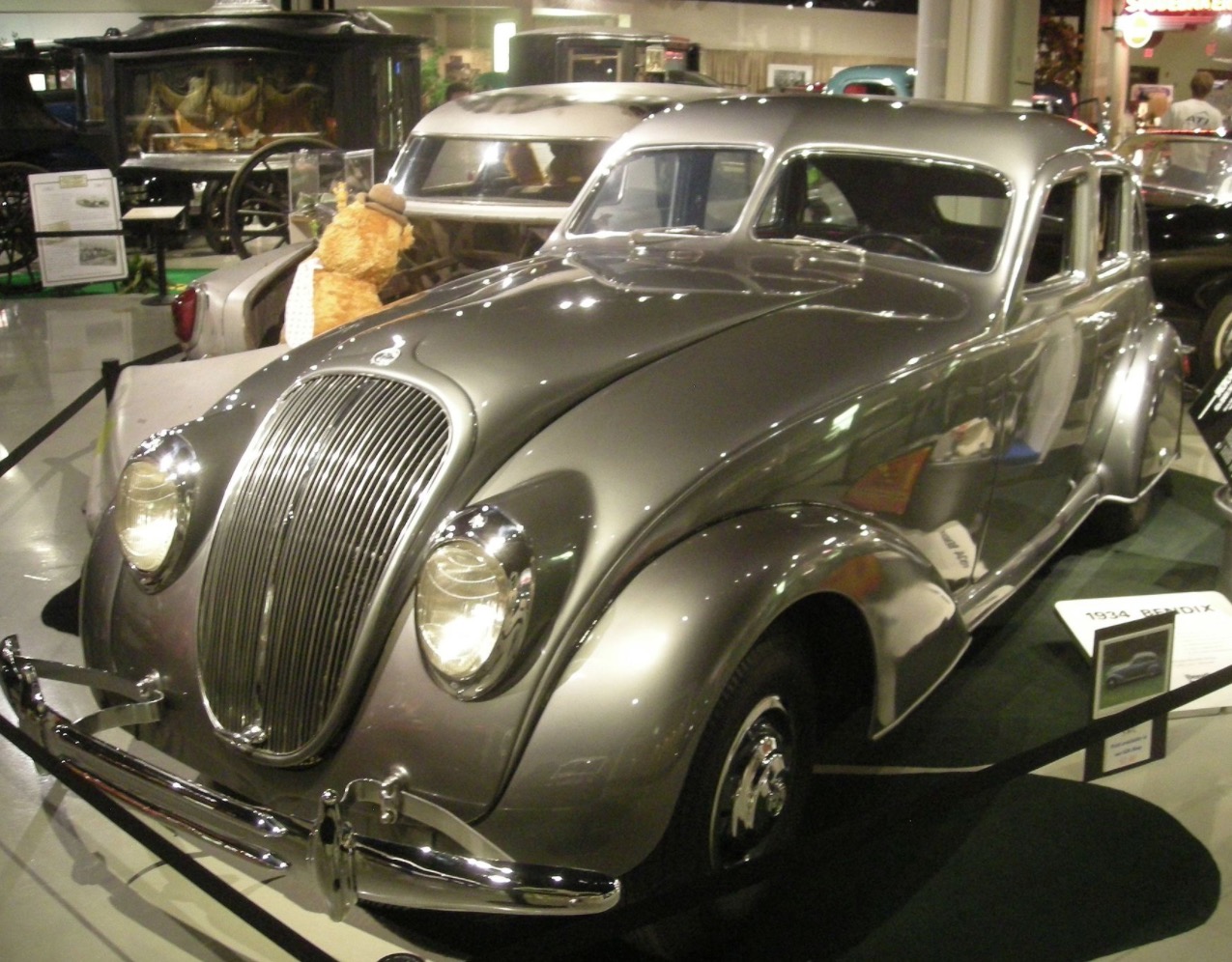 To reduce air resistance, the automobile has many smooth corners and curves, with no hard edges. Even the car's headlights are rounded, in keeping with the design theme. Some might consider it the prototypical "gangster" car that's been popularized in black-and-white movies of the era.
The GM Futurliner
This was a collection of custom vehicles from General Motors that was produced from 1936 to 1956 and was used in GM's Parade of Progress, a traveling exhibition that showcased technology of the future. There were numerous Futurliners built, each one including highly stylized interpretations of Streamline Moderne.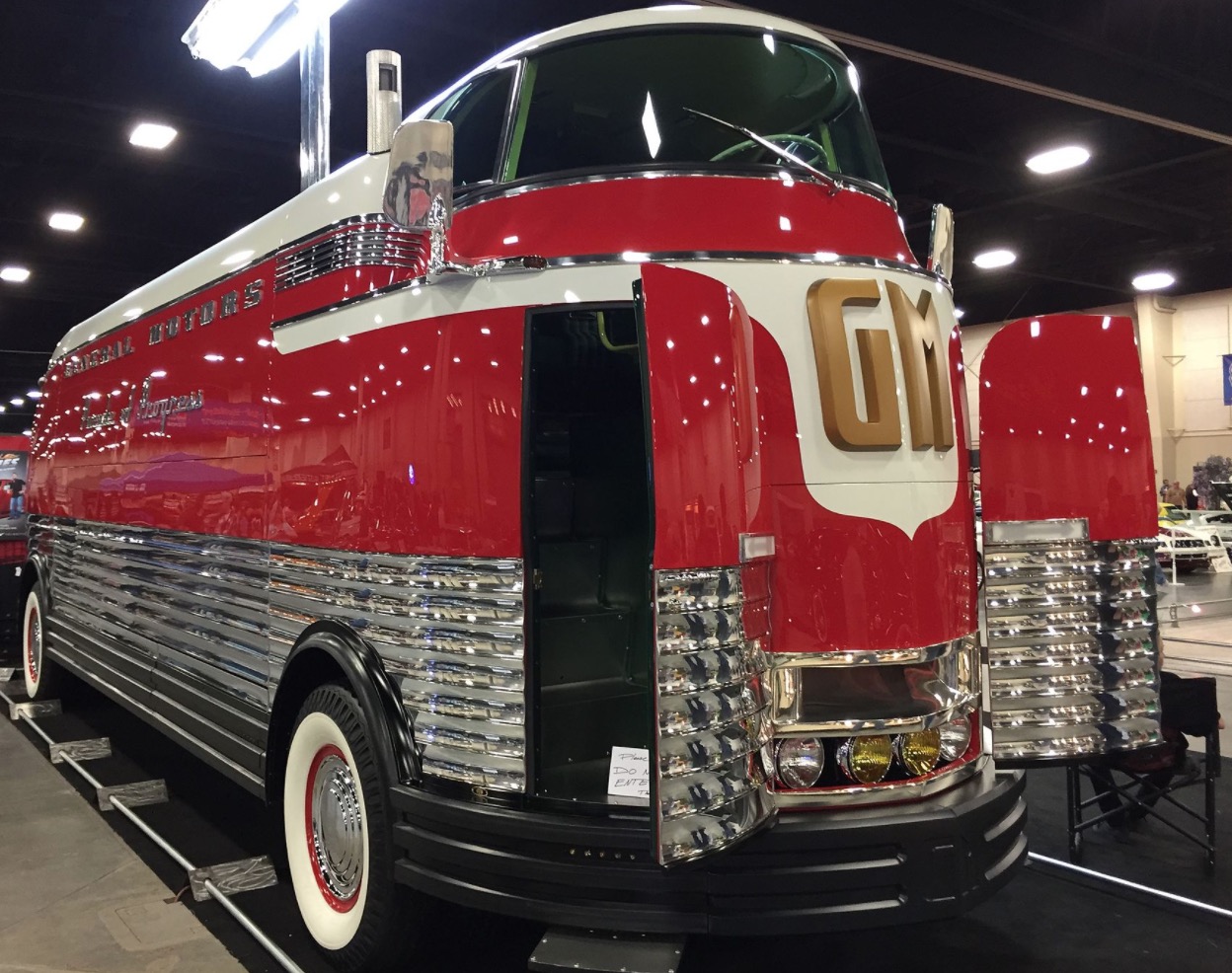 This can be seen in various design attributes that somewhat exaggerate this trend's features. For example, the bus's bodywork is exceptionally streamlined; its colors are highly vibrant, deep red, and white; and there are huge and articulated side panels made of chrome.
The Flying Yankee
The Flying Yankee was a streamlined, diesel-electric train that was built in 1935. A lightweight train fitted with welded stainless steel, it ferried passengers in AC-equipped train cars between Portland, Maine, Boston, Massachusetts, and Bangor, Maine. Its last run was in 1957.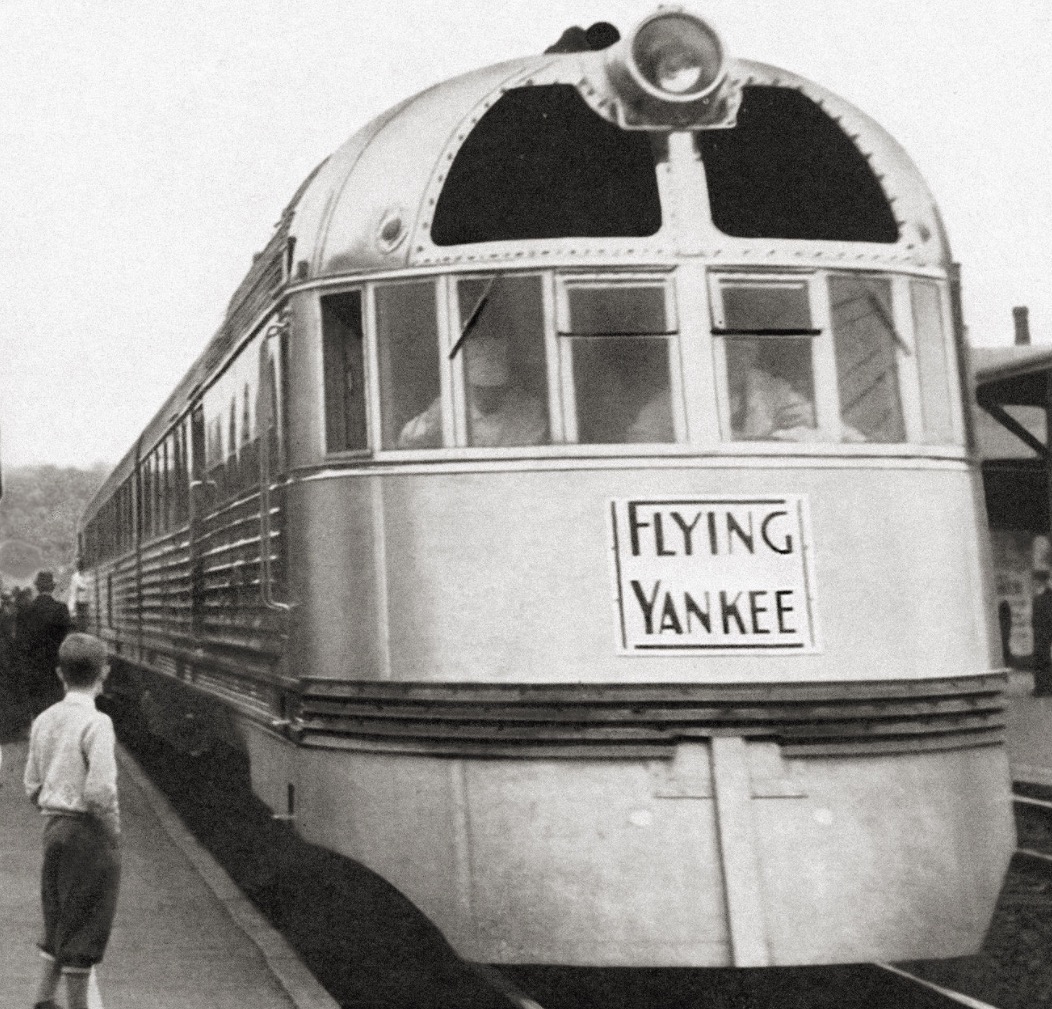 The train is a great example of a technology that would evolve into what we know today as bullet trains or high-speed rail. The Flying Yankee epitomized the aerodynamic shape that we associated with this design trend, which includes the long, slender train car bodies, smooth and straight lines, and slanted design of the lead truck.
The Boeing 247
An early example of an airliner, the Boeing 247 was built in 1933 and known for a number of firsts. It pioneered semi-monocoque (stressed shell structure with traditional reinforcement), all-metal construction, retractable landing gear, and a completely cantilevered wing. A highly popular airplane of its time, it was used by both civilian and military operators.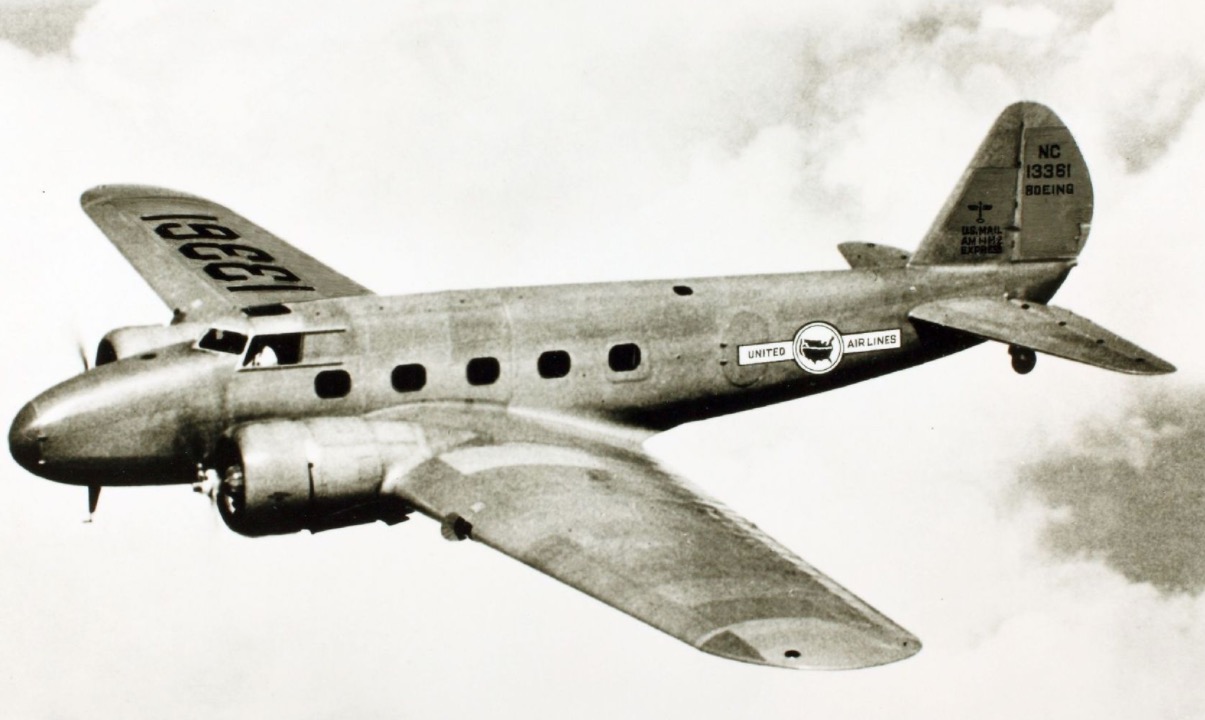 Design-wise, it's easy to appreciate its Streamline Moderne stylings. The trademark smooth curving begins at the plane's nose cone and continues in a fluid line all the way to the plane's tail. The small windows alongside the plane's body also resemble nautical portholes in a way, adding an almost marine-inspired aesthetic.
Aerodynamics in Design
Whether you want to call it futuristic, sleek, or advanced, Art Deco's offshoot made people of the early 20th century think about all the possibilities on the horizon. As technology was progressing in everything from vehicles and architecture to household appliances, this style of design did a wonderful job of communicating this evolving reality to the public.
All it took was a slight minimalization or streamlining, of its parent trend, and that resulted in a new trend that would last another two decades, but whose impact still remains in the 21st century.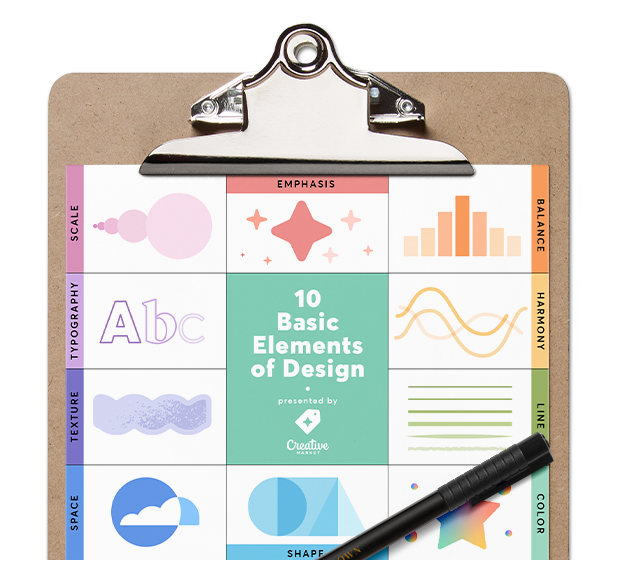 10 design fundamentals, summarized
Free Design Poster
Download this printable PDF poster and hang these 10 design principles on your favorite wall.
Get the file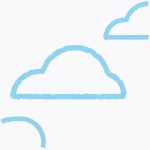 Marc Schenker
Marc is a copywriter and marketer who runs The Glorious Company, a marketing agency. An expert in business and marketing, he helps businesses and companies of all sizes get the most bang for their ad bucks.
View More Posts