Home-Based Work Tips for Graphic Designers
Master home-based work with insider tips from professional graphic designers.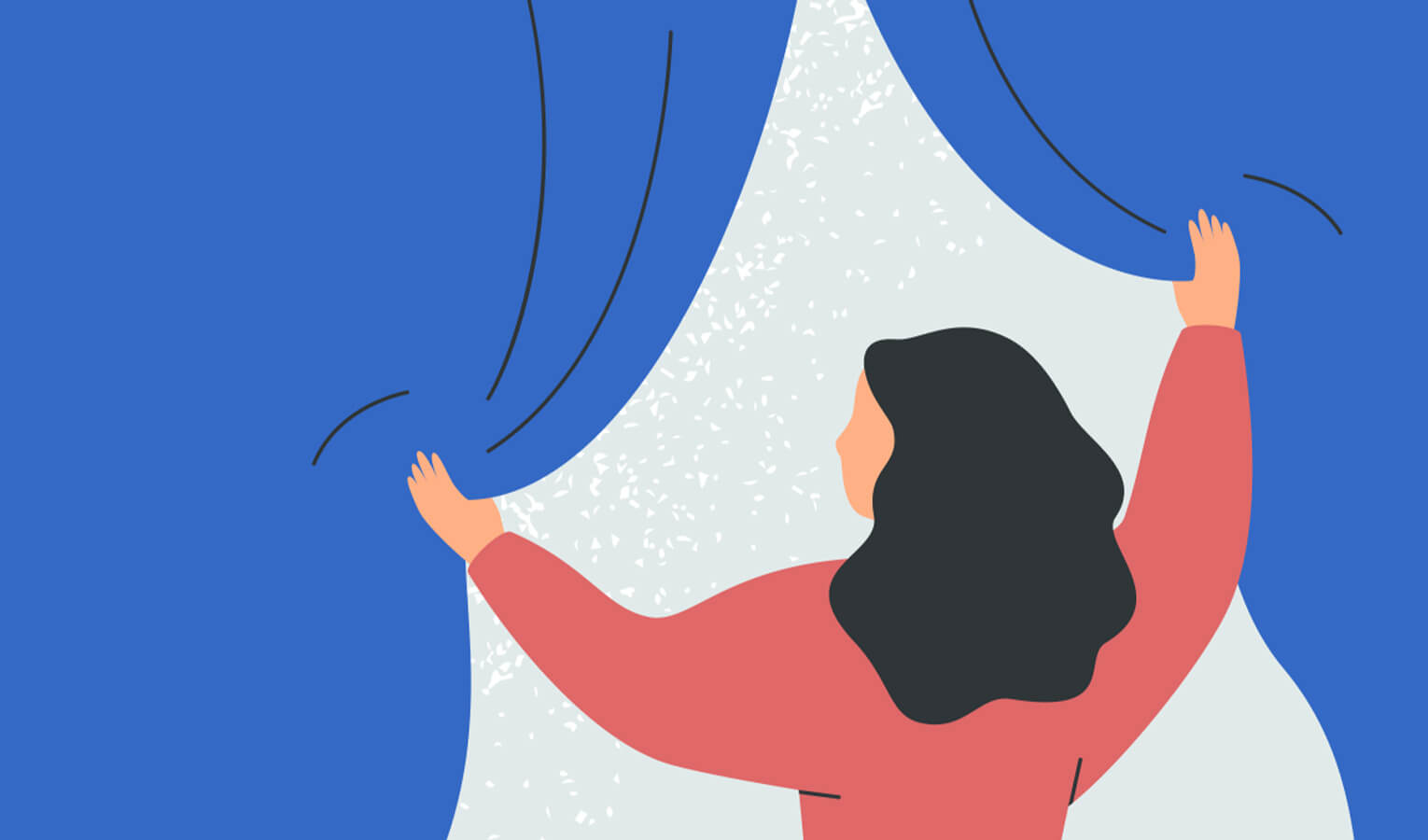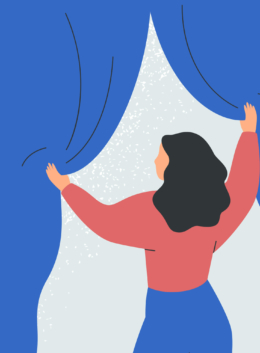 Home-based work has gotten the most popular it's ever been in the last few years, due primarily to the COVID-19 pandemic and subsequent lockdowns around the world. Now, more than ever, graphic designers of all skill and experience levels need to adapt to working at home or remotely.
Without a doubt, the graphic designers who have already been working from home have the strongest advantage here, but home-based work is a setup and workflow that can be easily learned with some determination. Switching over to a home or remote environment often takes nothing more than a new mindset, discipline to establish a routine, and a few, essential tools here and there.
We're always interested in what graphic designers are doing to survive and thrive. We sampled opinion from our Shop Owners to let you know what actionable tips designers just like you are using to stay ahead of the game.
Home Based Work Tip #1: Establish Small Rituals
Rituals are vital. They keep us sane when everything around us is in flux, as it is with COVID-19. Yana Bolbot swears by them, as they're the pillars she relies on deliver high-quality work to her clients—pandemic or not.
"I love my job, and I love working from home. I have been working from home for five years. This is both easy and difficult. I want to tell you a little bit about how I see it," she said.

"Sleeping is important for my productivity, so a great time to wake up is between 8 and 9 am. After 9 am, I am awake and most productive.

It is also important for me first to work, then to have fun. Therefore, the daily routine also matters. I work for a few hours, and then I rest. But the plus of working at home is that you can organize your own day. There are also small rituals that are set up in the morning: coffee; boyfriend hugs, changing out of your pajamas (comfortable work clothes, but not pajamas, are also a great plus); making your bed; and turning on music for work."
Home Based Work Tip #2: Get Into Work Mode
For many of us, we fall apart if we don't have the right mindset before we get into the office, whether that's at home or in another location. For corporate-lawyer-turned-artist Sneha Mohanty, getting her mental game right before starting the workday is crucial to success.
"I find that getting up at a fixed time, taking a shower, getting dressed, and having breakfast before starting work (at home), is crucial to cue my brain to get into 'work mode.' Back when I worked in an office (I'm a corporate lawyer turned artist!), I had a pretty long commute to get myself fully into work mode by the time I reached office. Having this morning routine as I work from home really helps," she revealed.
"I also have fixed hours that I am 'at work.' When I take a break, I usually go for a little stroll to get away for a few minutes before I'm back at my desk. I also take a proper lunch break that is away from my desk. I eat lunch at the couch, with a 20-minute episode of a sitcom! It helps to break the workday up into elements like this to maintain productivity.
The last thing that's important to me is starting my day with a clear to-do list, so I know exactly what I need to complete that day. So now I try to focus on the most important tasks and allow myself to have proper downtime outside of my work hours! And having a daily (accomplishable) to-do list has been crucial in getting here!"
Home Based Work Tip #3: You Gotta Keep 'Em Separated…
For many graphic designers working at home, work-life balance is elusive because the lines between work and personal time get blurred far too easily. For Sophia J. Caldwell, maintaining that healthy balance means implementing physical distinctions in her home.
"I've lived in a variety of circumstances since I began working from home a number of years ago. My favorite setup is the one I have now, where there is physical separation from the work and living areas in my home. Currently, my living space is on the first floor of my home, and my husband and I have our working space upstairs. When I walk up the stairs in the morning, I know I'm 'going to work,' and when I return downstairs, I literally feel as if 'I'm leaving the office,'" she stated.
"I do sit on the couch in my living room and draw from time to time, but for me to have true work-life balance, I need to be able to shut off my main working areas at the end of each day. It gives me that mental distinction between work and wind-down time."
Home Based Work Tip #4: Embrace the True Joy of Working From Home
Sometimes, a contrarian point of view is very eye-opening. That's especially the case when most designers would recommend a dedicated workspace at home. However, in Sarah Ehlinger's case, what's more important to her is working where she wants to work when at home.
"I do have a dedicated office space in my home, and I think that can be important for some people. It creates a routine and a sense of place while working. Sometimes I need that if I have a lot of work or deadlines happening," she said.
"Most of the time, though, I prefer to embrace the 'joy-of-working-from-home' side of the coin when it comes to space. For instance, I spend a lot of time working on the couch, at a table in the backyard, and even from my bed. I know this advice flies in the face of what most would recommend, but what I've found is that, if I'm feeling a little stuck or unproductive, a change of scenery often helps—even if it's in your own house."
Home Based Work Tip #5: Really Be Your Own Boss!
For too many designers, working from home can mean that it's hard to stay focused because you have no boss telling you what you have to do. That's precisely why you have to really embrace becoming your own boss, as Diana Hlevnjak advises.
"I've been working from home for seven years now. I love it, and I think I always knew how to zone out everything while I work, even in times when I still worked in an office full of people. The most important thing to have in mind is that you really have to become your own boss in a way. It doesn't matter if you're a freelancer, a business owner, or an employee who now has the chance to work from home. You have to have a firm discipline to sit at your desk and perform the actual work no matter the distractions around you, and there are many!"
Home Based Work Tip #6: Set up Multiple Sources of Income
All graphic designers who work freelance or run their own business should know: your income stream can always suddenly dry up or slow down. That's why it's always a smart idea to have a solid plan to fall back on, as Igor Vitkovskiy discusses.
"My main tip is that every designer should have a few sources of income. The world is always changing, and one day you can just run into the problem that your source of income has gone (like your website or platform has gone bankrupt, you have been banned, etc.). You can think about creating a few sources of passive income or to combine freelance and passive; it is up to you. This tactic will save you from being totally jobless."
Home Based Work Tip #7: Work in a Lot of Breaks
The temptation in working from home is that you go nonstop, which is bad for your health, both mentally and physically. The solution is to give yourself a lot of breaks during your workday. After all, you call the shots and you can do that since it's your own home.
Simon Stratford is a designer who used to work from home, then moved into a paid office, and now is back to working from home due to the COVID-19 lockdown. He suggests going easy on yourself throughout the day.
"Take lots of breaks, especially if you are on a computer—go out for walks, coffee breaks, snacks, etc. Keep any Zoom meetings to a minimum, as well. I try and reserve my time for friends and family—I don't have time for Zoom quizzes (and don't want to waste energy on them)," he said.
Taking breaks also means separating work from downtime on a regular basis, an essential part of home based work.
"Don't work weekends. Separate your working space from your living space. It's much harder to work if you have distractions like other family members, TV, or whatever. It's good to have a working space that you can then close the door to at the end of the day—that separation is important. Otherwise, you never turn off. If you can, turn off email at least one day per week. It's good not to have all that distraction."
Home Based Work Tip #8: Divide Everything Into Subtasks
A piece of advice that's subjective, to be sure, splitting up your project into smaller tasks works for some, but not all. In Roman Paslavsky's case, using smaller subtasks to shepherd a project to completion works like a charm.
"It's a great way to stay focused. We are all different: someone, in a moment of inspiration, can sit at work for five hours in a row and finish the project in one approach. If you are not one of these people, just break up the long task into an adequate number of subtasks. This will allow you to return to work with renewed vigor, new ideas, and a fresh mind. As a result, you get pleasure from work and confidence in a good result."
Home Based Work Tip #9: Pomodoro Your Workdays
Ever hear of the Pomodoro Technique? This is a productivity hack where you break your work up into short intervals interspersed with shorter breaks. Some creatives swear by it, including Maria Skrigan, who has this technique down pat so much that she uses a modified version of it.
"I usually alternate periods of work with periods of rest: I work for 45 minutes, then do something else for 15 minutes. It's a slightly modified Pomodoro Technique (note: the Pomodoro Technique is traditionally 25-minute chunks of work at a time). Then, I usually have two bigger breaks in the afternoon. The breaks help me stay focused during work periods, and also, if I'm not doing something right, it's easier to notice after the break, taking a fresh look, so to speak," Maria revealed.
Without this technique, her past home based work habits had been too stressful.
"I tried working several hours straight in the beginning, to get more work done in a day, but then, at night, I would find myself totally exhausted, both physically and mentally, with no motivation whatsoever left for tomorrow."
Home Based Work Tip #10: Delegate More Responsibility
If you try to do too much all by yourself, you're going to burn out. Not to mention, you'll also have less time for your graphic-design career and personal life. Ilona Repkina began delegating some of her usual tasks to others since COVID-19 and the lockdown, and she now has more time for herself.
"You should not spend a lot of energy on a routine like cooking, washing, cleaning, or shopping. At the beginning of the quarantine, we bought a slow cooker, a dishwasher, and a robot cleaner. We began to order readymade meals more often by delivery services. And I always cook with the children. It's a win-win situation because we communicate and cook at the same time," she said.
"I do not need to waste time traveling in transit. No need to bring and pick up children at school. No need to go to the store. You will be surprised, but we spend a lot of time on these tasks without noticing it! So I really have more time!"
Home Based Work Tip #11: Plan Your Work Around Your Family
Many designers have families at home, which begs the question, how do you get work done from home with everyone now in closer quarters than ever? Sabina Aghova has some thoughts there.
"The Covid era modified things a bit because I am doing homeschooling with my children in the morning (and it allows me only to check email or do some Pinterest searching or work planning), and I am doing my photo shoots (which need daylight) in the afternoon when the children are playing by themselves or are with my husband. The drawing, designing, and computer work, which require creativity and focus, I am doing in the evening. This is the time when I am most productive," she stated.
"Due to Covid-19, my husband is doing a lot of home based work now, too. If it is possible, we are trying to maintain separate workspaces—it proves to be the best solution for us. We also try to modify our working schedule to help each other (when he has some important video conference, I am taking care of the children and take them out, and then we switch the roles when I am doing the photo shoots)."
Home Based Work Tip #12: Trick Your Brain
Designers have all been there: You stare at your computer, trying to design, but you're drawing a creative blank. Instead of pounding the keyboard in frustration, you may want to trick your brain into taking a respite with some non-work-related activities. Gabriela Dantur, who works from home along with her partner, Moses, has found this to be quite effective.
"These breaks are especially helpful when we feel stuck or unproductive, with brain overload. Instead of staying in front of a computer for hours without really getting anywhere, sometimes all your brain needs is to see or experience something different for a few moments, to get back on track. It can be a new snack recipe, a board game match, an episode of a good TV series, or a chapter of a book. Enjoy the freedom you have from working from home and making your own schedule. Don't be afraid to try new things and ways of arranging your workday."
Home Based Work Tip #13: Have Patience Coming up With Your Schedule
For those just starting the work-from-home journey, it's easy to get impatient with nailing down a schedule that works for you. In reality, you shouldn't expect to find a schedule the works for you for some time, according to Olga Kostenko.
"The most difficult thing for me was to determine the time for work, household chores, and all the rest. Everything was messed up, and it seemed to me that I was not working enough, not resting enough, and all the time doing the wrong thing," Olga admitted.
"Gradually, I evened out the rhythm and adjusted my schedule. This took several months. I determined for myself my hours of work, sport, recreation, health, and family. And in the end, I chose for myself the one that suited me best. It's important to keep to your schedule for several weeks and possibly months."
Home Based Work Tip #14: Use Social Media Strategically
This tip may be shocking for some since social media is usually seen as a distraction. Nonetheless, this contrarian recommendation comes from Kadek Mahardika, who's found that social media has helped him during the lockdown. At the end of the day, it's all how you use social media.
"I've joined online groups, video conferences, and chats. I'm reaching out more than before and enjoy the support that comes from that. Connecting with others is important to stay healthy, productive, and happy."
Home Based Work Tip #15: Find Inspiration Outside Your Home
With COVID-19 fears still lingering, what's often forgotten by some is that you can still venture outside. As a designer, you need inspiration to come up with your creative products, and the outside world has that in droves. Just ask Asya Vlasov.
"You probably look through a lot of the work of your colleagues in your field and follow trends and what's happening in the news. It can be very cool and interesting. Outside the walls of your home, though, there are also people who are users and consumers of your products to some extent," Asya explained.
Outside, inspiration can catch up with you on every corner. I like to visit new cafes and shops in my area (don't forget to social-distance). You don't even have to go inside. Sometimes, glass windows and signs can be enough! Which font did the shopkeeper choose for the name? How do these colors fit together? How is this illustration for the poster painted?"
Home Based Work Tip #16: Keep Your Supply Chains Strong
During the COVID-19 lockdown, it became apparent very quickly that our supply chains were very easily stressed. Designers can feel the brunt of that, too, as they need steady supplies for their creative works, as Natali Smolova found out the hard way.
"There is one thing that has become very uncomfortable for me. Since I draw with 'real materials,' I need to replenish my supplies for home-based work. Paints, brushes, and especially watercolor paper! At the time of the quarantine, the store where I usually shopped was closed, and I am glad that I stocked up on materials in advance. Of course, you can order online, but, in quarantine, you will have to wait a lot, and you can lose inspiration. Always stock up on the most necessary supplies. Toilet paper and pasta can be bought in a regular supermarket, which cannot be said about paint cuvettes or masking liquids!"
Home Based Work Tip #17: Get on Top of Your Procrastiworking
Some of us can't stop procrastiworking, which is when you postpone the more important work that needs doing for less important stuff. While it may seem like you're advancing many smaller tasks simultaneously, the truth is that you're ending up hurting your productivity where it matters. Anastasia Dimitriadi knows better than most what this is like.
"I've been working from home since 2015, as a freelance type designer. For me, it is an ideal way of working, yet it has its difficulties. One of the biggest challenges I had to face was to stop multitasking and to stay focused on my home based work.
The most important thing to me is finding your most productive times of the day. My ideal times are in the afternoon and mostly in the evening. The morning hours are usually filled with housework, shopping, checking emails, or 'procrastiworking.' Yes, I love 'procrastiworking,' and it is really hard for me to quit it. So I decided that the best thing to do is to save some hours of the week for this."
Home Based Work Tip #18: Master Sprints
Kristy Black has worked from home for the past two years. In that time, she's developed a routine around "commuting" and a sprint/break system that empowers her to work creatively and successfully.
"Now, instead of getting from my home to an office, my 'commute' is about getting from an exhausted PJ-daze to one of a dressed and fully-functional human. I get ready for the day as if I were going into the office, pour myself some coffee, and then plan out my day before I even start any home based work. It's a small thing, but having that extra time to wake up and set my intentions for the day makes a world of difference," Kristy explained.
"In order to keep myself from getting distracted, I've set up a sprint/break system that yields the best results for me. This means committing to working on one task for the duration of at least three songs from a high-energy playlist and then taking a break. More times than not, I end up in a flow state after three songs and can crank out work for much longer, but the three-song minimum is enough to get me started. I know there are a lot of people who like to set timers for this, but I've found that leads to too much clock-checking in my experience. Once I've finished a sprint cycle, I give myself a quick break from creative work, which might involve doing administrative/back-end work or just taking a minute to hang out with my dog."
Home Based Work Tip #19: Take Care of Your Mental Health
There's nothing more vital than your mental health, especially in these uncertain times. Often, it's something you can neglect until the stressors get too much, but it doesn't have to be like that. Nick Stewart has some sage advice to ensure this never happens.
"It's incredibly easy to dive into your projects and keep grinding away until all of a sudden you've worked nine or 10 hours without taking any breaks. Make sure to get up and take a walk, enjoy a hobby, or some other scheduled break to keep you sane! When you are employed at a firm or in a business building, you are typically given a lunch break of 30 minutes or one hour. Treat it the same way at home."
Home Based Work Tip #20: Reinforce Your Business Strategy
Having more time at home doesn't mean that your focus shifts to more domestic issues. On the contrary, it's the perfect time to build up your business. Matthew Napolitano (Rase) of type foundry Graffiti Fonts has been in business since 1999. He's using the lockdown to further refine his successful operation.
"In a time of uncertainty, my strategy has been to strengthen the core of my business, to widen and reinforce the pillars that have kept us upright through the tides and winds of 25+ years of constant shifts in trends, change, and upheaval.
I am:
Improving our presence in a select group of third-party marketplaces like the app stores and distributors.
Improving our websites' performance, speed, and usability and eliminating every possible excuse for any search engine to give us less than top rankings for terms that bring us customers.
Making our web pages properly sharable so our sites, combined with the modern, online version of word-of-mouth can do that promotional work for us.
Finishing projects that fell to the side. Nothing is more useless than unfinished work. Some things don't work out. In those cases, learn what you can from them, and throw them away.
Building evergreen content, resources, and tools that will benefit my business in the long term, creating works of real, lasting value and things people need, things that don't already exist."
Matthew Napolitano (Rase), Graffiti Fonts
Home Based Work Tip #21: Work as Though You're Working for Someone Else
Let's face it: Though working from home gives unprecedented freedom, it's easier to slack off in a way that's not as easy as when you have a boss breathing down your neck. So what's the solution? Always work through projects as though you're still working for someone else, so you retain that discipline. That's how Charles Borges de Oliveira sees it.
"The only good advice when working at home is to treat it as if you were working for someone else. Make good use of your time while you work, and do not let distractions interfere. I find this easy to do when I work because I am doing something I love," he said.
Getting into this frame of mind also helps in setting boundaries when people try to contact you while you're doing home based work. "Another tip is to make sure friends and family respect your time and treat it as if you are at work. I've had friends who thought I should be available during working hours. I have had to tell people, 'Sorry, I am at work.' People will often forget that since you are working at home."
---
Products Seen In This Post: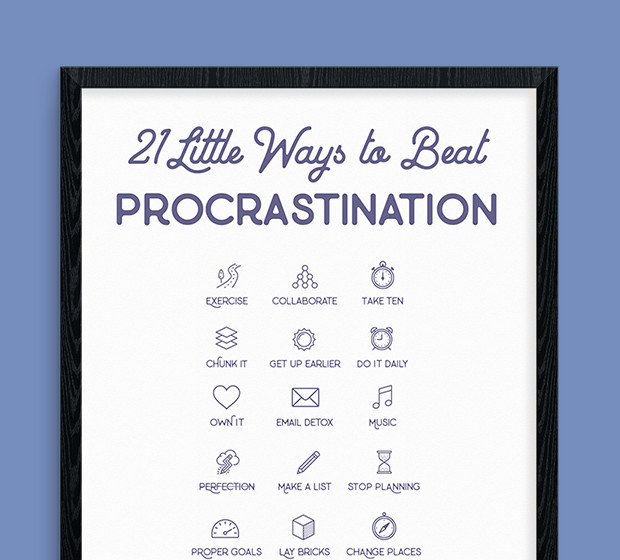 Beat procrastination with these 21 reminders
Get your free printable
Tired of putting off goals and projects? Kiss procrastination goodbye with these smart tactics. Download and print this sheet to stay on top of your productivity game.
Download it now!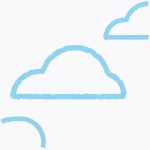 Marc Schenker
Marc is a copywriter and marketer who runs The Glorious Company, a marketing agency. An expert in business and marketing, he helps businesses and companies of all sizes get the most bang for their ad bucks.
View More Posts