How to Find Design Clients During a Lockdown
Here's a collection of graphic-design thought leaders, our very own Shop Owners, offering some actionable tips on how to get clients during this COVID-19 lockdown.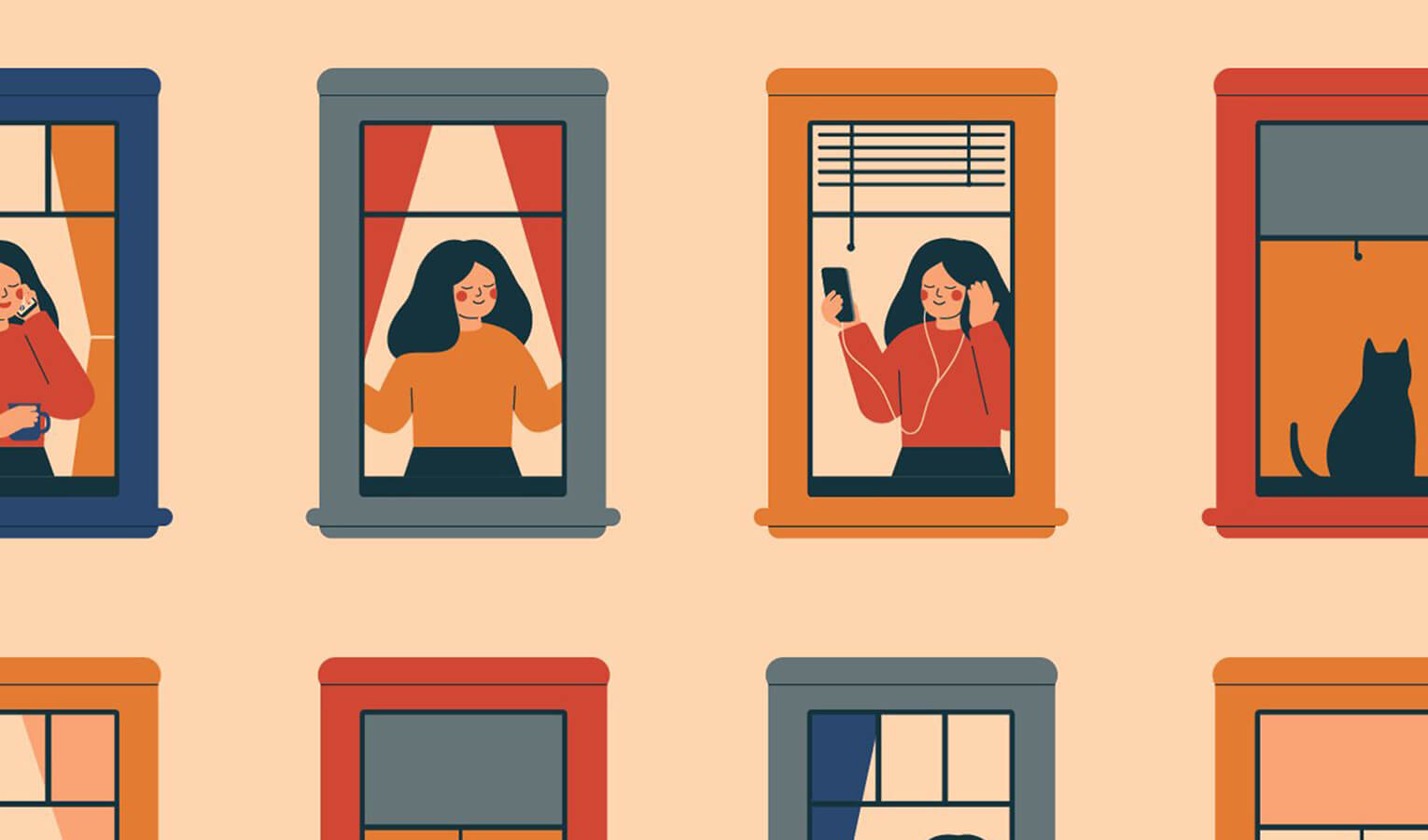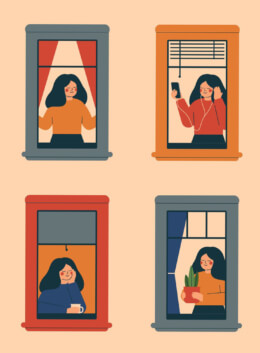 One of the biggest concerns for designers is how to find clients during this time of worldwide lockdowns. With many businesses still shut, regular customers disappearing, and no short-term end to this uncertainty, what are designers supposed to do?
Though this pandemic and lockdown are unprecedented challenges for graphic designers, it's still possible to find good clients during this hardship. How to get clients largely depends on how you view this challenge—is it actually an opportunity, or are you already giving up? It's about shifting strategies and tactics to realistically deal with what's going on and figure out how to turn a negative into a positive.
To give you the most accurate information about how designers are striving to keep their businesses open, we went straight to the experts: our own community of Creative Market Shop Owners. Besides getting leads from the best freelance websites, we asked them what they're doing differently to keep their doors open and continue doing what they love.
Here's how to get clients and keep your design business operating, even during these uncertain times.
How to Get Clients During COVID-19: Collaborate, Offer Free Advice, and Give Discounts
For some graphic designers, these circumstances are proving to be an ideal opportunity to focus on something that all entrepreneurs should really already excel in: partnering with other creatives to complement your services. After all, you'll attract more business to your brand when you have a referral network of collaborators who can send leads your way (and vice versa).
Lina Kukulske shares her thoughts about this strategy: "9 Inch IDEAS is a family business. I run it together with my husband. I am a graphic designer, and he is a web developer. We do have our own projects and (usually) never interfere in each other's work, but together we are stronger. Before, we used to work as individual freelancers, but we always shared our clients.
My husband always referred his clients to me for branding services, and I always recommended him to my clients for website deals. This is why we now decided to join forces. My first piece of advice would be to start collaborating. Find like-minded creatives whom you like and whose work you admire; then offer to collaborate on some projects. Start building a tight-knit team of experts, where you recommend each other and swap clients," Lina said.
Giving no-strings-attached, high-value feedback to people to build your authority in your industry is another winning strategy on how to get clients.
"We are joining every online live seminar we can find and dedicating our time to chats and discussions there. We do more volunteering work, too, and help those who desperately need our services while offering more freebies. We believe the more knowledge you share, the more customers will trust you and your services. Don't be afraid to give clients useful information since they will not turn around and design a website themselves. They'll see that you understand what you're doing and are therefore more likely to buy your services and products," Lina stated.
Finally, treat your regular customers to some discounts to show them you empathize with them during this lockdown.
"We are trying to keep our existing customers happy, so we run more discounts and try to use some word-of-mouth as well. We run different campaigns, advertise through social media, and spend time experimenting. At the same time, we are improving our e-shops, updating portfolios, and optimizing our overall brand image. We're trying to work on new and exciting ideas and offer something fresh and vibrant to clients. Either it will work out and bring completely new audience, or it will fail, but still be a good experience."
Be Even More Creative Than Usual
For others, this lockdown is an opportunity in disguise. Instead of fretting about disrupted projects or how to get clients, think of this situation as your chance to play the long game. Though states are reopening in the U.S. in various capacities (and some countries like Sweden never really had a lockdown), there's no telling how long things will take to get back to normal. Is it when a vaccine is developed? Is it when only the most vulnerable demographics are quarantined?
Due to these uncertainties in the timeline, you're better off preparing yourself right now for what normal business resumption may look like.
Christopher King is taking this time to boost his portfolio and develop new products.
"My client work is predominately based in film and television, and with so many productions delayed (some until next year), I'm using this time to develop portfolio work and concentrate on new products for Creative Market. Income from sources like Creative Market has proven essential during lockdown and illustrates its value in a diverse creative business. From my perspective, lockdown is a period of creating new products, updating old ones, and an opportunity to add some new work to my portfolio for when things return to normal."
Market Your Brand With More Fervor
When it comes to how to get clients, there's no substitute for marketing yourself, whether now or before the crisis. Marketing puts your brand in front of potential leads and gets you in the habit of selling—which is something that all designers (entrepreneurs by definition) should get in the habit of doing regularly.
Because of a slowdown in sales, Chelsea Ekberg has recommitted herself to marketing her brand and working on brand awareness.
"Figuring out how to get clients and manage client work during this global pandemic has been a challenge. With many businesses cutting back on what they see as non-essential expenses, I have seen a large drop in the workload I typically get from my steady clients. I have also seen drops in my digital and physical sales on all the platforms I sell through and a complete stop of sales from physical markets and boutiques where I have products, as they are closed to the public," Chelsea revealed.
"With these usually steady income streams wavering, it has become even more important for me to try and find ways to entice customers and potential clients. I have been more active than usual on social media, making sure to mention my products in every post and sharing when someone posts work created with some of my brushes or templates.
With the extra free time I have that used to be filled with client work, I have been developing new products and working on larger projects that have been on the back burner for a while due to the demand on my time. These new personal projects have created buzz on my social media and will hopefully draw in more sales and potential clients now or when things start to normalize again."
Optimize Your Website
Many Shop Owners on Creative Market also have their own websites as part of their conversion funnels for their digital products. If you're one of these Shop Owners, you may want to take Diane Pascual's advice and make sure that your website is the most user-friendly that it can be. How to get clients depends on offering your leads a one-of-a-kind UX to keep them coming back for more.
"I've been updating my website and keeping it user-focused. I think about what users of my site are looking for and have designed my homepage to walk customers and clients through what they are looking for. I found that, ever since I created The Gypsy Goddess brand in 2016, I've been getting more pattern commissions coming to me from my website. I've created a Google Form to get a better idea and guide them through a set of questions that will help me best understand what they are looking for."
The One-Two Punch of Evergreen Products and Social Media
Since budgets are tighter now because of the worldwide economic shutdown, it's crucial that you prioritize digital products that customers can use perennially. This way, you give them more value, which also addresses how to get clients.
Amy Stafford has had quite a lot of practice when it comes to weathering economic downturns as a digital creative. As a professional who's worked from home for the past 18 years, she's seen it all: 9/11, the 2009 financial downturn, and, now, COVID-19 and its fallout. This has given her much perspective and a leg up on dealing with this challenge.
"While I haven't made any new PPT templates in many years, a lot of my designs continue to sell quite regularly—proving to be truly evergreen products. Speaking of evergreen as a method of how to get clients, I would also suggest thinking about the kinds of design products you can make that will remain relevant for a long time to come. Whether clean and classic templates, or simple JPG and PNG files, timeless subjects or holiday graphics can sell year after year. What never goes out of style? What never requires an update for compatibility issues? What can you create with your own signature touch?" Amy asked.
"In terms of self-promotion, I work with Later.com, a free online social media scheduling tool. Here, I use Creative Market referral links set to my Instagram linkin bio when I post about my products on my Instagram account. I also use Later for some, but not all, of my Pinterest posting. Often, I will also go through Creative Market and post products I like to different Pinterest boards, some of my own boards, and several shared boards. Here, I embed my referral code and cross my fingers that the posts find their way to happy, new customers in seven days or less."
Develop More Procreate Brushes
This pandemic is challenging to graphic designers in numerous ways, including figuring out the new buying behaviors of customers. If you're able to break this code, it can go a long way toward how to get clients. When you understand what they're interested in buying more of these days, you can create and sell them these in-demand items with more gusto than ever.
By keenly observing the purchases made at her shop since the pandemic and lockdown began, Nadi Spasibenko succeeded in noticing a significant trend, at least in her customers: They've become more interested in Procreate brushes.
"In the beginning of March, I noticed an increased interest in useful materials, such as brushes for Procreate. Buyers are probably changing their activities and broadening their horizons. They are learning new skills. To my mind, due to the quarantine, many parents are thinking about ways of amusing their children, or young people simply want to learn new skills. It motivates them to look for new opportunities and tools. In this way, brushes for Procreate become an important development tool in the current situation," Nadi explained.
From the beginning of the lockdown, I noticed an increased activity in the social networks, too. Users began to click on links more actively, showing interest in Pinterest pins and liking Instagram posts. As a result, I think that I will continue to develop a new direction with educational and useful materials (brushes for Procreate and guides for creating characters). This type of product allows you to attract new customers (children, housewives and everyone who needs new skills to learn new professions). I see a lot of potential in this training area, and I think this is relevant in a dynamically developing world."
Network, Network, Network!
Now that you're stuck at home, you can still network on the web. The process of how to get clients is helped significantly by all the platforms available to you, even while you're in home isolation. While LinkedIn is one option, there's also Facebook, Pinterest, and Instagram.
The key lies in going beyond the most expected use of these platforms, which is to simply advertise your products. Instead, strive to make genuine connections with other creatives and potential clients, just like Jennifer Oliver has done since the lockdown.
"I noticed a drop in business when the COVID-19 lockdown began, but also a major increase in morale-boosting activities across design sites and social media. Staying positive has helped me focus my time, goals, and resources, and I've found that consistently putting work out there and networking is the key to keeping business rolling (and, eventually, how to get clients).
I mainly use social media to grow new friendships and business connections. It's also a great way to showcase your work. Through engaging with other designers on Instagram and posting frequently, I've had a couple of logo project referrals—all during home isolation. You might think that COVID-19 has forced commerce to stop, but there are so many new businesses launching right now because of the lockdown," she said.
My best advice for how to get clients is to participate on social media, dedicate some time each day to engage with others, and seek out people whose work you enjoy. Even if you've only shared a few comments with them, drop them a friendly private message and tell them you're available to consider projects they don't have the time to tackle. I've referred work to designer friends because it simply wasn't the right fit for me; it was the right thing to do by the client and also helped out my fellow creatives.
You can also tell your followers in your posts and stories that you're available for freelance work. You'd be amazed how many people assume that you must be swamped because you're posting content. Let them know if you're open to new clients. You never know when opportunities will come your way."
Focus on Customer Service
Second-to-none customer service is a must in good times; in pandemic times, it's crucial to the survival of your graphic design business. How to get clients depends on how much you prioritize communication with your customers.
This can take the shape and form of numerous strategies, as Annie Konst clarifies.
"If your store is forced to suspend work, as you are selling material things (posters, clothes, etc.) don't just disappear from sight. Think about how to improve your store, find inspiration, and show your works in progress. Don't lose contact with potential buyers! Always give feedback. People often ask about products, so it's important for them to know that the author is ready to help. Take care of them; this must always be done, especially now. Make a free product. This is a good move to make yourself known and help clients in this difficult period at the same time."
Prioritize the Passive-Income Strategy
Creative Market is an ideal environment to generate passive income, as many Shop Owners already know. However, to understand how to make this work for you as part of the broader goal to get more clients, you need to understand how much exactly you're making from your shop.
Claudia Orengo's response to the pandemic was to really crunch the numbers from her shop…which ended up informing her new strategy for how to get clients during this lockdown.
"After calculating my numbers from the past years, I realized that the passive income I generated from marketplaces like Creative Market represented a much higher percentage of my total income than I thought. The creation of digital products is one of my favorite things to do as an artist and designer. That's why quickly I planned a strategy to dedicate the lockdown to it," Claudia stated.
"I couldn't create photo mockups like I did when I was traveling around, but I am able to create many other products like watercolor clipart and fonts. I actually even figured that many companies would need graphics related to the Covid-19 situation, so I created a set of illustrations the week before the official lockdown in Spain, which is selling better than any other product in my Creative Market shop."
To have the best shot at generating this passive income, you have to promote your work on social media—but not just on one or two platforms. Claudia is a firm believer in going big and using as much exposure as possible in how to get clients.
"I'm also spending more time to promotion and marketing. I always knew it was a key factor for sales, but always prioritized the custom-commission client work to it. Now, I've finally started uploading shots to Dribbble with the goal to create a portfolio, interact with other creators, and showcase my products to potential buyers. I'm also posting more regularly to Instagram and sharing Instagram Stories to connect again with my followers. I'm back to Pinterest, too, which has been the number one traffic generator for the past five years to my website and products. I also have a plan to record more courses and video tutorials for my YouTube channel in the upcoming weeks."
Go Back to the Familiar
This pandemic means uncertainty, so what better way to look to those you already know or do business with when in search of how to get clients? It's definitely easier to sell again to people who have already bought from you, and stats reveal that the majority of a business' revenue come from existing customers.
Taking this knowledge to heart, Mikolai from ME_COLLAGE has the following thoughts and recommendation.
"At the moment, I'm lucky enough to have previous clients returning to me with new projects. I also noticed that, in the past couple of weeks, more friends and family turned to me for design advice or new projects. If I was currently looking for new projects, I know that my first step would be to contact my previous clients and close friends directly. It's an excellent source of people that already know and trust you."
Try "Reverse Niching"
If you've never heard of "reverse niching" before, then Charlotte Salcedo has got a formula for you to determine your strengths and weaknesses. If you want to know how to get design clients fast without much friction, even during a pandemic, then this is for you.
"To figure this out, you write down all the things you're a pro at, like the number-one software program you excel at, your favorite thing to design, etc. Then, in another list, write the opposite: all the things you hate as a designer, your worst software, things you hate designing, etc.," she said.
Her lists looked like this:
I'm a Pro at
Brushes
Textures
Composites
Sales
SEO
Digital
I Don't Like
People
Shipping Products
Clients
Coding
Creating Fonts
Face to Face
Logo Design
Print
"From the pro list, pick your niche. From my list, I learned that I'd be best at selling digital products that are Photoshop-related. Because it's digital, I don't have to work with clients or ship products. Because I sell on Creative Market, I don't have to code, meet people, or come face to face with clients. Now, I can better serve my customers because I've tailored my business to only the things I'm a pro at and love, and it's easier to find my target audience because I'm working with a select niche, 'Photoshop users'."
This formula has empowered her social media strategy as well.
"This in turn makes marketing on social media a breeze because you're already creating content that your target audience wants to see, such as creating composites on YouTube, creating art from Photoshop brushes, or making or creating things with textures. Teaching the subject you're a pro at on social platforms such as TikTok, YouTube, and IGTV will drive tons of sales and traffic because you're providing a solution to a problem they are having and you're knowledgeable about the subject. Over time, it will make you an influencer in the field," Claudia revealed.
From my YouTube channel, I get endorsements, and people pay me to either post their links or review their art products and software. I've worked with Artrage and Suitcase Fusion and am soon working with Arteza and Wacom. You can get tons of free stuff this way, too. Thanks to Creative Market I have had tons of exposure: Huge companies like Adobe have now bought my textures. My sales have actually tripled during COVID-19, so my suggestion for how to get clients is to make a plan and find your niche."
Stay up to Date With Trends (Also Put Your Own Spin on Them)
Getting more clients depends on you finding your own style, but also working with known design trends. Developing your own style within established conventions is the key for any designer who wants to understand how to get more clients, according to Reyward Pojas.
"This lockdown has brought new tastes and trends to design. The idea is to make a design encouraging people to question things, but, at the same time, give them hope. You can see it on most of my font previews. Studios and offices are closed, so I consider my clients now to be mostly individuals creating designs for their Instagram posts and YouTube channels instead of company-related projects," Reyward said.
"Most of my designs are inspired by the horror genre and use quotes of hope and humor. This style has led my designs to be shown on the first pages of Pinterest and Google once you search for 'horror fonts.' I just stick to my style, and it's the people who decide whether they bring my art to the limelight or not.
Staying up-to-date with trends and putting your own style on them is my best way of gaining clients. Sticking to your own style will build your name. New clients will eventually look for your style. Being diverse is not a bad thing. Remember: Your name is your brand. Like trends, clients come and go. Be peculiar, and never doubt your style. Just create and release your creation to the world!"
Learn as Much as You Can
When you ask yourself how to get clients during COVID-19, think about learning. The most successful designers never stop learning since they know it's a skill booster that'll expand their client base. The more things you know, the more you can offer your clients.
Tashi Tsering swears by this approach during the lockdown.
"As creatives, we are never satisfied and are constantly striving to improve our craft,so what better time than this to take up online classes to improve our crafts or learn a new one that can enhance our work. I have a Skillshare subscription through which I have started learning Adobe Illustrator to refine my vector illustration skills. Another method of learning is to connect with your fellow creatives to exchange ideas. We all know that learning and constantly improving our craft is what will set us apart, and it will go a long way."
Become a Master of Outreach
COVID-19 has taught us to isolate. Therefore, how to get clients during this period should be based on overcoming this isolation with outreach—whether it be a sending cold emails, following up with past clients, or connecting with your existing audience. When you reach out, you don't just stay front and center in your customers' minds, but you also build your brand in your community, which is crucially important.
Tet Antonio discusses this in more detail: "Reach out to previous clients to genuinely check in with them and see if they need help with anything. If you were able to deliver on your last project and if you have a good, ongoing relationship with them, they should have no problem replying to you, hiring you again, or referring you to their friends.
If you have a community of email list subscribers or social media followers who are already interested in what you do, be sure to reach out to them and make it known that you're open to book new clients. Clearly state the services you offer and what they stand to receive, gain, or achieve by working with you," Tet indicated.
"If you've been in business for a while now, you may have friends who are fellow service-providers. Reach out to them to see if they know anyone they can direct your way. Some of them may already be booked out or can't take on more clients, while others may have received inquiries that aren't a good fit for them, but may be more in line with what you offer. You can even give each other a shout out via your social media accounts or become affiliates for one another.
The bottom line here is that you shouldn't let the pandemic get you down or wrapped up in negative thinking. There are people who are still buying and hiring in this season, so, as a service-provider, you could very well be in a position to help them and provide solutions to their problems."
If You're a Photographer, Pivot From Studio Shoots to Creating Digital Assets
Being able to roll with the punches that the sometimes unpredictable freelance lifestyle throws at you is essential. Adapting to abrupt changes like a pandemic that took the world by surprise is just another one of those surprises.
Photographers have been affected by this lockdown because they can't really provide in-studio shoots as part of their services any longer, at least for the time being. That hasn't stopped Nicola Harger from making the best of this curveball that was thrown her way.
By pivoting to digital assets, she's found a new way to generate income.
"I continue to do some product and still life photography work in the studio (without a crew!) and at home. I've been shifting my focus to creating digital photography products for designers, which I feel is how to get clients during this lockdown. I'm trying to diversify my income as much as I can, which is always something I wanted to invest time into before, but now really see the importance of having your eggs in multiple baskets in this coronavirus uncertainty for freelancers," Nicola said.
"The main focus of my work will always be a service-based photography studio, but if I'm also able to provide tools and resources for other creatives that I use when I'm shooting, like digital products, (and be able to sell those multiple times over), I'd be thrilled."
Incentivize Your Existing Customers
Since your customers' finances aren't what they used to be thanks to the global shutdown, you've got to make it worth it for people to buy from you in the first place. Incentivizing them is how to get people who haven't yet purchased your products to become your customers.
Robert Marks understands this concept well, which is why he's already started to employ this technique.
"An effective practice I have used to acquire new customers during this period of self-isolation is to offer exclusive discounts to my newsletter subscribers. If you sell design resources or memberships, consider offering them at a reduced rate. I have found that my customers have been very responsive despite the lockdown. Plan a strategy that works for your business and your community. Don't be afraid to experiment with new techniques and ideas."
---
Products Seen In This Post: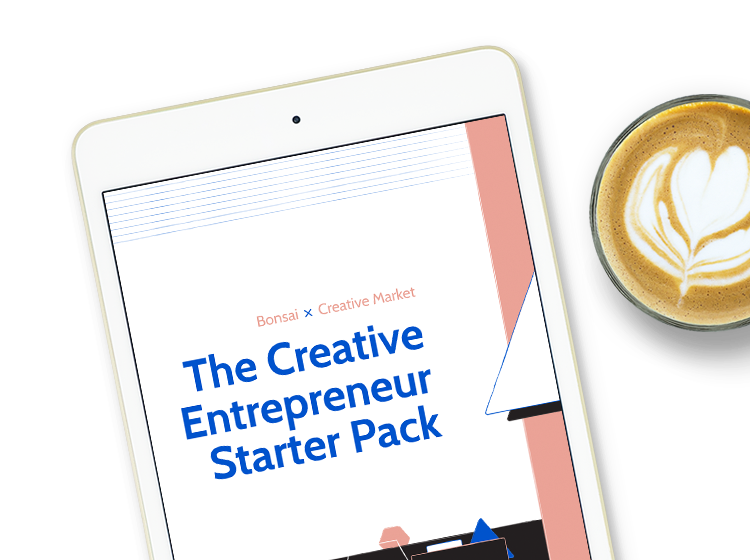 An ebook by Creative Market and Bonsai
Start and grow your creative business
Get a head start on your creative business with this friendly handbook.
Download our free guide
Marc Schenker
Marc is a copywriter and marketer who runs The Glorious Company, a marketing agency. An expert in business and marketing, he helps businesses and companies of all sizes get the most bang for their ad bucks.
View More Posts