Illustration Power Tools Created by Designers for Designers
Learn about the inspiration behind some of the best-selling graphic design resources on Creative Market, straight from the Shop Owners themselves.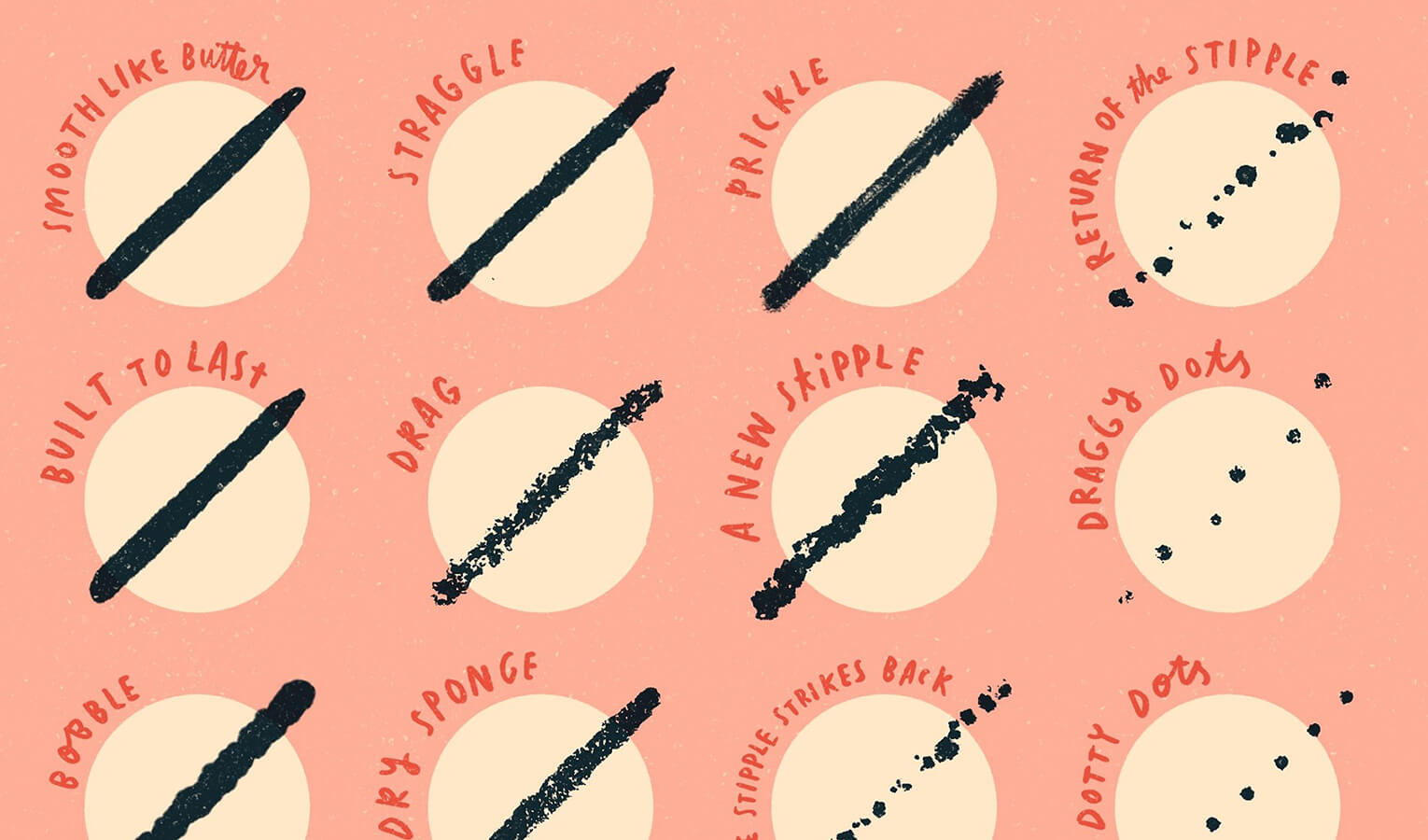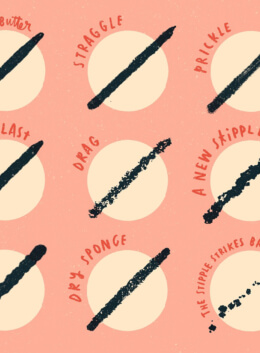 You'd be surprised at how many interesting stories are behind some of your favorite design resources. These creation stories speak to the sheer passion behind many of the creative tools available today, as well as the work ethic of the artists behind them.
Because we're always keen on bringing you design inspiration, we reached out to numerous Shop Owners to get the inside scoop on some of the most popular tools they've crafted for like-minded creatives.
Here's a closer look at what inspired these graphic design tools made by designers for designers.
As far as design resources go, Drifter Studio's night sky-themed add-on was born out of designer Calvin Drews' love of browsing Pinterest and Instagram. He wanted to succeed in designing a tool to empower anyone to create some of the jaw-dropping artwork on those social platforms.

"I make a lot of resources that help designers create digital artwork that looks like real-life paintings, watercolor, and acrylic pours. One thing that really inspires me is looking at artists whose styles I love, and I try to imagine what kind of tool would let me do their kind of artwork on a computer or iPad," he said.
"Most designers and artists are not really interested in a workflow that takes hours and hours to complete. So, I always think to myself, how can I make design materials that produce amazing results like Is see on Pinterest, but only take a few minutes to do? Sometimes, I have to shrink my expectations at first, but, most of the time, it turns out that a simple tool can do much more than a complex one."
To make this vision a reality, Calvin always writes down his creative process and workflows, so he can keep his projects moving forward.
"Another thing that helps is following a written program. If the project is very complex and requires a lot of parts, I will write down a step-by-step process in my notebook. I will cover everything from textures to scan, all the way to organizing the files in the final product, writing the description, and even pressing the 'publish' button."
The way that technology rapidly evolved in the last several years meant that designers like Katsia Jazwinska were able to accomplish more without having to also use more tools. In her case, the iPad Pro was the game-changer.

"When I got my first iPad Pro with Apple Pencil four years ago, I thought, 'Wow! This is probably one of mankind's best inventions'. I really like the concept of less is more. I'm happy that one tablet and one pencil can contain every paper and every drawing and painting material you need. Just imagine: earlier, with plein air (painting outdoors), you needed to take a box of watercolors, a bottle of water, dozens of brushes, napkins, and a watercolor paper pad. Now, you have all this on your iPad with Realistic Watercolor Studio for Procreate," she said.
Taking her love of the ease and fluidity of designing on a tablet, Katsia used her Procreate kit to address a long-standing problem with design resources like digital watercolors.
"The problem with many watercolor apps or custom brushes is that they are not easy to use, or the effect is not realistic. As a result, you will never confuse an illustration created with these digital watercolors with a real one. I kept in mind that I should create a very realistic watercolor texture with a small number of easy-to-use brushes (to focus on the painting instead of on the continuous change of the design assets)."
One of the toughest challenges for people who want to learn to draw is initially not knowing where or how to start. In a stroke of business savvy, creator Lisa Glanz homed in on what was stopping her customers from successfully putting pen to paper.
"The Character Drawing Toolkits (Lisa's series of drawing toolkits) were inspired by my passion for creating design resources that genuinely help people and are easy and fun to use. I'm always on the hunt to find ways that either save people time or assist them in their creative process. Most of my design supplies are born out of trying to solve 'pain points' my customers might be experiencing. In this case, the lack of confidence and the 'blank canvas' anxiety people feel when they sit down to draw, or not knowing how to even start their character drawings, are huge pain points many people have," Lisa revealed.
"Knowing that shape forming is one of the foundations for drawing characters, and the part that many people struggle with, this guided me on what to include in the product. The kits cover a wide variety of forms without overwhelming the user with hundreds of brushes. As with all the Character Drawing Toolkits, my aim is to empower the user to draw better characters. I want to encourage their own style development, which is why I didn't include fully formed characters. Rather, the kits include versatile individual shapes ready to build their own characters and stretch their imagination! Hopefully making their drawing sessions more fun and productive."

Lisa's inspiration for her design resources also came from a fellow Shop Owner.
"The original idea was also inspired by Ian Barnard's genius Grid Builder product (got to give credit where it's due!). After seeing Ian's product that helps hand letterers create gorgeous layouts, I thought it would be fantastic if I could somehow offer a helpful tool for illustrators. And so the Character Drawing Toolkit was born!"
Pencil Pack: The Old-School Feel of Real Pencils
The more our workflows and products move into the digital realm, the more it creates a longing for the tactile touch and feel of the real world in design resources. That's what was behind Sadie Lewandowski's digital product.
"When creating my Pencil Pack, I was inspired by real pencils and the way they feel on paper. There's a certain charm and authenticity that traditional tools have, especially when it comes to texture. Digital tools don't have the same characteristics inherently, and the charm is usually lost. It's pretty easy to spot a piece of art that has been created digitally, versus traditionally, because of these differences. However, with the right tools, you can absolutely make digital work look more traditional," Sadie stated.
Interestingly, this use of the tactile, real-world as inspiration for design is also behind Google's design language called Material Design (which is based on the textures of real paper and ink, though in a reimagined way). In Sadie's case, however, she wished to disrupt the concepts of traditional and digital.
"When I make my brushes, my goal is to blur the lines of what is digital and what is traditional. I love working digitally, and the undo button is amazing, but I want to get the look and feel of traditional media. I want brushes that perform like the real thing. With this in mind, the Pencil Pack started on real paper with my favorite colored pencils. After pages and pages of scribbles, I scanned them in at a super-high resolution and created my Procreate brushes from the textures. It's always a process of trial and error to create these materials, but my inspiration keeps me focused."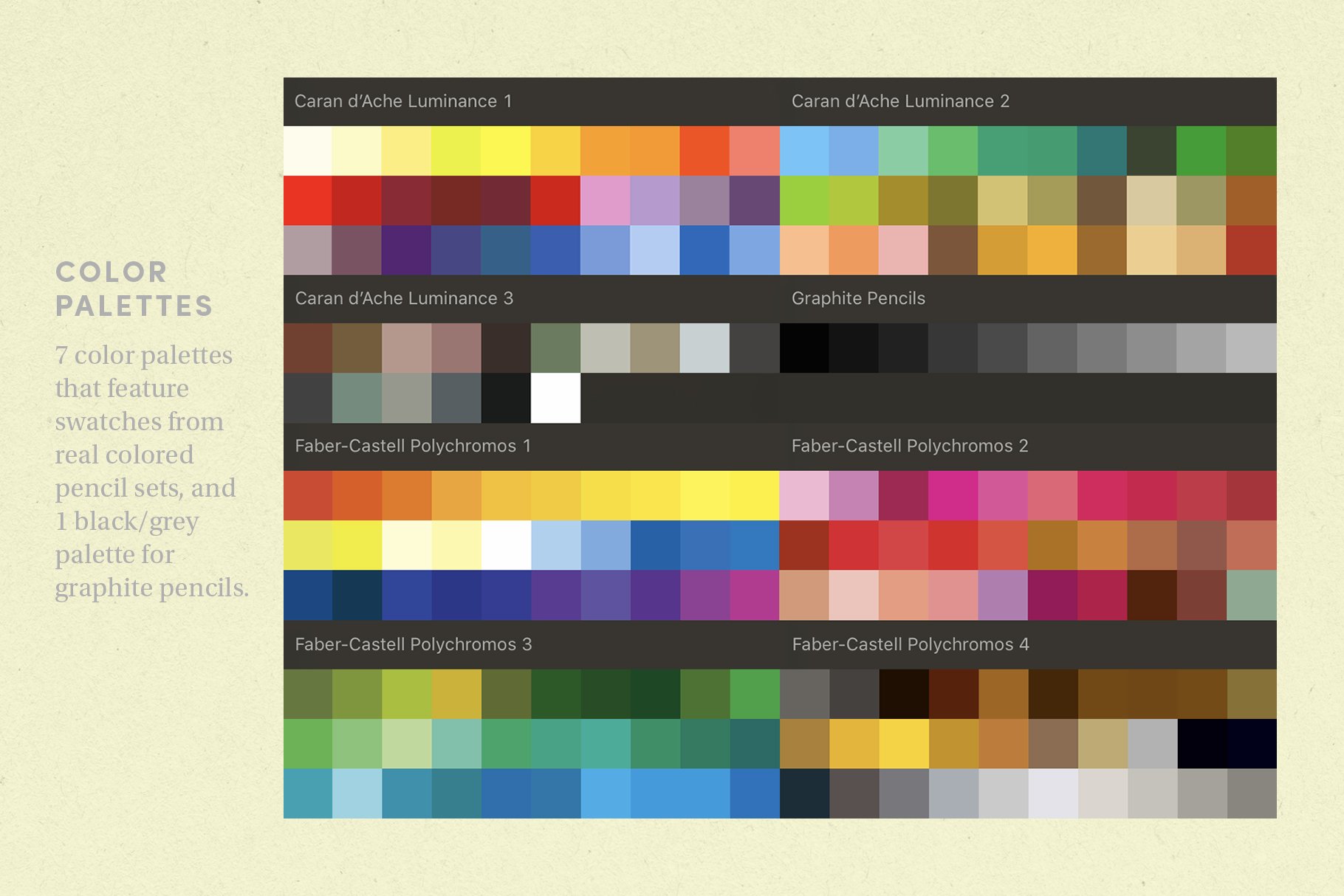 The Builder Bundle: Reverse Engineering and Polling Your Audience
When something is so visually stunning that you take note of it, that's when you know inspiration has struck. Ian Barnard takes that and runs with it to create his design resources.
"When it comes to creating products for my shop, it usually follows one of two paths. The first is I see a piece of artwork that catches my eye, usually on Pinterest, and then I go about reverse-engineering the effect that's used in that artwork into a product, so that designers of any skill level can pick up and achieve it for themselves," he said.

He also takes inspiration from his social audience, incorporating their feedback into his products.
"The second is I ask my lettering audience on social media what they are currently struggling with. In the case of Grid & Letter Builder (The Builder Bundle), they told me that their biggest sticking point when it came to their lettering was composing layouts and drawing consistent letterforms. My lettering friend, Stefan Kunz, and I got together and developed a set of design assets that made this process simpler and easier for them to achieve."
The team at Pixelbuddha feels that minimalism helps them design the best digital products. By using just the right strokes, they can transform design resources like illustrations to get even more impactful results.


"After having gone through an endless number of works, we realized that any illustration, whether made with simple shapes or something more complex, can be upgraded with only a couple of strokes. In this case, shaders are the most versatile of all texture brushes: they allow more subtle transitions—or, on the contrary, more distinctive and contrasting ones. You can even make them the focal part of the image, highlight the volume of separate elements, or make colors deeper.
For the presentation, our talented designer Anna Tikhomirova elaborated on a collection of illustrations drawn as simply as possible. This way, she showed that, with well-picked tools and some inspiration, anyone can create something beautiful—and there's no need to be an experienced artist."
Alaina Jensen's bundle add-on features six design supplies in one product, and its origin is a series of inspirations. First up is her love of Procreate.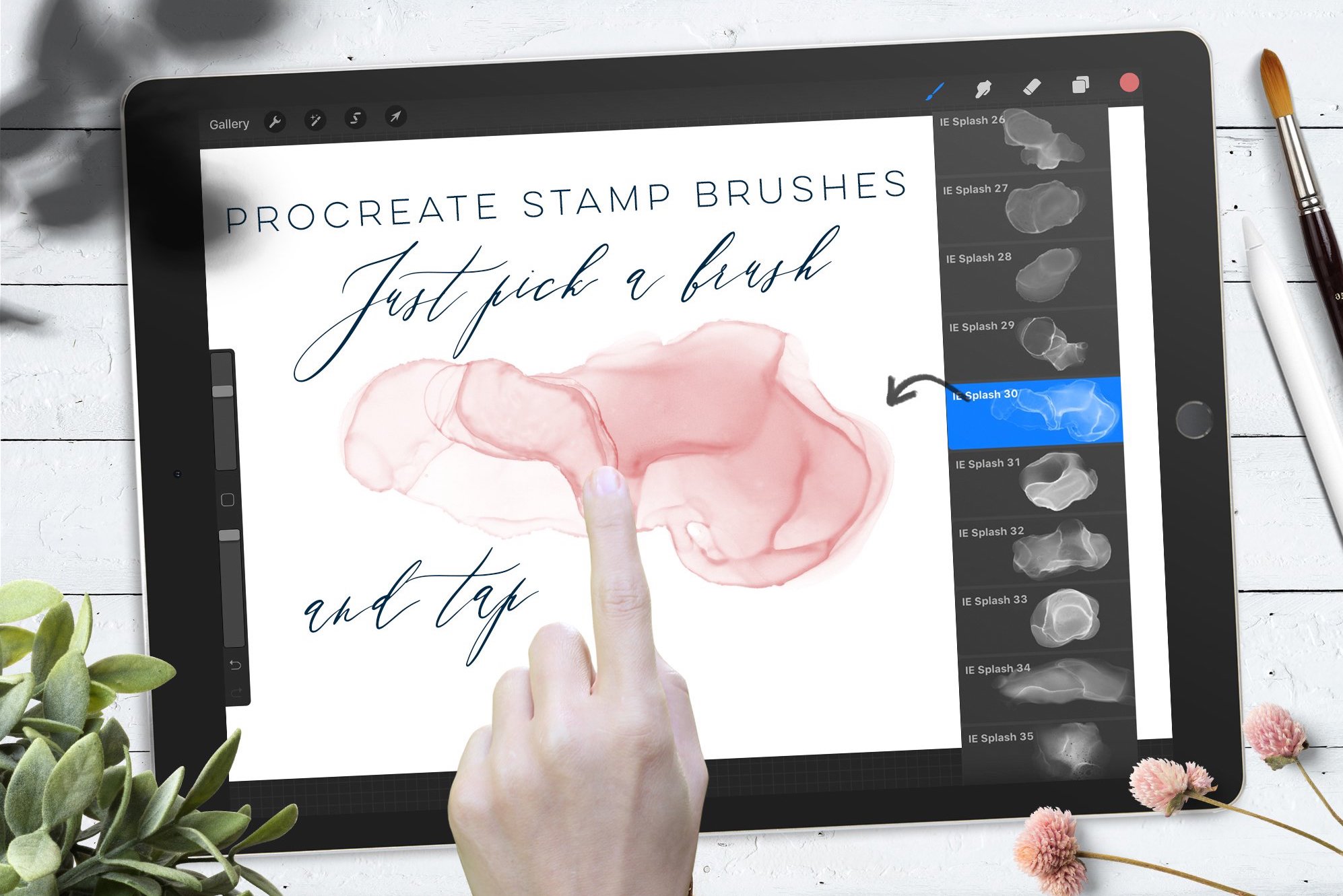 "My Procreate Megabundle comprises the first six brush packs that I created for Procreate. Before this, I had been focusing mainly on Adobe add-ons, but I got more and more interested in Procreate because it has amazing capabilities, yet it is cheap, easy to learn, and much more accessible to everyone. That's why I started making Procreate brushes, so that realistic art effects and lettering techniques could be available to people of all budgets, skill levels, and abilities. Realistic texture has always been my inspiration when creating these brushes," Alaina said.
Each pack was inspired by either a problem that Alaina wanted to solve or something she wanted to explore with her design resources.
"I started with my lettering pack, which was inspired by the fact that I couldn't find any set of lettering brushes that had the textured features that I wanted in lettering brushes, so I ended up making my own. From there, I explored the possibilities of using stamps and dynamic brushes as a way to add accents and realistic artsy touches to both lettering and standalone pieces. The following design resources (brush packs) that I created were based on scans of my watercolor, alcohol ink, chalk, and acrylic ink artwork that I wanted to make as versatile as possible. I also recently updated the Megabundle with a completely revamped version of my Gold Rush brush set, because I wanted to create truly realistic glitter and foil brushes that didn't require any clipping mask or elaborate steps to obtain the effect," she said.
The big idea behind her bundle is to address the sometimes cartoony way that design resources can appear.
"The inspiration for all of this has come from the fact that digital artwork can sometimes look very flat and cartoony. I really wanted to open up the possibilities for making it much more realistic, without using complicated techniques that would make the design materials inaccessible to beginners, but also sophisticated enough for expert artists and letterers."
Putting what you see and experience in the world around you into a digital format is a powerful form of inspiration for design resources, as Idle Letters' Loz Ives sees it.
"My work is always full of texture and messy lines, and I use this to inspire the kind of brushes that I make. I love being able to find textures in the real world, photograph and manipulate them into something that I can use for my brushes. There's something pretty cool about photographing a gnarly paving stone and then turning that into a brush that I use to create my lettering," he explained.
Loz's products have also undergone solid testing—by being used as design assets in his own projects.
"I'm a big believer in learning by doing, so a brush set I release will always come from ones I've made for myself and have been using for a while. I've always made my own brushes to use in my work anyway, as I had particular ideas around the finishes and styles I wanted. It made sense to turn these into sets that other people would hopefully enjoy using in their work."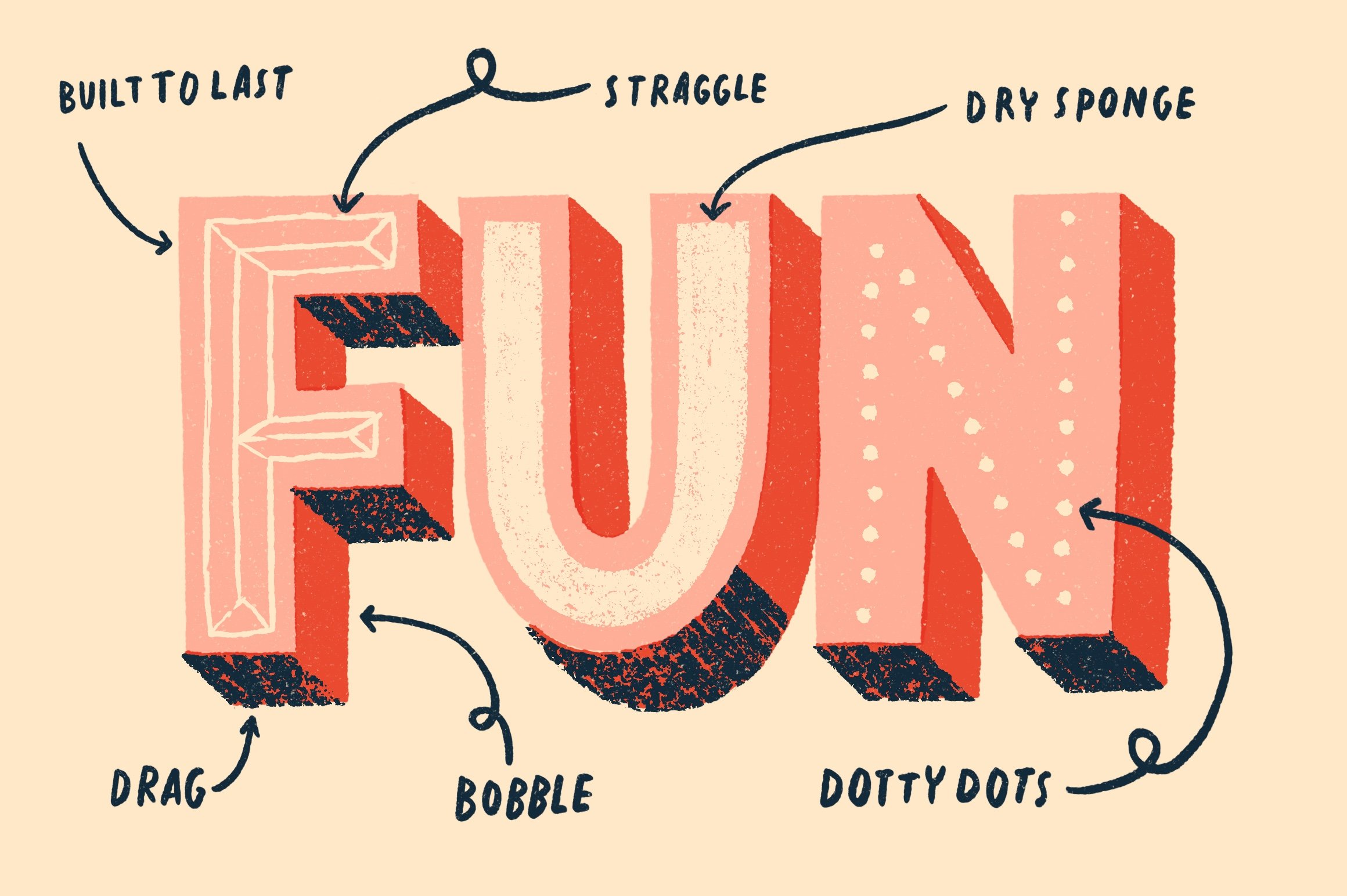 We all know that design is an iterative process: you ideate, test, revise, optimize, repeat. Over time, that can add up to quite a lot of…time. Simon Henke from h3design wanted to help designers optimize their workflows, and so Shadowify was born.

"Just like my other Photoshop extensions, the inspiration for Shadowify came from my ambition to improve certain design workflows by reducing repetitive tasks. Getting the right result for a design can often be an explorative process, and experimenting also boosts creativity, so it's totally fine not to always take the most efficient way. In contrast, doing specific steps over and over again quickly becomes boring or feels like wasted time. Nonetheless, probably every designer is familiar with such routines. That's where I usually see an opportunity to improve the workflow, so that I can focus more on the parts of designing that I enjoy most," Simon revealed.
"I was inspired for Shadowify in particular when I was working on my other design resources, mostly mockups and scene creators, where I often have to recreate shadows based on a photograph. I usually did so by combining multiple drop shadows or blur filters, which can get fiddly and time-consuming, so I decided to build a panel that automates some steps of the process. Even saving a few seconds can add up to a lot, when the use case occurs often enough."
When you develop your passion for the arts at a young age, you desire to take this love into adulthood to see if you can make a career of it. For Kate, from PicByKate, her childhood was the start of her lifelong interest in creating design resources.
"I always liked to paint since I was a child; in school I learned Photoshop and digital painting. When I studied in design school, I did a lot of visualizations by hand, with watercolor, pencils, and gouaches," Kate said.
Kate's strong experience in painting and design eventually led to her creation of the 50 Procreate Watercolor Brushes.
"My inspiration to create digital watercolor brushes for Procreate came from my experience as a painter and designer. Even though I always loved to paint with real paints, I also knew that, when you're under strict deadlines, it can be really tough to do multiple redraws and fix mistakes. I started to find ways to combine my skills in digital and real painting. When I first tried Procreate on my iPad, I immediately thought I could make brushes that could mimic real watercolor, gouaches, and oils, so that I could use them in my projects to save time, make changes easier, make sketches, try color combinations, and so on."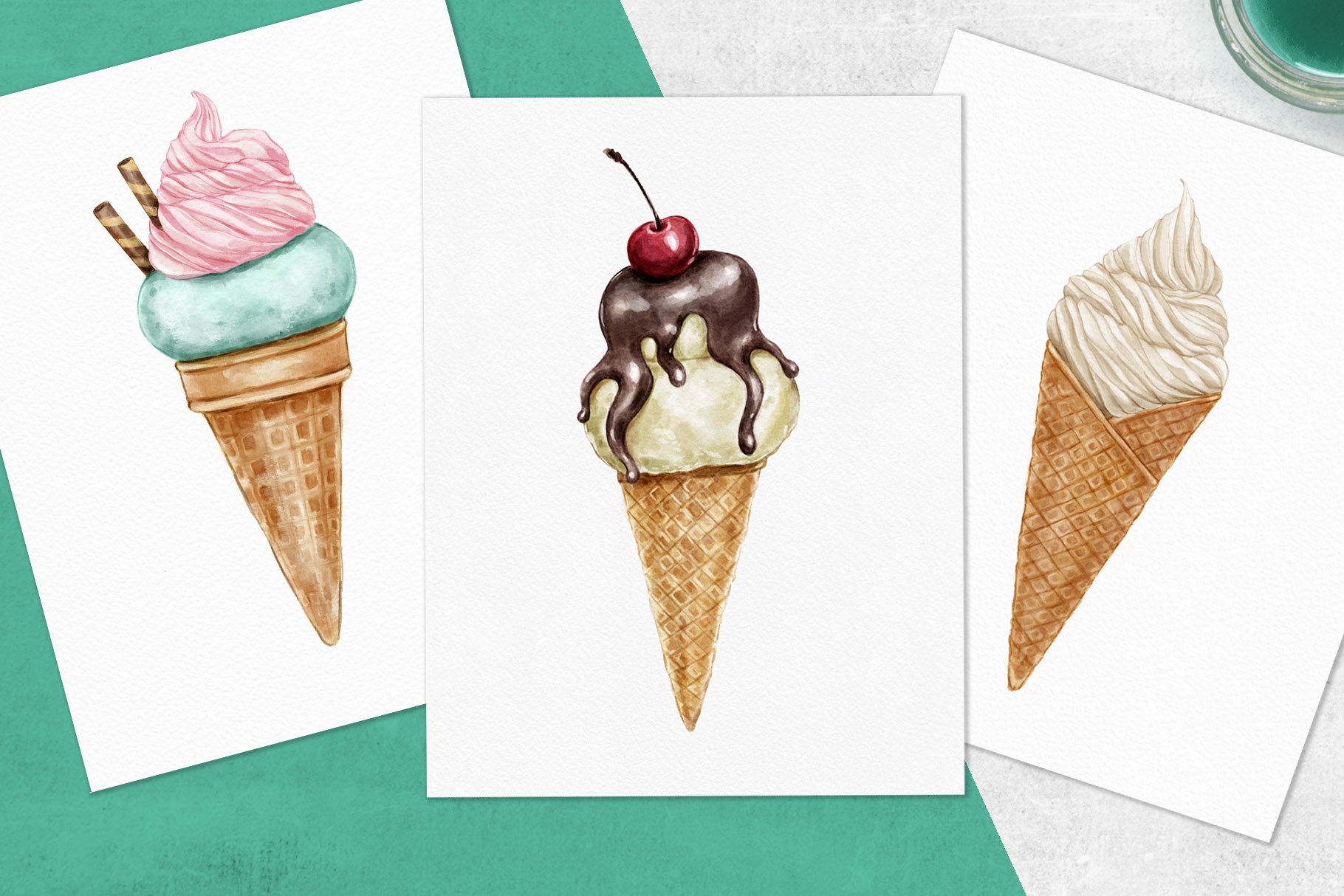 The creativity that's produced by others is a wellspring of inspiration for those looking for ideas for their design resources. So it is with Yulia Podlinnova. She gets inspired by all the small things in abundance around her.
"Nature, music, and other people's art inspire me most of all. It can be just a little dry twig swinging in the wind, shade on the wooden fence in my garden, or soft morning light on the floor of my studio. I may get the idea by listening to a new song while driving; just a few words of the lyrics together with the sound of a car engine can drop the right seed in my imagination. Even flipping through the pages of a book with my favorite artist's illustrations, a magazine bought in the supermarket next door, or scrolling through my Instagram feed are also ways to get inspired," she indicated.

The inspiration behind Watercolor Flowers Procreate Creator, however, came from her own Instagram video.
"I was staring at my own Instagram video that showed watercolors bleeding inside a just-painted flower. I already used Procreate for a while to create design resources and was thrilled by its amazing features," she continued.
"And here I got this idea of a tool that would allow you to create realistic watercolor flowers with just a few clicks. I thought how great it would be if not only skilled artists, but also beginners and even people who aren't familiar with watercolor techniques, could make their own watercolor flowers of different types and shapes and even create their own floral clip arts. They should not just be flat, stamped flowers and shapes, but feature soft color transitions, shades and lights, and bleeding watercolors, like in my Instagram video. So, after a few weeks of thinking, painting, making, and testing, I came up with Watercolor Flowers Procreate Creator, which I am gladly using myself, too."
Many designers would agree that Procreate has revolutionized digital art and how they ideate and produce their design resources. MiksKS was so impressed with the app that its use led to the creation of the multi-year project known today as Procreate Brushes Bundle.
"The main idea was to make the collection more accessible to those who'd like to get all the different sets without having to purchase them all individually.
When creating my brushes, I often try to pick a theme, a specific tool or technique, and work my way from there. It's not always easy to come up with a way to showcase the brushes (I've found that setting up a color palette or a general theme helps!), but I think it's an important part to show how the brushes work.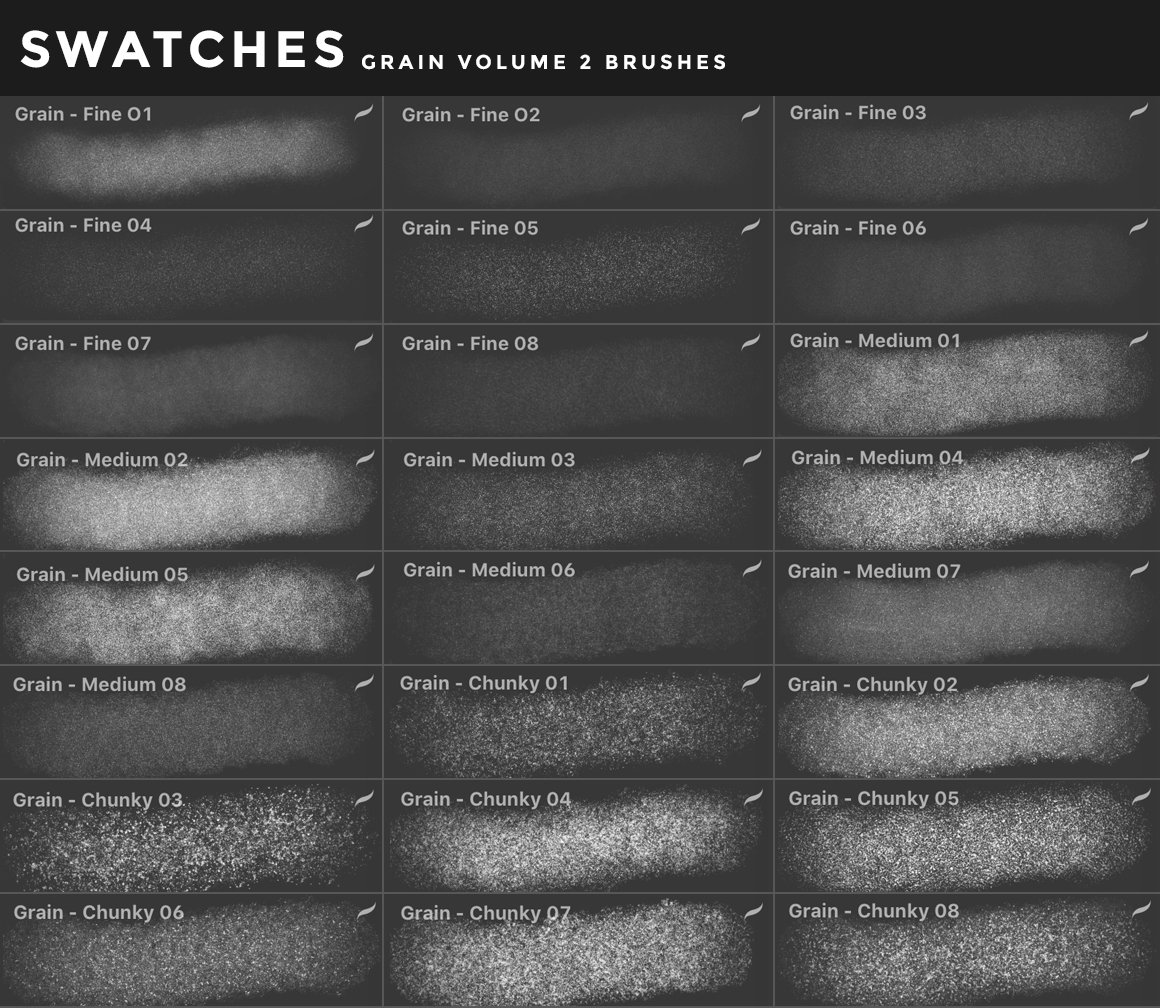 I enjoy mixing traditional media elements with digital tools—for example, creating a set of brushes that mimic the look of charcoal or ink. Other brushes from the bundle (Neon/lights brushes), on the other hand, were created entirely digitally. I keep a library of scanned assets and samples (used in the process of brush creation) that I can browse through and use it like a toolbox for various types of brushes."
Watercolors are known for their variously transparent and opaque qualities, yet successfully showing one or the other in digital form can be challenging. Just ask Valentyna from Jenteva Art, whose experiments with brushes and replicating watercolors eventually resulted in design resources for other creatives.
"I really like digital watercolor. With each brush, I try to convey the incredible texture and lightness of watercolor as realistically as possible.
I have created vector watercolor brushes inspired by beautiful watercolor backgrounds with gentle water strokes. I wanted to convey this beauty and tenderness in digital format. I started working on such brushes for Adobe Illustrator, and it was an experiment for me. In the end, I was very happy to see that brushes I've created corresponded to the quality I've expected. As a result, with these design resources, delicate watercolor vector backgrounds and product designs can be created. It helps and simplifies the lives of designers and me in particular, which also inspires and motivates me for further work."

We generally remember our childhood fondly because that's when we were first exposed to our interests. This nonstop exploration carries on into adulthood for many of us, and that also applies to the process of creating design resources, as Luis Aguirre from Ink Gang Boss explains.
"A lot of inspiration for most of my work comes from my childhood and all the things I loved growing up. I was an avid reader of books and comic books, collected silly trading cards like the Garbage Pail Kids, read horror stories, and consumed animated shows daily before school. My parents were also avid moviegoers who dragged me and my sister with them to the movies every weekend.
When I go to create a product (or drawing,) I always go with what resonates, what I loved as a kid, and what I would want to use or have. Comic books were a big part of my childhood and are the reason I began drawing in the first place. After learning about Procreate's brush maker, I was compelled to create a comic inking brush set that felt natural and was inspired by some of my comic book heroes of the past. I used it as an opportunity to revisit my collection and reread some of my favorite stories, which inspired me even more."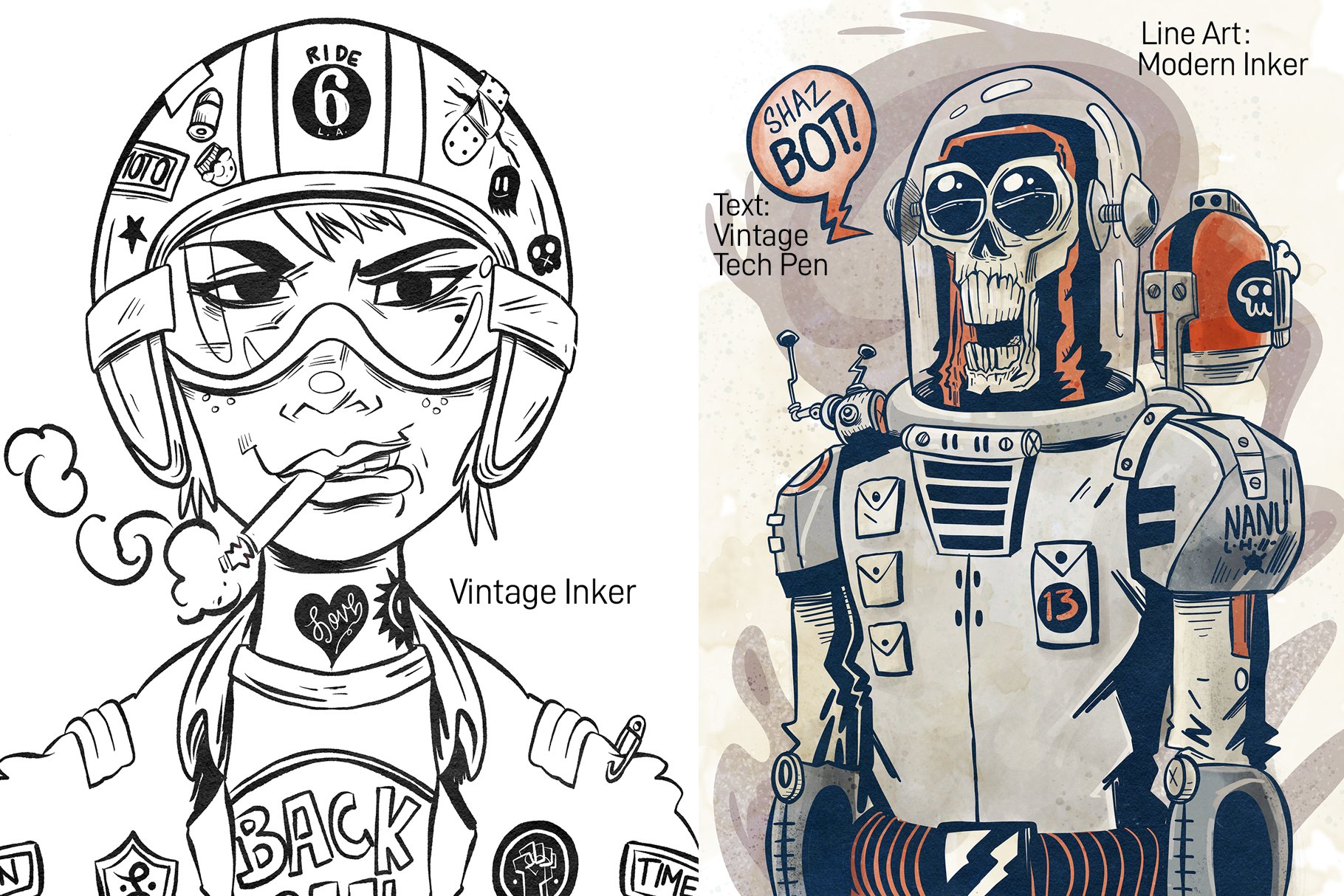 There's something to be said about giving your customers all the design resources they need in one place. This sense of completion is exactly what Rodd Lopes' hoped to offer his customers, and it was the driving force of his huge bundle.
"When I first thought of putting together my Mega Bundle, I already had many brush sets in my shop. I thought I could make it easy for customers to get all the brushes and updates at the same time. Mega Bundle is today the largest brush bundle for Procreate on the Internet, and what makes it unique is that there are brushes for all the needs of my customers. I also wanted to do something professional, so that customers would not need to look for other Procreate brushes elsewhere."
No matter how much technology you use as a designer, once thing's for certain: your roots are always old-school. In Kelly Sikkema's case, it's the basis of the inspiration behind some of her design resources, such as her Procreate brush set.
"I am frequently inspired by replicating my favorite analog tools on a digital canvas. I dove into lettering and calligraphy a few years ago and have accumulated quite an assortment of different brush pens, fine liners, pencils, and markers. When I first started using Procreate, I wanted to be able to create the same way I was used to with my go-to pens and paper, but with the flexibility of a digital canvas. Procreate has some beautiful brushes, but I wanted my favorites in there, too," Kelly said.
"For my Pen Drawer set, I started scanning marks made with my most-used pens and tried to digitally imitate the same strokes they created. This included even some of my really dried-out gritty pens and all the imperfections of the best worn-out tips. The brushes had to feel real. Almost every digital product I have created has been inspired by things I would use in real life or things I have needed to make my own digital art."

Getting inspiration is something that sometimes hits you only after you've ideated and iterated your designs several times over. That's been Mila Garret's experience in the creative processes behind her design resources.
"When it comes to making brushes, inspiration usually hits when, after a lot of experimental testing and tweaking of different settings, you end up with something that feels right or makes an interesting mark. With the Neon Procreate Brush Kit, I wanted to create something that was geared towards calligraphers and lettering artists, but which could also be used for visual art (as I personally am interested in all of those things!)," she stated.
Now, when you reach that point of inspiration, it sometimes comes from the most unexpected of places.
"Visual inspiration can be found in everyday life as well as the Internet. At the time, I was noticing a lot of new food shops incorporating cool neon signs as part of their decor. Noticing things around you and doing a lot of experimentation can be helpful for the creative process."
Design your first font from scratch
Get your worksheet
Use this worksheet to trace your uppercase and lowercase letters, as well as any symbols that you'd like to add.
Download it now!
Marc Schenker
Marc is a copywriter and marketer who runs The Glorious Company, a marketing agency. An expert in business and marketing, he helps businesses and companies of all sizes get the most bang for their ad bucks.
View More Posts